There seems to be a pretty big Bitcoin move that may happen this weekend. Looking at the 4 hour chart, it seems a breakout will happen soon. 📈 📉
The only problem is which way the "Breakout" will happen. Everything is currently pointing too bullishness but anything can happen. 🤷‍♂️
I can expect a $1000 move in Bitcoin this weekend. Can it reach to $12,800 or will it drop to $10,800. For the "traders" out there, this can be pretty profitable using leverage.
I plan to set a 10x long position when Bitcoin reaches around $12,050 (give or take). If Bitcoin breaks $10,700, I should take a short but not when Bitcoin has been an upward trend for many months.
Here is the current Bitcoin chart: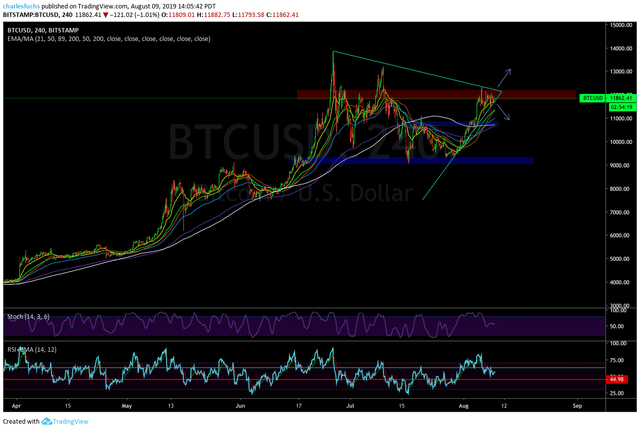 Remember... doing leverage trading is highly risky and not for 95% of crypto holders as many of them are too emotional!
MOST Will Get REKT and Lose It All! 🤣
This isn't financial advice of course... I'm posting this to show some active traders on what my short term "Game Plan" with Bitcoin is.
For those who want to use high leverage trading to "STACK UP" more Bitcoin, you can use the BYBIT Platform.
You can create your Free Bybit Account Here....
Stay informed out there traders, it's going to be a crazy ride for crypto's in the next few years.
Keep On STACKIN! 😎
~ Charles Fuchs
Want To Trade Bitcoin with 100X Leverage? Create Your Free Bybit Account Here in 30 seconds and claim your $60 Welcome Bonus!
For those who's interested in following my "Content" and "Daily" Posts... you can just follow me @stackin to get my updates.
You Can Follow Me Here:
➡️ Facebook: https://facebook.stackin.co
➡️ Twitter: https://twitter.stackin.co
➡️ Instagram: https://instagram.stackin.co
➡️ Steem: https://steem.stackin.co
➡️ UpTrennd: https://uptrennd.stackin.co