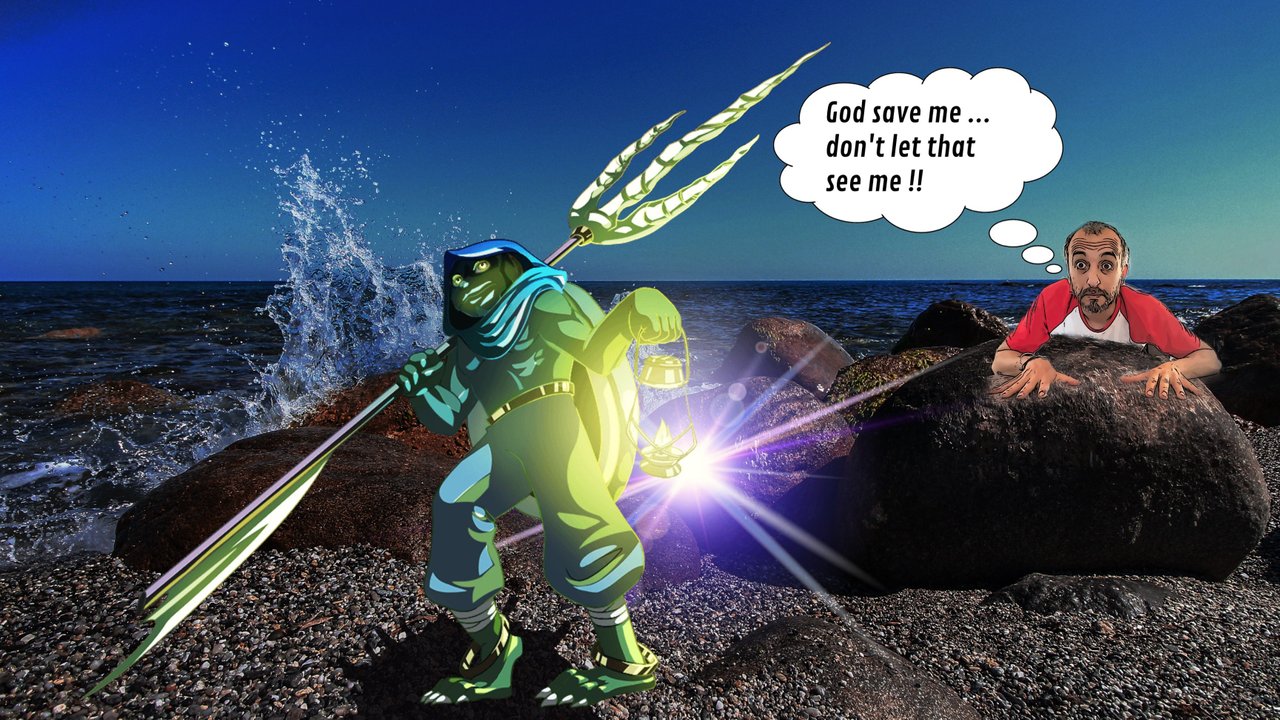 ---
---
👉ENG VERSION👈

---
Hello friends!!
Here we are at the second appointment of this saga dedicated to the Summoners of the WATER element.
After chatting for a long time with ALRIC STORMBRINGER I asked him where was the most beautiful sea in AZMARE 'and he without any doubts and perplexity replied to WEST on the beaches near the PALACE OF ELD.
He advised me not to go at night because it is a very dangerous place, at night in those places he wanders BORTUS, Summoner perennially angry because he is bullied because of his name that rhymes with turtle and so I went to that beach .... at night.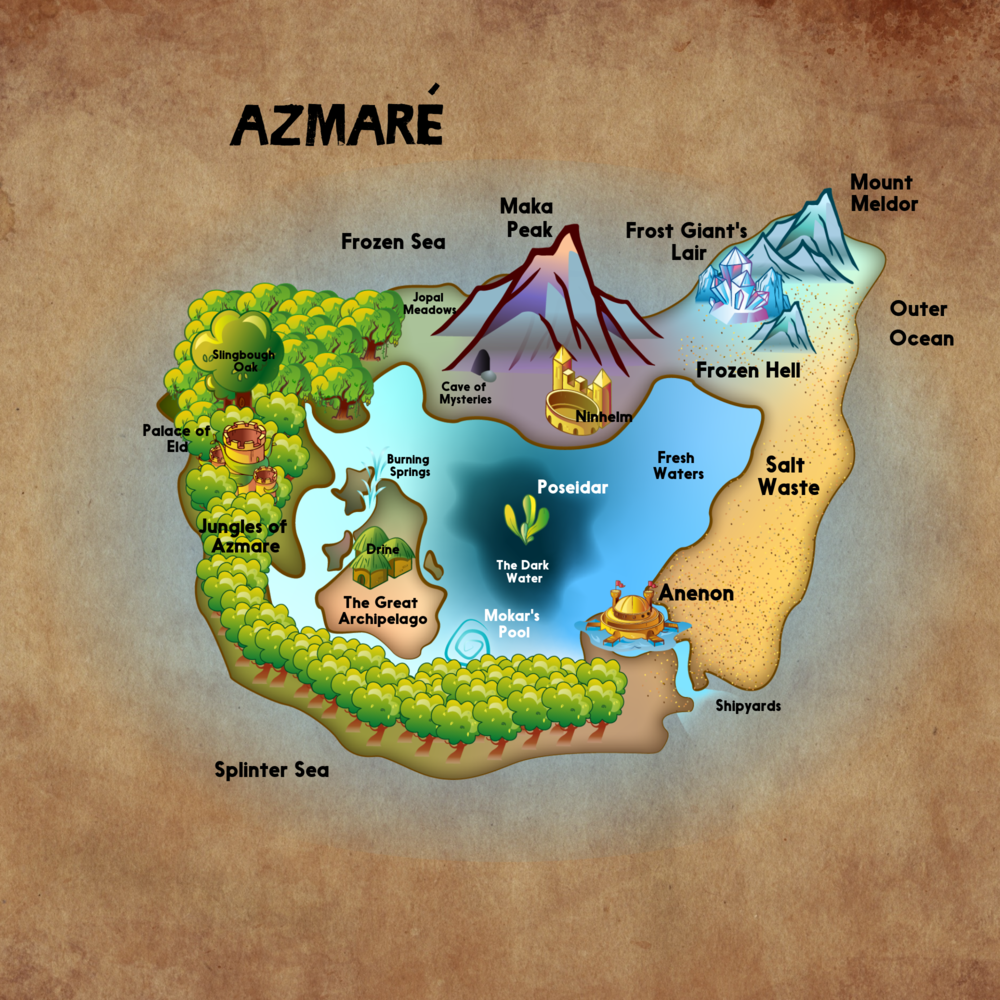 The meeting was a flash, the dazzling light of her lantern allowed me to notice her arrival and scared I hid behind a rock.
Just long enough to position the tripod of my camera and set up the auto shutter, hide behind a rock and he was in front of me looking for prey.
ALRIC STORMBRINGER warned me that, unlike him who gives power, BORTUS deprives him, making those he meets weakly.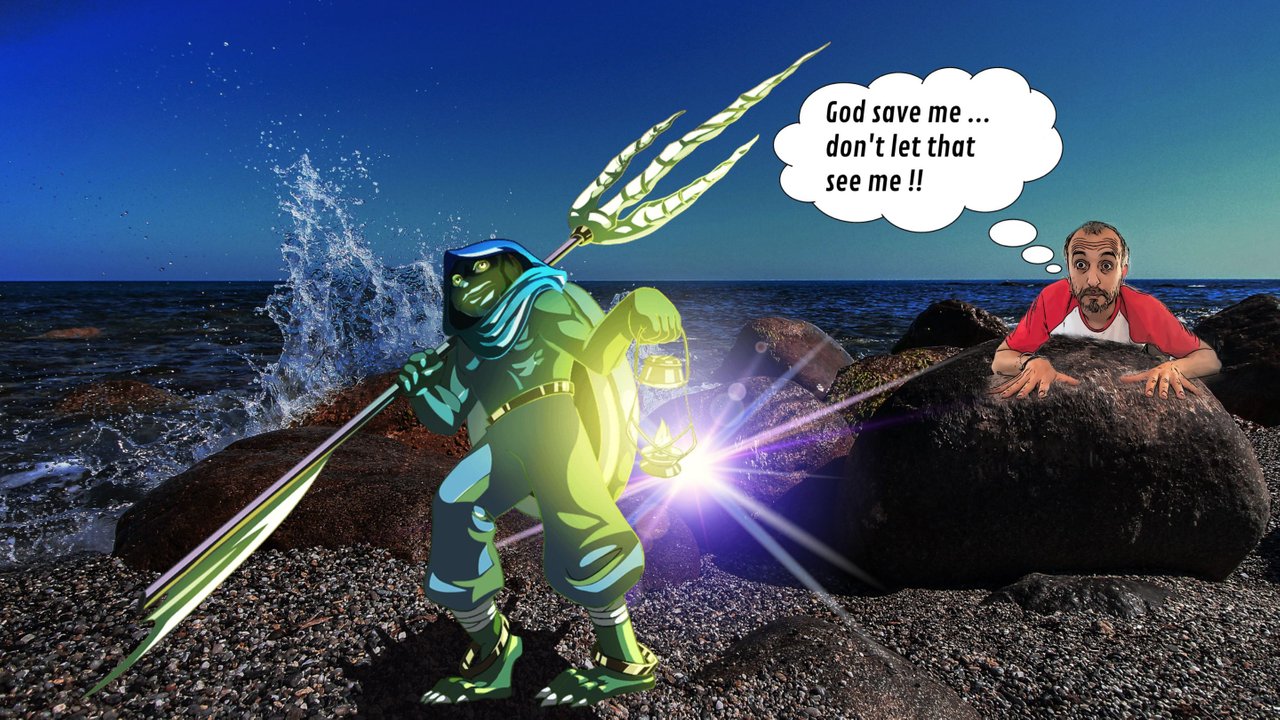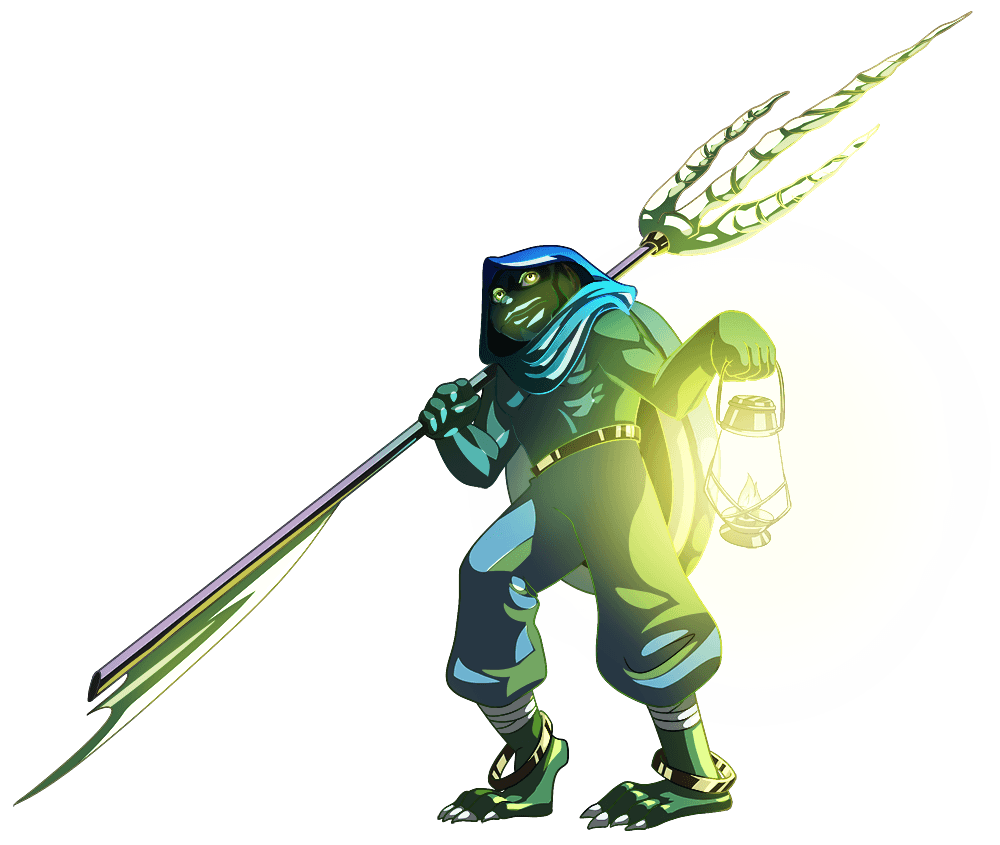 This Summoner with his trident that almost involuntarily hit me due to its length is a RARE monster capable of dropping the enemy's magical forces by one. Its MANA cost is only three.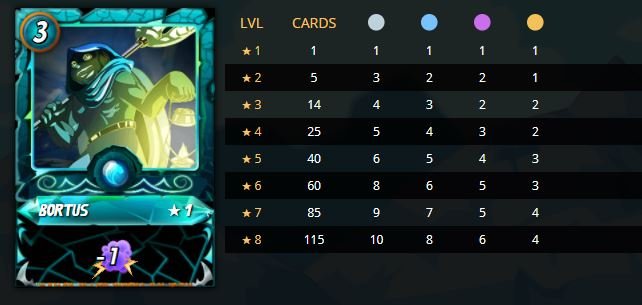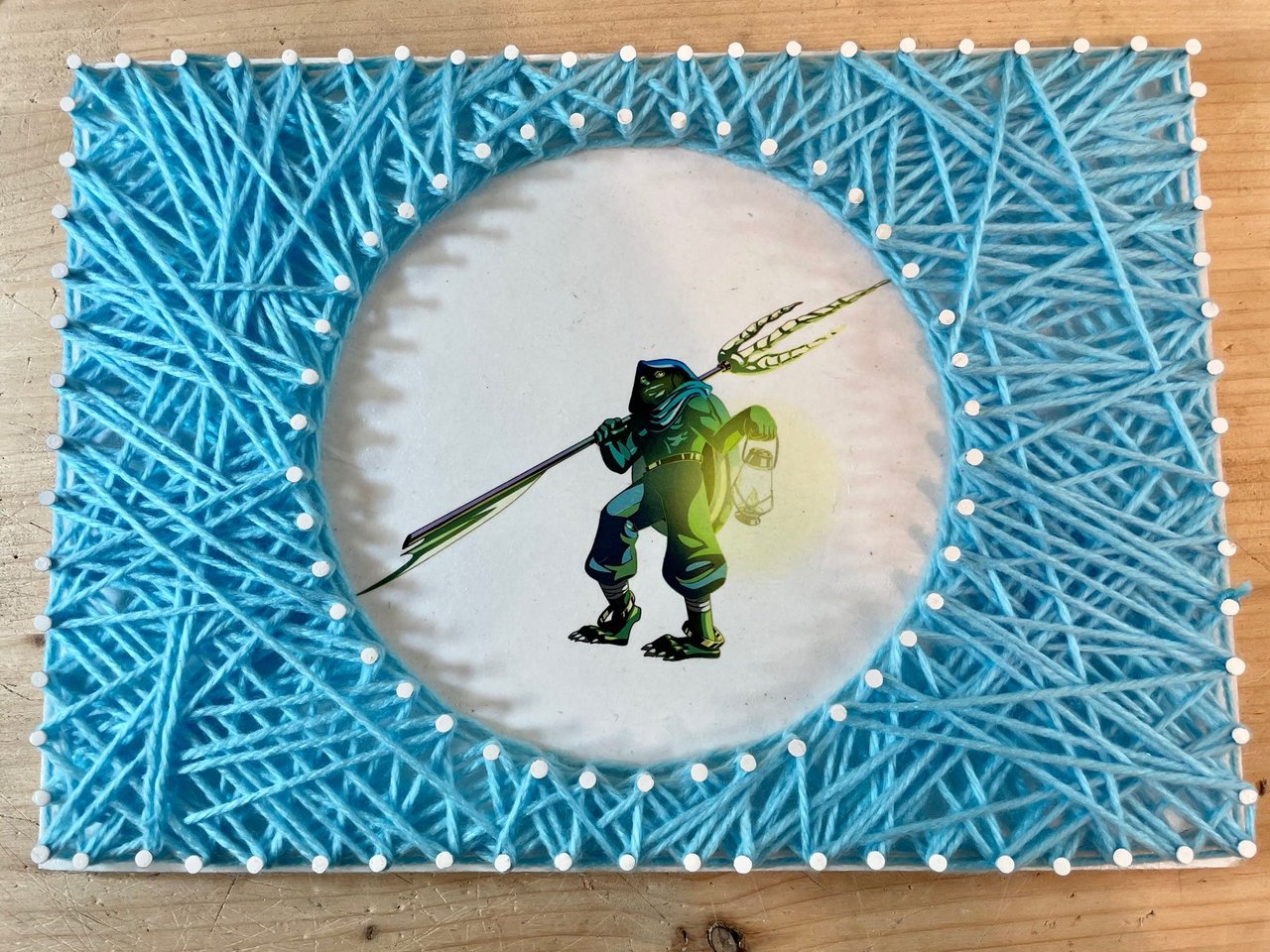 The full video lasts about 4 hours has been brought to just over 10 minutes by speeding up some parts to x2 up to a maximum of x50 is the fourth made of seven elements.
The images are taken from the Splinterlands game.
Recorded and edited by blumela with iPhone 12.
Applications used: Perfect Video - Photoleap - Clip2Comics - Tinipiny Camera.
For this SUMMONER I used the free sample music from the copyright-free Perfect Video application.
USED MATERIAL:
Wooden board 29cm x 21cm
Nails
Twine
White paint
Glue
Glossy protective paint
PERFORMANCE:
STEP 1
As always for this work, I found the centre of the table, created a circle of seventeen centimetres and drew a frame standing half a centimetre from the edge.
I then created a thickness of one centimetre and using it I made a point every centimetre in the circle while on the frame a point every 1.5 centimetres.
The points will help me know where to place the nails to have them equidistant from each other.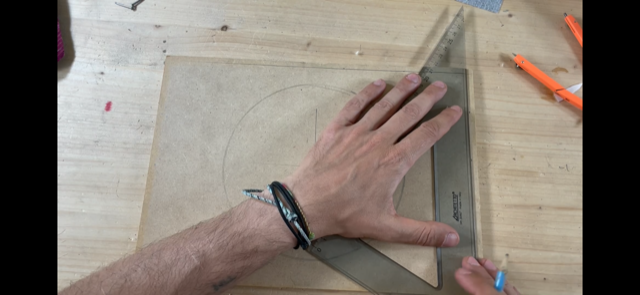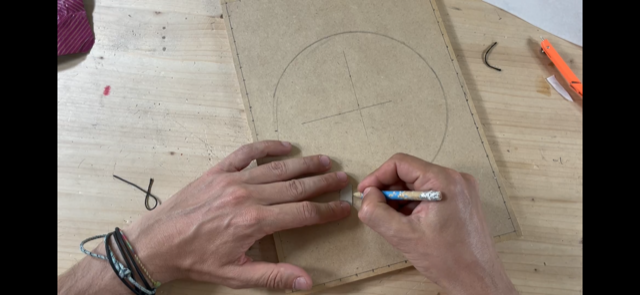 STEP 2
I hammered the nails into each point on both the rim and the frame and finally painted everything white.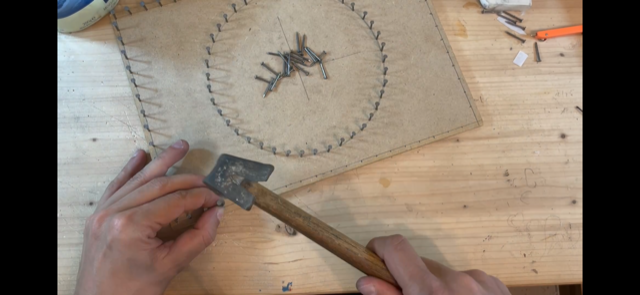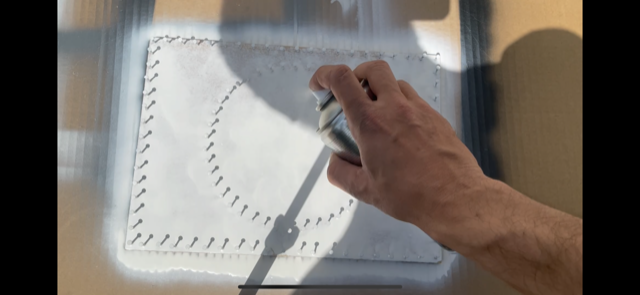 STEP 3
I printed the image on an almost transparent thirty gram paper inside a seventeen-centimetre circle, cut it out and glued it in the middle of the circle.
Once the glue was dry I painted the image with a glossy protective varnish.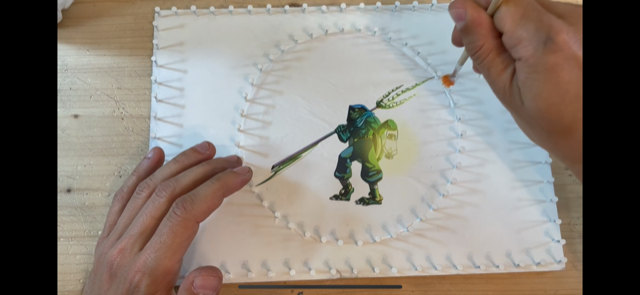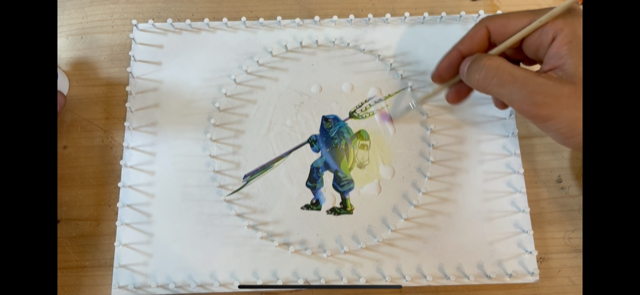 STEP 4
I intertwined all the nails passing around each one once clockwise and then counterclockwise with the blue string.
Once the whole frame has been made or the string has been pulled a little randomly between the nails of the frame and that of the circle until it is almost completely covered.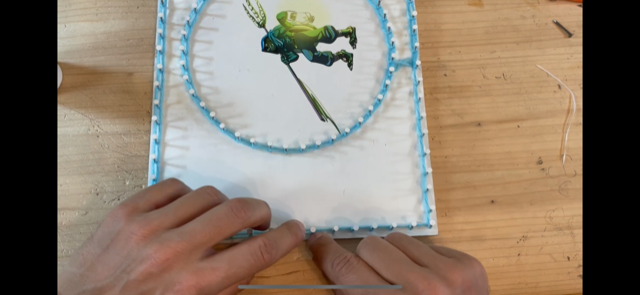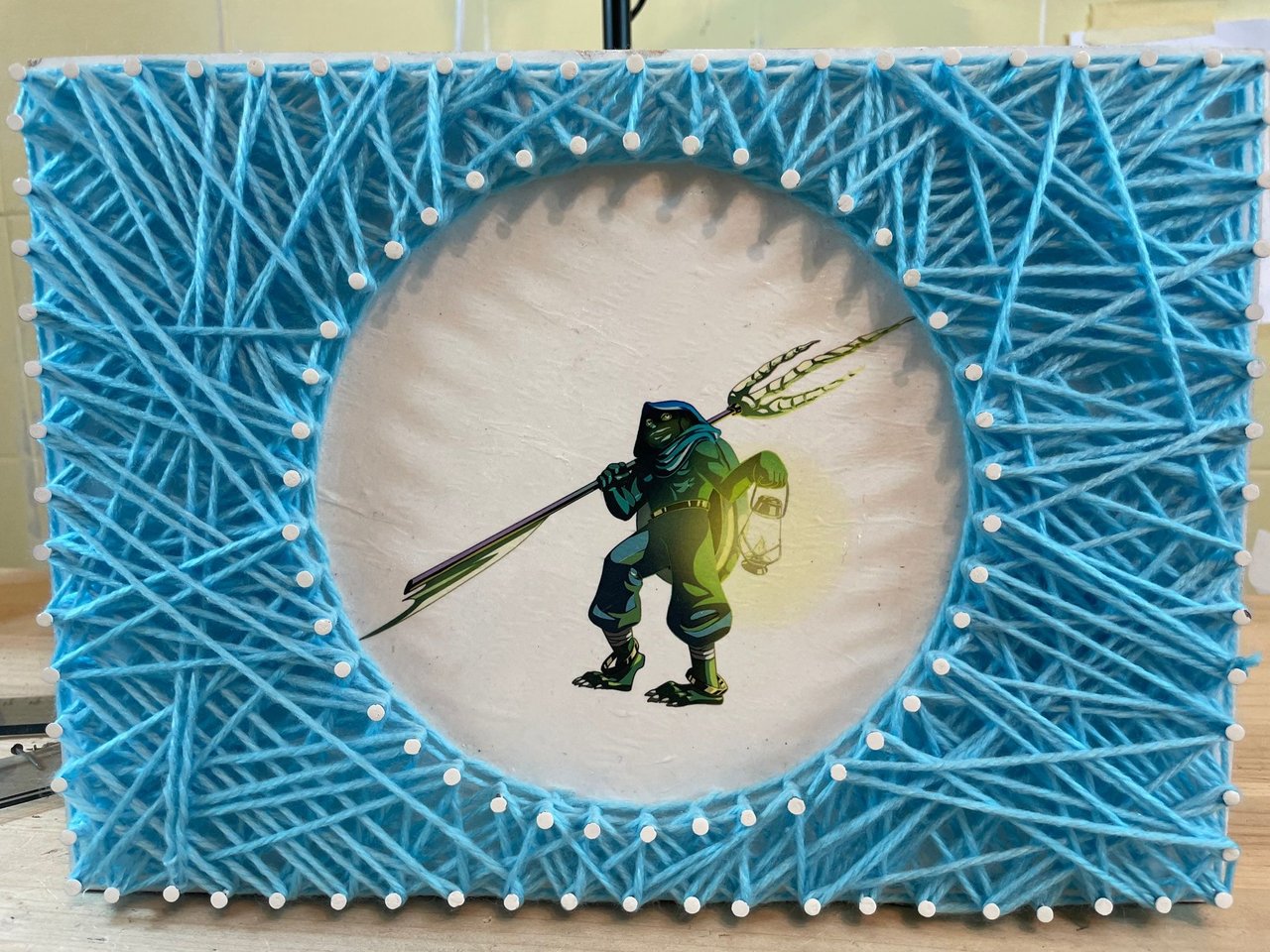 WORK COMPLETED!!!!

If you haven't tried this game yet my advice is to do it this is my link referral you can use the link if you like it or not but the point is always the one game to try! :-)
https://splinterlands.com?ref=blumela
If you don't like using it;) below !.
Have fun and see you in Battle !!

KNOWN SUMMONERS:
ALRIC STORMBRINGER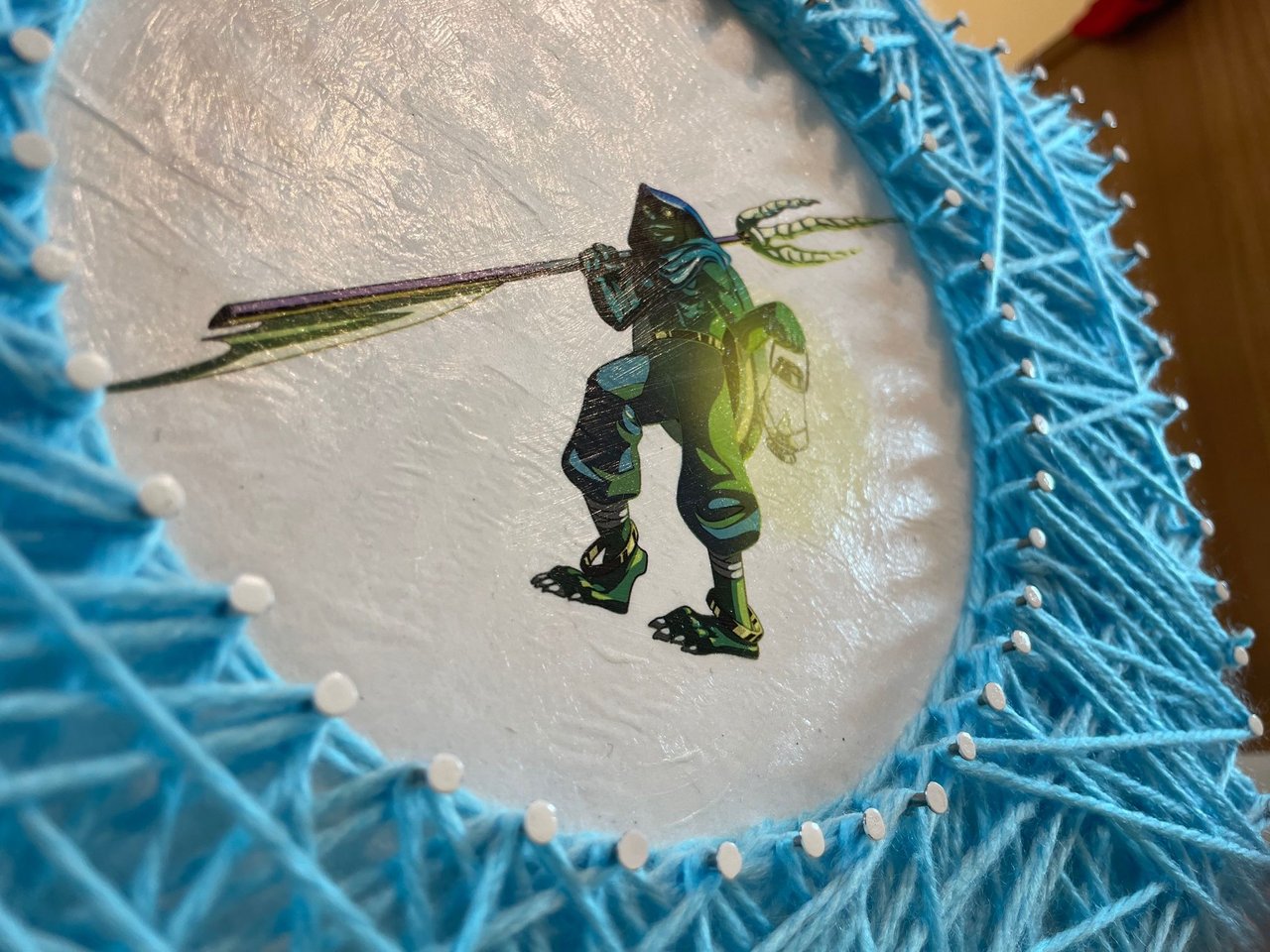 The photos are taken by the author and images from the Splinterlands game or the Splinterlands source unless otherwise indicated.

---
---
---
👉ITA VERSION👈

---
Ciao amici!!
Eccoci al secondo appuntamento di questa saga dedicata ai Summoner dell'elemento WATER.
Dopo aver chiacchierato a lungo con ALRIC STORMBRINGER gli ho chiesto dove fosse il mare più bello di AZMARE' e lui senza dubbi e perplessità mi ha risposto a OVEST nelle spiagge vicino al PALACE OF ELD.
Mi ha consigliato di non andare di notte perchè luogo molto pericoloso, di notte in quei luoghi si aggira BORTUS, Summoner perennemente arrabbiato perchè bullizzato per via del suo nome che fa rima con trataruga e quindi io sono andato in quella spiaggia.... di notte.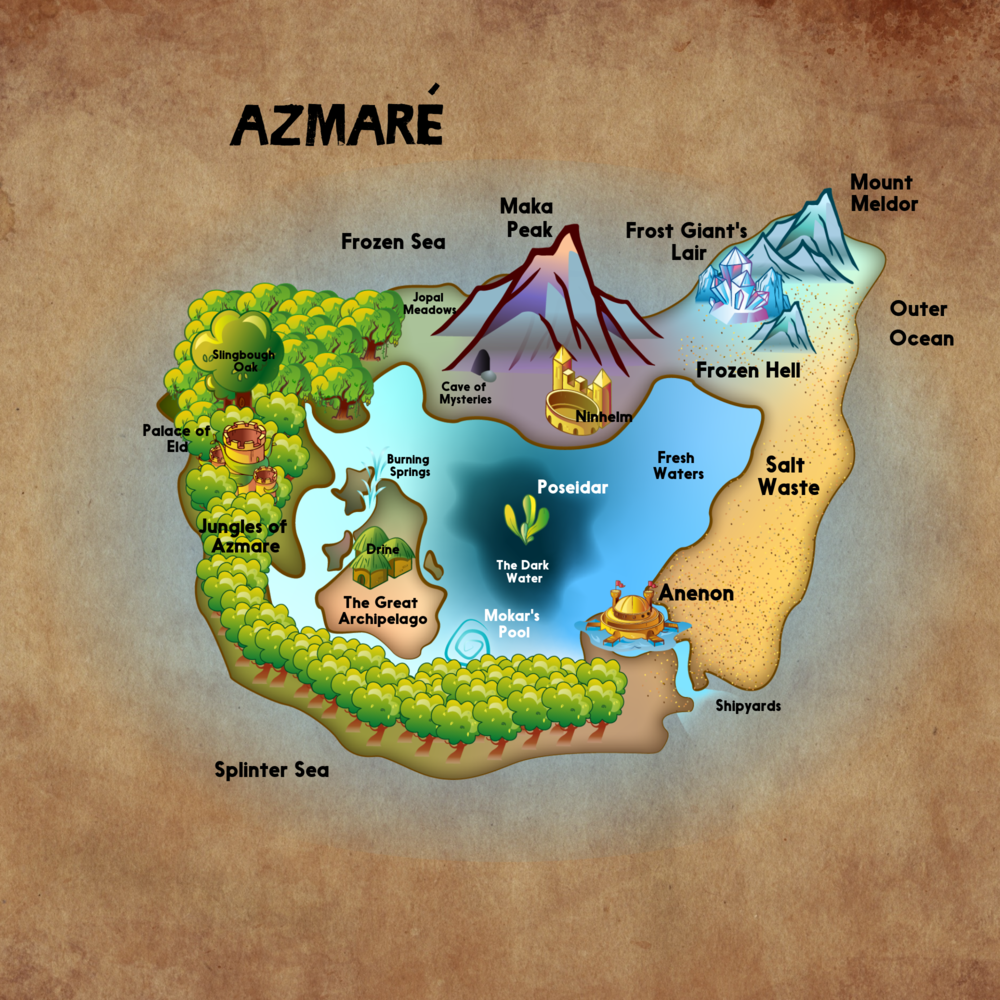 L'incontro è stato un flash, la luce abbagliante della sula lanterna mi ha permesso di accorgermi del suo arrivo e spaventato mi sono nascosto dietro a uno scoglio.
Giusto il tempo di posizionare il cavalletto della mia macchina fotografica e impostare l'auto scatto, nascondermi dietro una roccia e lui era davanti a me in cerca di prede.
ALRIC STORMBRINGER mi ha messo in guardia dal fatto che, al contrario di lui che da potere, BORTUS lo priva rendendo chi incontra debole.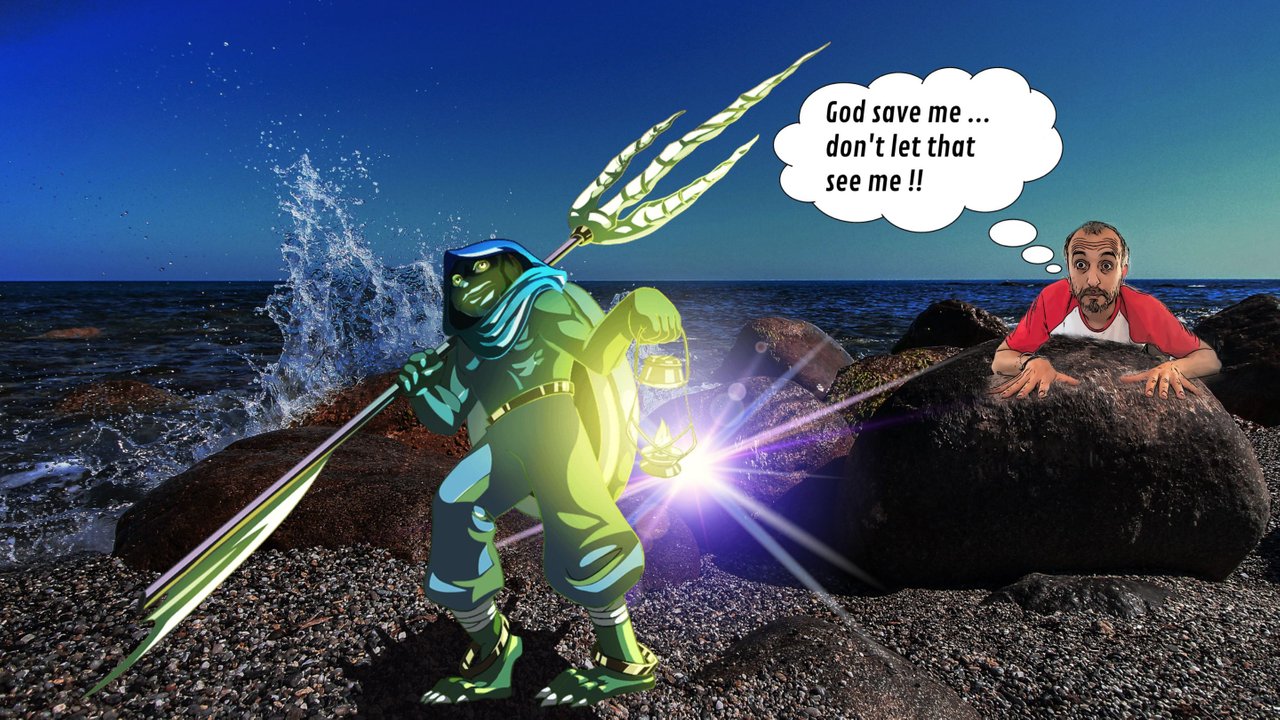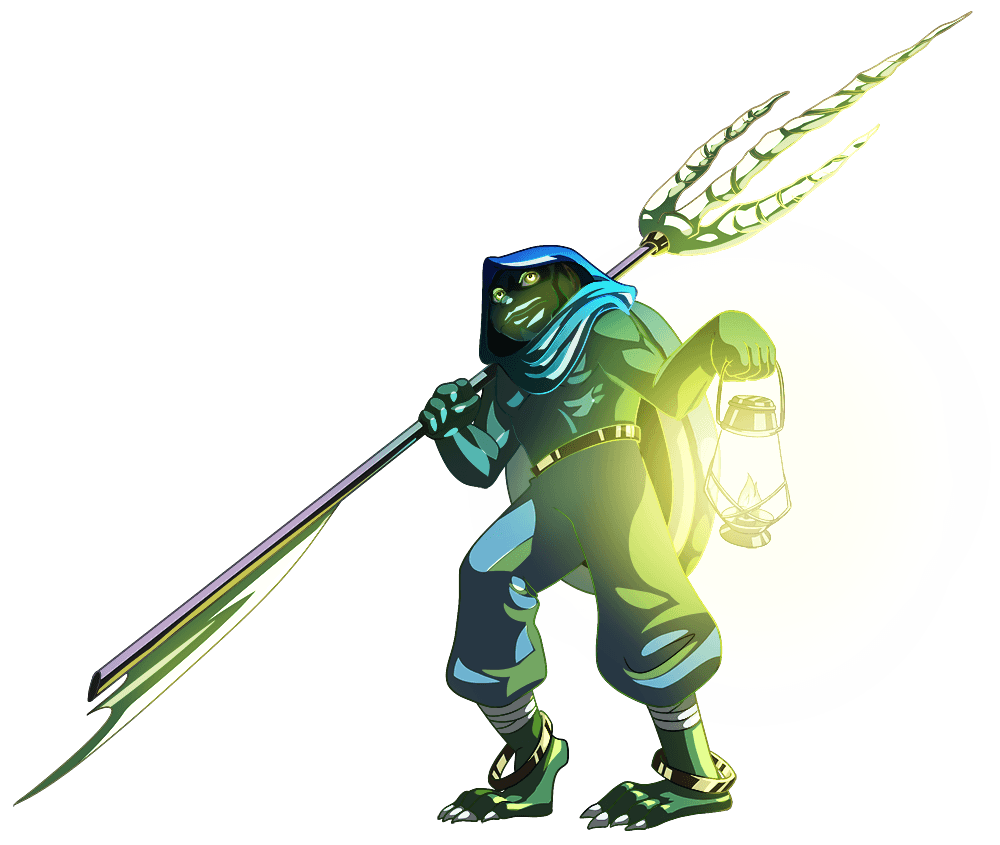 Questo Summoner con il suo tridente che quasi involontariamente mi ha colpito per via della sua lunghezza, è un mostro RARE capace di calare le forze magiche nemiche di uno e il suo costo in MANA è solo di tre.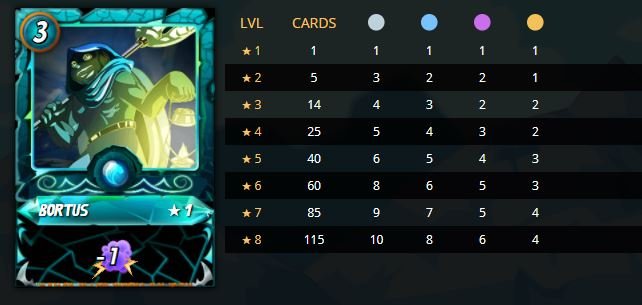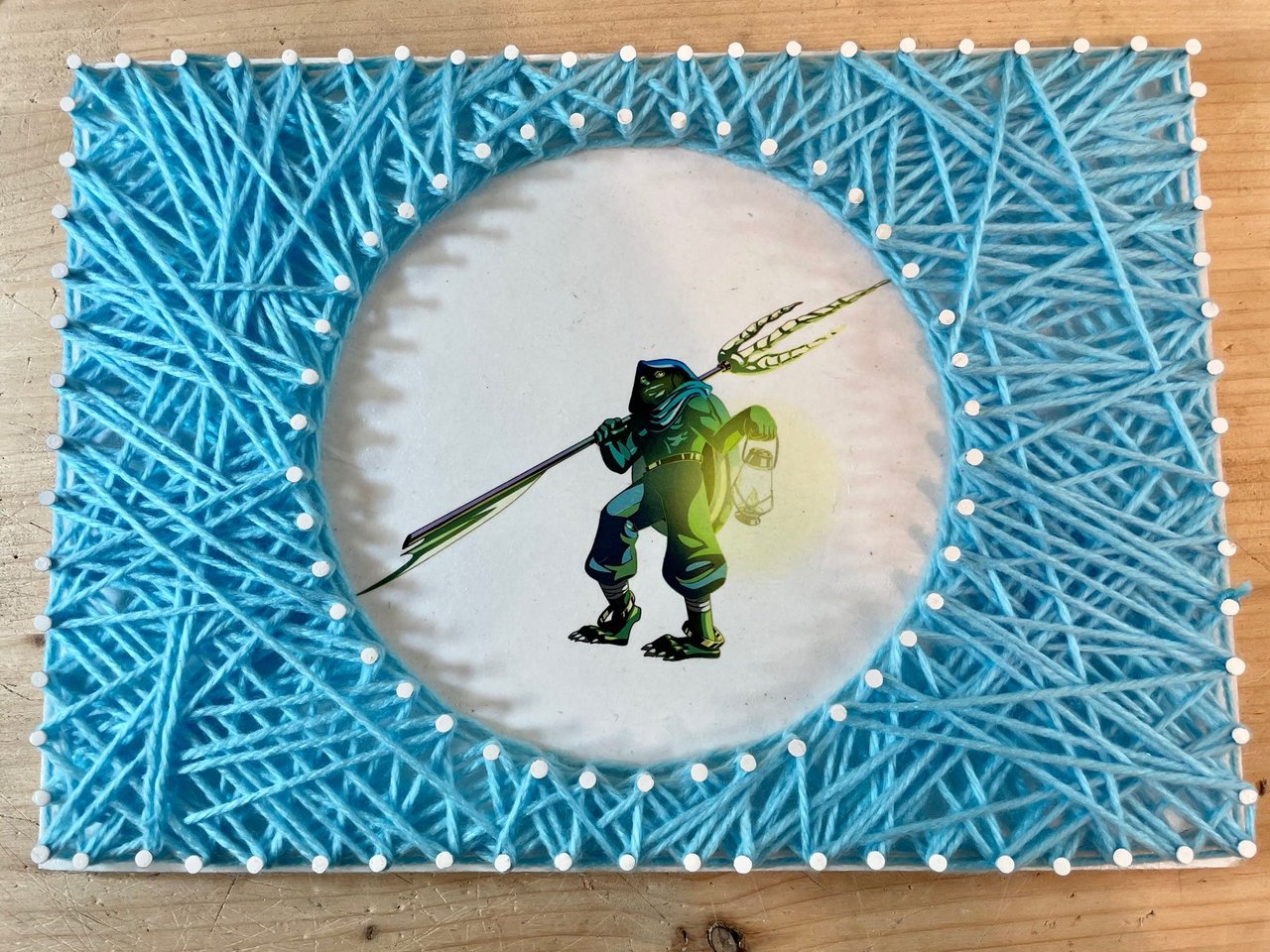 Il video integrale dura 4 ore circa è stato portato a poco più di 10 minuti velocizzando alcune parti a x2 fino ad un massimo di x50 è il quarto realizzato di sette elementi.
Le immagini soon prese dal gioco Splinterlands.
Registrato e montato da blumela con Iphone 12, applicazioni utilizzate: Perfect Video - Photoleap - Clip2Comics - Tinipiny Camera.
Per questo SUMMONER ho utilizzato la musica campione gratuita dell'applicazione Perfect Video priva di copyright.
MATERIALE UTILIZZATO:
Tavola di legno 29cm x 21 cm
Chiodi
Spago
Vernice Bianca
Colla
Vernice protettiva lucida
SVOLGIMENTO:
STEP 1
Come sempre per questo lavoro ho trovato il centro della tavola, ho creato un cerchio di diciassette centimentri e ho disegnato una cornice stando a mezzo centimentro dal bordo.
Ho poi creato uno spessore di un centimetro e utilizzandolo ho fatto un punto a ogni centimetro nel cerchio mentre sulla cornice un punto ogni 1.5 centimetri.
I punti mi serviranno per sapere dove posizionare i chiodi in modo da averli equidistanti fra loro.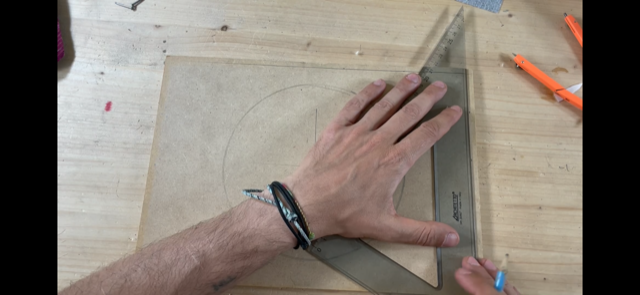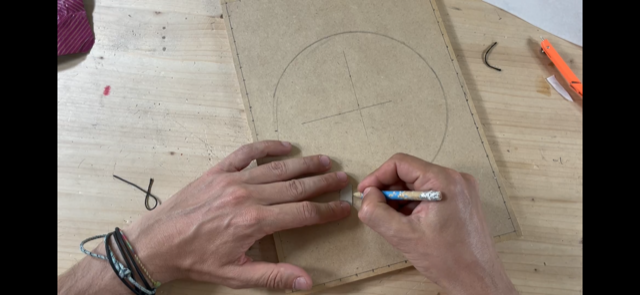 STEP 2
Ho Pinatato i chiodi su ogni punto sia sul cerchio che sulla cornice e in fine ho verniciato tutto di bianco.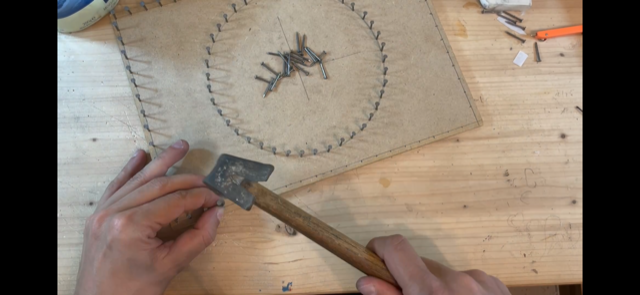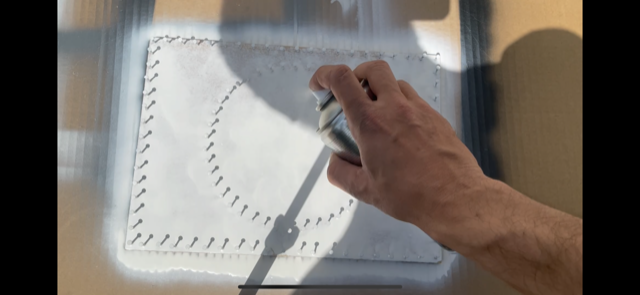 STEP 3
Ho stampato l'immagine su una carta trenta grammi quasi trasparente dentro un cerchio di diciassette centimetri, l'ho ritagliata e l'ho incollata nel mezzo del cerchio.
Una volta asciutta la colla ho verniciato l'immagine con una verniceprotettiva lucida.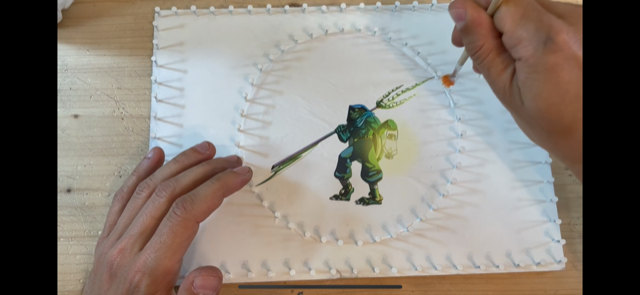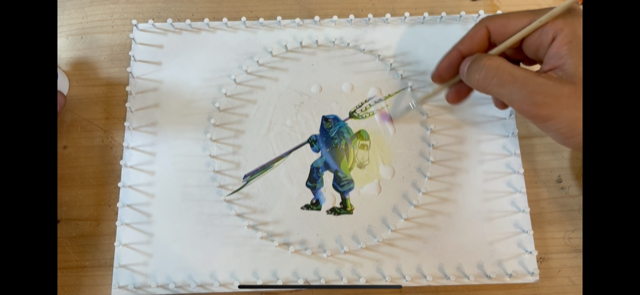 STEP 4
Con lo spago azzurro ho intrecciato tutti i chiodi passando intorno ad ognuno una volta in senso orario e poi in senso antiorario.
Una volta fatta tutta la cornice o tirato lo spago un pò casualmente tra i chiodi della cornice e quella del cerchio fino a ricoprirla quasi tutta.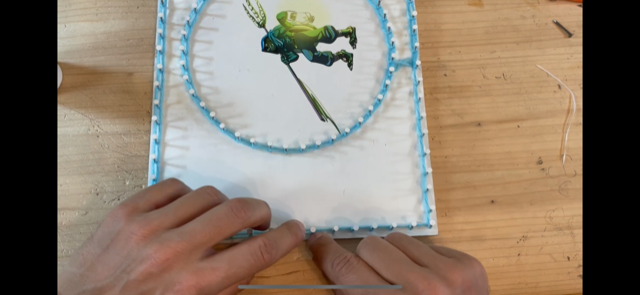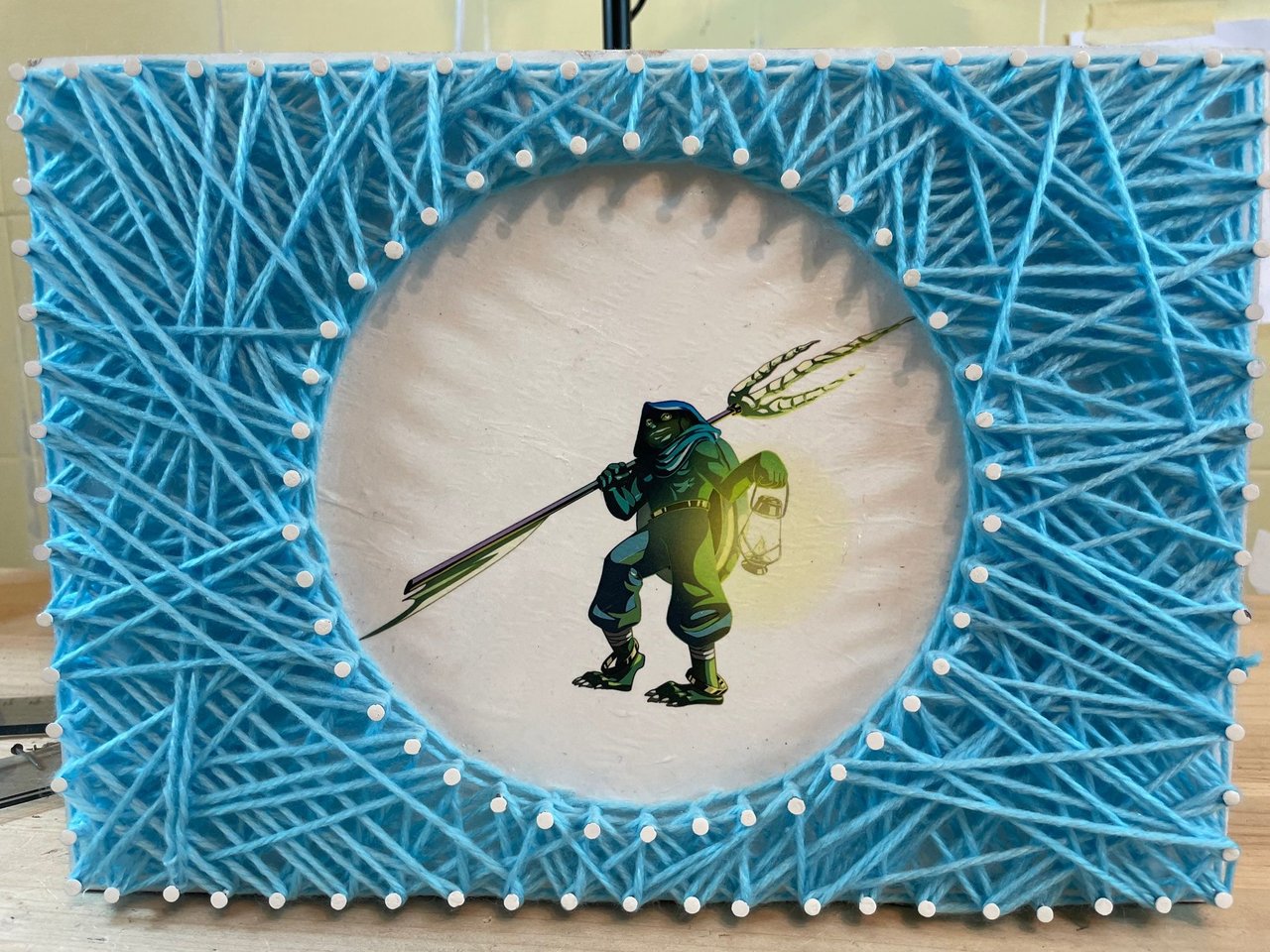 LAVORO COMPLETATO!!!!

Se ancora non hai provato questo gioco il mio consiglio è quello di farlo questo è il mio link refferal puoi utilizzare il link se ti fa piacere oppure no ma il punto è sempre quello gioco da provare! :-)
https://splinterlands.com?ref=blumela
Se non vi fa piacere utilizzarlo ;) qui sotto!.
Buon divertimento e ci vediamo in Battaglia!!

SUMMONER CONOSCIUTI:
ALRIC STORMBRINGER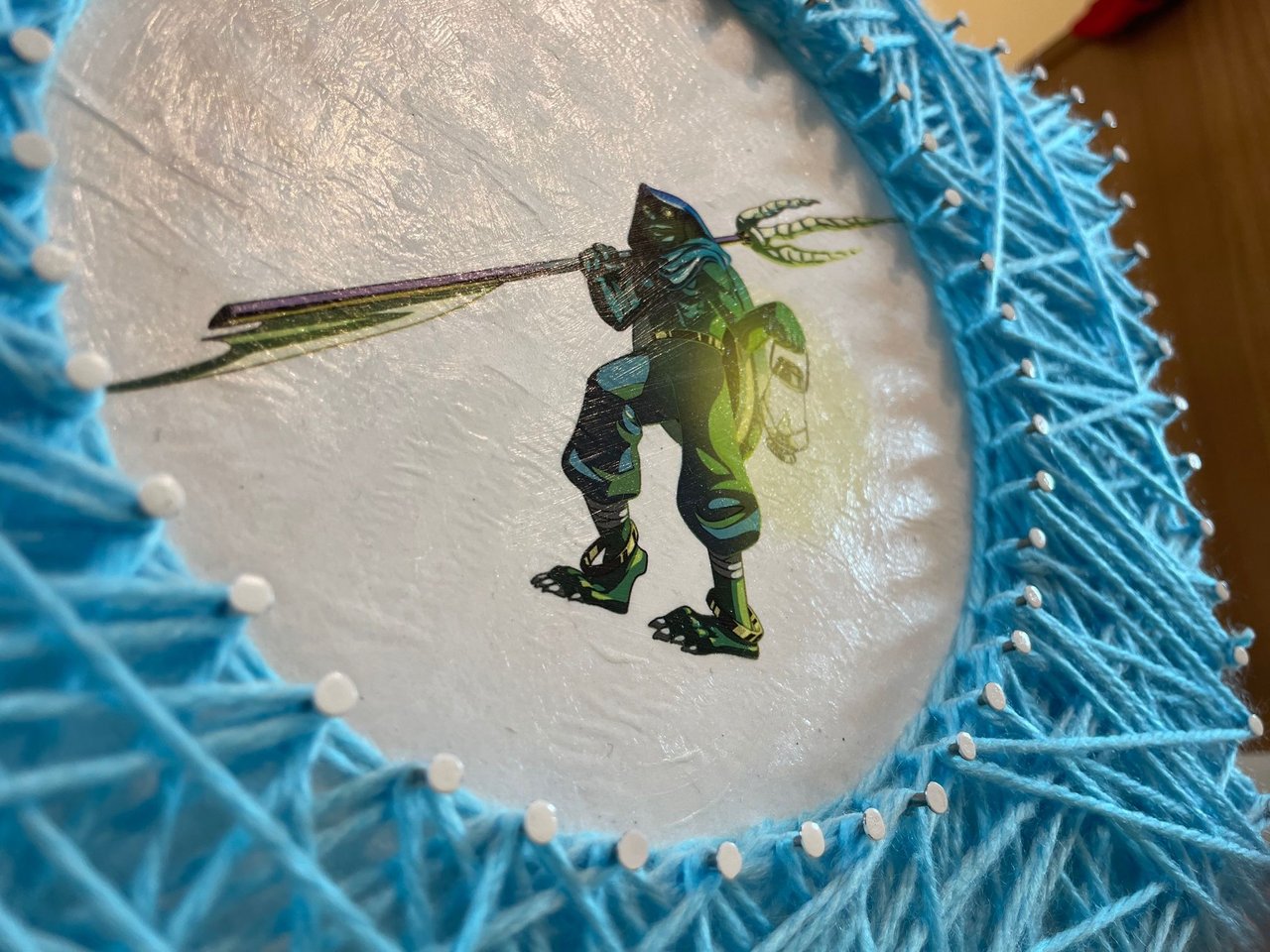 Le foto sono scatti dell'autore e immagini del gioco Splinterlands o di fonte Splinterlands, salvo dove diversamente indicato.

---
▶️ 3Speak