👉ENG VERSION👈

---
Hello Musicians! here we are at the weekly update of the most musical game there is !! RISING STAR!
Last week we broke up with BUSTER the saxophonist in black while this week we will leap into the past towards the sixties/seventies when hippies lived free or tried!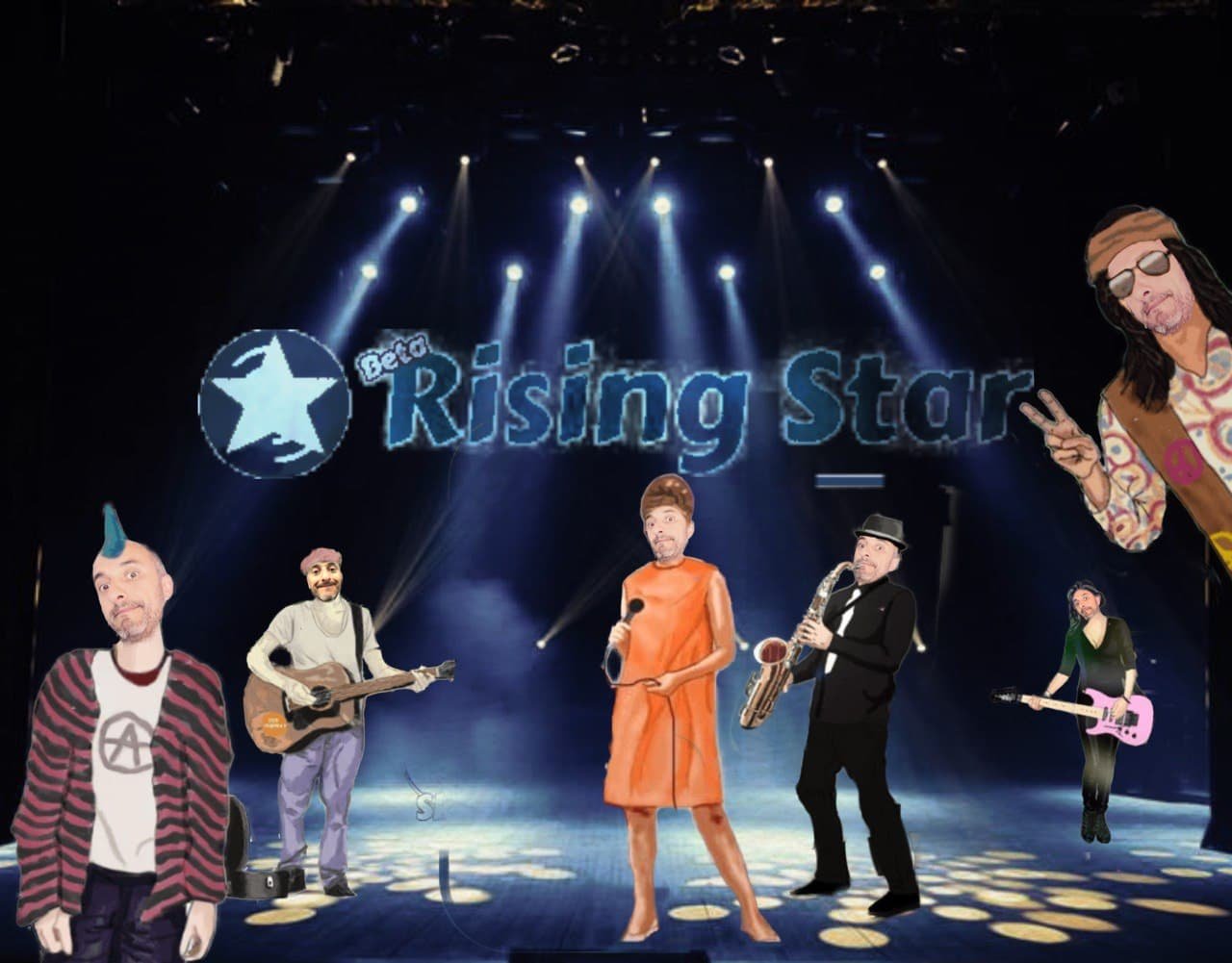 But first a rundown on the progress made, we finally reached the level 55 target set a few weeks ago

To be able to advance in the missions and switch from ACOUSTIC TENT to the next mission LOCAL MINI TOUR! with a little surprise, my 1150 FANS did not allow me to do the mission that requires 1200 and therefore a small upgrade or better purchase to be able to access the mission.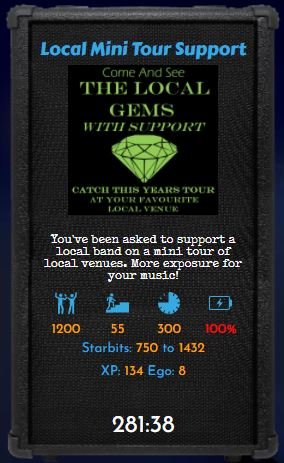 To be able to go up with the FANS I bought the card STIG RARE card which provides 125 FANS 175 SKILL 5 LUCK and 5 IM.
I paid 6900 STARBITS for it but it allowed me to access the mission by providing me with a total, with the other cards, of 1320 FANS and thanks to the numerous SKILLs to lower my EGO a little and then let's face it ... this drummer's wonderful card or maybe I'm biased because I am too :-).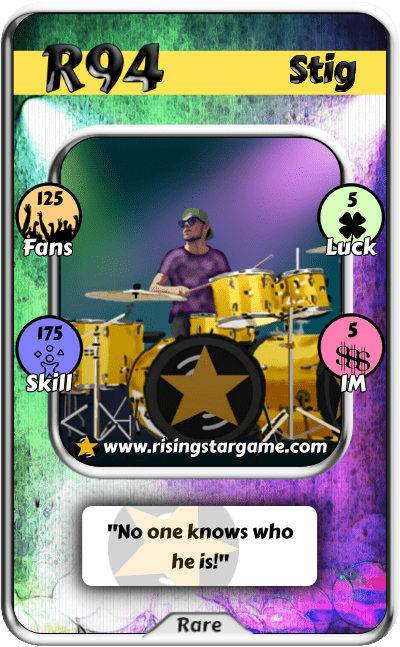 After my purchase, my STARBYTES have been a little reduced but the new mission will allow me to earn more and recover those spent will be very fast!

Let's move on to the paper selected for this week's painting, as I said it leaps the sixties/seventies in the times of the HIPPY youth movement born in America and then spread all over the world.
Today we depict card number 17 with nails and string
MOON CHILD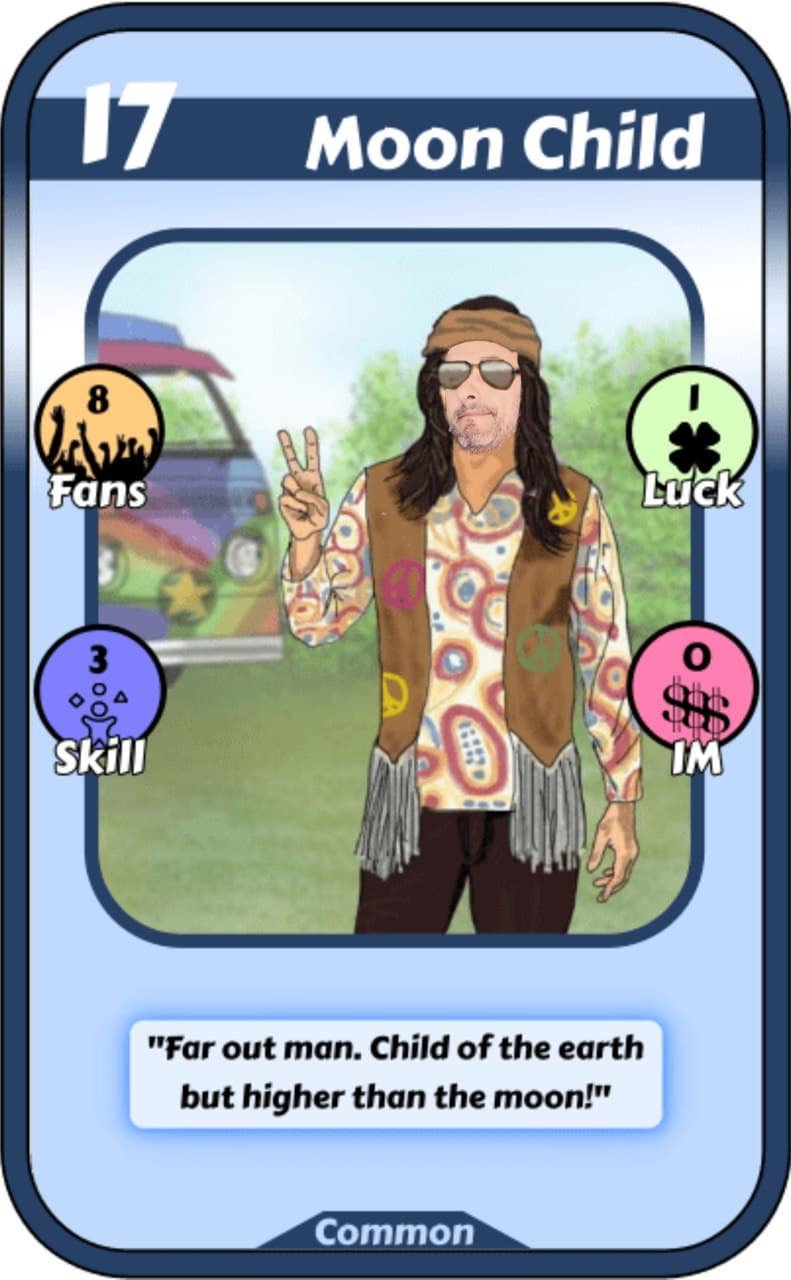 This character made me think of the song "Me and Bobby McGee" played by JANIS JOPLIN in the early seventies !!

Ecco la mia rappresentazione di MOON CHILD su tavola con la mia solita arte del DECOUPAGE con l'aggiunta di tanti chiodi e tanto spago.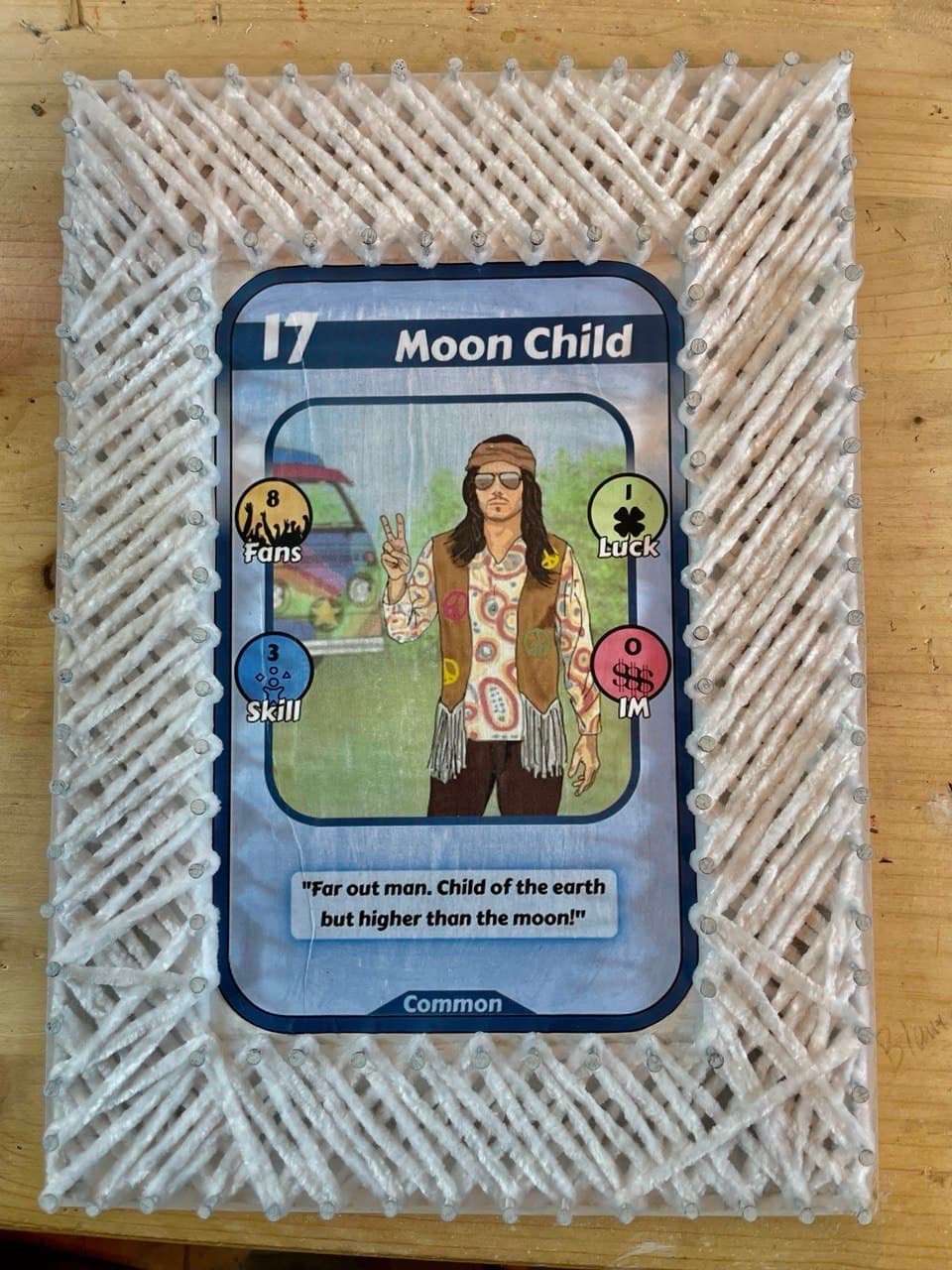 USED MATERIAL:
Wooden board 29 cm x 21 cm
Nails
White Twine
White paint
Glue
Glossy protective paint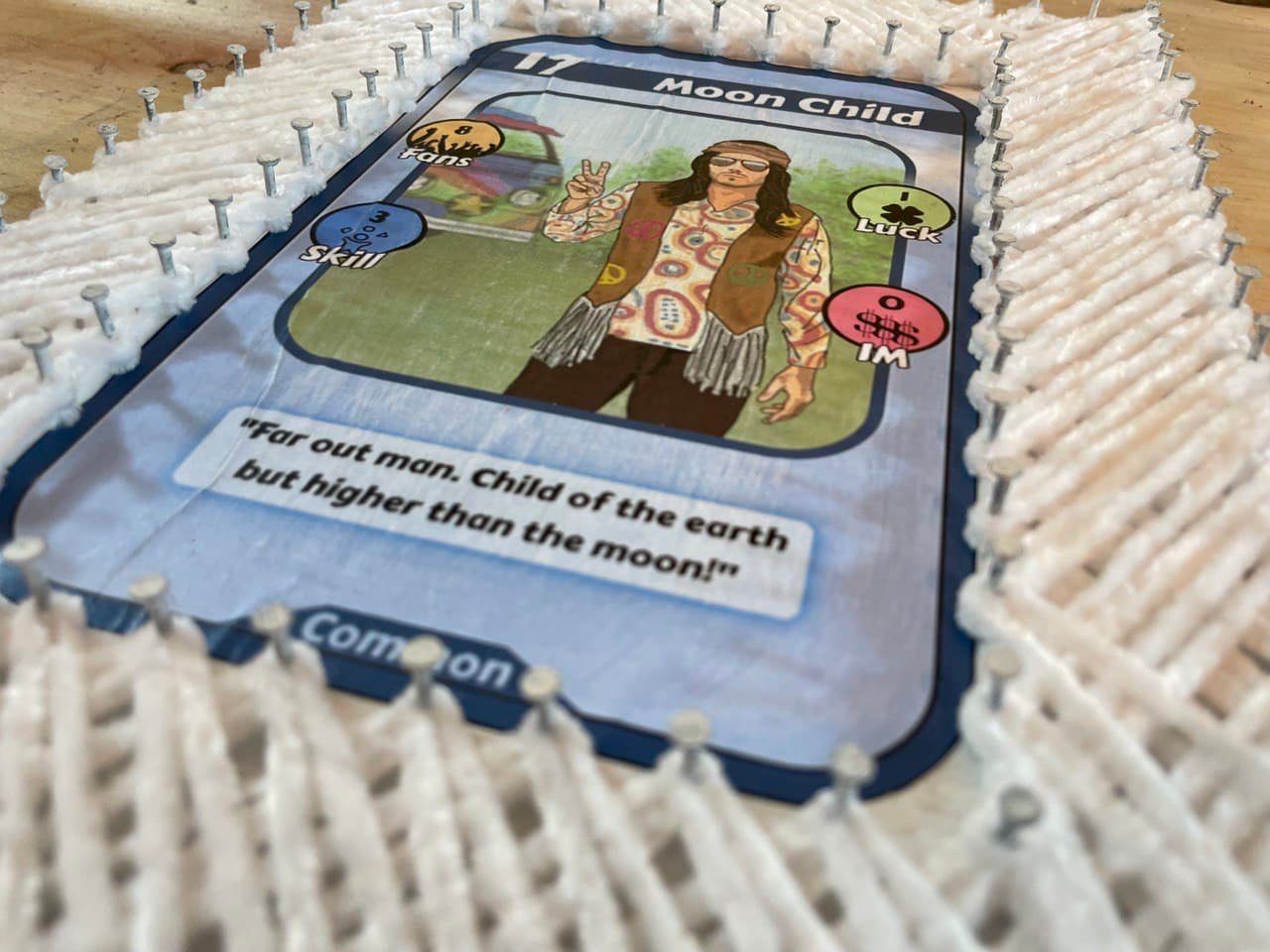 If you missed the work done previously, here are all the links to the work done.







If you still don't play RISING STAR I will leave you my referral link if you like using it is welcome:
https://www.risingstargame.com?referrer=blumela
If you don't like it, the advice is to try it anyway it requires little time and the satisfaction it can give are many. You can find the game at this link
https://www.risingstargame.com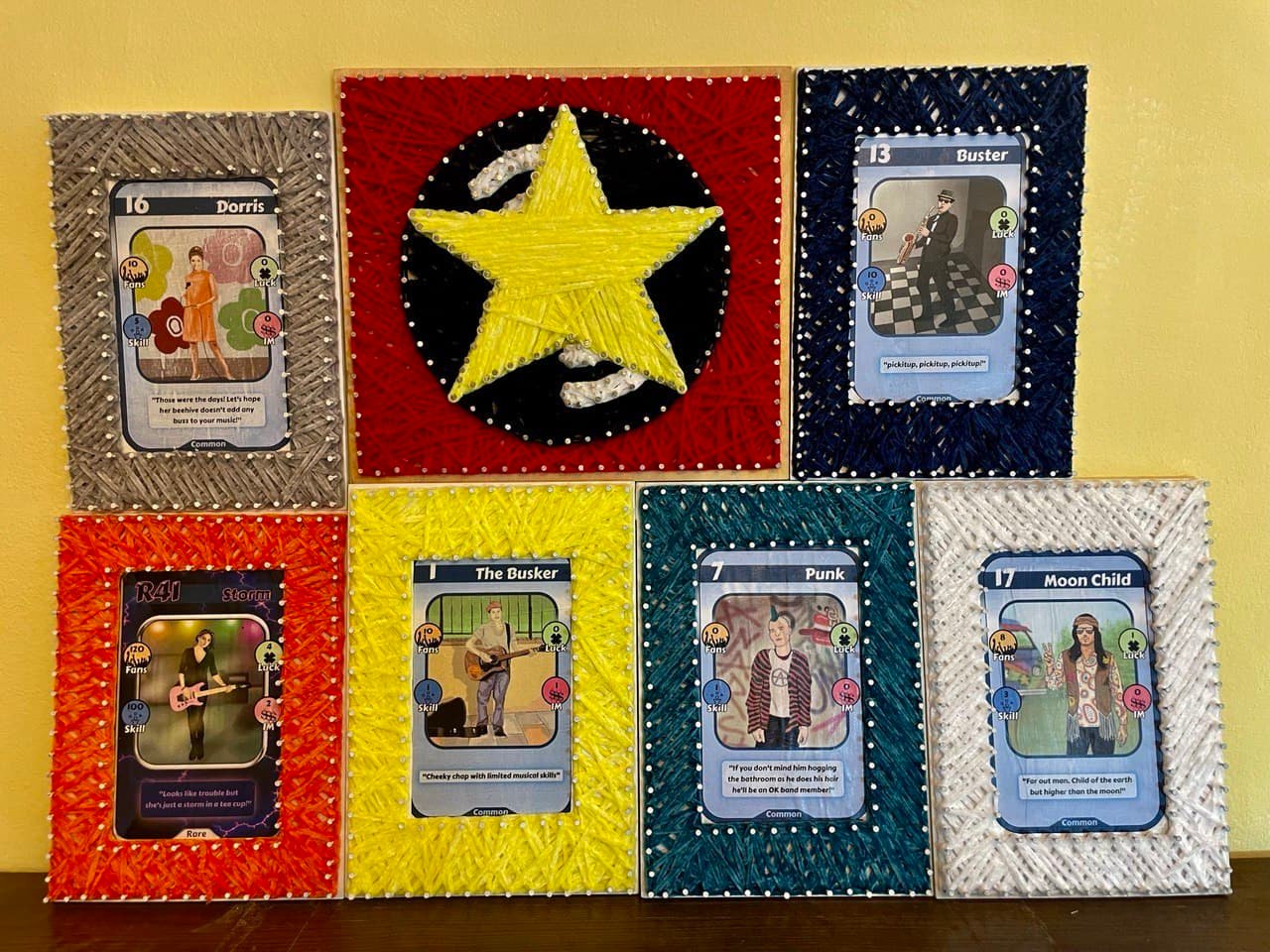 The photos are screenshots taken of the game owned by me or photos taken from the RSING STAR website unless otherwise indicated.

---
👉ITA VERSION👈

---
Ciao Musicisti! eccoci all'aggiornamento settimanale del gioco più musical che c'è!! RISINGSTAR!
La settimana scorsa ci siamo lasciati con BUSTER il saxofonista in nero mentre questa settimana faremo un salto nel passato verso gli anni sessanta/settanta quando gli hippy vivevano liberi o ci provavano!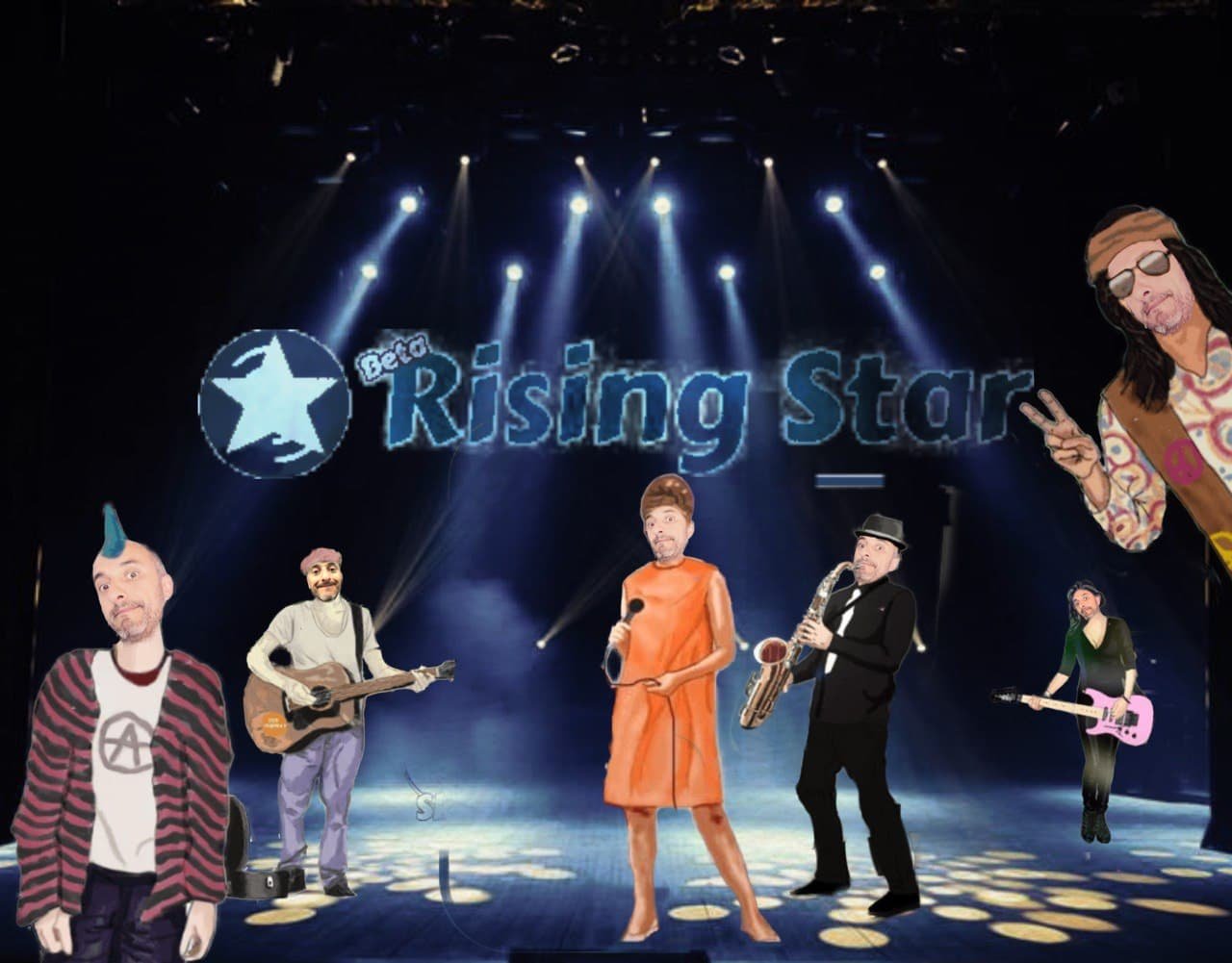 Ma prima una carrellata sui progressi fatti, finalmente siamo giunti al livello 55 obiettivo prefissato qualche settimana fà

per potere avanzare nelle missioni e passare da ACOUSTIC TENT alla missione successiva LOCAL MINI TOUR! con una piccola sorpresa, i miei FANS 1150 non mi permettevano di fare la missione che ne richiede 1200 e quindi piccolo upgrade o meglio acquisto per poter accedere alla missione.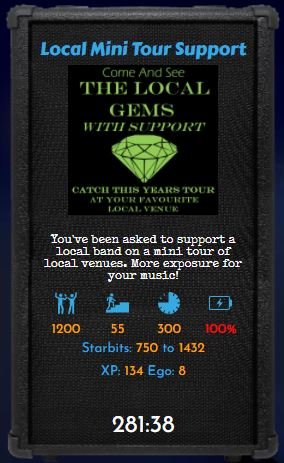 Per poter salire con i FANS ho comprato la carta STIG carta RARE che fornisce 125 FANS 175 SKILL 5 LUCK e 5 IM.
L'ho pagata 6900 STARBITS ma mi ha permesso di accedere alla missione fornendomi un totale, con le altre carte, di 1320 FANS e grazie alle numerose SKILL di abbassare un poco il mio EGO e poi diciamoci la verità... carta stupenda questo batterista o forse sono di parte perchè lo sono anch'io :-).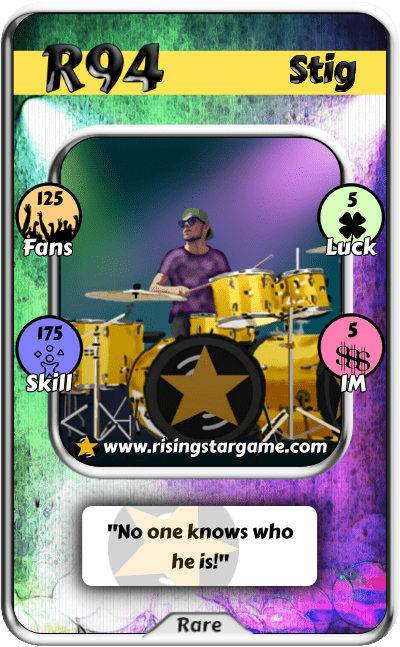 Dopo il mio acquisto i miei STARBYTES si sono un pò ridotti ma la nuova missione mi permetterà di guadagnarne di più e ricuperare quelli spesi sarà velocissimo!

Passiamo alla carta selezionata per il quadro di questa settimana, come dicevo si fà un salto negli anni sessanta/settanta nei tempi degli HIPPY movimento giovanile nato in America e poi diffuso in tutto il mondo.
Oggi raffiguriamo con chiodi e spago la carta numero 17
MOON CHILD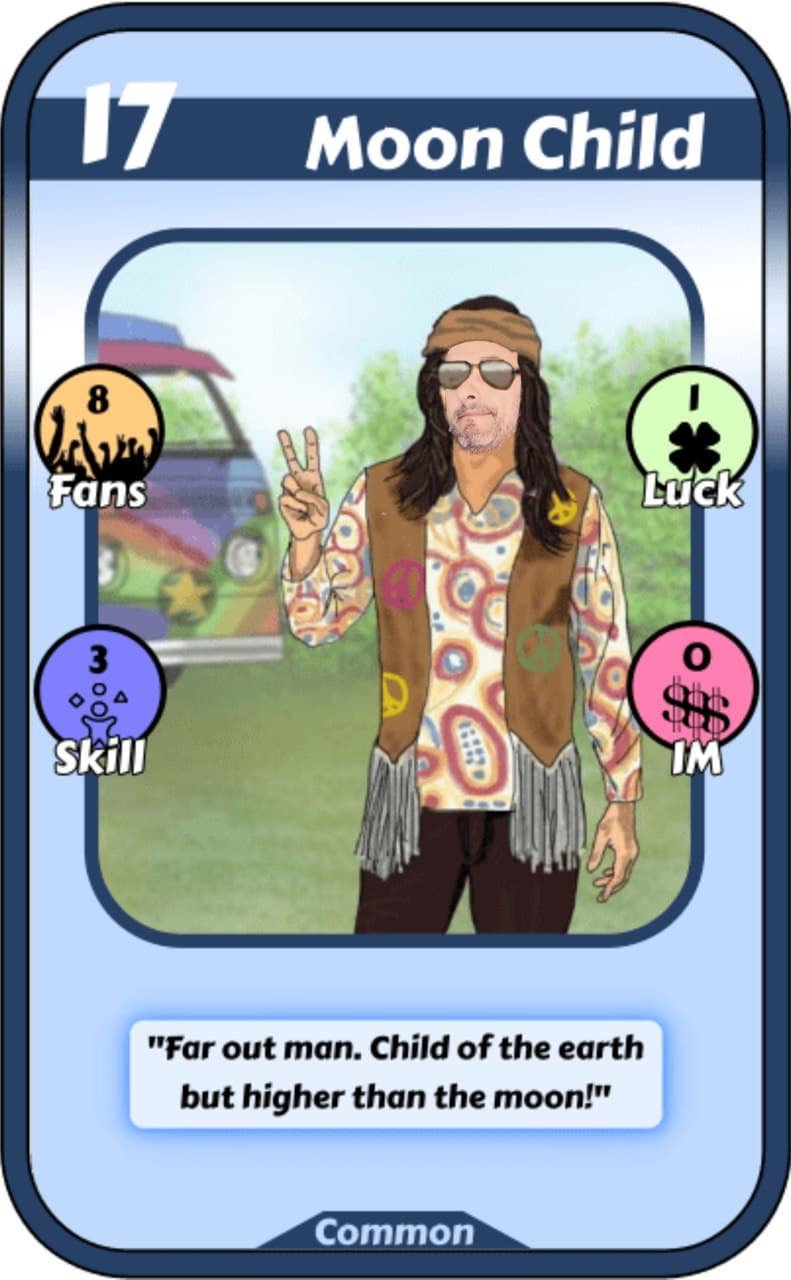 Questo personaggio mi ha fatto saltare alla mente la canzone "Me and Bobby McGee" interpretata da JANIS JOPLIN nei primi anni settanta!!

Ecco la mia rappresentazione di MOON CHILD su tavola con la mia solita arte del DECOUPAGE con l'aggiunta di tanti chiodi e tanto spago.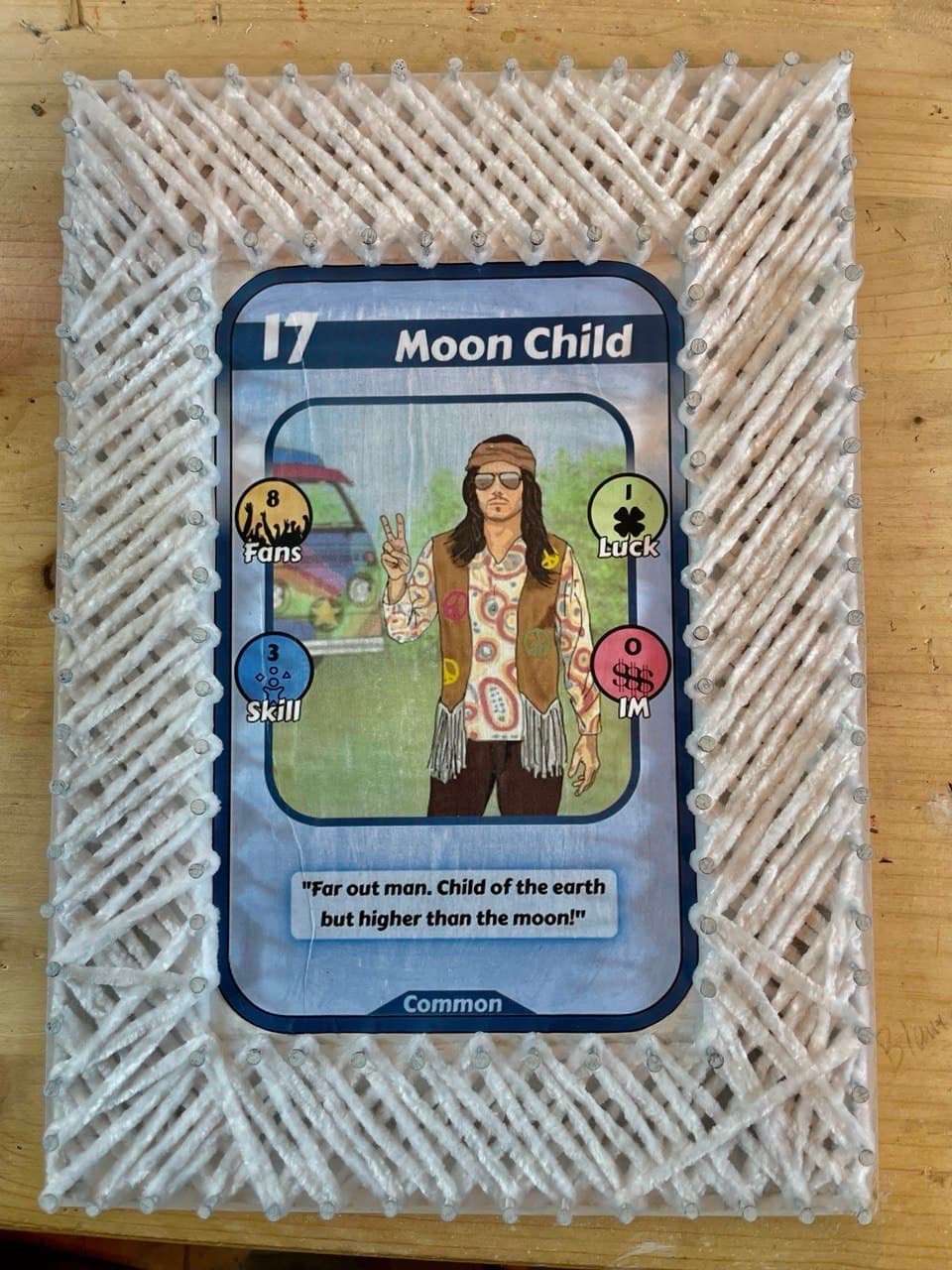 MATERIALE UTILIZZATO:
Tavola di legno 29 cm x 21 cm
Chiodi
Spago Bianco
Vernice Bianca
Colla
Vernice protettiva lucida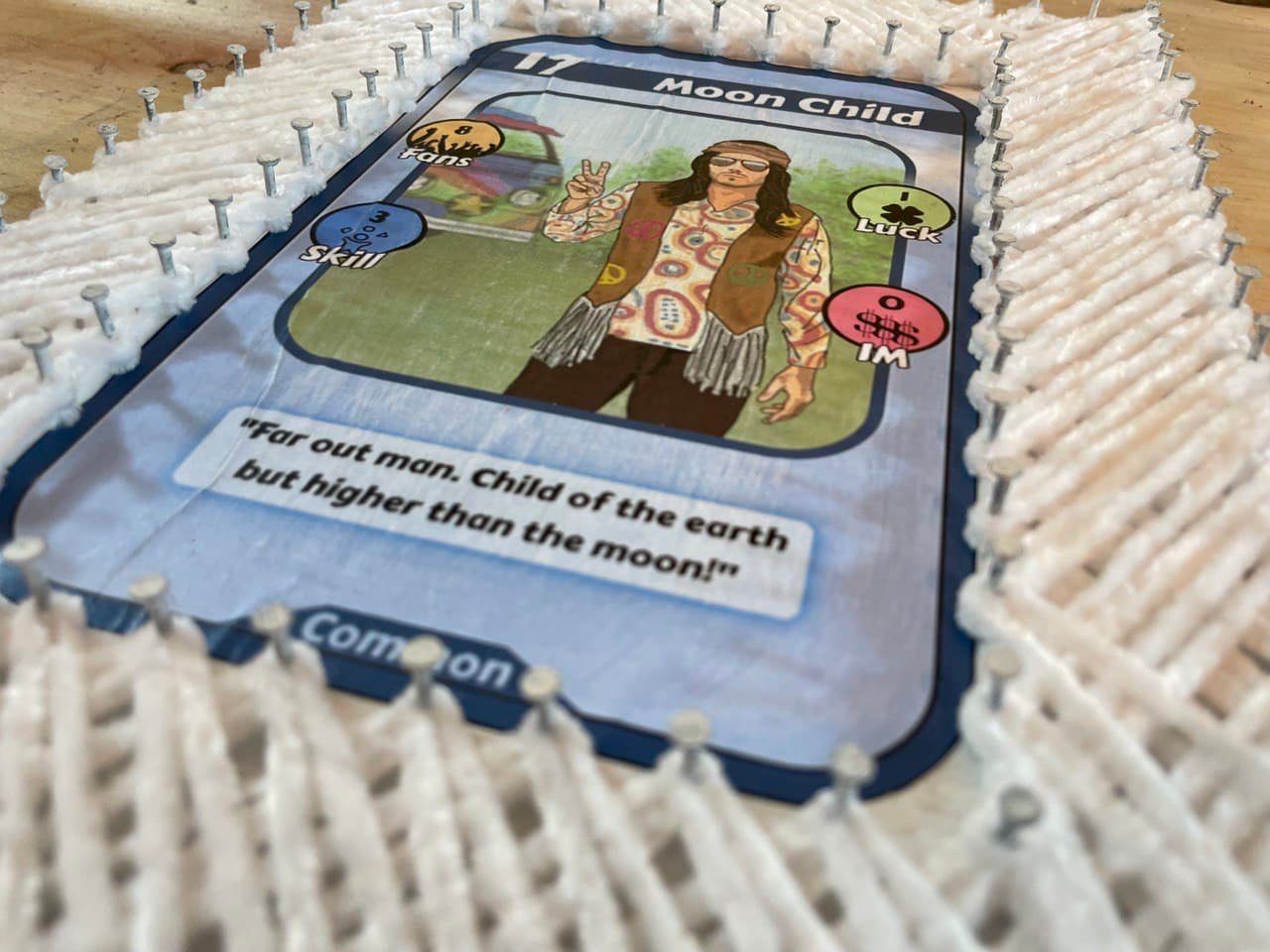 se vi siete persi i lavori fatti precedentemente ecco tutti i link dei lavori realizzati.







Se ancora non giochi a RISING STAR ti lascio il mio referla link se ti fa piacere utilizzarlo è cosa gradita:
https://www.risingstargame.com?referrer=blumela
Se non ti fa piacere il consiglio è quello di provarlo ugualmente richiede poco tempo e le soddisfazioni che può dare sono tante trovi il gioco a questo link
https://www.risingstargame.com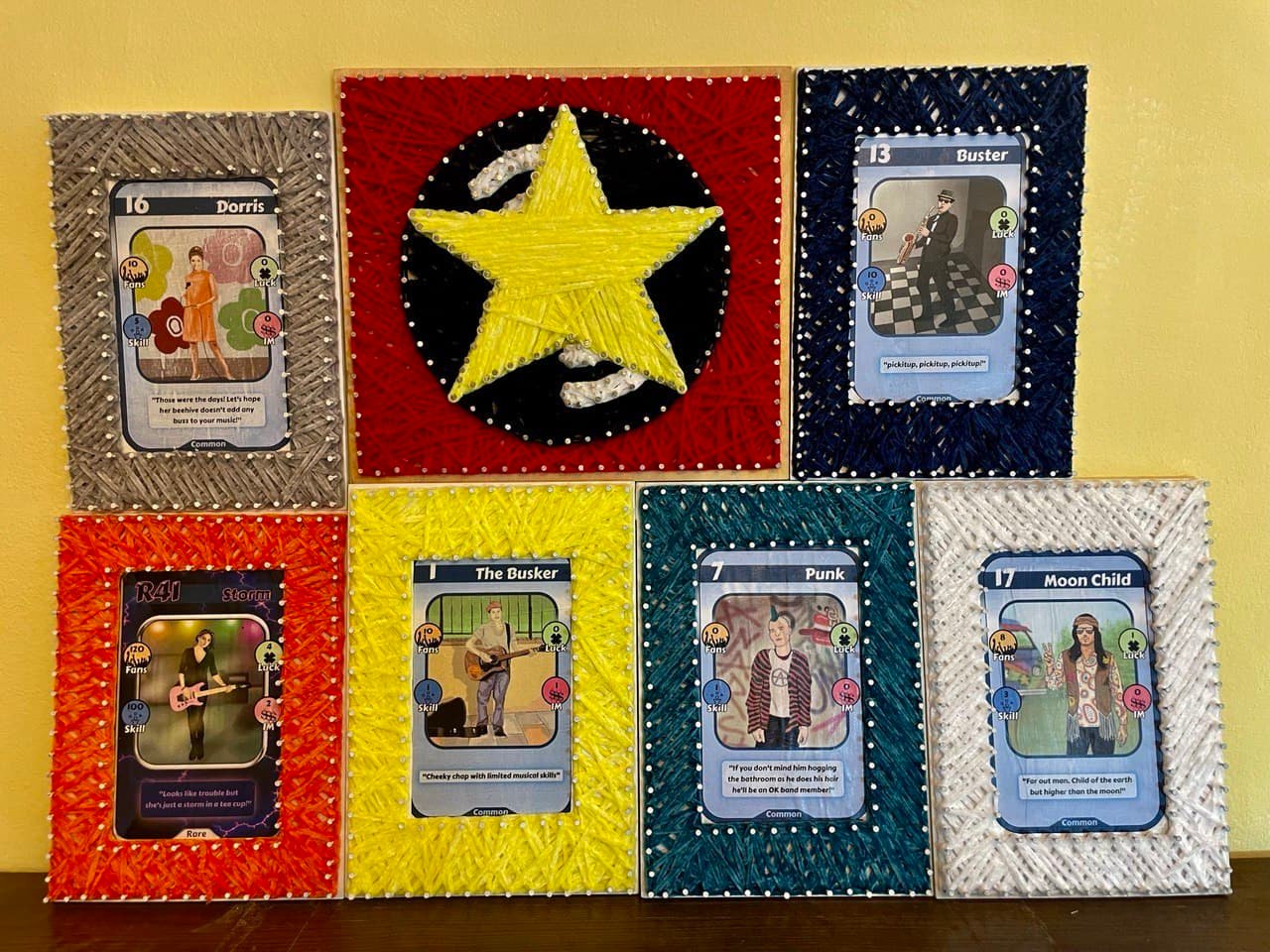 Le foto sono screenshot fatti al gioco di mia proprietà o foto prese dal sito di RSING STAR salvo dove diversamente indicato.