👉ENG VERSION👈

---
Hello guys!
Here is my weekly update for the amazing music game built on Blockchain @risingstar ... you are a musician and you still don't play with it? ... badly ... you are not a musician and you still don't play with it? ... badly bad! ! haha joking aside if you are interested in knowing this game at the bottom you will find the info to be able to access it.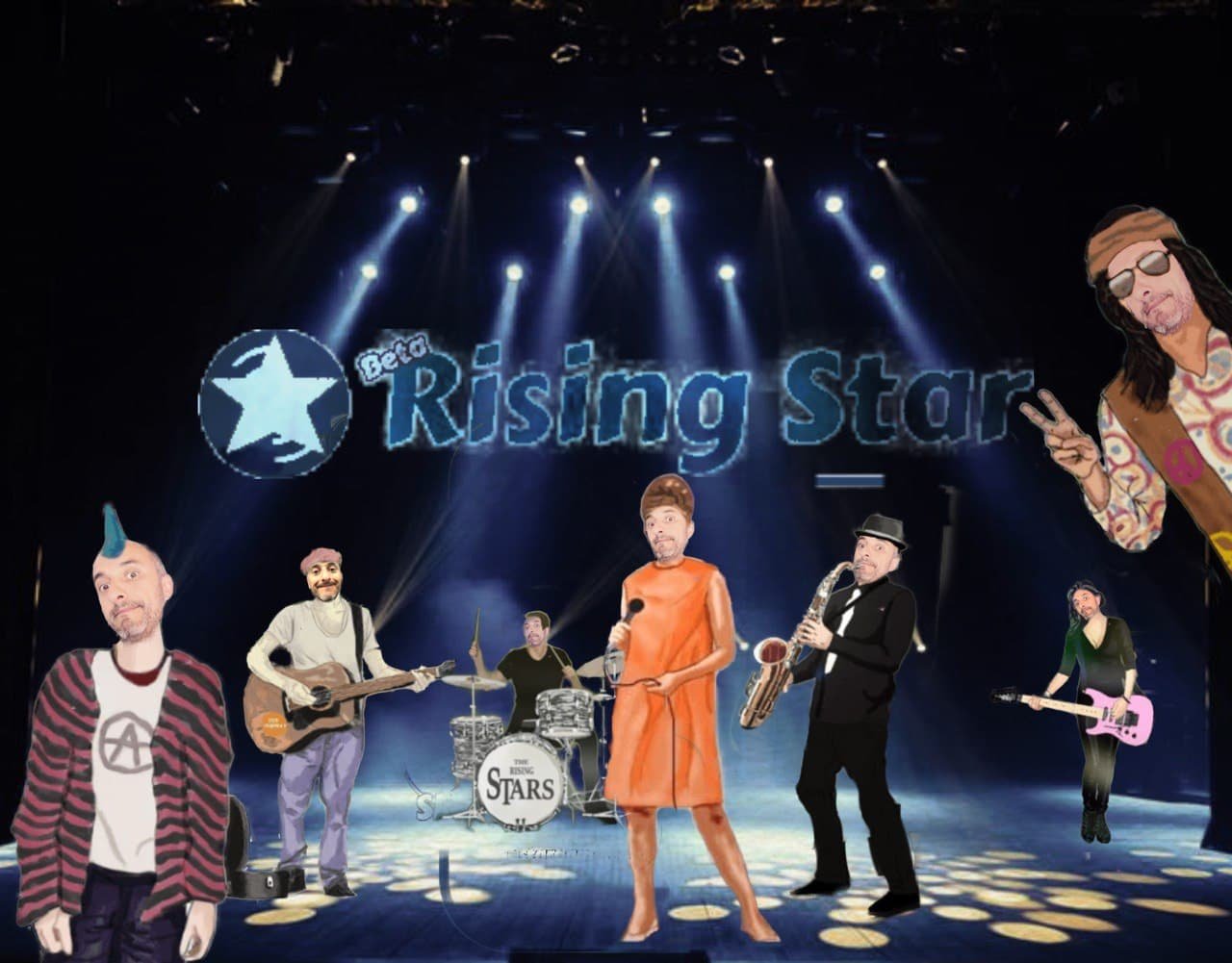 Weekly update !!
I need to lower my EGO which by now has reached the threshold of 56, very high indeed very high for this reason I am now dedicating myself to the missions included in LESSON MUSIC where I can complete missions that give SKILL, now I have 1594, which are used precisely to lower Lego.
My FANS are just 1200 number which allows me to complete the LOCAL MINI TOUR SUPPORT mission, the penultimate mission of the LOCAL GIG CIRCUIT island, currently on hiatus for the SKILLs.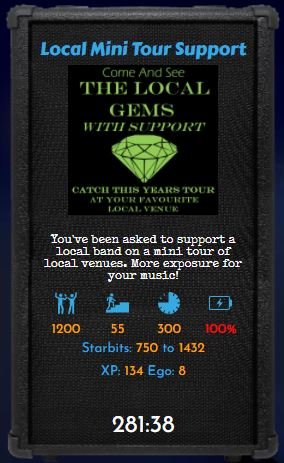 My DECK is made up of 20 cards that give me a total of 1200 FAN, 142 LUCK and 20 IM the latter I have not yet understood what it is for but I will get there, indeed if any friend has the time to explain it to me here in the comments thank you in advance.
Reached level 55 on the way to 56!


The character chosen for my weekly picture is the number R75 GREG RARO drummer offering 100 FANS, 150 SKILL, 5 LUCK and 2 IM.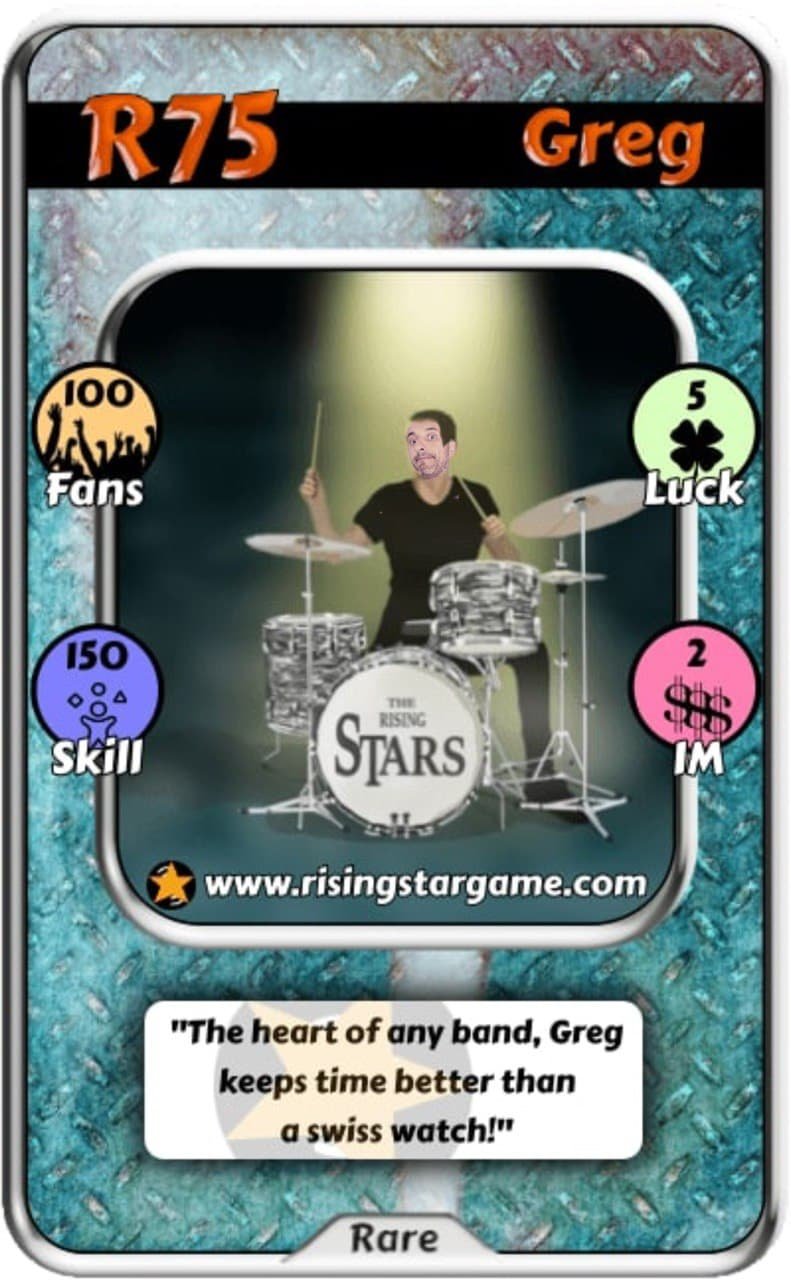 And since we're talking about drummers, I can't help but pay homage to a recently deceased great drummer, Rolling Stones drummer Charlie Watts.
Here is the picture created by me dedicated to GREG R75, I used the DECOUPAGE combined with many nails and a lot of wire.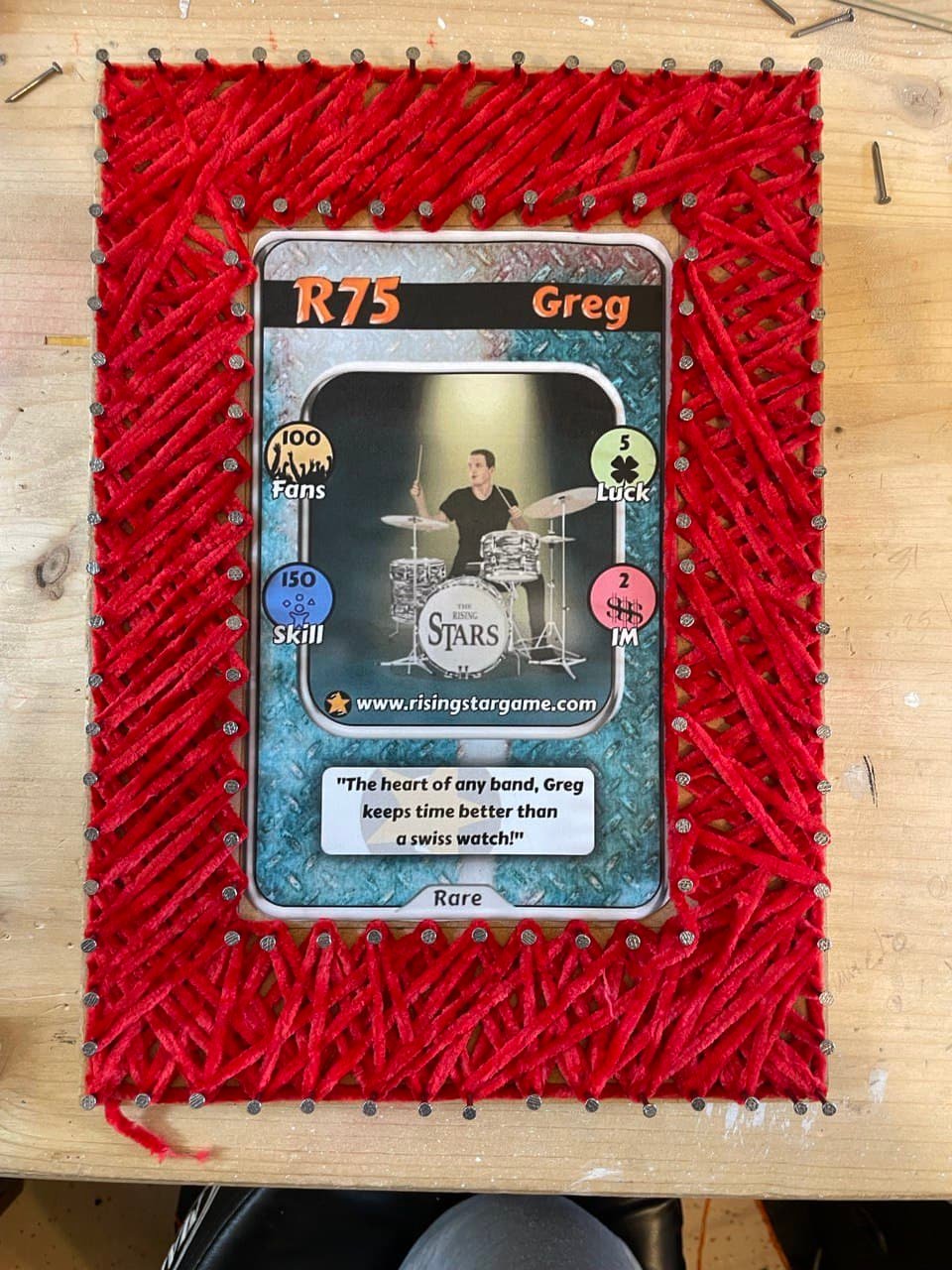 USED MATERIAL:
Wooden board 29 cm x 21 cm
Nails
Red Twine
Glue
Glossy protective paint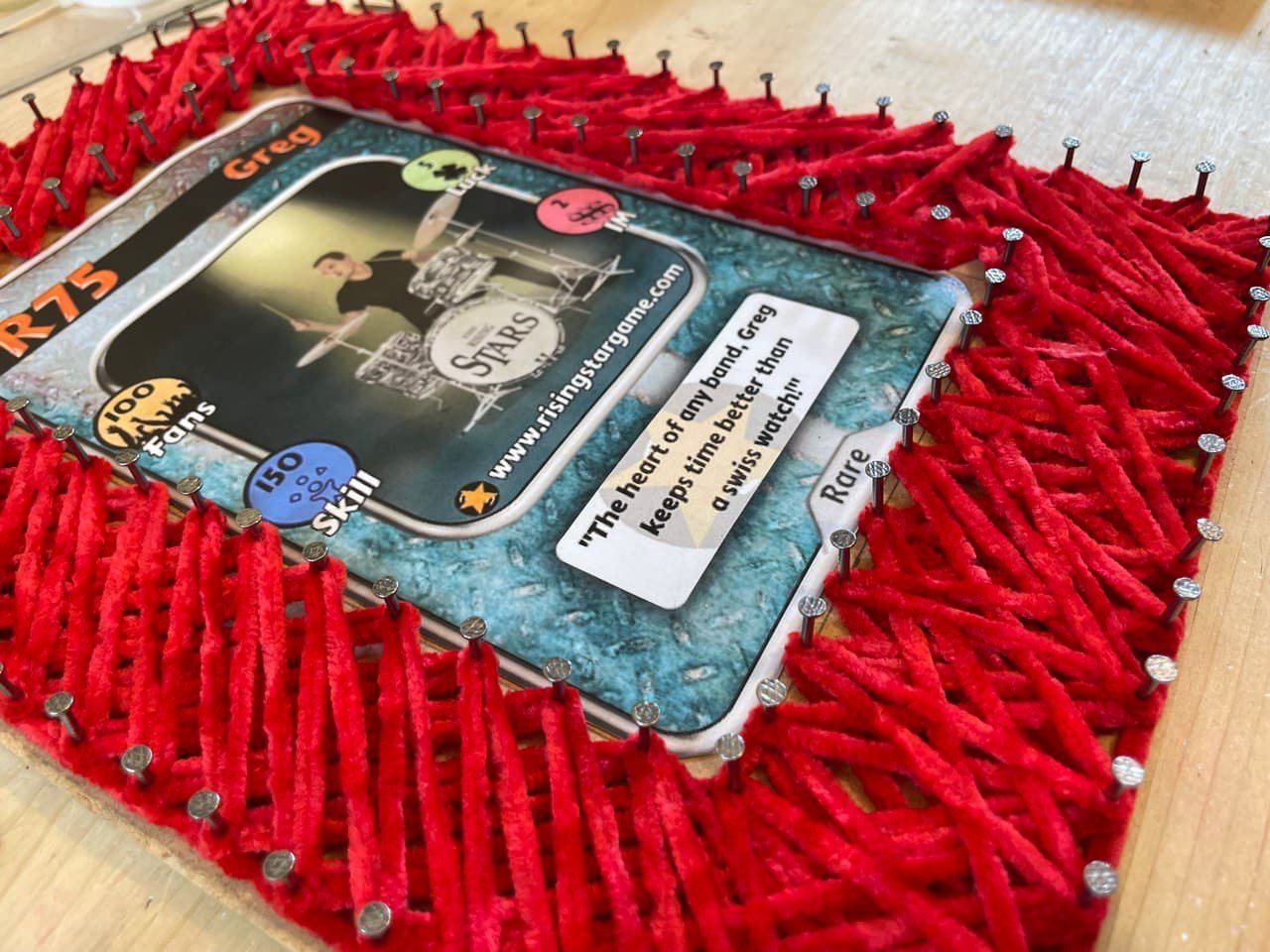 if you missed the work done previously, here are all the links to the work done.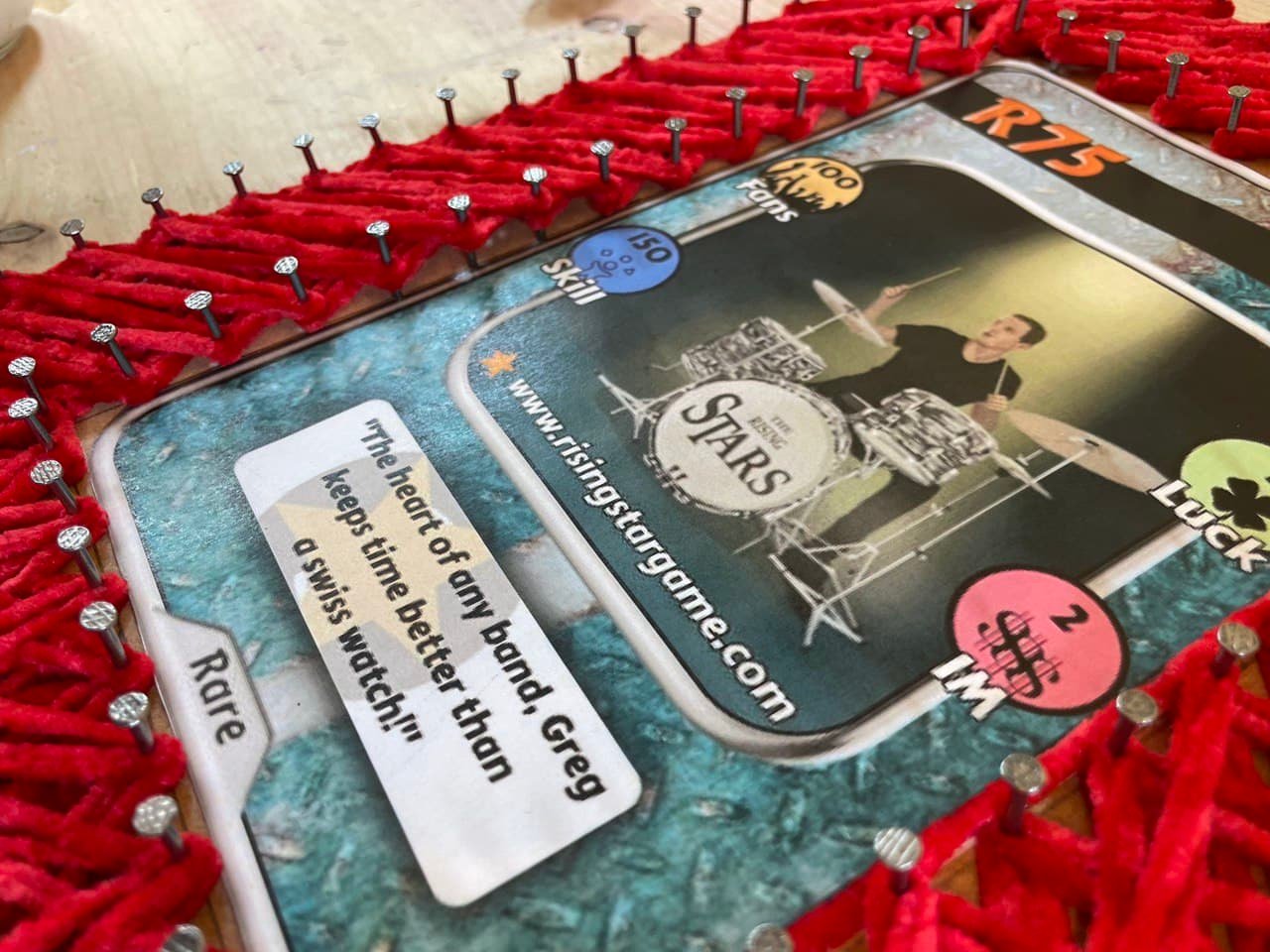 If you still don't play RISING STAR I will leave you my referral link if you like using it is welcome:
https://www.risingstargame.com?referrer=blumela
If you don't like it, the advice is to try it anyway it requires little time and the satisfaction it can give are many. You can find the game at this link
https://www.risingstargame.com

The photos are screenshots taken from my own game or photos were taken from the RSING STAR website unless otherwise indicated.

---
👉ITA VERSION👈

---
Ciao Ragazzi!
Ecco il mio aggiornamento settimanale per il fantastico gioco musicale costruito su Blockchain @risingstar... sei un musicista e ancora non ci giochi?... male... non sei un musicista e ancora non ci giochi?... male male!! haha scherzi a parte se interessati a conoscere questo gioco in fondo trovate le info per potervi accedere.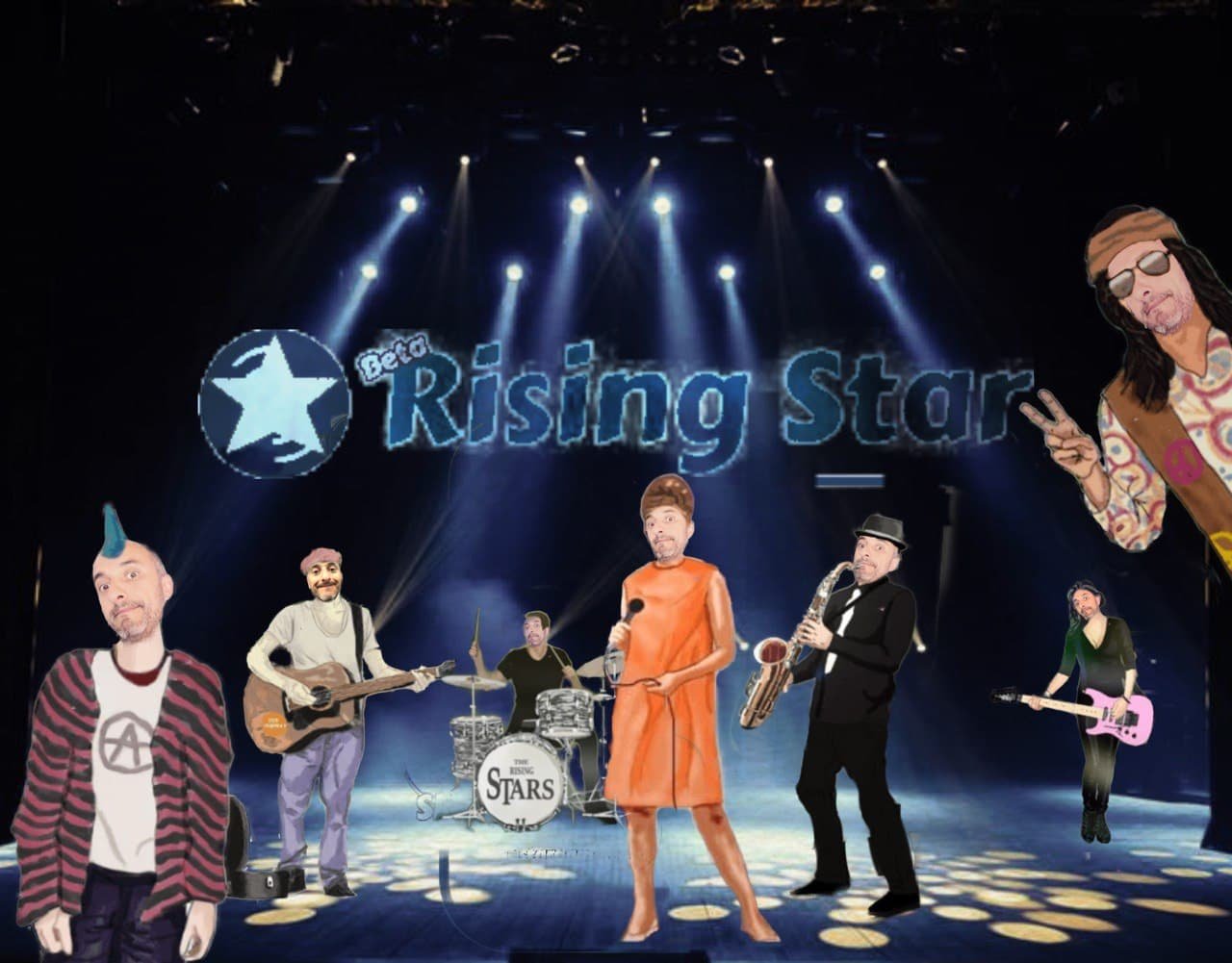 Aggiornamento settimanale!!
Ho assolutamente bisogno di abbassare il mio EGO che ormai ha toccato la soglia dei 56, alto anzi altissimo per questo ora mi sto dedicando alle missioni inserite in LESSON MUSIC dove poter completare missioni che danno SKILL, ora ne ho 1594, che servono appunto per abbassare l'EGO.
I miei FAN sono giusto 1200 numero che mi consente di completare la missione LOCAL MINI TOUR SUPPORT, penultima missione dell'isola LOCAL GIG CIRCUIT, al momento in pausa per le SKILL.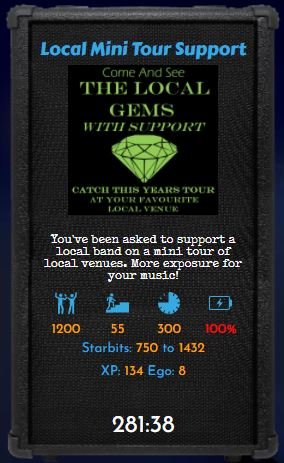 Il mio DECK è composto da 20 carte che mi danno un totale di 1200 FAN, 142 LUCK e 20 IM quest'ultimo non ho ancora ben capito a cosa serva ma ci arriverò, anzi se qualche amico ha il tempo di spiegarmelo qui nei commenti lo ringrazio già anticipatamente.
Livello raggiunto 55 in viaggio verso il 56!


Il personaggio scelto per il mio quadro settimanale è il numero R75 GREG batterista RARO che offre 100 FANS, 150 SKILL, 5 LUCK e 2 IM.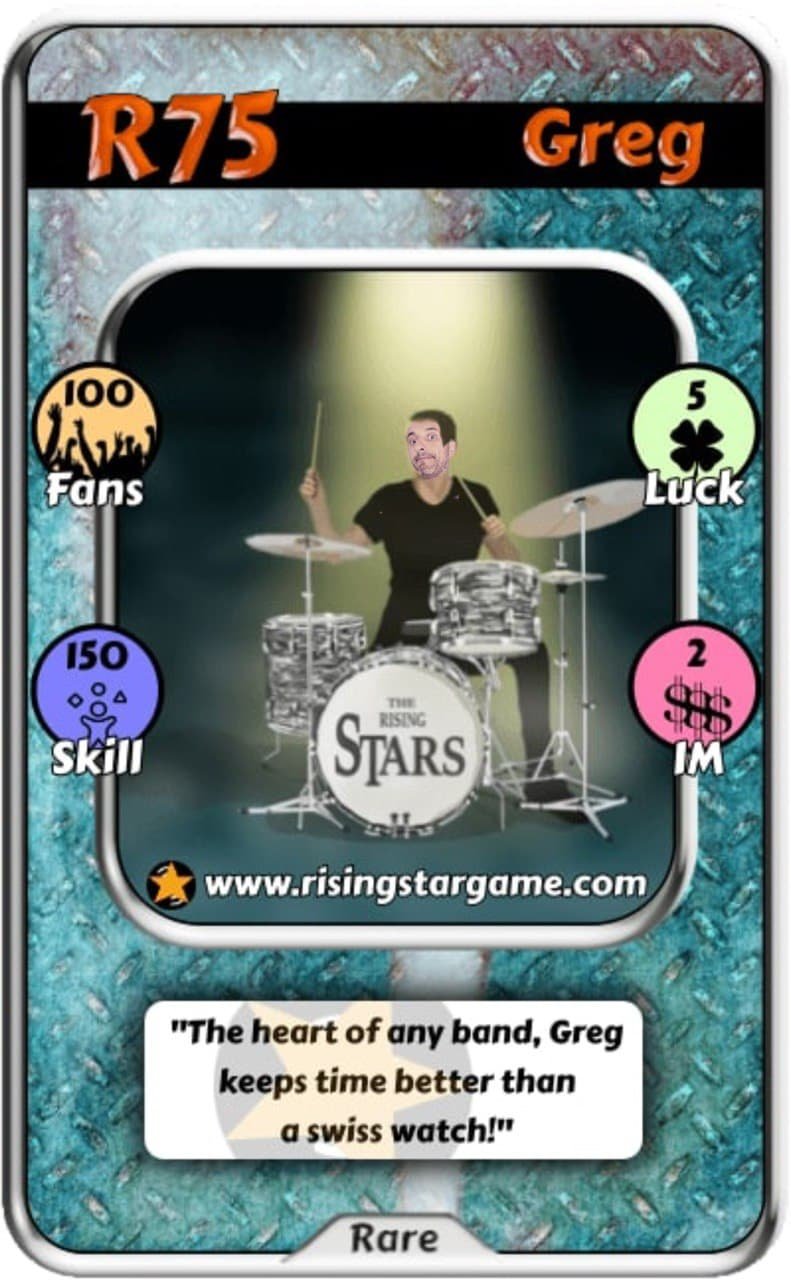 E dato che parliamo di batteristi non posso che fare un omaggio a un grande batterista recentemente scomparso, il batterista Charlie Watts dei Rolling Stone.

Ecco il quadro creato da me con dedicato a GREG R75, ho usato il DECOUPAGE unito a tanti chiodi e a tanto filo.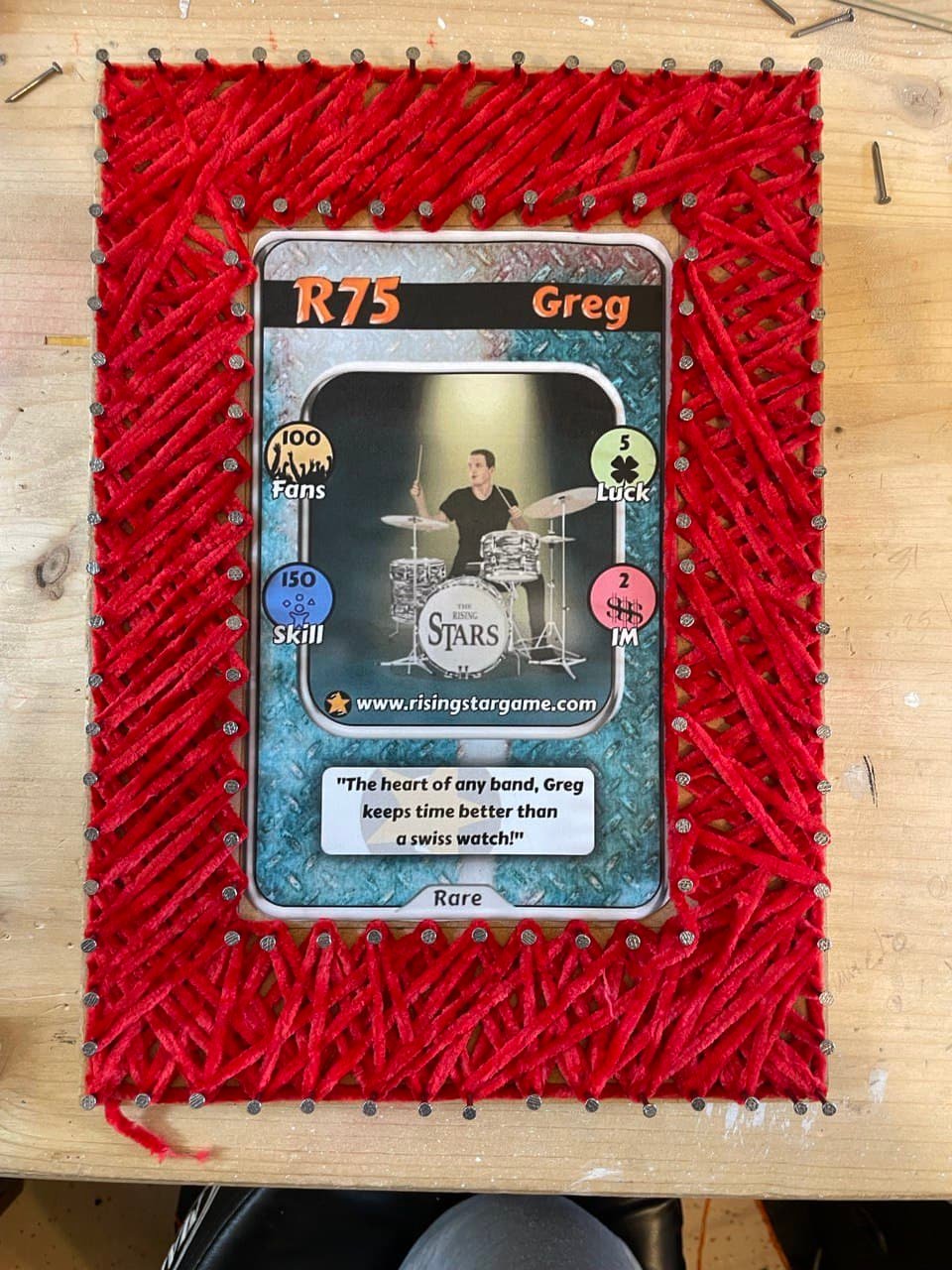 MATERIALE UTILIZZATO:
Tavola di legno 29 cm x 21 cm
Chiodi
Spago Rosso
Colla
Vernice protettiva lucida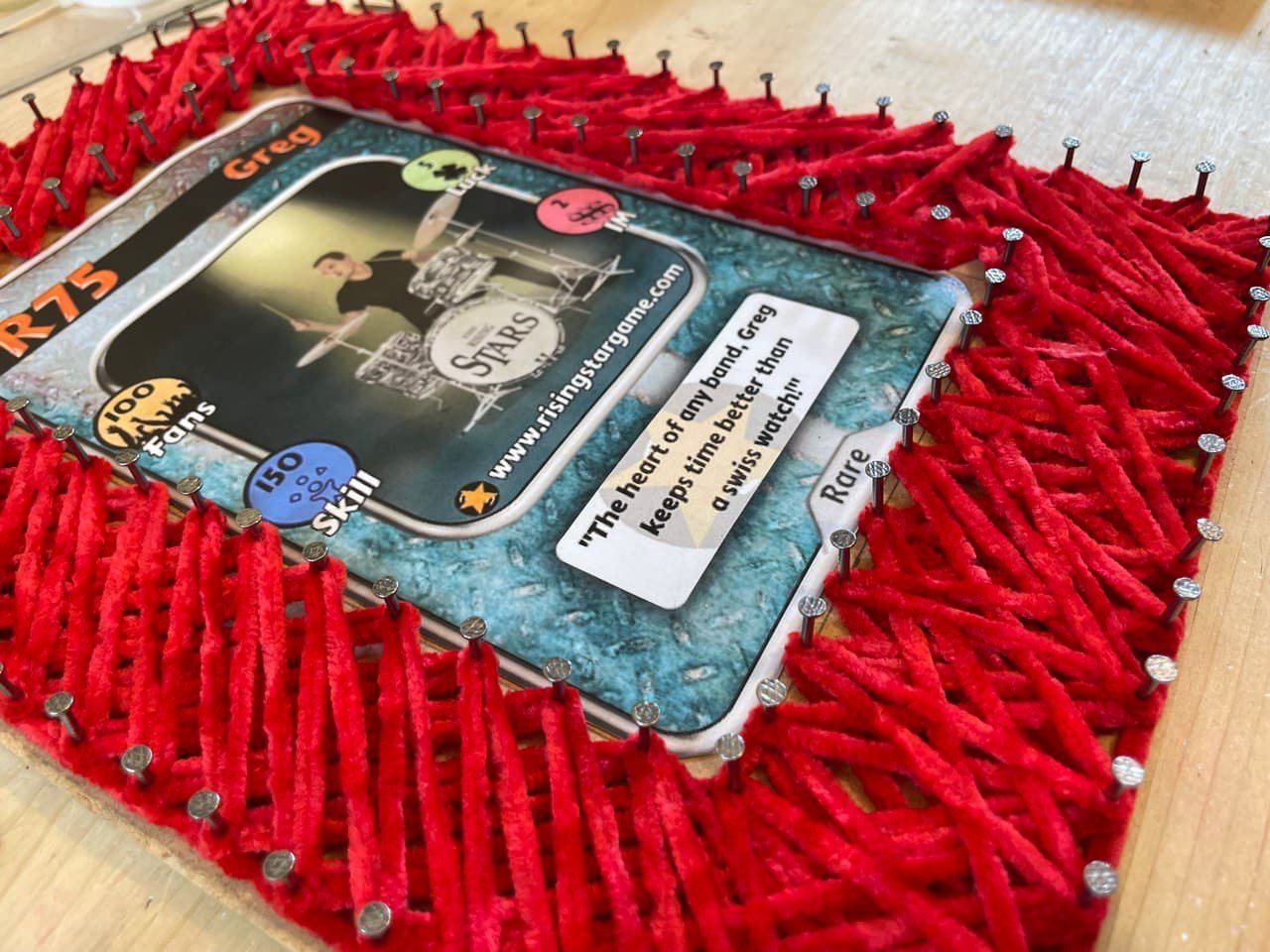 se vi siete persi i lavori fatti precedentemente ecco tutti i link dei lavori realizzati.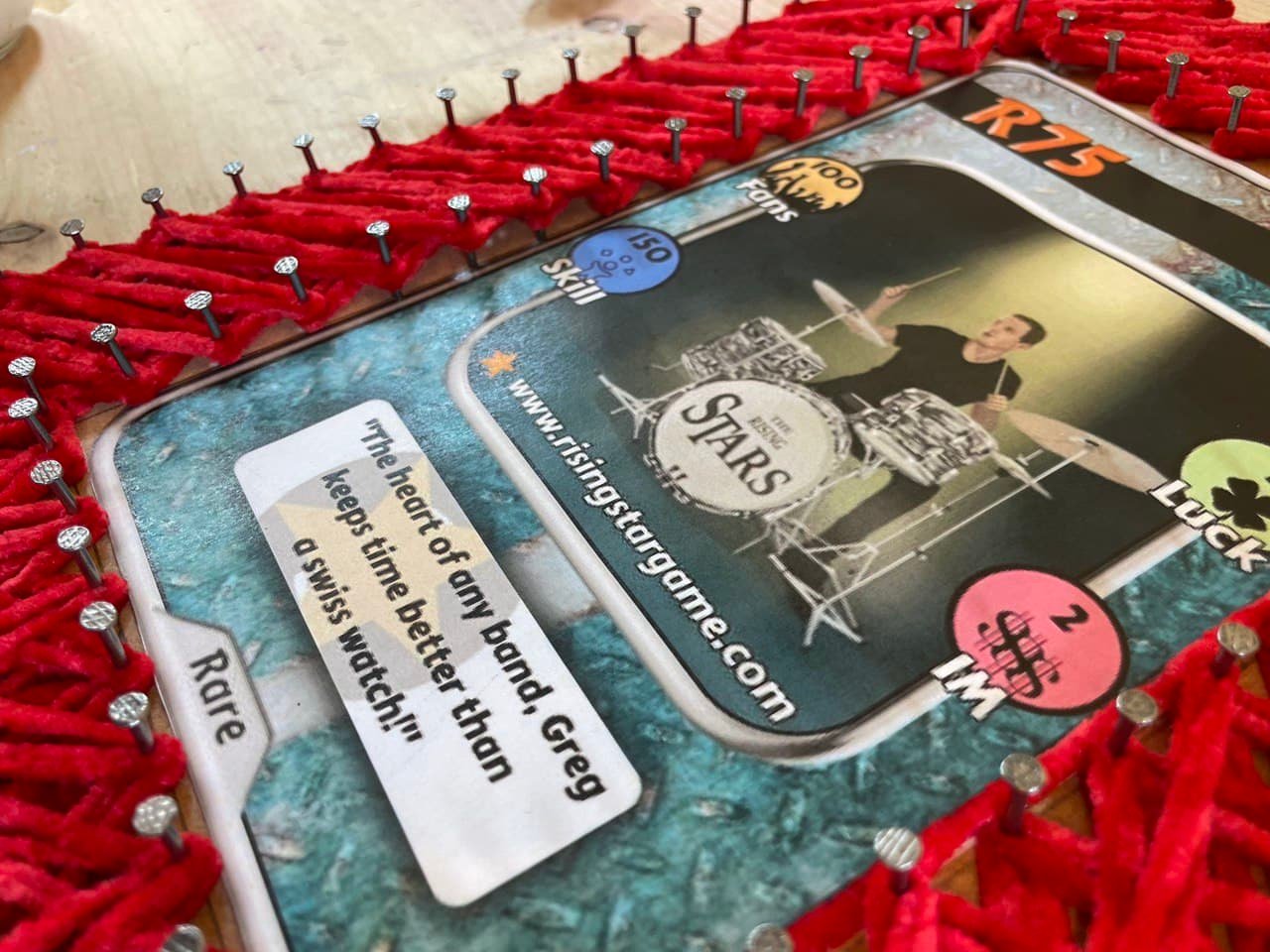 Se ancora non giochi a RISING STAR ti lascio il mio referla link se ti fa piacere utilizzarlo è cosa gradita:
https://www.risingstargame.com?referrer=blumela
Se non ti fa piacere il consiglio è quello di provarlo ugualmente richiede poco tempo e le soddisfazioni che può dare sono tante trovi il gioco a questo link
https://www.risingstargame.com

Le foto sono screenshot fatti al gioco di mia proprietà o foto prese dal sito di RSING STAR salvo dove diversamente indicato.