Satoshi Nakamoto is a name that can never be forgotten in the history of cryptocurrency and blockchain technology. He is the kind of person needed most by the human race because he wanted freedom for man. Whether he is still alive or not, his memory still lingers in the mind of crypto enthusiasts. As intelligent as this man is, he noticed that man needed assistance when it comes to finances, particularly commerce and trade. This was what motivated him to design a protocol that could propel outright freedom for man, which then led to the release of the first whitepaper in the history of cryptocurrency, called bitcoin whitepaper.
On an unforgettable date precisely October 31st, 2018, Satoshi handed out a whitepaper that addresses key areas when it comes to giving total freedom of transaction to man and for man to be totally independent financially. The first and most important was privacy, avoidance of double-spending, trusted third parties and incentives for miners were included. These four key areas gave a wider coverage for people to earn and be in charge of their funds. All these were possible because blockchain technology was a success. Meanwhile, the trend continued and led to the release of the first and number one cryptocurrency called Bitcoin.
The crypto community kept on exploring the king of crypto (Bitcoin) as well others on different chains, such as Ethereum, Litecoin, Dash, Monero, Tron, EOS, Stellar, NEM, Ripple and so on that were being created. However, there has been a lot of disparity between all these coins, just because they operate on different blockchain protocols. Their transactions fee differ, you cannot access one through the other and a lot of challenges. Experts expected that there should be a point where they can be interconnected and interoperated because they all use a common phenomenon called blockchain technology.
This has however remained a nightmare, until the arrival of a project, a solution to the impending challenge of interoperability called Hybrix. A unique project and the most needed at the time that the crypto world needs intervention on blockchains interoperability. Surprisingly, a lot of projects have tried to break this record, but to futility. This is more reason I have so much confidence in Hybrix and I can recommend it to whoever recognises and appreciates good project.
What is Hybrix?
Hybrix is a complete decentralized open sources blockchain platform, that gives users the freedom to operate their portfolio irrespective of the blockchain they are using and to be in total control of their funds. Freedom of transaction is one of the key slogans of Hybrix because it allows interoperability across different blockchains.
Hybrix wallet
Hybrix platform operates its own wallet, which has integrated more than 380 tokens on 32 chains. Since Hybrix is fully supportive of decentralization, Hybrix wallet is totally decentralized and easy to use. It is an open-source wallet, that allows users to have full control of their assets. With a single deterministic key, which you alone have access to, you can have access to all the 382 cryptocurrencies listed on the Hybrix platform. This, however, enables the easy performance of the multi-chain transaction.
Products on Hybrix Platform
Every good project in the crypto space must be able to show that it already has products. Also, not just having a product, but a product that answers to the needs of people. Hybrix understood the needs of the crypto community for a long time and since the year 2017, they have been working on these needs and finally, the team came back with solid solutions. Below is the list of products on hybrix platform:
➼ Hybrix node (the core of hyrix project)
➼ Tools for development, which developers can use, such as, API and javascript library
➼ Software already built on hybrix platform, such as block explorer and wallet
In this article, I would dwell more on the hybrix node, hybrix wallet and hybrix block explorer: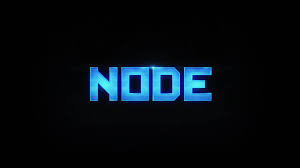 Hybrix node
Node is the major infrastructure of a blockchain. They are used mainly to connect blockchains together in order for them to be able to exchange data from time to time in perfect correlation. Since this project is meant mainly to enable the cross-ledger transaction, otherwise known as interoperability, the development of a node that is able to cater for this need is of utmost importance.
With this Hybrix node, a user can easily create his/her wallet, be in full control of his fund and be able to run your own well-grounded multi-chain system, that enables multi-chain transaction. This is done by downloading the daemon called hybrixd. Hybrixd is available on Linux, macOS and windows subsystem for Linux.
How to use hybrix wallet
Hybrix wallet has different versions; apps for Linux and MacOS, as well as the online version. Since most people use the online version, I would like to explain this, which is also applicable to the App and easy to use.
➤ Create a new account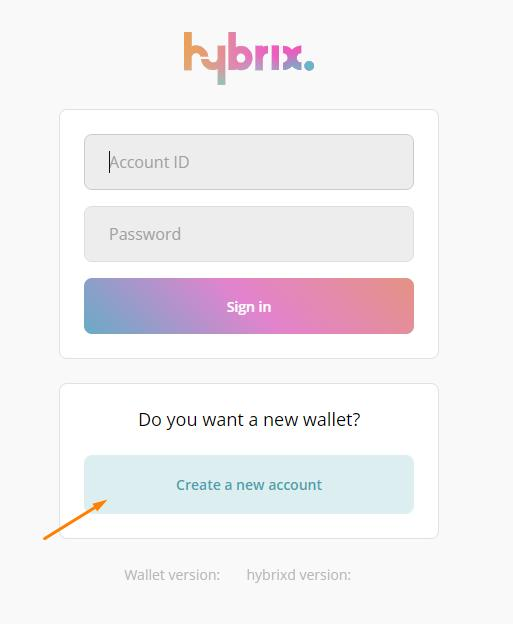 ➤ You would be prompted to move your cursor around the space on the screen to generate your security details. Write the details down in a safe place and click on Continue.
Afterwards, you can now login and you will be able to view all the different coins which you can add to the wallet.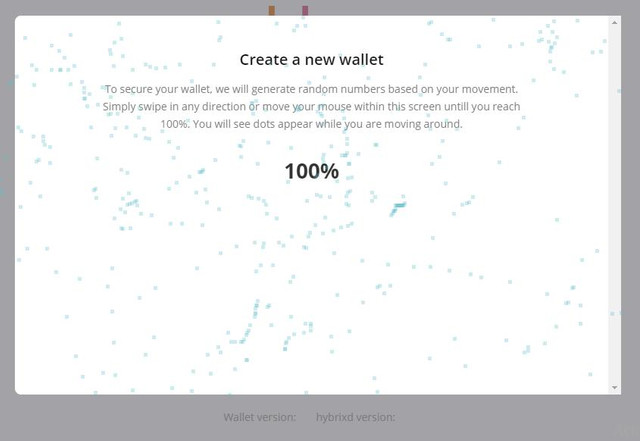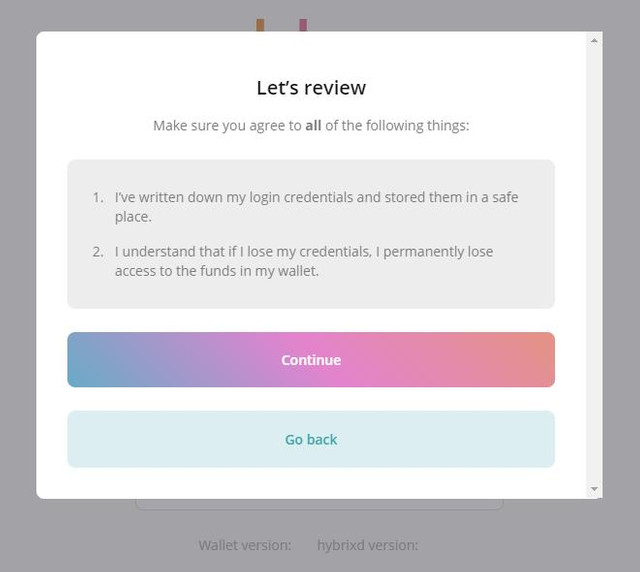 ➤ There you go, your wallet is ready for use.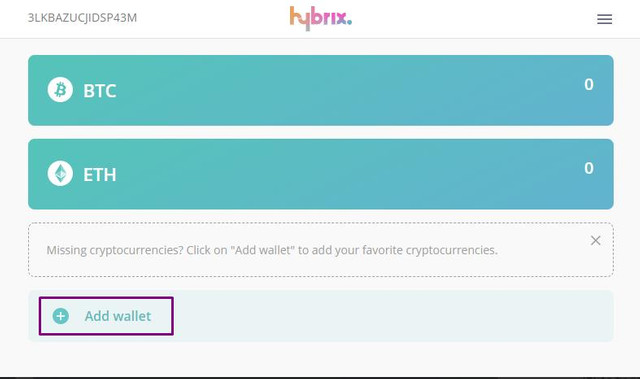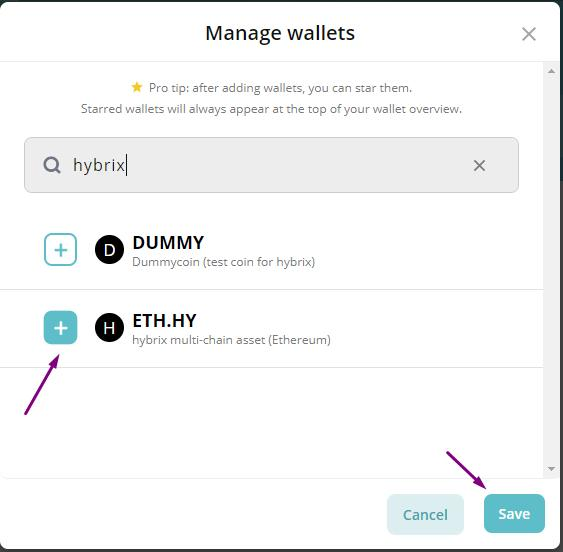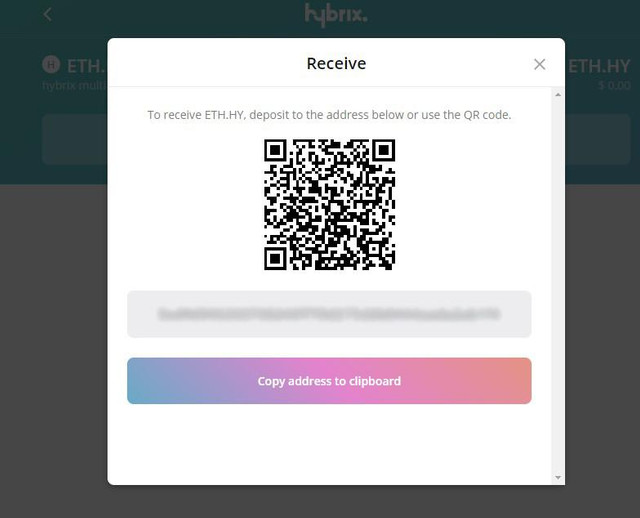 ➤ You can continue to add as many listed coins as possible.
Hybrix Block Explorer
In a bid to unite the entire crypto space, hybrix team created a block explorer that has the capacity to explore addresses and multi-chain transaction. The Hybrix Block explorer is constantly being developed. Your constant usage of it and your feedback will help to deliver a perfect Block explorer. Therefore all the 389 tokens on 32 chains supported by Hybrix platform can be explored.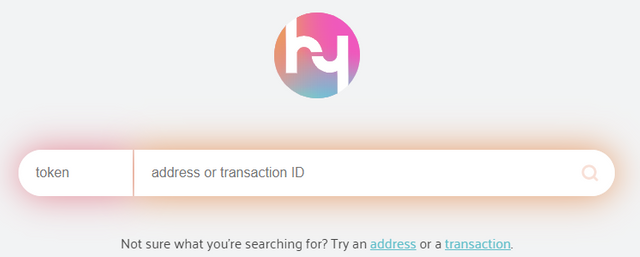 Hybrix token (HY)
HY is the indigenous token of the Hybrix ecosystem. It is called a multi-coloured token because it the token that enables users to have access to different chains, which is why it is also called a borderless token and never restricted to a single distributed ledger system. For interoperability HY is your passage to all the presently listed 32 blockchains and their over 389 cryptocurrencies.
Hybrix (HY) Listing
I think this should excite you more. It is my pleasure to announce to you that hybrix (HY) token has been listed on Biki exchange and many more exchanges in the pipeline.
https://www.biki.cc/en_US/trade/HY_USDT
Biki exchange is one of the topmost centralized exchanges with its headquarters in Singapore. It is a digital asset platform that enables the trading of more than 150 cryptocurrencies and with more than 280 trading pairs. Ever since I started using it, I have been having a great time of it, because it has a user-friendly interface; it is fast; safe; stable and the exchnage does not waste time in processing transactions, which is quite surprising to me, unlike most other exchanges.
This is a clear indication the hybrix team were so careful in making their choice when it comes to listing on the exchange, because the present result shows that they are truly professionals in the crypto sphere.
The proposed listing amount by the team for hybrix token was $2 and see what they have been able to achieve within few days of listing on Biki exchange. Meanwhile, the projection is still very high. So do not waste time in joining the tray after you might have done your own research.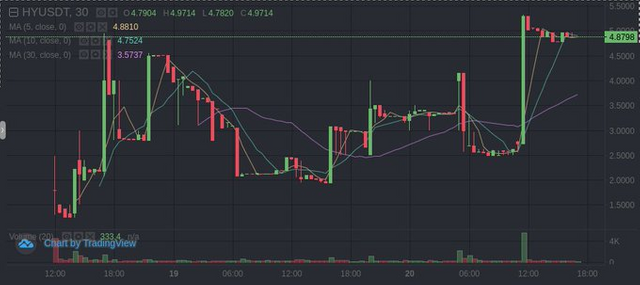 This is an outstanding result, despite the current situation of the market. Expect more soon...
Endorsement and Supports
Since there has never been a project like this in the crypto space, I am not surprised that Hybrix is getting lots of endorsements and supports from the big players and household names in the crypto space, such as DRAAD BREUK, rtlz, Lisk, SINGfonds, nlnet foundation, Internet Archive, COMPUTABLE and Cryptoninjas.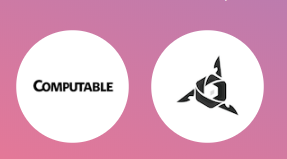 Achievements of Hybrix Team
The team of Hybrix has had and still recording great achievements since the project started, most especially based on the milestones. Below are the achievements:
➤ Improved hybrix wallet : the wallet node started with 0.7.4 "Cosy Purple Kobold" with lots of improved hybrixd versions in between and now to hybrixd version v0.7.17 "Furry Turqoise Sphinx", which was released on 20/05/2020.
➤ Interview and announcement by >Computable Next, a dutch IT magazine</a.
➤ Hybrix features on NewsBTC, where Vitalik calls for trustless bridges between Ethereum and other cryptos.
➤ Hybrix platform releases whitepaper, which was also published on Cointelegraph.
➤ Crypto News Flash features Hybrix, where it was said that blockchain technology has been brought back to its root through interoperability.
➤ Biki exchange lists Hybrix (HY) token.
➤ Hybrix got mentioned by yahoo finance as an antidote to the lack of interoperability in crypto
➤ Hybrix tokenomics paper has been released.
Conclusion
Aristotle once said, "Pleasure in the job puts perfection in the work." No doubt about it, hybrix is a well and perfectly delivered work. They have long been working on it and have come up with products that lots of users find pleasure in using. Despite all the sources recorded, the work has just started on the part of this project team and the community, because success does not mean or put an end to work. Expect more perfect work soon.
Reference:
This article is a repost of my original content on Steemit: https://steemit.com/blockchain/@sunnya/hybrix-interoperability-across-all-chains-is-no-longer-a-nightmare-but-a-reality
Hybrix Useful Resources:
Website: https://hybrix.io/
Whitepaper: https://hybrix.io/docs/papers
Github: https://github.com/hybrix-io
Twitter: https://twitter.com/hybrix_io
Telegram: https://t.me/hybrix_io
Discord: https://discord.gg/WbDfAWb
ANN Thread: https://bitcointalk.org/index.php?topic=5230324.0
Author: Denreal