The Past Week has been Bullish for Bitcoin as it has broke the long Descending Wedge which was acting as resistance.
This Price action has completely reversed the market sentiment .
Well Bitcoin has been Holding just below $9000 for quite some time.
Where is Bitcoin Heading? What will be the price of Bitcoin in the upcoming months?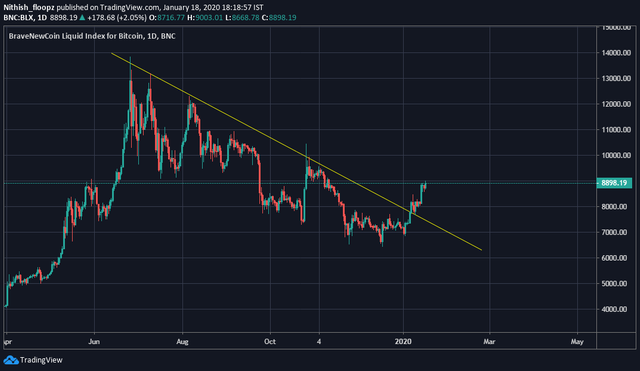 IMO Bitcoin Will have a positive price action in the short term but I doubt if that will be enough to reach new All Time Highs.
I think the price will have more sideways action right before the Halving and I also predict that the Halving will be short term Bearish and will have some sell-off.
But Some time after the Halving the exponential Price action will start leading us all way to Euphoria.
This price action may follow the path that I stated or It may follow a different path.
No one can predict the price action.
But I'm sure of one thing that the price of  Bitcoin will be enormous by the END of 2021.
 Let's see what is about to happen. If you have anything to say please leave it in the comments. 
Thank you. 

Want to support me on my journey??Register at WazirX and get 200 WRX coins for free :https://bit.ly/2GYhyc8

Register at BitBns and get INR 100 for free :https://bit.ly/2KIoRFU

Register at LocalBitcoins :https://bit.ly/2KvvPPS

Register on the World's Leading Crypto Exchange BINANCE:https://www.binance.com/en/register?ref=21829990
 Donate Bitcoin:1L8dcMuoZHZMJsEZ8sWMJswsjV5nbEikGZ

Subscribe to my Youtube channel:https://youtube.com/channel/UCLb64DSrl_1-xOijZwYOivg

Connect with me onTwitter:https://twitter.com/nithishgirivel

LinkedIn:https://linkedin.com/in/nithish-kumar-2b348a142