NEXO is a cryptocurrency that powers Nexo's loaning platform and it is backed by the underlying assets of Nexo's loan portfolio. Nexo's primary protocol functionality is an online platform that enables users to create instant cryptocurrency-backed loans by depositing various major crypto assets into a Nexo wallet. It shows to be a reputable, legitimate and trustworthy company that is EU licensed and regulated financial institution in 200 countries and insured up to $100 Million against theft that is provided by qualified custodian, BitGo.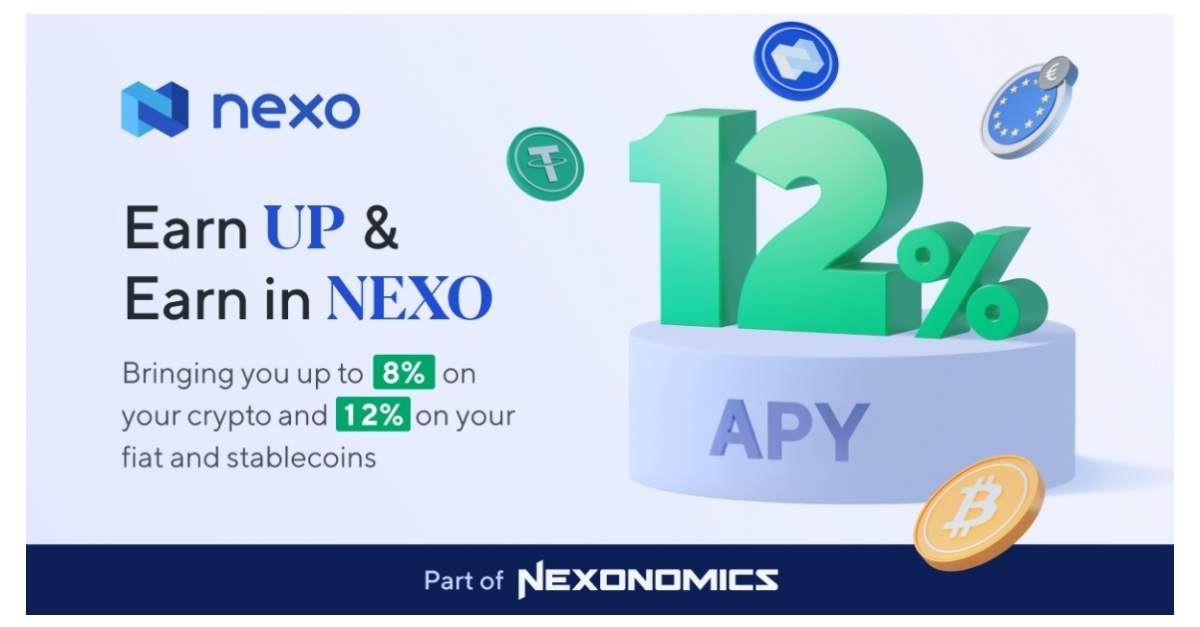 My journey with NEXO started as a mean to earn some interest on some of my idle assets. The asset I am talking about is Bitcoin Cash which I earned through micro blogging on noise.cash. In about a month I have gather 0.15 BCH which at the moment is the equivalent of $60. While it is not a big sum it is good enough to give it a try and experiment with the Nexo platform. I will detail below my challenges on transferring the BCH from my Bitcoin.com wallet and under useful things to consider if you want to start using the Next platform.

First thing is transferring BCH tokens from your wallet to Nexo. All my BCH was earned from Noise.Cash where amounts got to my Bitcoin.com wallet. Being small amounts the first challenge I had was to transfer them. Due to the dust amounts I could only transfer in the beginning small amounts like $2 and than with bigger ones like $10 or $20. This is due to the UTXO transactions where the fee for transfer must be greater than your lower BCH transaction that entered the wallet. I must confess that I was discouraged about all of this, but I could find a resolution to avoid it for the future. The fees costs to do smaller and multiple transfers and some bigger once I think reached around 5% ($3), which I consider quite big. The shortcut for the future that I found on this was to set my Nexo BCH account as direct recipient for my noise.cash tips and this solved the problem.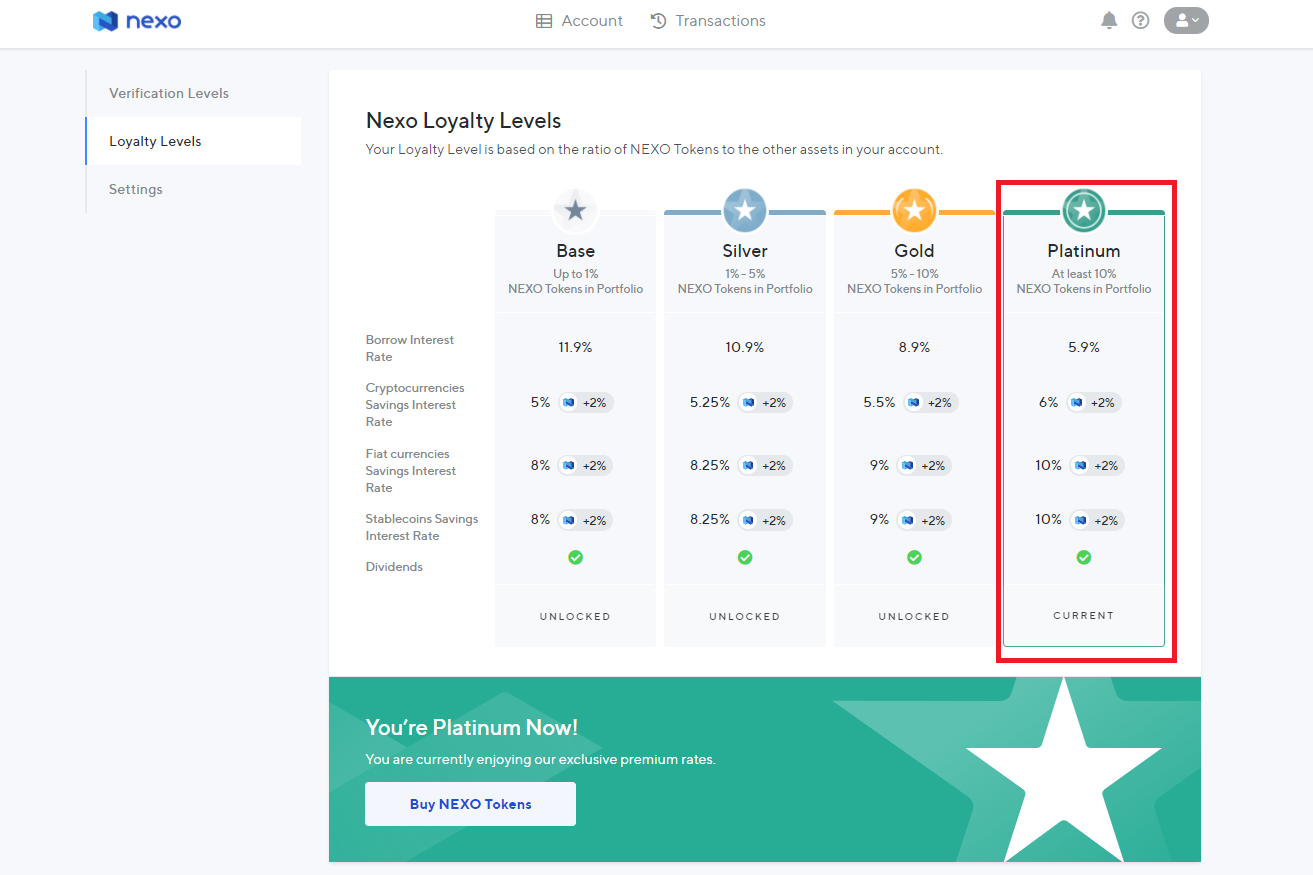 Second is buying some NEXO tokens and deposit them on the Nexo platform in order to get bigger interest rates. Buying from the site showed that for 100 Euro I would only get 97 NEXO, while the price on the market was of $0.76. This made me stop going further, but I thought using some exchange to get so more. Through additional steps I transfered 100 Euro through SEPA (0 fee) on an exchange, from there exchanged to USDT, from USDT to Nexo and than to the platform. Nexo being an ERC-20 token got some outrageous fees as well, while I could have transfer them as BEP2 and minimize the fees. Hopefully you will do it if you are reading this as for me is too late. I ended paying up 5 USDT and 15 NEXO fee and ended up with 139 NEXO in my account. Way better than buying on the site, but way worse from the fees perspective which can be avoided.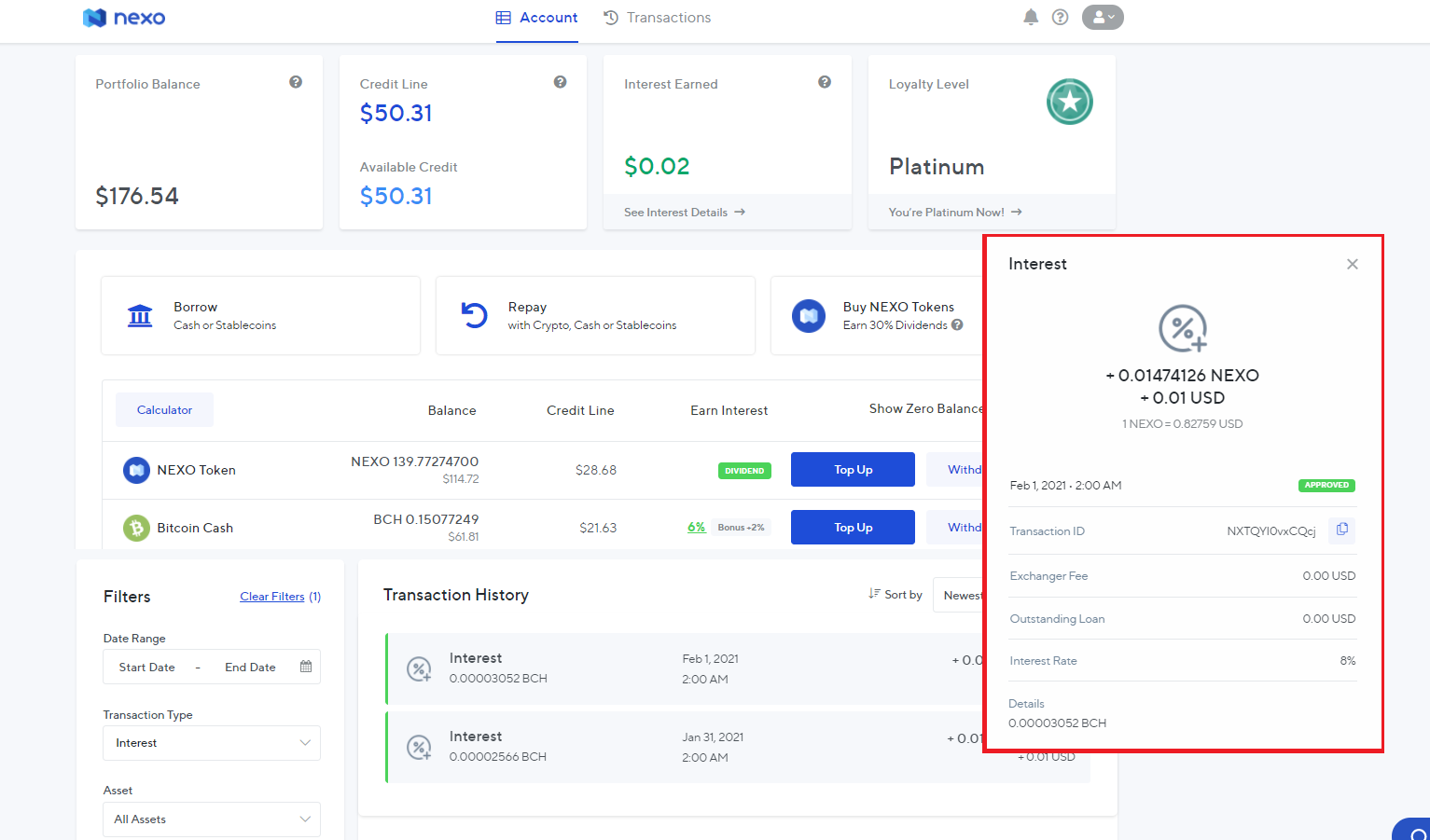 You have the option to receive your interest in the same cryptocurrency (interest rate based on your Loyalty Level) or in NEXO tokens (+2% interest over the base rate). As I wanted to maximize my returns I've opted for the second returns and also because I believe that long term the NEXO price will improve as well as the platform will still grow. Being a PLATINUM loyalty user by having at least 10% NEXO Tokens in my portfolio, granted me the biggest interest on BCH of 6% and by getting the rewards in NEXO that put it to 8%. This is a pretty good number if you are to ask me.
My ultimate goal on Nexo is to make 1 Nexo as daily interest from the cryptocurrencies that I deposit here. For the moment I will continue to push my BCH tips from Noise.Cash here and might top-up with some other tokens as well but not planned yet. Considering that I am earning like 0.014 NEXO a day there is a long path ahead laid for me, but while I am active on one platform it benefits me also on this one and this shows what layering represent. And through gathering NEXO I will be entitled for the next dividend payout (previous one took place in August 2020) and with the increasing popularity of the platform I believe it will be a good year.
Posted Using LeoFinance Beta