I am sure by now people are used to my earnings articles. I like to search for new earnings sites. Before I share them on here I like to test them out and see if they are worth the time and effort. I have learned over the years that almost all of the earning sites out there have loyalty programs and pay more the more you use the site. I have found another site I would like to share with you.
The site I am about to share is a great way to get your foot in the door with Crypto or to just earn a little extra on the side. I like to use these sites and withdraw once every week. After I withdraw I tend to exchange for high APY projects or provide liquidity for the projects I believe in such as WAX. I wrote an article about providing liquidity if you would like to check it out. The best way to earn the most is to invest in projects you truly believe in either with High APY's or by providing liquidity. This will turn your earnings into passive income. This passive income will build over time and make life a little easier.
This is not financial advice. This is just how I like to use my earnings.
The new site I have found is called CoinPayz. This is one of my top-earning sites. I have been using this site for around a month now and it has been rewarding and entertaining at the same time. I wrote a small paragraph about this site in one of my latest articles but I wanted to write a more in-depth article about it and explain how I use it, how much I earn, and how easy it is to use.
I have come to realize that using multiple sites each night for around an hour is the best way to earn. Instead of claiming all throughout the day, I dedicate an hour a night to use the sites I like and find to be the most rewarding. Having a schedule for your earnings routine can help tremendously.
CoinPayz is a great site to add to your already existing earning sites you use. I make around $3 to $5 a month from this site. I know this does not sound like a lot but if you add it in with all of the other sites I have shared then you are looking at a nice amount you can use to stake or provide liquidity with. Or you can withdraw it and have a little extra to put into your savings account every month. All I am saying is that these small amounts from these sites seem small now but if you keep going and do not look at the dollar value but the amount of Crypto and save your earnings you could be sitting on a nice chunk of money in the next couple of years.

CoinPayz is a fairly new earning site. It was created this year (2022) but do not let this keep you from checking out this earning opportunity. I have taken my time with this site and made sure that it pays and it is worth the time. You can withdraw quickly and you have multiple ways to earn. I will go over all of the ways you can earn and how much it takes to withdraw in this article.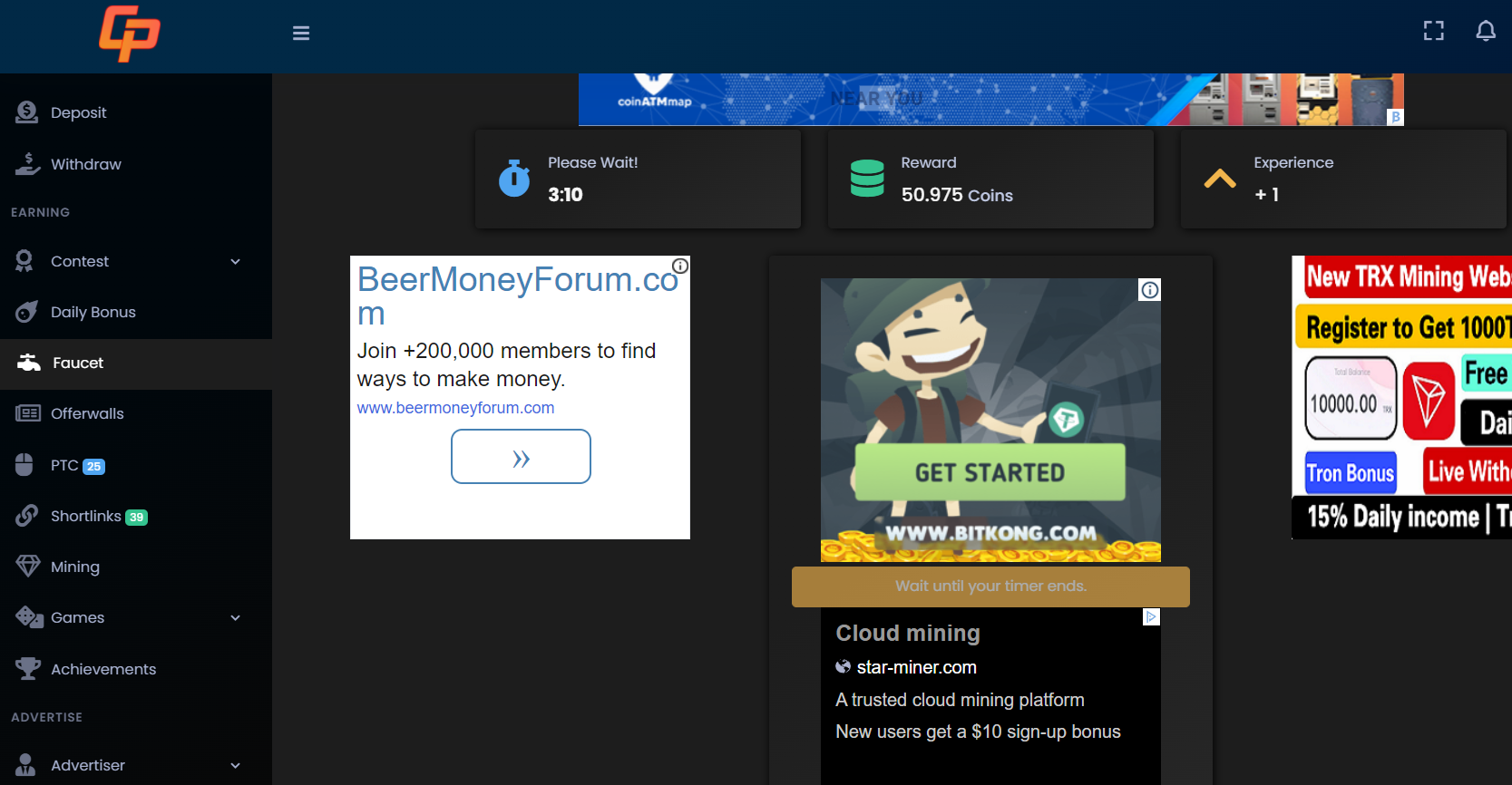 The first thing I want to go over is CoinPayz faucet. You can claim from this faucet every 5 minutes. You will earn 1 sat per claim at first but every day that amount will go up. You can make this amount go up by gaining experience by visiting the site every day and claiming the daily claim they provide which brings up the amount you earn. Also by claiming the faucet throughout the day you earn experience. This experience is used towards a leveling system. The higher the level you are the more you earn. I have been using this site for around a month and I make around 3 sats per claim which is not bad. The leveling system works great and adds up over time. This site really seems to reward repeat visitors.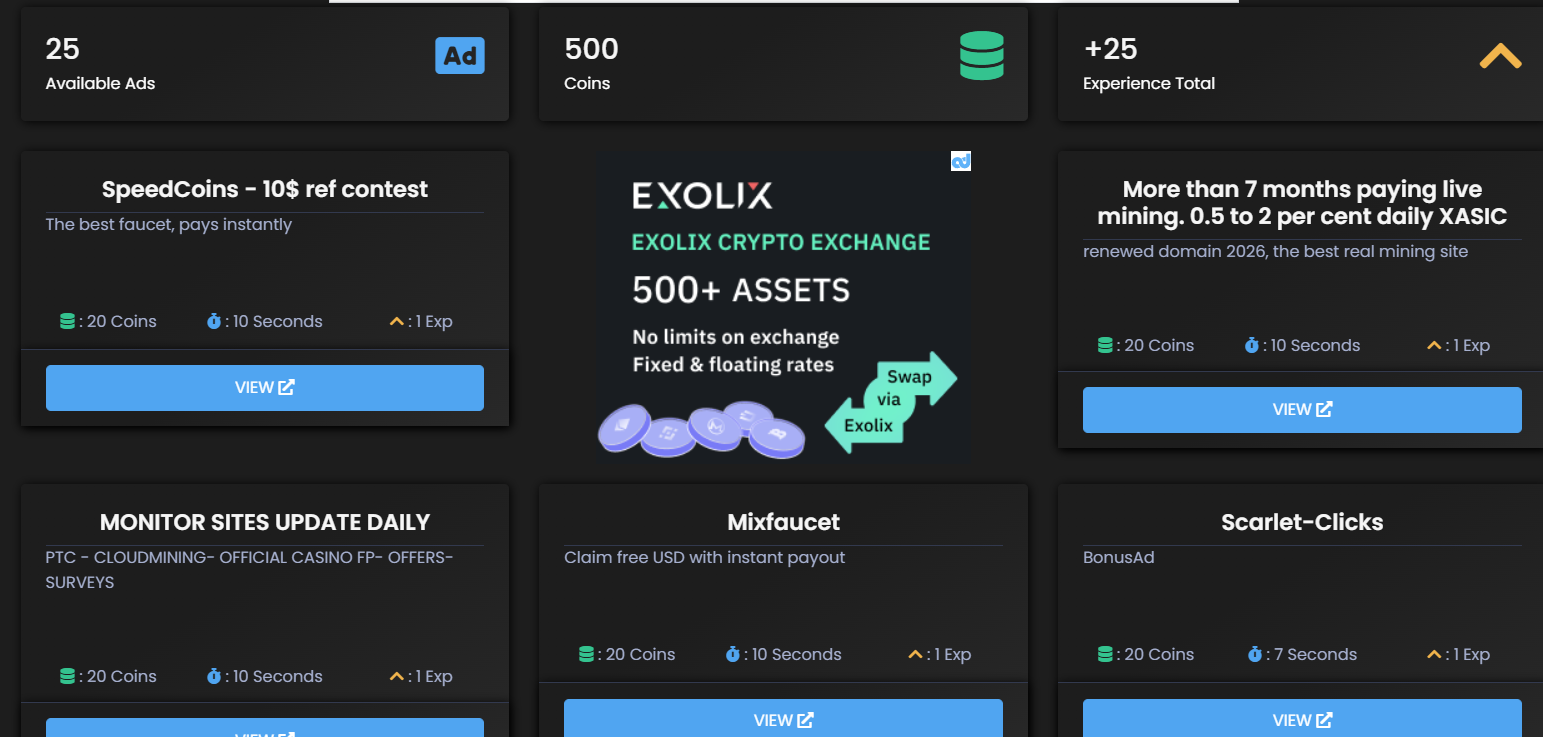 The next way you can earn with CoinPayz is with their PTC (point to click) section. This section allows you to earn anywhere from 1 to 5 sats per click. You also earn experience from each click which helps bring up your faucet claim amount. There is also a shortlinks section but to be honest I try to stay away from these sections on earning sites. They almost always bring you to some questionable sites and have you going through hoops trying to earn.
I suggest using the Brave browser for all of your earning sites. This will help you stay safe while earning. You can bring the shield down they provide you for the sites you trust but any links you click will still have the shield up which will keep you safe from unwanted site tracking or being malicious. Also, you can earn BAT (Braves Crypto) just for using the browser.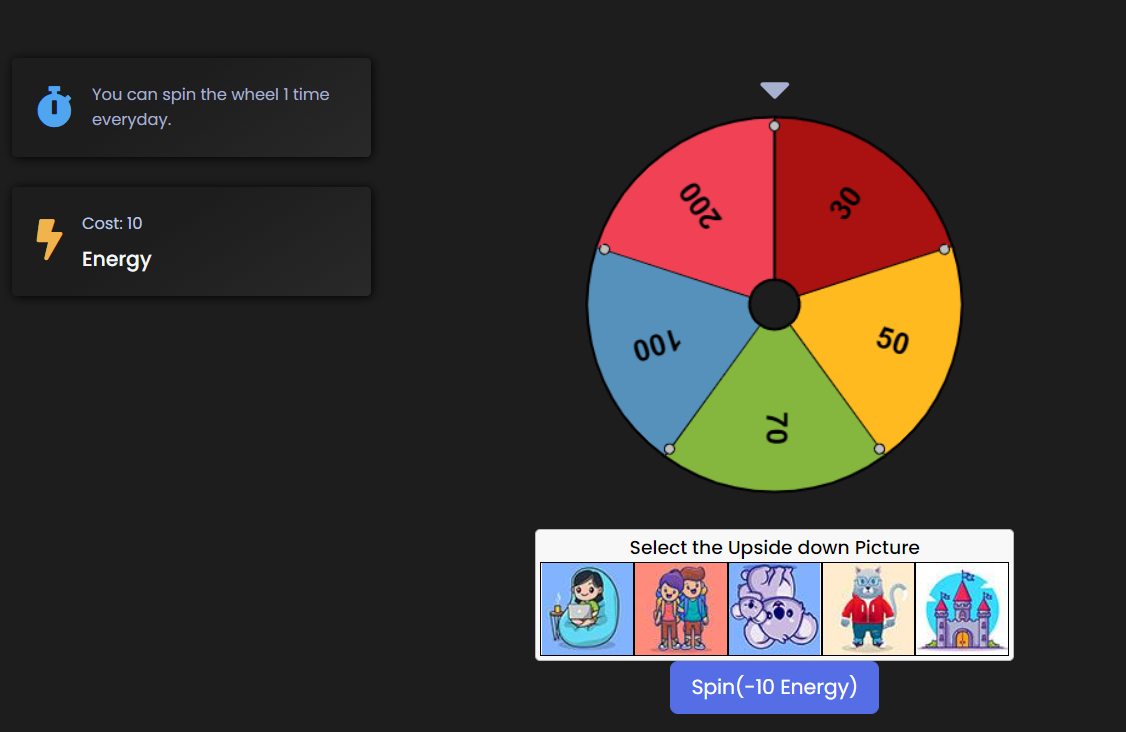 CoinPayz also has a sort of game section. You earn energy from your daily visit claim which you can use to either boost your faucet claims or you can use them to play this spin the wheel game. They also have other games such as lottery, dice, and coinflip. I have not used any of the games other than spin the wheel but I plan on checking them out in the near future.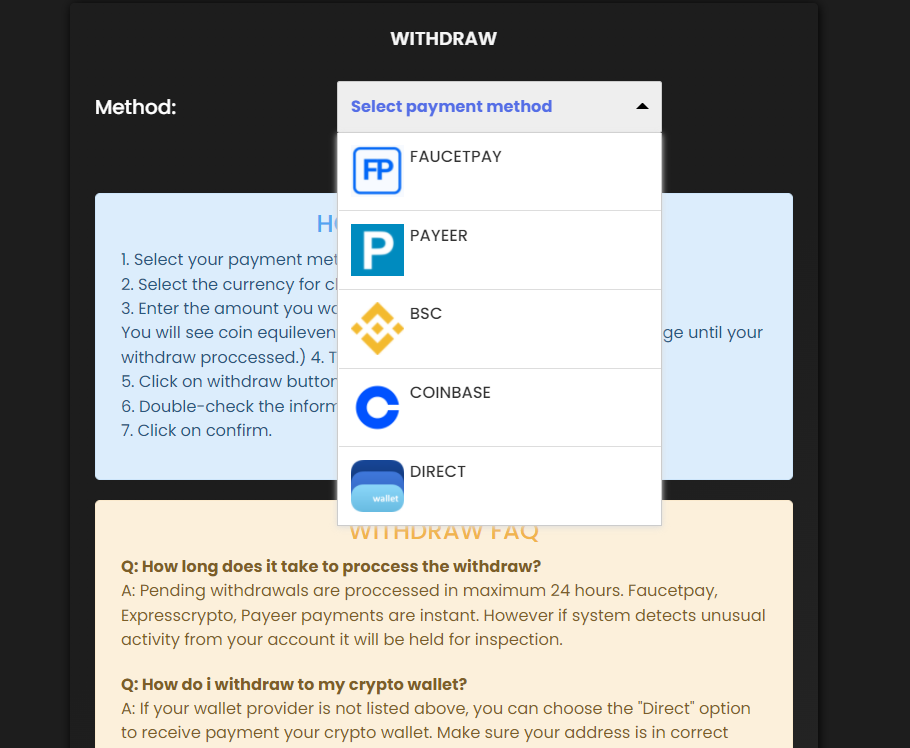 The last thing I want to go over is the withdrawal process. You can withdraw multiple different ways. The fastest way to get paid is through FaucetPay. If you want to get paid the first day you use it then you will have to use FaucetPay. If you are ok with waiting and building up to a larger withdrawal amount then you can choose other options.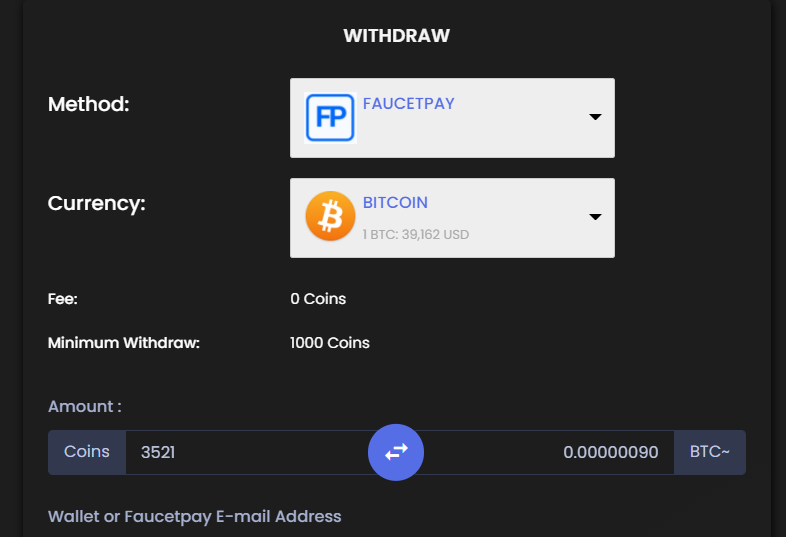 It is easy to reach the minimum withdrawal amount. You can reach it the first day you use the site. CoinPayz pays out quickly and has been a great addition to the earning sites I use. If you decide to check out this site please leave a comment and let me know what you think.
This site is only one of the few sites I like to use on a daily basis. I am going to leave a list of the sites I like to use. I like to use these sites I am about to share because they are rewarding and some of the highest-paying sites I could find. I know you will not make a ton off of these sites but it all adds up over time. Once you start figuring out ways to make your money make you more money then you will be making even more. As time goes on then this amount you earn from these sites will be well worth it. Also, I suggest working on spreading your referral links as much as you can. This is another great way to earn a little extra from each of the sites you use.
Here is the list of some of the top-earning sites I have found. I will put a small description next to them so you have an idea of what they are about.
 Coinpot - This site is just like the CoinPayz. It has the same type of faucet and withdrawal amount. If you like CoinPayz then I suggest checking this one out.
CryptoWin - CryptoWin is one of my favorite earning sites. You can earn 1 to 4 satoshis every 15 minutes. They also have a great PTC section. The minimum withdrawal amount is easy to achieve and you can withdraw to your FaucetPay wallet for quicker payments.
 adBTC - The highest paying PTC site I have found. You can make anywhere from 3 to 36 sats per click. Min withdraw is 1000 sats and you can reach this pretty quickly.
 CoinpayU - This is the second best PTC site I have found. Easy to use and you can make anywhere from 1 sat to 6 sats per click.
 FaucetPay - This is the best microwallet out there. This wallet is linked to almost all earning sites and makes it easy to hold your earned Crypto until you are ready to send it to your main wallet. When you decide to withdraw from this wallet it is very fast and only takes about 1 to 4 hours.
 Cointiply - One of the best earning sites out at the moment. Multiple ways to earn and it is fun and rewarding at the same time.
 HideoutTV - Earn money just from watching video clips. I suggest checking this site out. If you want to know more about this site then check out some of my older articles.
read.cash - read.cash is the best site to earn BCH by blogging or just writing about things you are interested in.
noise.cash - noise.cash is a sister site to read.cash. Instead of blogging to earn you earn from interacting with others. You can write posts to earn BCH or you can earn BCH by commenting and interacting with others.
PublishOX - This is my second favorite site to earn from writing. You can write about anything and earn AMPL or STA.
Torum - I have just started using Torum not that long ago but it is a fun site to use and you can earn a decent amount from it. I have not earned anything just yet but this site takes time and dedication to start earning. You need to build a following and post decent content to really start earning.
I hope you have enjoyed my article and I hope you have learned some new ways to earn a little extra on the side. I will keep looking for new and rewarding sites to share with everyone.
Have a great day and please like and follow for more content and to help me grow!
Lead image brought to you by Pixabay
Original article on read.cash