Good morning morning, good Evening, Good afternoon depending on whare are you in this world. So guys how are you I hope all of you are doing great. I'm also fine, if I tell you about the day so it was really very hot the sun is really very angry today. It was too difficult to go outside so I did my all work in the evening. It was all about the day I had spent so let's jump to today's topic. Today I'm going to review a Dapp which is built on Steem Blockchain . Without wasting much time lets discuss about the Dapp.
Actifit is a Dapp built on top of the Steem Blockchain which rewards it's users for their daily activities. Actifit is an innovative dapp which count it's users daily activities and rewards them with AFit tokens for reaching a minimum level of 5k activities. Actifit gives us opportunity to earn some tokens for our daily activities.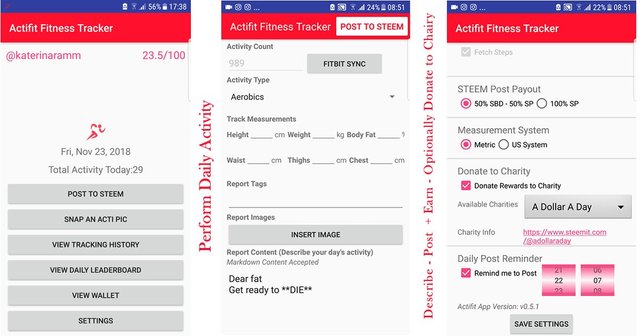 Image Source
HOW TO GET STARTED WITH THE DAPP
it is necessary to have a Steem account to use the Actifit Dapp so if you don't have one till now go and get it from the link below:
As now you are the owner of Steem account so you can use the Actifit Dapp. The use of this Dap is very simple as One Two Three you just have to follow some steps which are appended below for a quick startup.
Android and iOS mobile apps already available on playstore and app store download the specific app by clicking on below link.
ANDROID

Install the dapp and keep it open through out the day and g for jog, travel or do whatever you want with a minimum target to reach over 5k counts

Post your actifit report card on Steem Blockchain and get rewarded with Steem and AFit tokens both.
MAIN COMPONENTS OF THE DAPP
Actifit is a Dapp which have very simple user interface anyone can use it with out any problem. Here I'm mentioning main components of the dapp.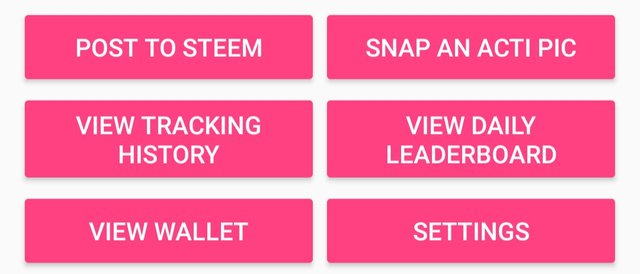 Post To Steem:
Using this section you can upload your actifit report card to the Steem Blockchain. This is most important section and you have to choose some options in order to upload your post.
Snap An Acti Pic:
This section can be used for clicking a picture which can be uploaded on your actifit report card cover picture.
View Treaking History :
This is your activities record which can be tracked any time by clicking this option
View Daily Leaderboard
Using this section you can track daily top actifiter means the users who have scored highest activities. You can do lots of physical activities to get on top on the leaderboard.
View Wallet
This section is for viewing your accumulated AFit tokens. From here you can check the balance of your tokens.
Settings
This is the most important section of the dapp you can change most of the option using this section and can modify the dap according to your way.
THINGS I LIKE ABOUT THE DAPP
The dapp interface is very simple and easy to use any one can use it without any problem
We can earn tokens very simply as One Two Three
Uses can earn rewards in Steem and AFit Tokens.
THINGS I DON'T LIKE ABOUT THE DAPP
You have to hold at list one Afitx token and 10000 AFit token to get actifit upvote in your actifit report card.

Order to get upvote frequently from actifit you have to hold 25 Afitx token.
MY EXPERIENCE ABOUT THE DAPP AND STAR RATING
I have an amazing experience about the Dapp I'm using this Dapp since January 2019 and i have more the 120 rewarded actifit reports and successfully accumulated over 4k Actifit tokens. The dapp is very simple to use and very light so it can not drain your smartphone battery. The team behind the project is very good I will give this amazing project 4.7 star rating out of 5.
Thanks for visiting my blog
Follow me @ajks
Blog Reference:
Official website https://actifit.io/
Screenshots are taken from actifit android app.