Almost every crypto user needs one day to exchange coins. When exchanging coins it is not always visible how much such transactions will actually cost you. I have tried to compare several places where coins can be exchanged to try to figure out the less expensive way to exchange your coins.
In order to be able to compare something comparable, I took a screen shot at a precise time for an exchange of 1 ETH into BTC. The idea is to see where we get the best exchange.
Direct exchanges
Changelly
Changelly is a direct exchange that allows to exchange coins without having to deposit them to an exchange. You are provided with an address that you can send your coins to and you will get the exchanged coins directly to an address of the target coin that you provide.
For 1 ETH, I would get 0.02028854 BTC
Additional costs: Network fees of 0.00025 BTC
Effective return: 0.02003854 BTC
The return that is provided is not a guarantee. It is possible that this amount varies according to when you make the transaction.
Blocktrades
Blocktrades is a similar service as Changelly that allows direct exchange from one wallet to another.
For 1 ETH, I would get 0.01978936 BTC
There are no further costs that would be added.
Exchanges with deposit and withdrawal
Faucetpay
Faucetpay is a microwallet service that comes with an exchange that allows you to exchange 7 major currencies. The exchange is rather a side product of the website. It is a great place if you want to earn coins with micro earning websites. Here a list with all the Micro Earning websites linked to Faucetpay.
For 1 ETH, I would 0.01938382 BTC
Additional costs: Withdrawal fee of 0.00000400 BTC
Effective return: 0.019387982 BTC
Major exchanges
With exchanges, you might get a better exchange course. You can see the different prices for 1 ETH in the image below. However with major exchanges, there are several cost factors that you need to take into consideration.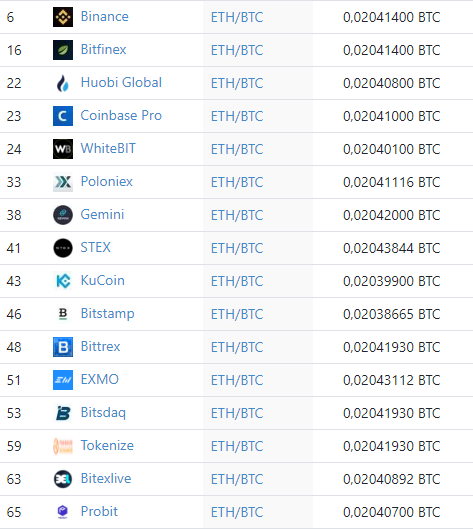 source: https://www.coingecko.com/de/munze/ethereum#markets


Let's calculate the return for our example change (ETH/BTC) for a couple of the bigger exchanges:
Exchange / Rate / Market fee / Withdrawal fee / Effective return
Binance 0.02041400 / 0.1% / 0.0004 / 0.019993586 BTC
Bitfinex 0.02041400 / 0.1% / 0.0004 / 0.019993586 BTC
Bittrex 0.02041930 / 0.2% / 0.0005 / 0.0198784614 BTC
Notice: For the market fees, we applied always the cheaper maker fee and took the smallest exchange volume. With a bigger exchange volume, the fees might become smaller.
When we compare these different exchange possibilities it becomes clear that the costs have a huge impact on the money that you really get. Before any exchange, it is therefore worth checking how you can save costs and what service provides the best return for you.
---