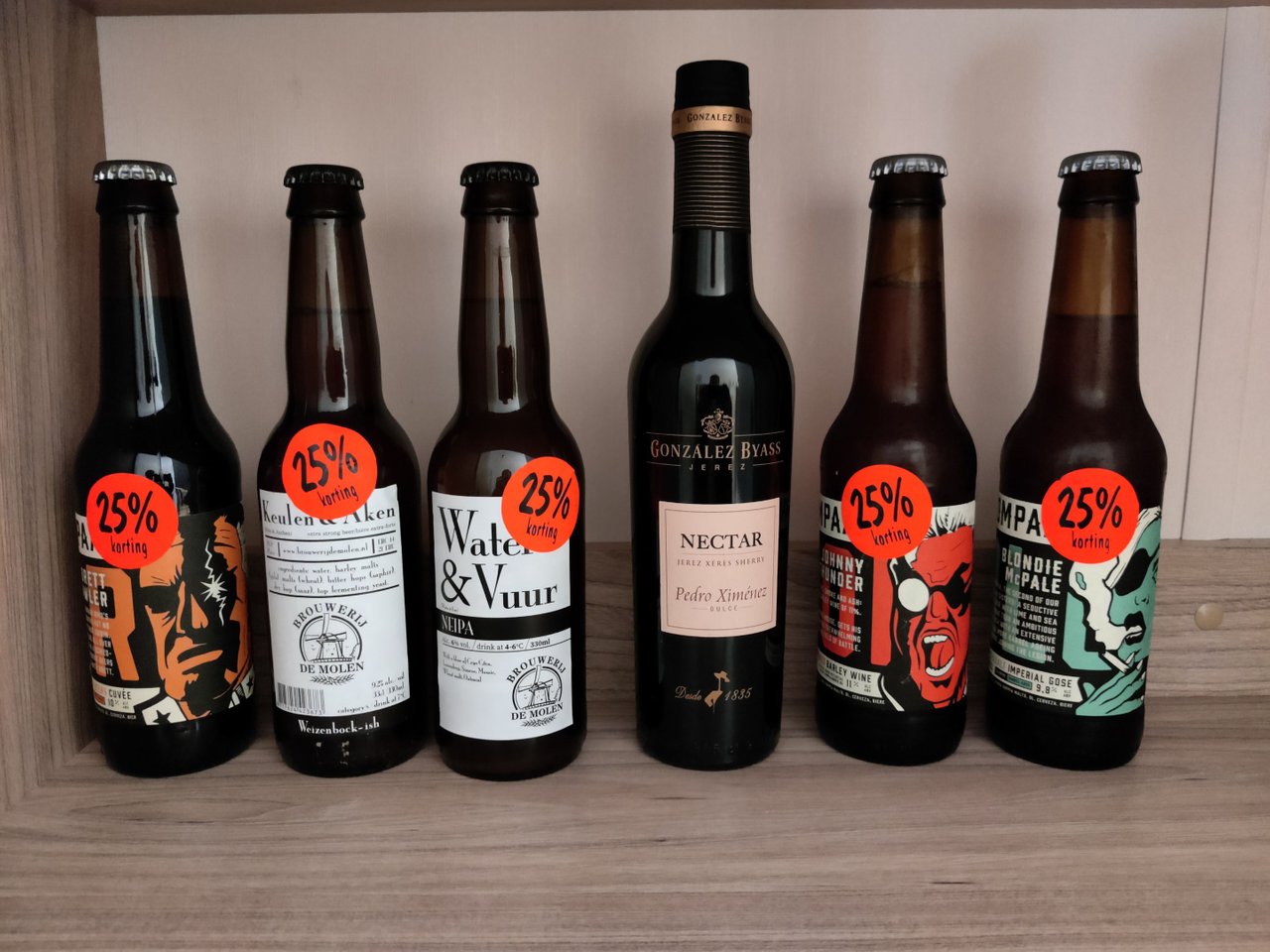 I'm not much of a beer drinker, I do prefer my spirits if I do have to drink something... and if I'm drinking something with dinner, I will generally go with a good cider (not Strongbow) as my first choice. It's not that I don't like beer, I just prefer other things... and then if I do have a beer, I have some little favourites that I know that only a certain restaurant will serve up and that seem to be otherwise impossible to find anywhere else. I suspect that they import them, due to the fact that they are quite localised to match the type and nationality of the food that they are serving. This generally tends towards the red ales or other types of ales...
So, at home, we don't tend to stock much in the way of beer... sometimes, I will have a few bottles of bog-standard lagers or something like Heineken if I'm just feeling thirsty and don't care much for wine... actually, I'm not that much of a wine person unlike my wife... unless it is dessert wine, in which case, I a HUGE fan!
However, there are moments when I drop into the bottle shop and there are all manner of craft-style beers that are for sale. When I see those, then I am incredibly tempted to just try all manner of things... I mean they are still on the expensive side of things even wiht the discount, often weighing in at around 2-4 euros per bottle, but it also nice to have the enticement to step out of the ordinary and try out things that I wouldn't otherwise be trying out. Plus, some of them have a pretty cool label!
I have pictured only the five bottles that we have put in the fridge... there are a few more bottles in the cellar and some can as well! I have to say, I don't think that I have drunk beer from a can since high school! Since university, it has been beer from a bottle or beer from a tap! Somehow, the thought of drinking beer from a can seems somewhat child-like!... well, perhaps more teenager... children aren't really supposed to be drinking beer from anything at all!
Last night, my wife and I had a go at the bottle on the right (the green-blue label)... a darker beer, that was labelled as an Imperial Gose with Lime and Seasalt!?!?!?... I'm not sure, but from vague memory, a Gose is one of the darker beers that I tend not to drink so much and in the end it was quite a strong tasting beer that was quite caramel in taste... dark caramel! After drinking it, I did notice the three strange looking labels were all from a Dutch brewery that I generally like, Kompaan. So, that was a pleasant surprise... and the other two are familiar labels as well, I'm pretty sure that I've tried these ones before!
Anyway, what is the nicest way to follow a beer... well, I couldn't turn down a port, the Nectar Pedro Jimenez. We had discovered this port when my wife needed a specific port for a dessert that she was making, and I was tasked to go and find it from the bottle shop. We used it for the dessert, but had also tried it out as a drink in itself. Thick, dark and crazy sweet port! YUM, it is a perfect dessert drink!
Handy Crypto Tools
Ledger Nano S/X: Keep your crypto safe and offline with the leading hardware wallet provider. Not your keys, not your crypto!
Binance: My first choice of centralised exchange, featuring a wide variety of crypto and savings products.
Kucoin: My second choice in exchanges, many tokens listed here that you can't get on Binance!
MXC: Listings of lots of interesting tokens that are usually only available on DEXs. Avoid high gas prices!
Coinbase: If you need a regulated and safe environment to trade, this is the first exchange for most newcomers!
Crypto.com: Mixed feelings, but they have the BEST looking VISA debit card in existence! Seriously, it is beautiful!
CoinList: Access to early investor and crowdsale of vetted and reserached projects.
Cointracking: Automated or manual tracking of crypto for accounting and taxation reports.