...but don't lose sight of where you put your investment, accumulating HIVE should be our main goal, more in particular, HIVE POWER.
I enjoy accumulating tokens in Hive-Engine, some of them have given me a lot of satisfaction but most of them have ended up sinking into misery.
I keep track of my "wealth" in the HIVE ecosystem and regularly update my stake dollar value.
Obviously, the entire ecosystem is influenced by the price of HIVE in the market, except for HBD which is supposed to be a stable coin.
As you can see in the accumulated bar chart below, there are 3 main groups, HIVE (blue), HBD (red) and HE Tokens.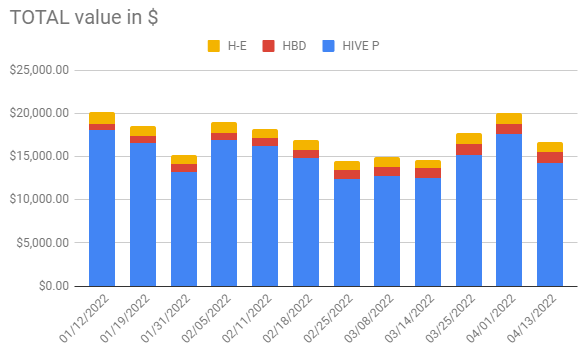 While, as I have already said, HIVE is facing its own volatility and that of the market as a whole, HBD in my Savings Wallet is gaining more and more relevance and value, somewhat mitigating the ups and downs of the market.
A totally different story is the Hive-Engine tokens. Not only are they influenced by the price of HIVE, but many of them follow a spiral of continuous decline in value, as I said, most of them work like this.
The key is to keep those tokens capable of generating or maintaining value, so, for example, although LEO is going through a bad patch due to the market situation, I don't stop accumulating it.

Others, however, simply die, and I'm not talking about PAL or SPORTS anymore, the latter seems to be "breathing" lately... I'm talking about projects that at first seemed promising and that in the short term have sunk resoundingly, like POB for example or the more modern VYB...

Instead, there are a couple of tokens with a great future.
One of them is CENT. This token is supposed to be stable and equal to 1 cent of a dollar. The team behind (@anadolu) keeps it afloat in a very professional way, managing to maintain its value very efficiently.

In addition, it has several Liquidity Pools with interesting APRs, not only in the same token but in HIVE and HBD as well. My stake continues to increase along with its value ( Have a look here: https://beeswap.dcity.io/swap?pools&search=cent)
Another interesting token is SEED (from @empoderat), I don't remember how much I bought these tokens for, I think it was around 1Hive each...
My investment was almost testimonial, not too much...in fact I would have liked to buy more but at that time I did not have the liquidity to do so.
The fact is that its value tripled in a very short time due to the good work of its creator who manages it as if it were an investment fund. Its value today continues to grow and I believe that only the sky is the limit.
Honestly, apart from these two that I say and, obviously, LEO too, I don't see enough reason to accumulate the rest of the tokens... if you think I'm wrong, tell me why and in which one I should invest on.