I used to post consistently about my reward cards, quests and league progress after every season. It was interesting to keep track of all the cards that were added to my collection as well as the value of them and how much you could earn playing the game. I kept that up for a few seasons until you could see a steady average across the different ones.
I do still manage to complete the quests every day and have filled out my collection quite nicely since untamed cards have been released. Grinding out some DEC every day doing them really adds up and lets you pick up a few more cards. The plan for now is just to keep leveling them up and to try and max out some of my reward cards too which have built up steadily over the past year.
One piece of advice i would give to new players is to try and go gold where possible. I know they can be expensive but having a solid gold collection will pay off in the long run. You will earn more DEC in every match that you play with them as well as opening up a lot more tournaments to play in. The competition is a lot easier in these tournaments as most people have some gold cards but not full collections and not as many legendaries.
Unfortunately even though i have bought a few hundred packs since the game began and earn quest rewards nearly 7 days a week I have yet to get a sniff of one of those very rare legendary cards. With that said I have found a good bit of success in the gold tournaments, tending to place in most of the ones that i enter since there is a lot less competition. I've got 5 different gold splinters at level 6 or 7 which opens up lots of options during the matches. A lot of people don't have a full selection which can cost dearly over the course of a few rounds.
Even today I managed to place 13th from 121 entrants with a few of those wins down to people not having the right summoners.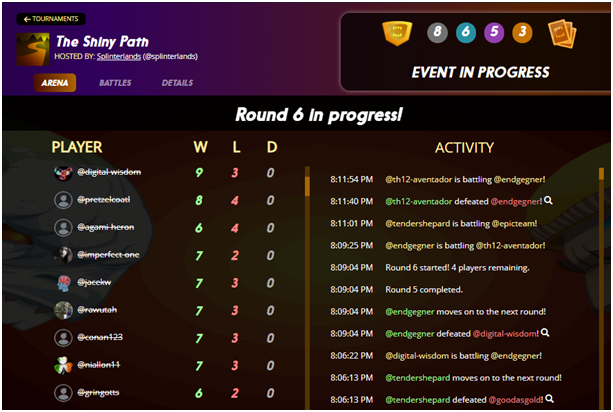 My collection is still not full enough or leveled enough to win a lot of things but it does get me into the charts consistently without a huge investment into cards. Hopefully I will be able to slowly max out these cards this year but until then there are plenty DEC up for grabs in the tournaments and with a few wins.
Much easier than the regular tournaments with 200+ playing in most of them and full decks all around. Just something to think about.