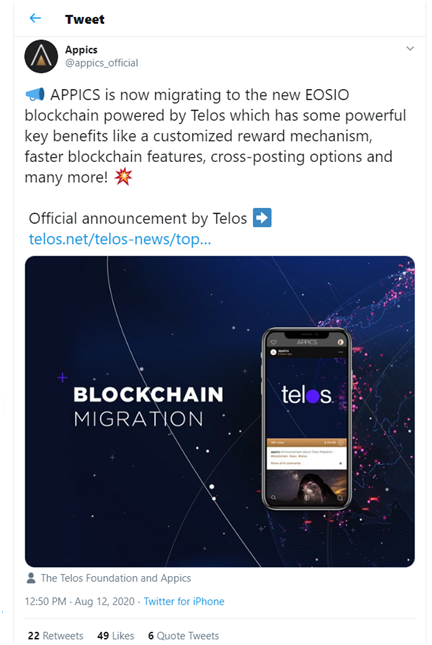 This is some interesting news and not quite sure what to make of it for the moment. @appics is a high performing #steem based app for pictures and videos. It has a strong team behind it and was one of the apps that I thought might propel crypto into a more mainstream audience. It has a great user interface, they were going to bring in mass onboarding and looked set to grab a large user base with web3 capabilities.
The team had made the announcement a couple of months ago about linking to the hive blockchain for cross platform posting including steem. Now they are moving onto the EOSIO blockchain as steem is no longer fit for purpose.
I would have expected a switch to hive instead as it would not be a huge change to make the move and the platform offers fast free transactions and a ready made voting system the same as steem.
I am not sire where this will leave it's existing user base who are either steem/hive based accounts that use @appics to share short picture content to their profiles on the chain.


There are two recent articles about the switch but neither have a large amount of information apart from the fact that @appics is leaving steem for EOSIO.


https://coinfomania.com/appics-exits-steem-network-joins-telos-blockchain/


https://www.telos.net/telos-news/top-5-decentralised-social-media-app-appics-joins-telos


The announcement mentions, rewards and cross-posting but we will have to wait and see where this leaves us as existing users.
APPICS is now migrating to the new EOSIO blockchain powered by Telos which has some powerful key benefits like a customized reward mechanism, faster blockchain features, cross-posting options and many more!
I did ask the question on their announcement post,
Where will this leave existing steem users already using your app and #hive users that were waiting for integration that was announced a couple of months ago?
Wondering if we will be able to post to these chains or if our existing accounts will be of any use to us?
So just waiting to see if they get back to me and give us a better idea of how it will work going forward.
I did find this from a person who claims to be an @appics ambassador but I don't know how accurate that description is or how true the information is.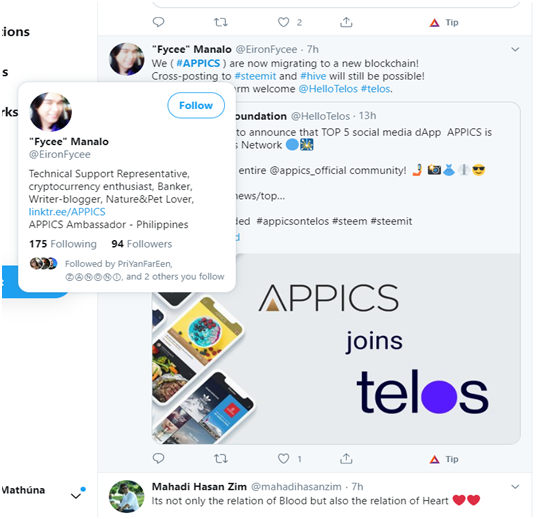 Make of it what you will.
I will update if I can find out more from the team.