In this article I will walk you through creating a Tournament, then briefly discuss why Tournaments are one of our most competitive players' favorite aspects of Splinterlands, but first, some bragging.
---
---
That says Splinterlands' Tournaments have already paid out over $120k to our players. Giving back to the players through Tournament prizes was always a large part of the Splinterlands vision, and now with the recent addition of "Anytime" Tournaments, the whole thing just got even sweeter. Splinterlands Tournaments may be bursting with tough competition, but with Tournaments for every level, anyone can win!
---
The Creation of a Tournament
The Tournament Arena was designed with developers and marketers in mind. They are easily customizable, allowing anyone to host a Tournament and customize the prizes. Hosts are able to share links and banners for their project, product or service with our loyal base of crypto, gaming and blockchain enthusiasts.
Follow me now as I quickly create an Anytime Tournament to illustrate how simple it is!
---
1. Come up with 2000 Dark Energy Crystals.
There are various ways to earn Dark Energy Crystals, the in-game currency of Splinterlands, including battling, opening Loot Chests and selling cards on the Monster Market. I will also need the determine the prizes and have them prepared before creating the Tournament. One of my favorite ways to obtain DEC quickly with no hassle is by burning Gold Foil cards (not investment advice). That's what I will do.
First I burned one of these for 500 Dark Energy Crystals.
Bye bye, Dark Rexx.
Then I burned a Rare Dragon Serpentine Mystic for 3000 DEC and I was ready to go.
---
Now I need to decide on prizes. I'll go with a combination of Dark Energy Crystals and Splinterlands cards... more specifically, Gelatinous Cubes! In fact, let's just make this a Cube-themed Tournament! At the moment, there are a whole bunch of single-BCX Gelatinous Cubes on the market. I'll just pick up a few hundred of those 45 at a time (45 is the maximum number of NFTs that can be transferred in a single transaction) and combine them into a small army of level 5 Cubes, each 15 BCX.
---
First, the Scheduling
---
This is where I am asked to decide what type of event, when it will take place and how long it will last. This is also where I am able to describe the event in up to 1000 characters, using Markdown formatting as pictured above. That means that in the description you can include multiple clickable links.
---
Next, the "Entry" Page
With this step, I simply decide the number of minimum (if any) and maximum entrants. I can also specify entry fees or even password protect the Tournament if I want. I'm not putting a password on this one.
---
Rules
On the Rules page, I am able to decide what limitations (if any) will be placed on the battles. If I want more people to participate, it's always a good idea to do one of the lower League levels (like Bronze or Silver). I have always found that these low levels are equally challenging for Champion veterans as they are for newer players, so it's fun to see players of all levels scrapping with limited level cards.
---
Now the Fun Part... The Rewards
When setting up my prize pool, I have tons of options. I can offer rewards in Dark Energy Crystals or various cryptocurrencies like HIVE, Ethereum or Bitcoin. But I can also offer "custom" rewards to my specification. Everybody who plays Splinterlands knows that cards and packs are incredibly easy to transfer, so I'll be using them as the main prizes for this Tournament. For 16-36th place, Dark Energy Crystals will be awarded (A consolation prize, but one for which I don't have to do anything manually).
In this Tournament, I'll be giving away...
8 Untamed Boosters
10 Level 5 Gelatinous Cubes (250 BCX total)
2400 Dark Energy Crystals
That's not a bad prize pool for a free Splinterlands Tournament that you can play anytime from anywhere.
---
The Last Step - Images and Links
I must now share the URLs of 2 images: A small square one for the logo of my Tournament and a larger one that will be shown on the "floor" of the battlefield throughout the Tourney battles.
---
The Final Check
All that remains is to check that all the information is correct and submit the Tournament. At the time of the Tournament's creation, the 2000 DEC fee is deducted automatically. Once the Tournament is created, it is only opened up to registrants once I pay the total Dark Energy Crystals agreed to be used as prizes. Once this payment is settled, my tournament is live and immediately taking registrations.
---
As I write this, I created the Tournament about 45 minutes ago, and already it is approaching 200 registered players. For anyone looking to market a product or service in the blockchain gaming arena, this reach of our dedicated players can be an extremely effective tool.
Remember, to begin earning rewards in Splinterlands, each player must purchase the Summoner's Spellbook upgrade for $10. This ensures that every player in these tournaments is not only interested in blockchain and NFT gaming, but they have already proven they're willing to spend money on it. And that looks pretty good to anyone trying to promote a product or service in the same industry.
---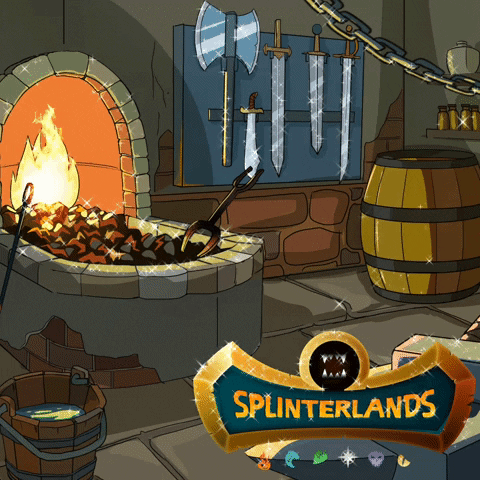 ---
You've got about 6 hours from my posting this article to enter my Tournament!
Join us at Splinterlands.com!
Play in some Tournaments...
Create some Tournaments...
And own your cards like never before.
---
Splinterlands on Twitter
Splinterlore on Twitter
SplinterLands on Peakd.com
Spliterlands Discord Community
Splinterlands Telegram Community