Sweetwater Creek State park is located near Atlanta. Georgia. It has many hiking trails and places to do events. If you take the trail down to the river you will come across Manchester Mill. A civil war relic building used to manufacture items for the Confederacy.

 Camera Model Lumix GH3, modified by LifePixel for Full Spectrum

 Lens Olympus M.ZUIKO DIGITAL ED 12mm-50mm

 Filter B+W UV Black (403) Filter

 Aperture f/3.5

 Shutter Speed 1/200 sec

 Film Speed 800

 Spectrum Ultraviolet-A and Infrared (UVA and IR)

 Wavelength 320 to 385 nm and 750 nanometers

 Location North Georgia USA.
The trails were filled with trees and plants all around, above us it was hard to see the sky sometimes due to how much tree growth I was walking through.
It was a nice day outside so when the sky did come out it really popped out using my ultraviolet filter.
Plants around were mostly shaded but still growing quite happily.
These images are being hosted by Spee.ch
An image hosting service on top of the LBRY protocol.
---
I take pictures with a special camera. Its a Mirrorless DSLR that has been modified by Life Pixel to see light in other wavelengths. This allows my camera to see light in the Infrared [IR] around 1300 NM wavelength, through the visual spectrum and into the Ultraviolet A and B wavelengths roughly into the 300 NM wavelength.
I carry many filters on me to make the photos you see in my blog, these filters screw on my lens and help me isolate certain wavelengths for certain scenes. These filters can be IR / UV pass-through filters to assist me get a natural photo taking out the UV and IR light. Or I may use a Infrared pass-through filter capture just IR light. I can do the same with UV light as well, though I need some better filters which they can cost a few hundred dollars for true Ultraviolet pass through filters. So for right now I have B + W 403 bandpass filters that still allow some IR light in, due to their cheaper material.
There are also exotic glasses made of sapphire and germanium I am open to working with to replace my silica glass hot mirror with a material that allows even longer wavelengths of infrared to enter my cameras sensor. Special sensors, lenses and filters of that material would be needed as well, so it would be a big project but one that may give some even more unique photography results.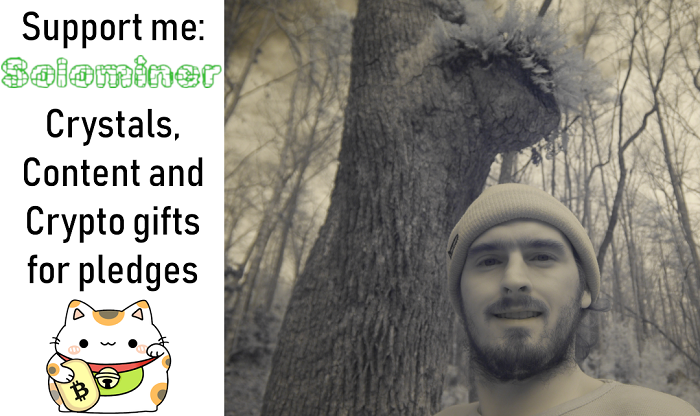 Addresses below to help me buy better camera equipment and support me to travel to locations to do photo and video and overall great blogs in new places. I would be happy to list some of the contributors in my posts for donations that help me along the way.
Coin Address

 BTC: bc1qhfmvd2gywg4fvrgy2kkkkyqta0g86whkt7j8r7

 LTC: ltc1qdyzm5cwgt8e2373prx67yye6y9ewk0l8jf3ys9
 DASH: XkSqR5DxQL3wy4kNbjqDbgbMYNih3a7ZcM

 ETH: 0x045f409dAe14338669730078201888636B047DC3

 DOGE: DSoekC21AKSZHAcV9vqR8yYefrh8XcX92Z

 ZEN: znW9mh62WDSCeBXxnVLCETMx59Ho446HJgq Platform URL/Username

 Steem https://steempeak.com/@solominer

 Steem Monsters https://peakmonsters.com/@solominer/collection

 Weku https://main.weku.io/@solominer

 Bit.Tube https://bit.tube/solominer

 Mithril Solominer

 Discord Solominer#4248

 Bitcointalk https://bitcointalk.org/index.php?action=profile;u=83228

 CryptoPanic https://cryptopanic.com/solominer

 Whaleshares https://whaleshares.io/@solominer

 Bearshares https://bearshares.com/@solominer

 Publish0x https://www.publish0x.com/solominer