In the last post I shared how I cut pieces of Brazilian hardwood and prep them for @whangster79's laser etching machine. Since then he took the cuts I made and put them through his machine. We have six of each ready to go. One with just the logo and one with the text written out horizontally.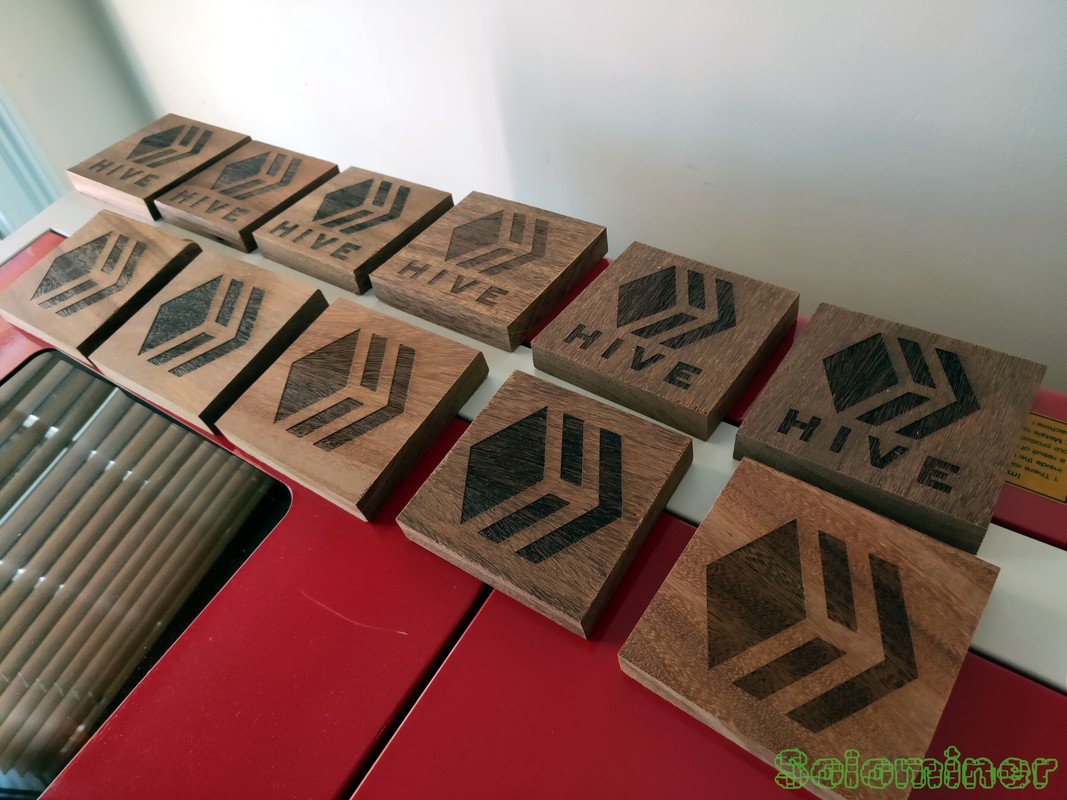 Due to the variation in the wood, the darkening of the logo can be seen in different shades. No single etching is exactly the same, they are all unique.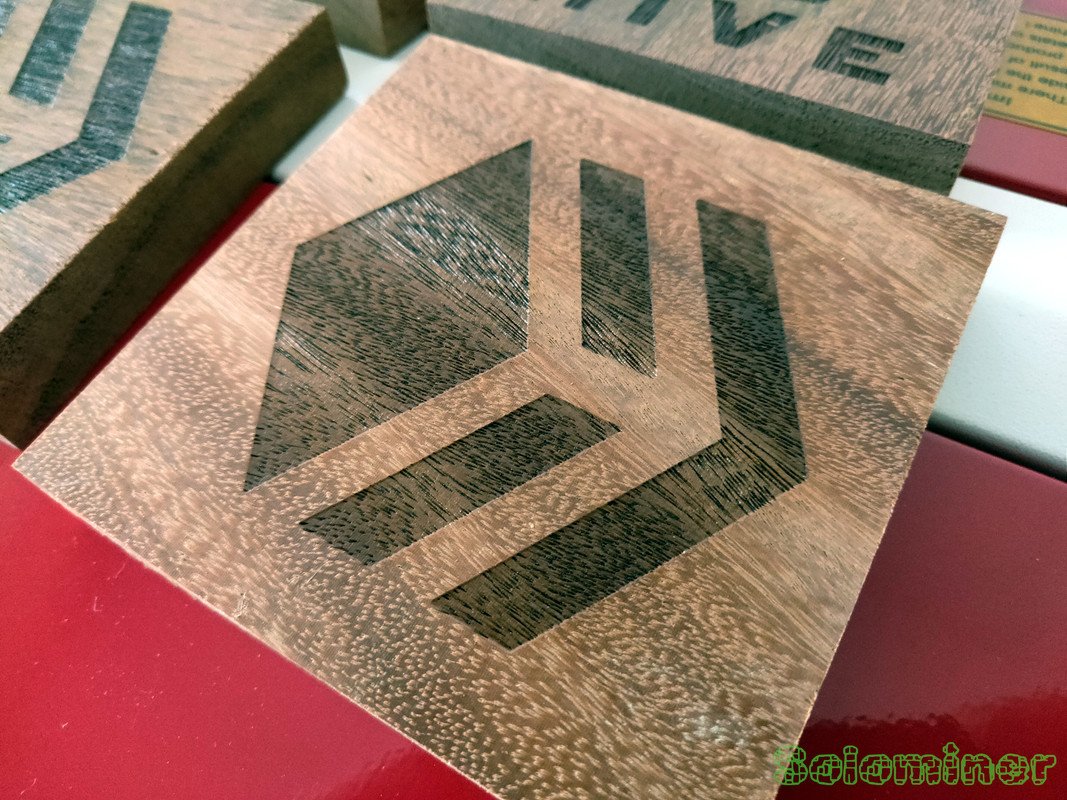 Next up will be a promoted post, listing batch one for sale. Once I get my hands on them and take some DSLR pictures I will follow up with another post. Right now they are at @whangster79's house and ill get them in a few days.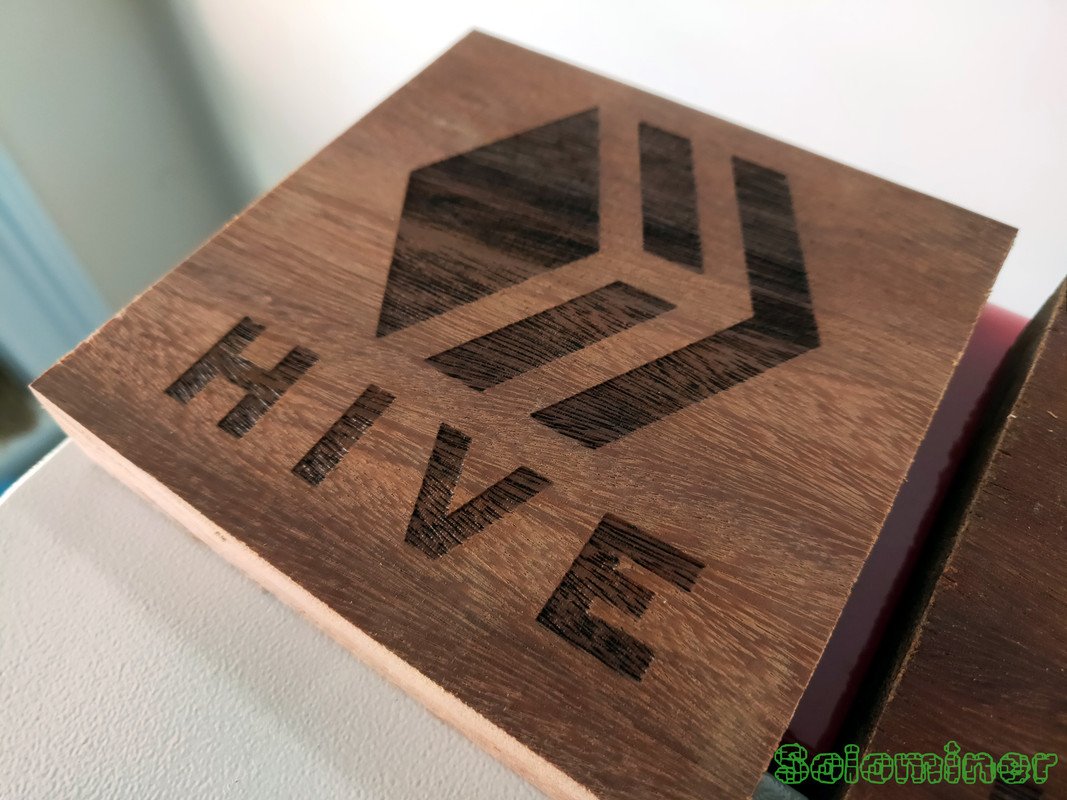 Really looking forward to see what people do with these. Laying them into wood work, or just having them on a coffee table is a great way to get attention to our community. These cuttings are made of some of the strongest wood and should last a life time.
Stay tuned, the next post will be listing them for sale. And if they sell out we will do a second batch right away. But for the moment we produced twelve total etchings. Six of them with just the logo and six of them with the logo and horizontal text showing off the HIVE name.
Looking forward to the promoted post, costs 60 Hive to do one last I checked. And I think it should be worth it to get it pinned. Once Peakd has that up and running we will do a follow up post showing off the products, listing prices and how to proceed if you would like to order one.
---
Addresses below to help me buy better camera equipment and support me to travel to locations to do photo and video and overall great blogs in new places. I would be happy to list some of the contributors in my posts for donations that help me along the way.
Coin Address

 BTC: bc1qhfmvd2gywg4fvrgy2kkkkyqta0g86whkt7j8r7

 LTC: ltc1qdyzm5cwgt8e2373prx67yye6y9ewk0l8jf3ys9

 DASH: XkSqR5DxQL3wy4kNbjqDbgbMYNih3a7ZcM

 ETH: 0x045f409dAe14338669730078201888636B047DC3

 DOGE: DSoekC21AKSZHAcV9vqR8yYefrh8XcX92Z

 ZEN: znW9mh62WDSCeBXxnVLCETMx59Ho446HJgq