I have been cross posting my content on Publish0x for a few months now. I usually get a few dozen views and make less than 10 cents a post. But the community really liked my Bear Sculpture post. I made 8x more than usually, which was 80 cents. That 80c got me a few BAT. A fraction of a DAI and some HYDRO which are all altcoins on the Ethereum blockchain.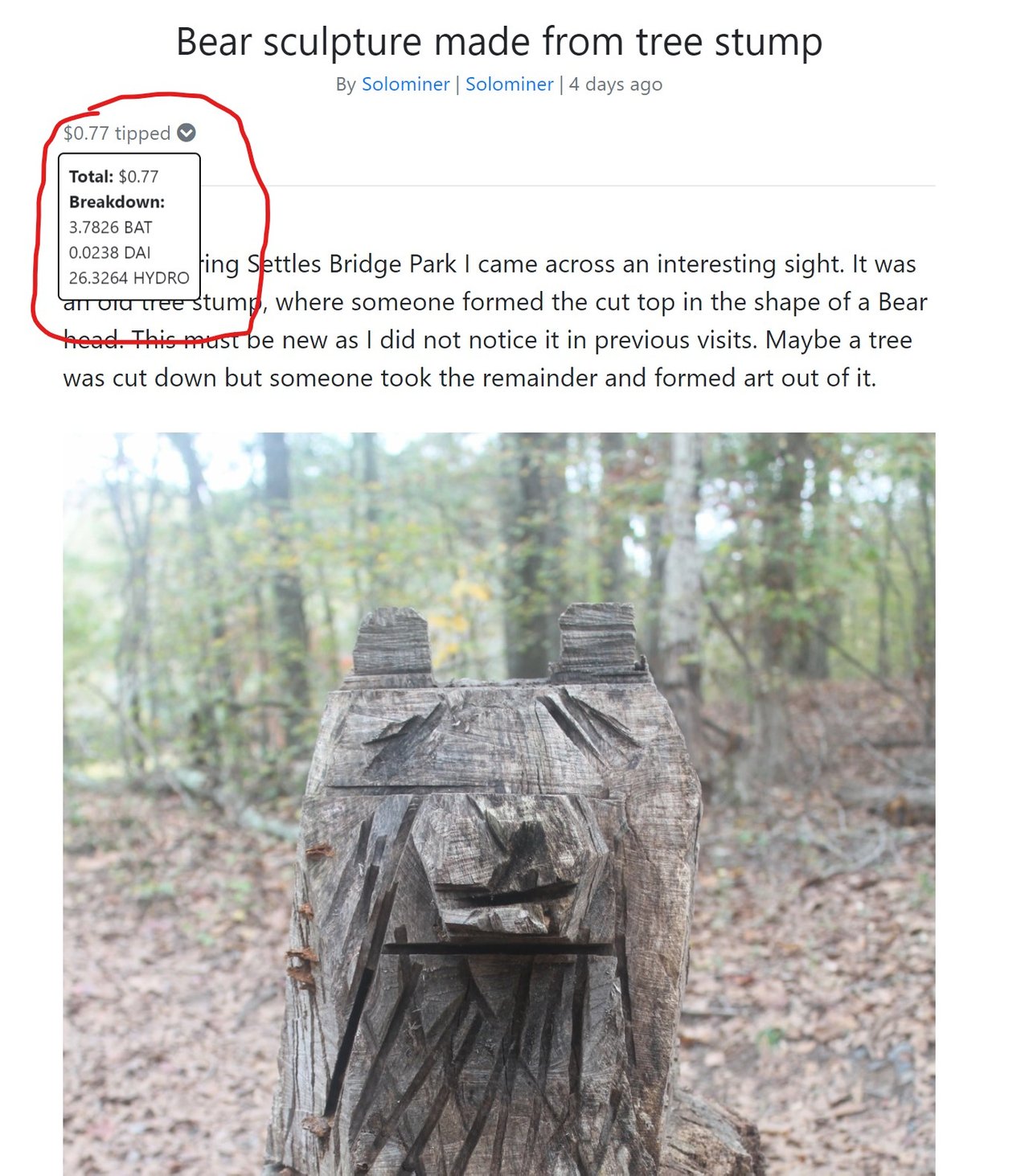 Using the Brave Browser I earn BAT as well, but this one post on Publish0x got me more than a month of clicking through ads. I am amazed, and happy to see others are noticing my posts and earning some altcoins at the same time.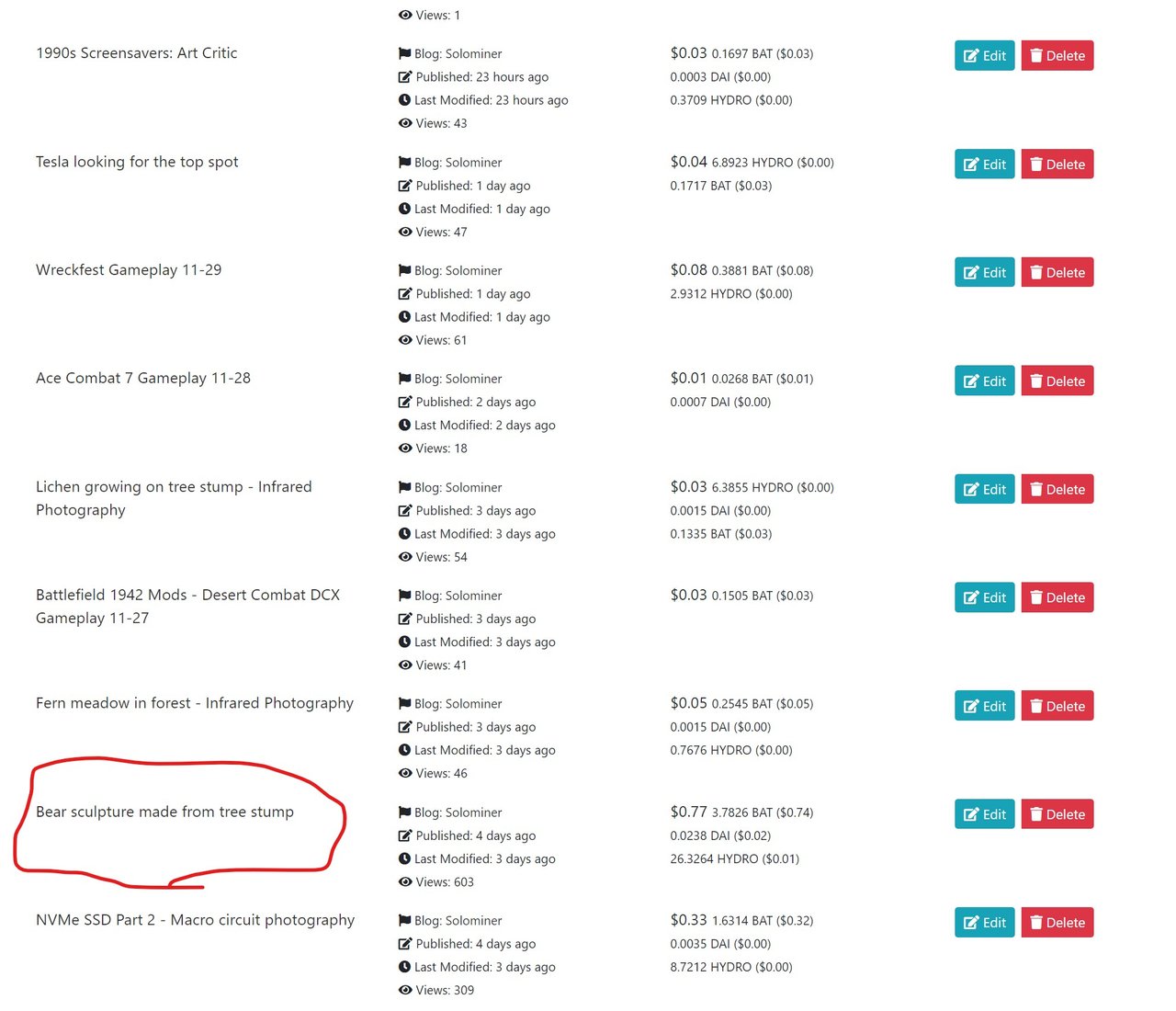 Showing my previous posts, and the spike on this one post. My NVMe Macro Circuit photography did pretty well too.
Happy to see posting on other platforms is worth it. And good to see Publish0x has stuck around for awhile now. I see Steem users and vice versa posting on there and gives me a good feeling.
Link to the post
https://www.publish0x.com/solominer/bear-sculpture-made-tree-stump-xmgvld
---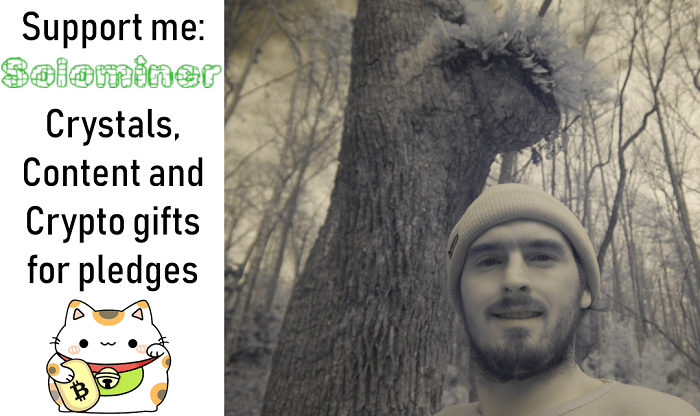 Addresses below to help me buy better camera equipment and support me to travel to locations to do photo and video and overall great blogs in new places. I would be happy to list some of the contributors in my posts for donations that help me along the way.
Coin Address

 BTC: bc1qhfmvd2gywg4fvrgy2kkkkyqta0g86whkt7j8r7

 LTC: ltc1qdyzm5cwgt8e2373prx67yye6y9ewk0l8jf3ys9

 DASH: XkSqR5DxQL3wy4kNbjqDbgbMYNih3a7ZcM

 ETH: 0x045f409dAe14338669730078201888636B047DC3

 DOGE: DSoekC21AKSZHAcV9vqR8yYefrh8XcX92Z

 ZEN: znW9mh62WDSCeBXxnVLCETMx59Ho446HJgq
Platform URL/Username

 Steem https://steempeak.com/@solominer

 Steem Monsters https://peakmonsters.com/@solominer/collection

 Weku https://main.weku.io/@solominer

 Bit.Tube https://bit.tube/solominer

 Mithril Solominer

 Discord Solominer#4248

 Bitcointalk https://bitcointalk.org/index.php?action=profile;u=83228

 CryptoPanic https://cryptopanic.com/solominer

 Whaleshares https://whaleshares.io/@solominer

 Bearshares https://bearshares.com/@solominer

 Publish0x https://www.publish0x.com/solominer