I joined the Splinterland battleground at the beginning of the year with the basic pack of cards and I've REALLY ENJOYED learning the game and growing my army.
There is so much more to the game that appears at first glance and I find the constant quest for the perfect team to be an interesting challenge. It definitely adds to the challenge to have the rules of engagement change for each battle. And thanks of @theallinace for allowing me to join their ALLIANCE BUILD! They're a great group of pro-battlers and we all earn more DEC by building our alliance.
I'm very pleased and excited that Splinterlands made the move to HIVE, I know it was a huge undertaking to make the move, but it was definitely the right one. I've taken much of my power down on STEEM and moved it directly to Splinterlands to improve my holdings. This has been especially helpful since my usual path of DUMPING MY STEEM has been to send it to Bittrex and sell for Bitcoin or more HIVE. But while the exchanges are still trading STEEM they have never opened back up the wallet functions to deposit STEEM after their contentious STEEM-stealing last HF. So no way to get it there and sell it.
Thanks, Splinterlands, for continuing to allow us to use our STEEM to make purchases!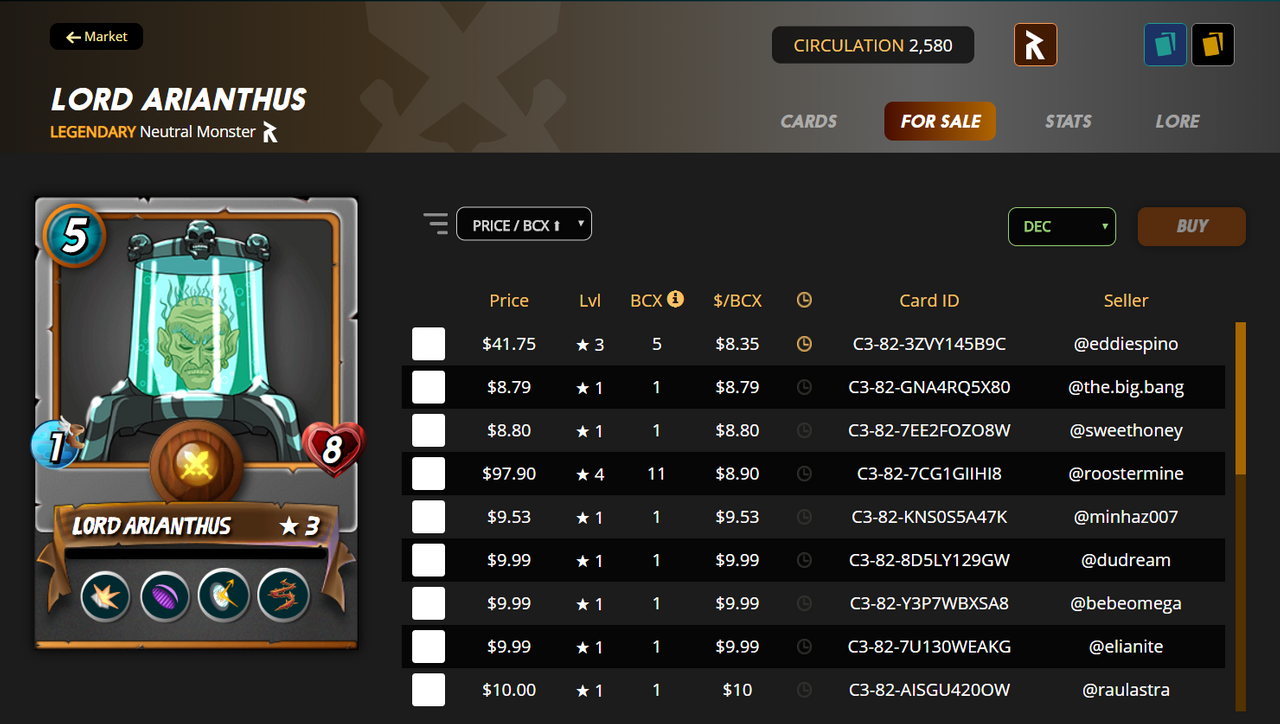 Lord Arianthus is my most recent purchase. I was getting tired of getting my team's butt kicked by him and finally acquired one for myself. I haven't made it up to level 3 yet - as you can see he runs about $10 a card and I'm gong to have to win a few more battles before investing in the next couple of cards.
I love that I can consider my "battle team" to be an investment and not just spent money. And I love how the game is supporting the HIVE blockchain now.