Hello!
I was waiting for the Brave browser ads campaigns to start in Spain. I checked if they were active some weeks ago and I found that they weren't. However, today I replied a tweet to @BraveSampson and he told me that they were already active in my country! Really good news!
So I decided to get verified and start this afternoon. With an hour I have received 6 ads notifications and I earned my first 0,05$ just for browsing the internet!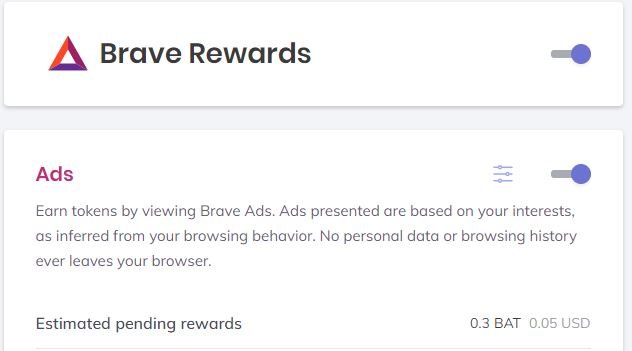 What is amazing is not the amount, what is revolutionary is the new concept that is born with Web 3.0.
We as users, now are able to take part in industries that had been in control of the few for years. For instance the (Internet) Ad-industry is controlled by Google, and they don't share any part of the billions they get from the advertisers to its users.
This is where the BAT browser came with this amazing idea of sharing the money they get from the advertisers to the people, and do it via blockchain. A decentralized protocol that gives full sovereignty to its users.
With web 3.0 we can receive a piece of the big cake that is getting our attention, our likes and our browsing time. In the future, new ideas will emerge and the users will be getting more and more power back.
I also tweeted the following:
Web 3.0 is here!
I earn crypto for free everyday in 3 ways:

✅Blogging on #hive @hiveblocks at http://peakd.com/@resiliencia
✅Playing games at @splinterlands
✅Surfing the internet at @brave
I am so happy today! Enjoy this revolution! 😊