Hello I would like to share my little adventure riding my motorcycle this morning.
There is an area that I never go in my home town as a kid because it is too far away for a kid to go. Today, I decided to go there to Perancak village, about 30 minutes ride from my place.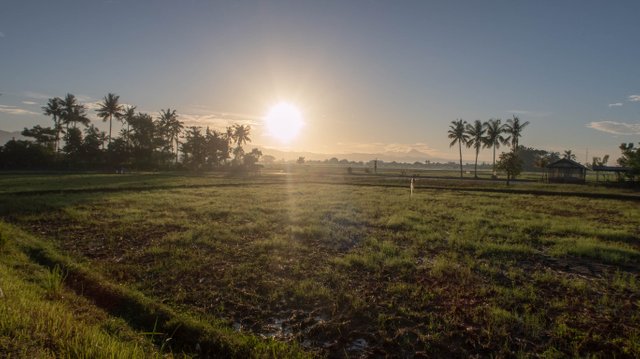 I went my ride in the morning at about 7. My destination is a bridge, yup, a bridge which is quite popular for people to go fishing on the river below it. My father told me that there are many people who spent their time on the bridge fishing. That's a good chance for taking photos, I thought.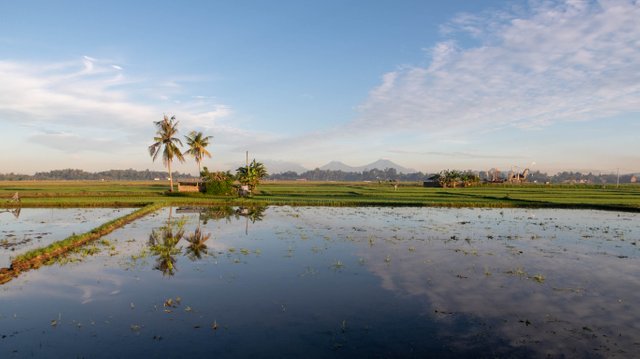 To get to this place, I had to ride on villages road, passed many farms, houses, and rice fields. I also saw many cattle on the ways. And I stopped to take photos some time in places which I think great for photos.
After about 20 minutes ride from my village, I arrived in a small bridge. I stopped there to see the beautiful view of the river under the morning sun. I took a few photos there. But there are no body fishing in this place. This should not be the one!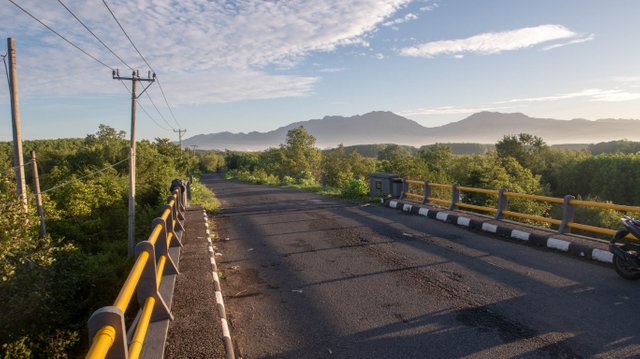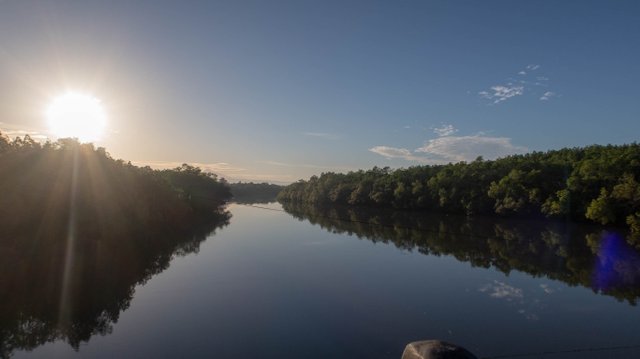 I continued my ride for another 5 minutes, until I found another bridge. This bridge was much bigger than the previous one I was. This should be the place for the fishermen, but at this time of the day, there were no one fishing.
I looked down to the road on the bridge. I could see a lot of plastics garbage. What a pity. There were people who littered on the bridge.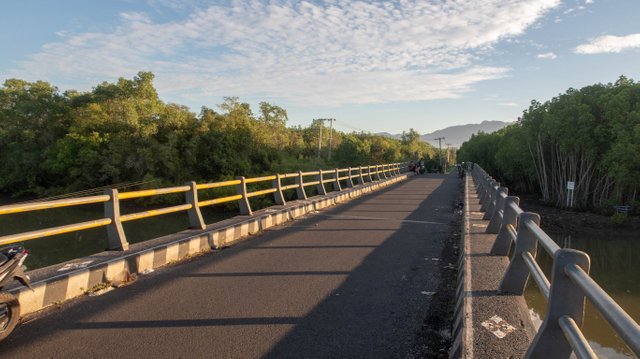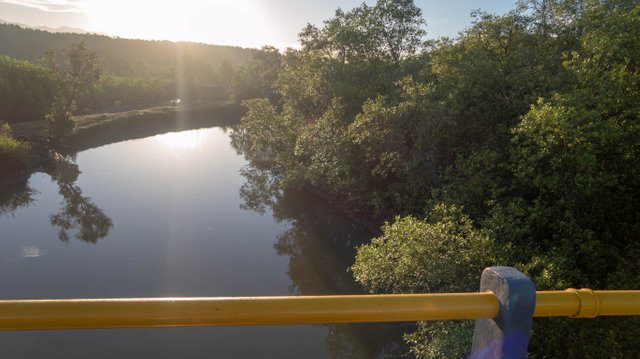 So, this was the bridge! Probably it more beautiful at sunset time, and since the sun was already high, the view was okay. With some littler that put me down, I am done there.
I took a few photos there, and continued my journey. Beyond this bridge was actually place I have never been. So, I decided to explore this area.
There were one or two villages I passed by. Every village there was stop point for disinfectant in regards to covid-19. But those stop points were empty, maybe it was still early in the morning.
The road that I was riding on turned into a cross road. One of the road was narrower than the others. I took this road and this lead me to the sea, which was quite surprising. I would never think that I could go as far as the sea, but I arrived there, in the sea.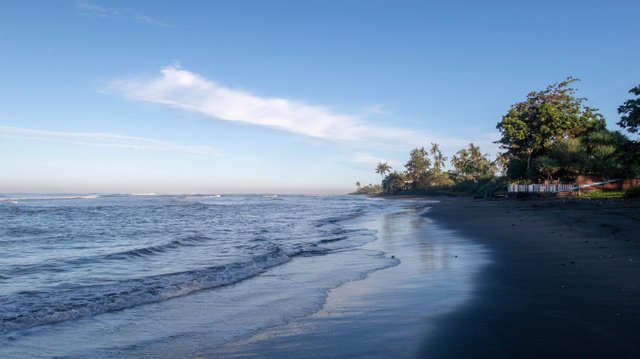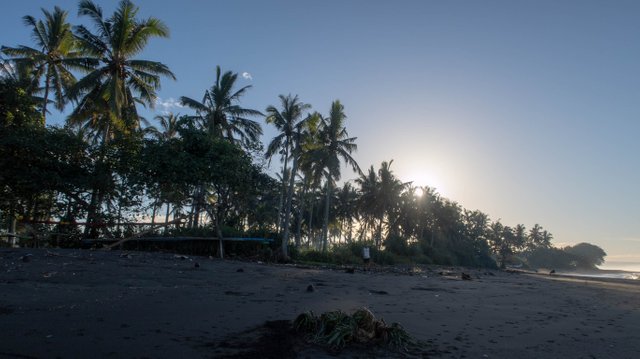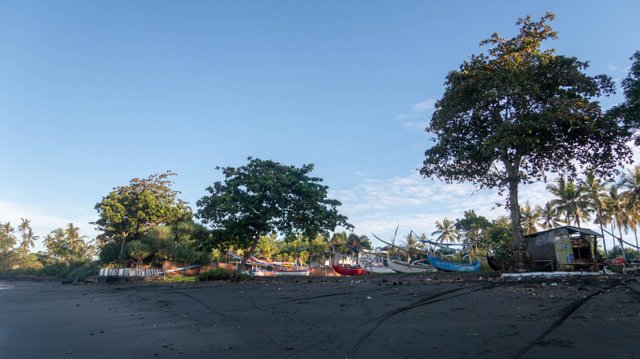 I parked my motor cycle and walked to the beach. There were some locals who nodded as I walked pass them. These people were collecting some garbage from the beach. Stepping up on the black sand on the beach, I could see some garbage from tree branches and leaves there. It's hardly any people there. So, this was the end of trip, I could not ride any more, I thought.
The view of the beach was so beautiful. This I could remember a long time. I took some photos of the sun getting higher in the east. To my surprise, there was some body who rode his motorcycle in front of me on the sand on the beach. What? Could you actually do that?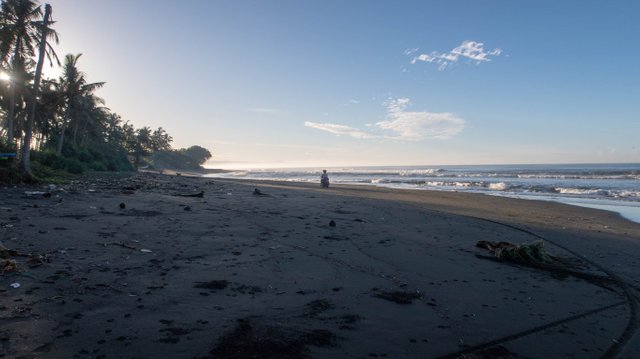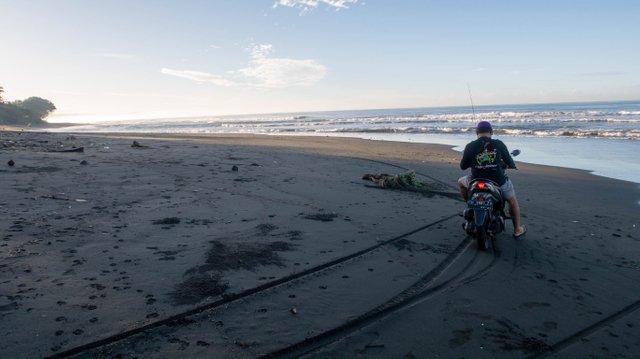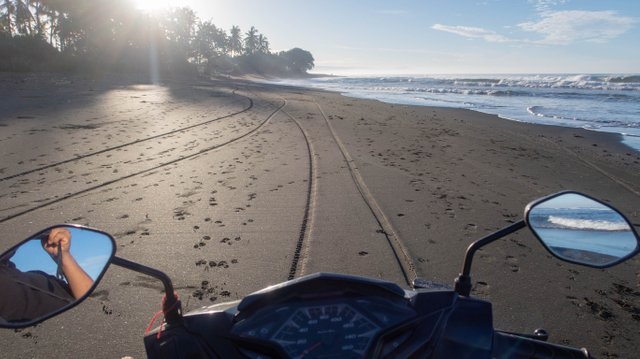 I did not have a lot of time to answer this question, but I just quickly started my motor cycle on the beach. It was not easy at the beginning. The tyre of my motor cycle got stuck few times on the sand. One time I got frustrated, so, I just stopped and take photo a selfie.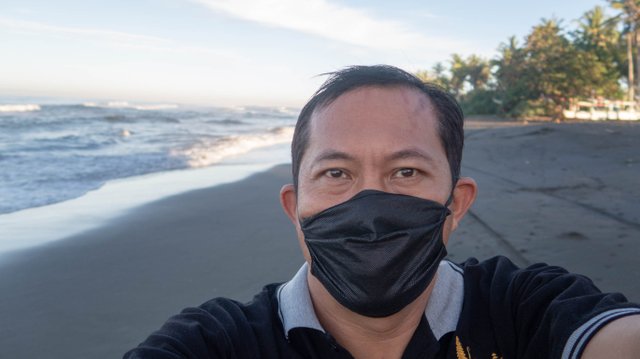 Then I learnt that my motor could go better on the wet sand rather than on the dry sand. That solved my problem. I felt like an expert in riding on the sand.
I saw some people fishing on the beach. I even saw some one with a long fishing rod. What a classical view! I thought. I have seen this kind of view on paintings.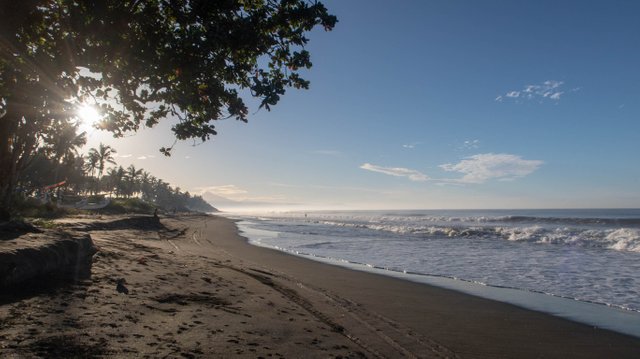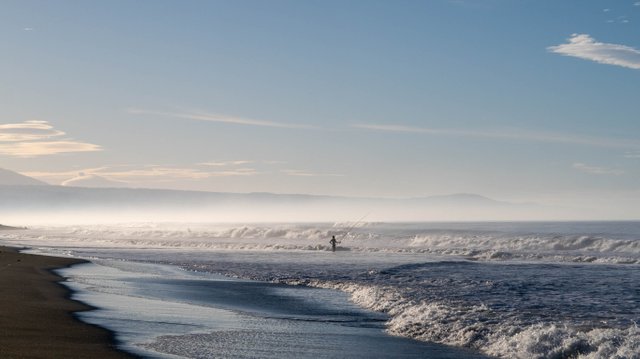 Continuing my ride, I finally found an exit from the beach to main road, but I had to pass someone's land. I don't they they mind, but they were not around for me to ask permission. (Don't worry, it's quite common to do this.)
And I got back to the main normal road thinking this was the end of my little adventure. I headed home.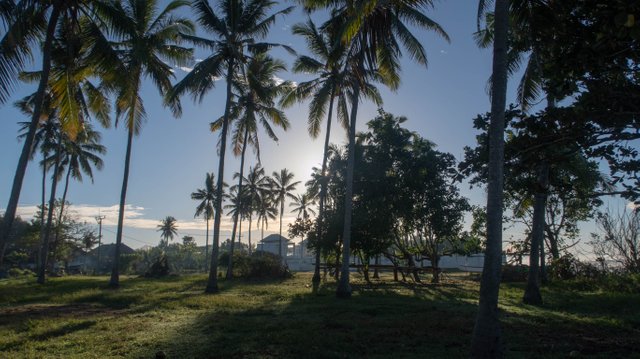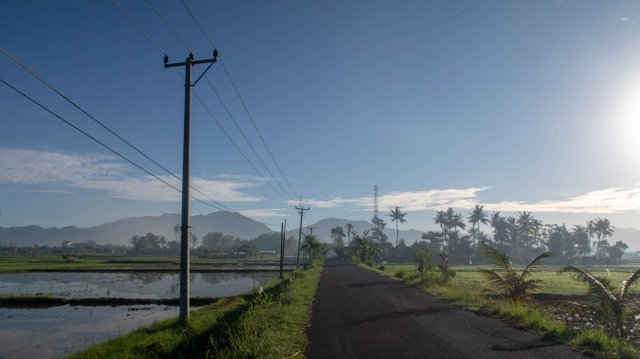 Thanks for joining me in my adventure.
Cross Posted from my blog Motor Cycle Trip to Perancak Village