Brave and a New Adventure
Despite the few complaints I have over Brave rewards management system, I firmly believe in their principle of rewarding users' attention. The ad-revenue distribution model they proposed has envisioned a society without the middleman when it comes to users and providers. The vision has potentials that are yet to be realized in real world scenarios other than providing users with BAT points for their attention while browsing the internet. I came across news that was posted on Brave Browser blog that caught my attention. I think this has the potential to disrupt the sector that I never associated with Brave proposal - the International Development Sector.

On July 19, 2020 Brave announced that they are partnering with a non profit organization in Japan in providing Brave browser support with a Brave rewards ecosystem bundle. Looking at the news I was instantly curious on what would be the mechanism of support for NPOs. I have never thought that the Brave rewards system would actually support and solve real world problems in the sector of International Development.
CODE for EVERYONE

The NPO is called "Code for Everyone" which aims to bring programming to all children in Japan by providing programming materials for schools and other various supporting materials for teachers and students. Brave is providing a custom home page and a referral program supporting the NPO program. Users who value the work the organization is doing can support the organization in many ways such as:
Installing and using Brave from the organization's special page
Sending BAT points through Brave rewards on the organization's web page or social networks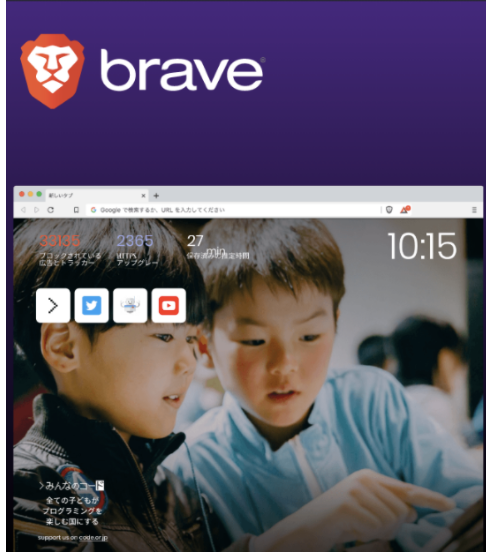 Co-Benefits and Marketing Strategy

Yes, it is definitely about the Brave team supporting the important work this Japanese NPO is doing. But, it is also a marketing strategy the team deployed to attract new users and demonstrate the use of Brave rewards to the general public. 

Getting into charities and helping out children with Brave products could help mass adoption and may create awareness. If they could replicate these projects in other parts of the world where the tech sector and specially software programming is booming, the mass adoption of the rewards system is possible. The adoption will not only up the value of BAT but also will help decentralize the rewards system between creators and users and help make the internet safer and faster. This is the core principle behind the Brave system.
Brendan Eich - Brave is committed to creating a world where users are rewarded for their attention and where they can support their favorite creators and organizations. Brave reconnects users and creators in order to foster great content on the Web, and we're excited to see Code for Everyone get the support they deserve from their fans using Brave Rewards.
Questions
The one aspect of the Brave rewards ecosystem that I do not fully understand is what will happen with BAT in the interim? Is the business model the team proposes is to collect BAT and change it to more stable and native coins like USD or GBP or EURO? Or they would possibly like to revotunalize the token system to ultimately use it in parallel with stable coins?

I am still a beginner and have many questions that I do not have the answer to. I may need to get deep into the Brave White Paper to understand what their ultimate goal is when it comes to disrupting the market beyond ad-revenue distribution.
If you believe in what Brave is doing, Let me provide you my Brave referral link if you have not already done so.
https://brave.com/ram586


Here are links to my social media platforms if you have extra BAT that are ready to be tipped.
https://twitter.com/raamesa

https://www.reddit.com/user/raamesa
This post was first posted on https://leofinance.io/hive-167922/@rmsadkri/brave-browser-disrupting-the-international-development-sector