COVID-19 epidemic has triggered unusual economic collapse all over the world. Stock markets crashed globally and the debt bubble is supposed to burst. No wonder why people are crazily buying gold. Australia's largest gold refinery had to bolster the production capacity of one-kilogram bars to fill up the supply crisis in the US. The rectangular gold bars are in high demand in the US as these are needed to settle Comex futures contracts.
"We're producing as many kilobars as we can, we're probably churning out seven and a half tons of them a week at the moment and we are forward sold well into May…A very large portion of those kilobars are ending up as Comex deliveries." – As per CEO of the Perth Mint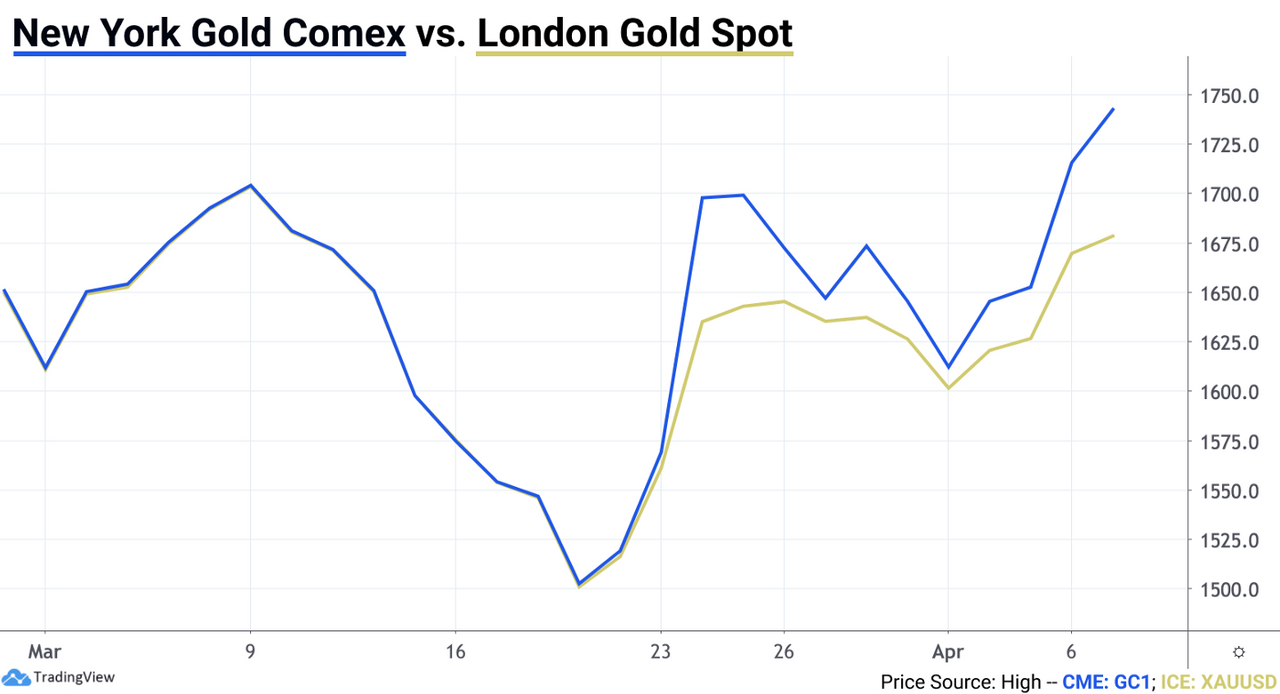 Image Source - New York Comex vs. London Gold spot rate difference in recent times
As air travel is jeopardized, supply is squeezing more and more. It has led to a premium in gold price. New York futures and London spot price gap widened and rose to even 70$. Yes, this is the highest gap in the last four decades. Gold spot price is approximate 1700$ today (7 year high). Bank of America has forecasted that due to zero interest rate in several developed nations, gold will reach a new high of 3000$ in the next 1-2 years. That's whopping high! 2 trillion dollar stimulus coronavirus package of the US has already put dollar in the wrong place. People are looking for safe-haven assets.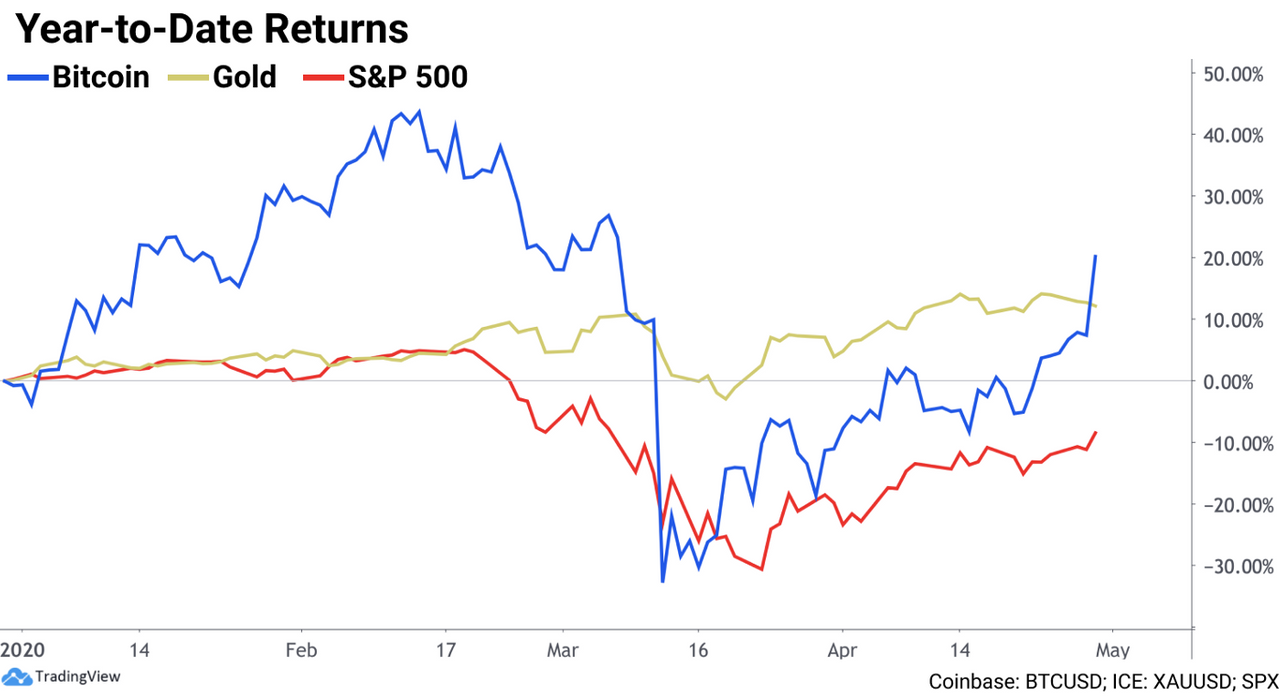 Image Source - Year on year return – Bitcoin, gold, S&P500
People will buy gold for sure to hedge their risk. What about bitcoin? Bitcoin is also scarce like gold. The recent trend is showing that it has a very high store of value now. A recent Coinbase article compares the market efficiency of gold and bitcoin. Gold's recent supply problem due to supply chain issue highlights bitcoin's advantage over gold. Bitcoin has a fixed supply. It is accessible by anyone from anywhere. Transaction happens within a few seconds and you can send million dollar value with a click. Bitcoin doesn't require a storage house. There is no maintenance cost of storage. Transaction fee is nominal. Also you can easily do a transaction in any fractions. Everything looks very advantageous over gold. Most probably due to all these reasons, bitcoin has given more return than gold year on year basis.
Satoshi Nakamoto programmed bitcoin's inflation. Bitcoin issuance rate gets halved roughly every 4 years. Halving events are scheduled to occur until the maximum supply of 21 million bitcoins are generated. 12th May is the next halving date. Bitcoin's inflation will drop from the present rate of 3.6% to 1.7% on that day. Its scarcity will be almost comparable with gold's scarcity. The miners all over the world are mining bitcoin in full fledge before halving whereas gold mines have become silent. The epidemic couldn't stop mining of bitcoin. Actually bitcoin's hash rate is all-time high now.
"It's the same situation as gold and gold mining. The marginal cost of gold mining tends to stay near the price of gold. Gold mining is a waste, but that waste is far less than the utility of having gold available as a medium of exchange. I think the case will be the same for Bitcoin. The utility of the exchanges made possible by Bitcoin will far exceed the cost of electricity used. Therefore, not having Bitcoin would be the net waste." - Satoshi Nakamoto in Bitcointalk thread
Satoshi Nakamoto benchmarked gold while creating bitcoin. He wanted to create an asset class which would be preserving the store of value besides being technologically excellent. He hated the government's control over the monetary system. Did he like gold? Maybe! He chose his date of birth as 5th April, 1975. This is the same date the US made gold ownership illegal through EO 6102 issued by President Franklin D. Roosevelt in 1933. Why 1975? He chose 1975 as his birth year as this was the year the US citizens were allowed to own gold in any form without restrictions or any federal reporting of those holdings. Satoshi wanted to create a transparent, advanced version of gold. So, gold's rise will make bitcoin stronger. The rushing investment is proving a point. Not having bitcoin can be the net waste.
Note:  You can follow the author on twitter.