Binance recently did the acquisition of CoinMarketCap on 2nd April, 2020. The rumoured deal was $400 million. Binance is in a fast acquisition spree nowadays. In last a few years, they've done quite a few acquisitions. Indian exchange WazirX, JEX, DappReview, BxB were the previous acquisitions. It is the recent addition to the list. CoinMarketCap is the most popular website to provide various data about cryptocurrency. Now, what is the significance of the acquisition by a centralized big exchange?
CZ Binance is elated to announce the changes
After the acquisition, CoinMarketCap changed the calculation method of exchange ranking. The announcement was done on 13th May, 2020 in their blog post. The change became live on 14th May, 2020. The new exchange ranking system puts Binance at number 1 slot and the previous data, suggesting extreme wash trading at Binance, are removed. The new system of ranking is heavily dependent on their proprietary web ranking mechanism. In the ranking, Coinbase Pro and Bitmex follows Binance.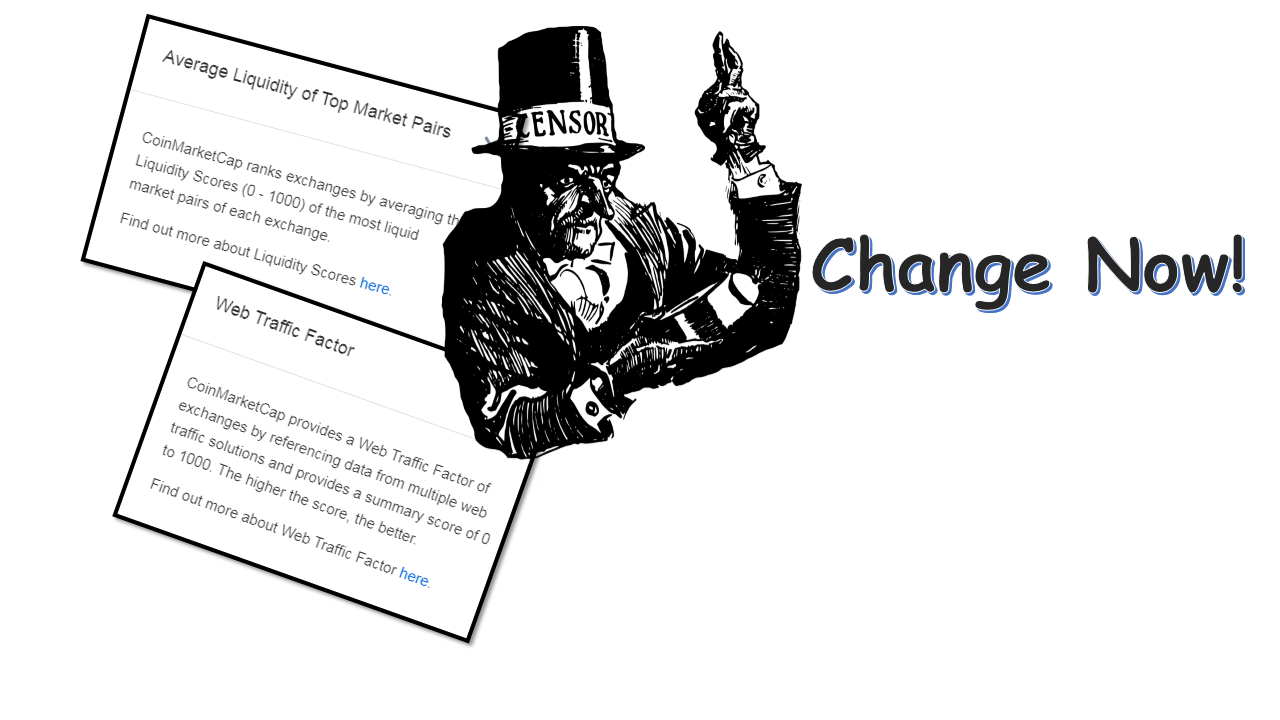 " In most cases, with crypto being a retail-driven market, for an exchange to have high volumes, it needs to have a large number of retail traders (i.e. buyers and sellers). Instead of asking exchanges to submit their user numbers, a good intermediate proxy will be web traffic. As such, we have designed the Web Traffic Factor in this iteration. It takes into account an extensive range of data points, including pageviews, unique visitor count, bounce rate, time-on-site, relative ranking and keyword searches on major search engines….We are aware that web traffic will not provide the full picture, as there are traders who trade using API keys, for instance. This metric is, as shared above, an intermediate step in this iterative process." – CoinMarketCap blog says
Previously CoinMarketCap rejected this kind of ranking methodology based on web traffic as people used API keys to trade in exchanges. Now their stance is changed. Obviously it is Binance effect! On 2nd April, the day of acquisition by Binance, Binance was ranked on the 15th spot in CoinMarketCap. CoinMarketCap has also removed their indicator of wash trading, which was designed in 2019 to combat fake trading volume.

Reaction of Ciara Sun, VP of Huobi exchange
Inflating trade volume to produce bigger numbers isn't a new game. Actually it is a big business and all the exchanges are reporting severe washing fake volume. Binance has got the top slot in CoinmarketCap now. It'll give more investor exposure to Binance. Ranking at the top really matters a lot. Problem is that Binance also ranks number 1 in the wash trading volume, which was removed by CoinMarketCap citing the need of making data user friendly. Censorship has grasped our beloved CoinMarketCap. What's next?
Note: The images (if not cited) are created by the author from screenshots and free vectors. You can follow the author on twitter.