Over the past few weeks I've run across several postings about a new game on the Hive blockchain called dCity.
I'm apparently a sucker for new blockchain, collectible games, so I decided to throw 4 Hive at the game and buy a pack. My first discovery was that each pack only has a single card. That was a bit disappointing. My first pack contained a Restaurant, which provides popularity and a nice income, but in order to receive the income, I needed 10 Workers.
Since each pack was only going to give me one random card, I decided to take a look at the in-game Market. There were tons of cheap Immigrant and Homeless cards (both of which provide a small amount of population but also come with a negative effect), but I didn't want to start my city off with a bunch of homeless folks who are forced to work in my Restaurant, so I opted to buy two 'Basic Homes' instead. Unfortunately, I did something wrong and the purchase didn't go through. And being distracted with a dozen other things, I didn't notice that my city was still empty until after I had already converted all of my Hive tokens into ETH!?
Argh! Oh well. I had a power down in progress and would be receiving more Hive tokens in a week. In the meantime, I scoured my Hive wallet for tokens I could sell and the Markets for cheap deals, but it wasn't going to happen.
So now I just had to sit around and wait. I did notice a little notification on the side of my city screen which claimed that I had a 2% chance every 2 hours to attract new citizens to my town. Great! However, the first few days passed and still my town and restaurant remained empty.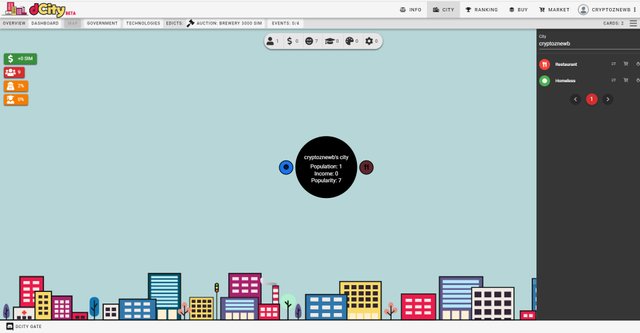 Then, one morning I woke to find that someone had indeed joined my town! My first citizen, a Homeless person! Hooray! Even better, I had a new notification that told me that my Homeless had a small chance (0.01%) to upgrade into a Citizen, Artist, or Scientist. The chance is pretty small, and it doesn't tell me how often that is checked, but it was nice to see that my town could potentially upgrade on its own! (note: the odds of having a population upgrade can apparently be increased by adding Job Centers to your town)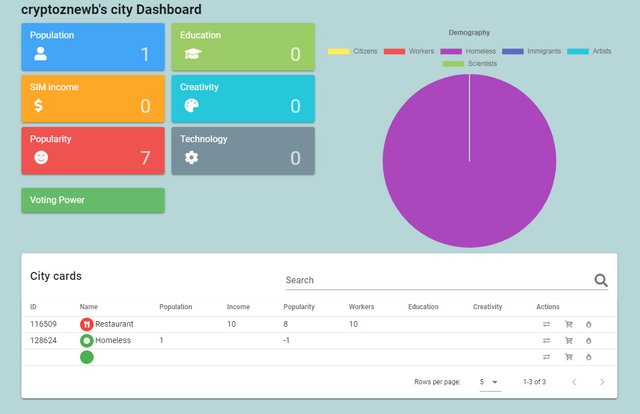 The game has a nice Dashboard overview showing you all the details for your city. And you can see that each card is an individual token which can be transferred and traded
At the moment there is really not much in the way of gameplay. You just acquire cards and build up your city, though I guess there is some balancing to do as you get bigger.
The top 200 cities, based on population, receive daily payouts in Hive based on amount spent in-game. I would currently take 252 population to break into that group, and then you would only be receiving ~0.285 Hive a day. Not too great if you've spent hundreds of Hive to get your city to that point. There are other possibilities for income. If you build a Brewery or Weed Farm, you will receive BEER and WEED tokens, which can be exchanged in the Hive market. You also acquire SIM tokens on a daily basis for your city income. Since my Restaurant is not fully up and running, my SIM income is only a trickle, but presumably, it could be much more.
As I said earlier, I'm a sucker for these sorts of building / collectible games, so when my power down completes, I will almost certainly be investing more into my city and I'll bring back another report in a week or so!