I initially said that I will sent 1 GY NFT to the first... maybe second... and even the third user who will leave a comment on GYSR - Splashing in the Reward Fountain article. I was in a good mood last night and I sent GY to everyone who left the .wam in there so @Eybyoung @BillYen @sunshine46 @KailashMina @BobM @Johnamorosox you have the NFT in your wallet!
You may be the fastest one reading this so I decided to reward you! Here's a Pyro Zickle which you can burn if you don't like it ... or just keep it as a souvenir!
I finally had time to catch up with the prizes announced on NFT Breakings News #15 and to send them. Also made the draw for this amazing Cartoon Family and WAS Snkrs collaboration. All the sales from the collaboration NFT will be used for the sneakers cause. A total of 77 entries were added in the random generator and the winning wallet was number 37 - z2naw.wam!
I like to help out so another Pyro Zickle was sent to WAS Snkrs, but this one was a bit special as it was filled with $WAXP! Had to be burned to ashes to get the treasure! Wasn't a fortune, only 50 $WAXP, but  the world will be a better place if more will step up for charity work
Before I even start with the #NFTBreakingNews I must share this amazing feedback and kind words I had from Tony, one of the top educators I know in the Cryptoverse! The man is a star on Twitter and brings culture, motivation and news to the community! 
Come join me in Byron's Room for great giveaways and the chance to get yourself zombified by Byron! If you are mining with the Horde on Magor 22:1 you will be happy to know that new NFTs are constantly being minted and added in the mining pool! 
🚨 NFT Breaking News 🚨 Byron's Cucumber Farm was a success. The wild and wicked idea to grow your own cucumber (which later on could turn into a zickle) went well and many embarked into a journey of DIY cucumbers
Byron always likes to come up with new stuff so new packs with DERP SMILES! There are 30 different smiles in the packs, and 20 are already created. The unpacking will happen today, once Byron will finish the last ten derps. The current 3 WAX per pack is a 66% discounted price, and will go full price after the packs become available for unpacking. It's your choice to pay less or more! Get the packs from NeftyBlocks 
NeftyBlocks launched their own token, the $NEFTY! This event was marked by pack sales and $NEFTY airdrops. I logged to check and I found 45 $NEFTY waiting to be claimed. Check if you have any $NEFTY airdrop by clicking the pop-up menu in the top right side!
The $NEFTY token will be used for many things, but mainly as a payment method on NeftyBlocks. I had my first purchase with $NEFTY, buying Stary with festival background by The Derpy Cats. The price was amazingly low, only 1 NEFTY!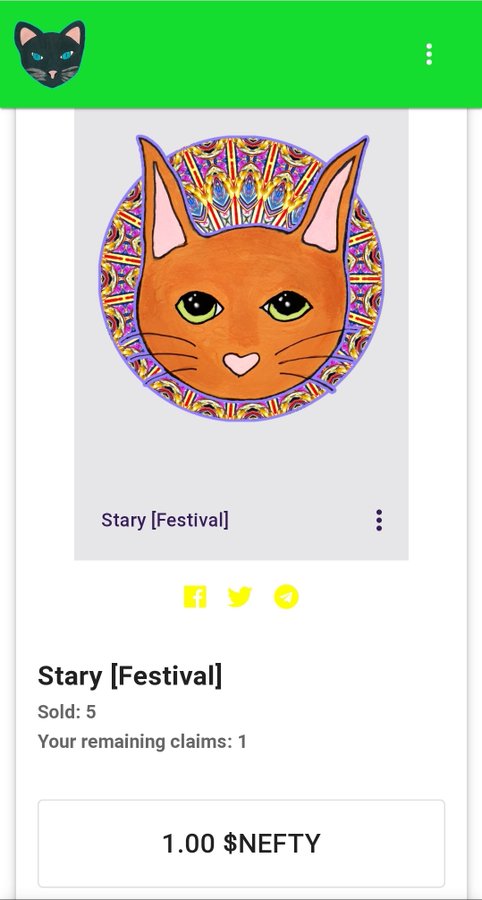 ParaffinNFT is the new hot WAX marketplace for indie #NFTs  and #cryptoart! Daily giveaways and lots of NFTs are being shared in there so head over to Twitter and give them a follow. My buddy @Crackers had a great interview with the Nick and Kevin, the brains behind ParaffinNFT and collated all the useful information in a top article: ParaffinNFT Market Place - the project that helps NFT artists!
I must do something good in the NFT community if Kenneth Bosak followed me back! The guy is into NFTs years before I even knew what NFTs are! He has 75,000 twitter followers ... the guy is more titan then Thanos! 
🚨 Breaking News 🚨 Senor Lupe, one of the most entertaining guys on Twitter, sold out the 100 Chummys faster than I could drink a shot of Tequila and they are now available only on the secondary market. Can't describe Chummys better then him so "100 TOTAL, NO PC GENERATE, IS MY HANS! check is drop for infos an u estra benefits if u is want to adopt is CHUMMY!" I wish I could afford to buy one of those amazing horse heads! 
🚨 Breaking News 🚨  Doctor Who Worlds Apart new pack announcement! The "Time Lord Victorious" set is now available for collectors. The set brings 50 new cards that can be played along the original cards. Each card features hand-drawn artwork, characters, companions and enemies from the Doctor Who metaverse. The launch is set for 26th of August at 3 PM BST 
The "Time Lord Victorious Premium Pack" will have Time Lord Victorious frames and the Kotturuh frames, based on the Dark Times race who brought mortality to the species of the universe! and will be available for $49.99 or 4999 tokens. All the cards will also become available in standard frames through the core packs.
Giveaway ... Giveaway ... Giveaway! 
Byron joined Publish0x so you can now follow him for NFT updates and general stuff about his projects! Because I was the one that introduced him to P0x I feel the need to create a major giveaway. I will share one ZombieCAT Zombie NFT for every 5 followers that @ArtistByron gets in September. Once you followed his account, leave the .wam address in the comments! Feel free to tag a friend or two ... or no one! On the 1st of October I will divide his number of followers by five and distribute that amount of NFTs to the participants! 
I am not the only one doing @ArtistByron giveaways... @ArtistByron announced a giveaway when he will publish his 1st article so stay tunrd for another chance to get free NFTs.
Wax Sneakers 👟 gifted 4 NFTs and 2 are looking for new owners. Two will be shared in this article and two in the number 17th of #NFTBreakingNews! 
Check the Twitter giveaway for 2 entries  and leave your WAX and tag some P0x friends below for another entry!
The OLD SKOOL RED sneakers are set for auction and the whole amount will be used for a good cause! WAS Snkrs goal is to provide value to collects, sneaker designers and provide kids deprived with sneakers starting from Africa. So currently all wax from sales will partly go towards purchasing sneakers for charity and also have mint one of the cryptomonkeys grails sneaker that will be backed by physical sneakers. Check the auction here! 
Residual Income:
DeFi bounty at CakeDeFi with $30 DFI for new users
The fountains: PipeFlare ZCash,  GlobalHive ZCash  &  Get.ZEN
Publishing bundle: Publish0x,  ReadCash,  LBRY & Presearch