Introduction
Well, I have been playing (and greatly enjoying) Splinterlands for about eight months now and thankfully have greatly improved upon my gameplay from those first days. While not yet fantastic, at least now my monthly statistics are presentable. For several months I have been attempting to join a Guild and finally, last week, I joined Goat Monsters.
I'm very happy to be a member of this Guild and have already started supporting it financially by donating to buildings. I've been poking around everywhere within the Goat Monsters web pages and likewise have been doing some research on what benefits I can expect by being a member of this fine Guild.
Benefit: The Ability to Exchange Strategies with Fellow Guild Members
Although I have not as yet availed myself of this benefit, I do plan on seeking the wisdom of my Guild Mates to further improve my Splinterlands game. This benefit, in my humble opinion, goes to the heart of what a guild is: a collective working together towards common goals.
Knowing that I have this resource available simply by entering the Tavern and posting my question or concern is comforting.
Benefit: The Sense of Accomplishment of Building Something Beneficial with Worldwide Members
The first thing I did when I joined and was accepted was to donate DEC to the Guild Hall, Arena and Store. As I intend to reap benefits from this Guild membership for many years to come, I believe it is appropriate to share in aiding its growth and improvement.
As you contribute (be it DEC or time doing Brawls, etc.) you can monitor the progress from inception to fruition, and when the project is complete, you and your mates can revel in the accomplishment with a great sense of pride.
Benefit: A DEC Bonus for Each Ranked Battle Win and A Discount on Items for Sale (for DEC) in the Store
My friends, this one is self explanatory. I don't know about you but bonuses and discounts are awfully enticing for me!
By way of example, by visiting the Lodge in Goat Monsters, I find: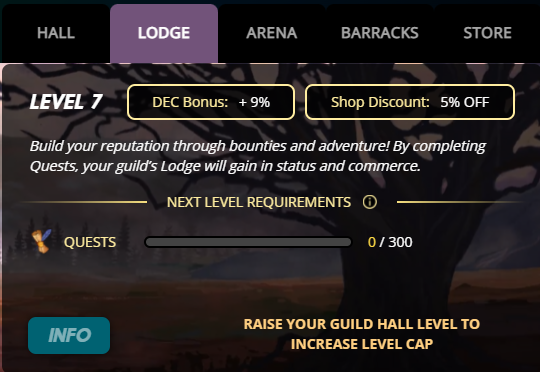 [Photo obtained from Goat Monsters Guild, Splinterlands.com]
Very, very nice!
Benefit: Earning Crowns and Merits by Brawling
I'm really looking forward to earning Merits by Brawling to be used for purchases from the Guild Store. In fact, I am presently competing in my first Brawl for my Guild. There are items I have my eyes on and am waiting with bated breath.
Plus, participation in these Brawls and earning Crowns is beneficial for the Guild as a whole. Certain items within the Guild Store require Merits to purchase and some require Crowns. Items that can be purchased for Crowns are those which benefit all members of the Guild as a whole, while items purchased for Merits benefit the individual member.
Benefit: Having Access to a Guild Store
If you are not in a Guild, there are certain items you cannot acquire in Splinterlands. At present, my research has disclosed that four unique items are available in the Guild Store, to wit:
Gladius Cases - Gladiator card packs. Like the Gladiators themselves, Gladius Cases are SoulBound (cannot be transferred to other accounts or sold on external marketplaces).
Spy Glasses - Useful magical gadgets sold for Crowns, which allow your guild to spy on other guilds during the Prep Stage. Guild Leaders should strive to always keep a couple of these on hand.
Blood Stones - an analogue of Legendary Potions, these magical stones allow Battle Mages to double their chances of receiving Legendary cards when opening Gladius Cases.
Power Stones - an analogue of Alchemy Potions, Battle Mages use these to focus their concentration and double the chances of receiving Gold Foil cards when opening Gladius Cases.
[cryptomancer. Splinterlands Guild Store - a place to spend your Brawl Rewards!. (Accessed March 24, 2022)].
Benefit: Having Access to the Exclusive Gladius Cards
These are really sharp looking cards that anyone should be happy to own. While they are not useable in ordinary Splinterland battles, they may be used in Guild battles. Additionally, these Gladius cards are 'SoulBound' meaning you cannot trade, delegate, rent, or sell them (but if you leave your Guild the Gladius cards stay with you). But best of all, the Gladius cards count toward your 'collection power score' which in turn counts toward your SPS airdrop. And if necessary, the Gladius cards may be burned for DEC at the same burn rates applicable to Untamed cards.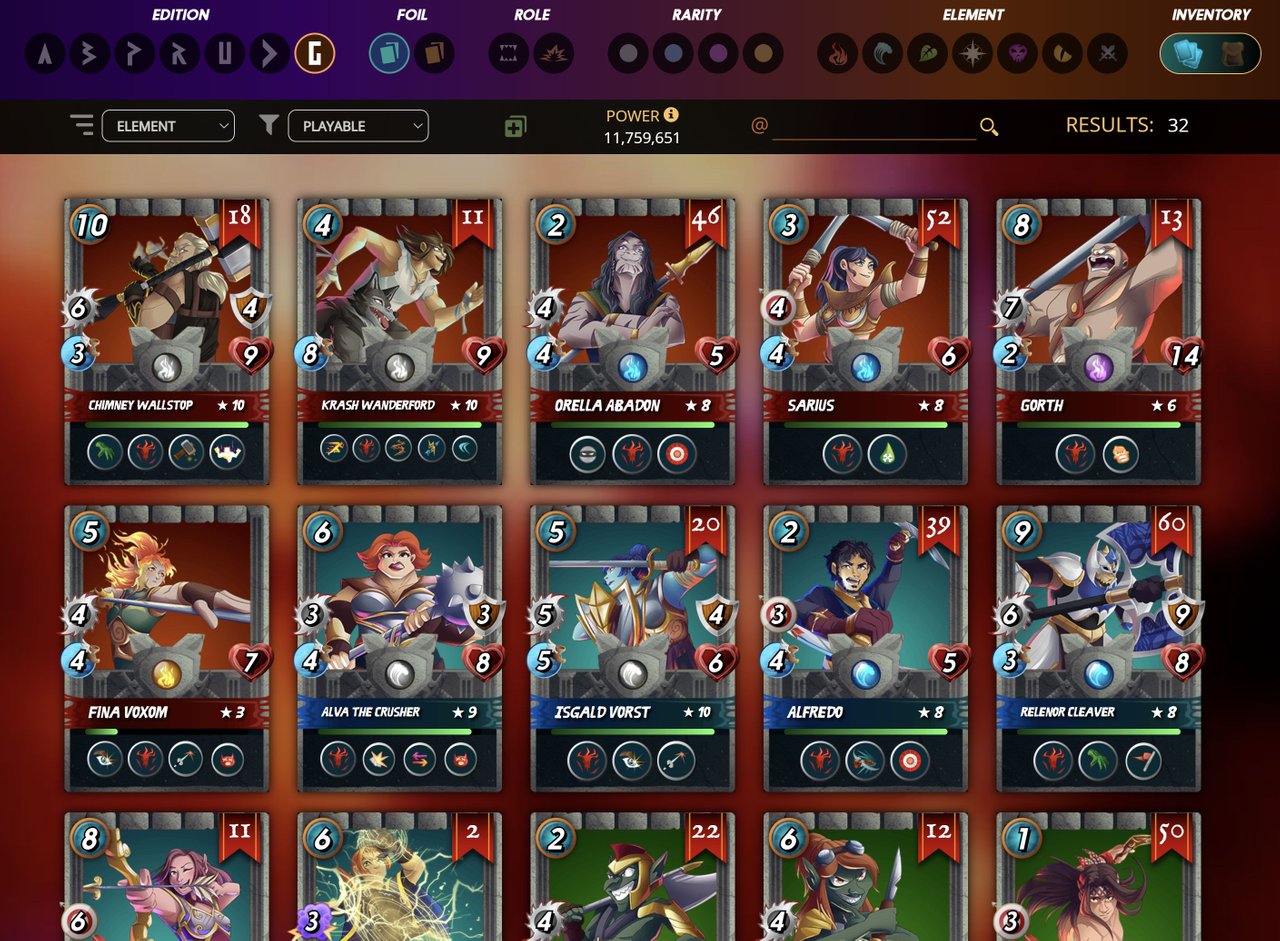 Photo Source
Final Thoughts
I am very sure as I travel down my Splinterlands journey with my new Guild, I will discover many more benefits associated with Guild membership. But from the benefits set forth above, I'm looking forward to traveling this path with my Guild and will lend my support whenever possible.
AUTHOR'S NOTE: This article was first published on Splintertalk as well as several othe tribes on the Hive blockchain.