Today I am going to show you how you can turn your hard earned HIVE in to actual cash, which can actually buy that pizza that in 10 years from now will hurt whenever you think on how much it had actually costed you.
No, the real reason is that there are a lot of new people here around who don't know or see how HIVE can eventually give you a better life. But this means you have to cash out something to fiat. I will show you this here today
You wil be needing three things:
Step 1
To start the process you want to think about where you want you cash to end up which is on your bank account. To get here you need an exchange that can send this to you bank account. I would use Coinbase for this because it one of the bigger players and seems reliable.
The end game is to get this in your (in my case )Euro wallet. To get here I will use Litecoin as your transition coin. A transition coin you ask? Yes, because you can not send your HIVE at once to Coinbase so you need a transition coin.
Why Litecoin and not BTC or ETH for this? Well because BTC is slow and expensive, and ETH is also slow and expensive. LTC has fast transactions and hardly and costs on it. Blocktrades also has LTC in their exchange so what is why I will use this.


In your Coinbase account go to send/receive.
Go to your receive adress. You will get a screen looking like this but not in Dutch but in English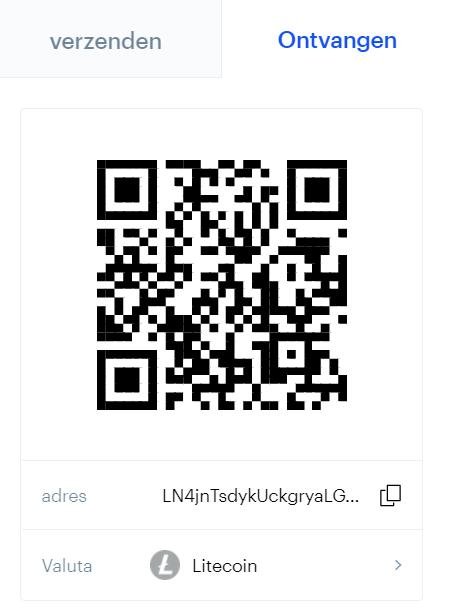 Important!!! Yes, the QR code is the right one, but the adress you see now is only a half one. Press on the copy icon to copy the whole adress. Once funds are send to a non existing adres, they will be GONE FOREVER.
Isn't it dangerous to post your receive adress online? No it isn't. This is public and is literally only for receiving. This is also the adress you give to others when they want to send funds to you.
So: You copy the adress with the copy icon button

Step 2
Now you have your endgoal adress you will go to the exchange to change your funds. So go to Blocktrades.us to do this.
You will end up after signing up (which can take some hours to a few days) in a screen which looks like this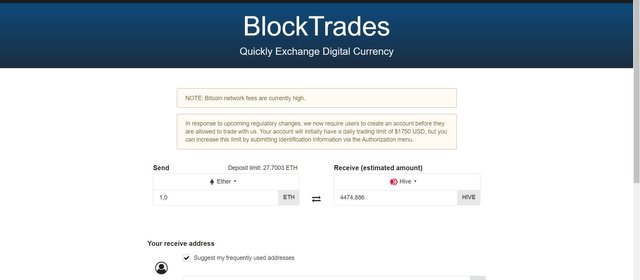 Now here you will have to change the currencies to the right ones. By send you will choose HIVE from the drop-down bar, and by receive you will choose Litecoin from the drop-down bar, since this is the currency we will work in.
By receive adress you fill in the receive adress from Litecoin which you just have copied in Coinbase. Now your screen will look something like this. The ratio between HIVE and Litecoin might have changed from mine, but that is because the currencies always have different value. This is the ratio which you see.
Now your screen will look something like this: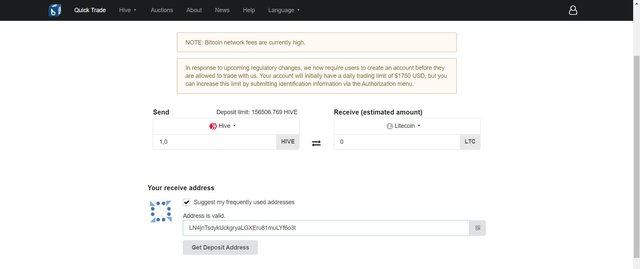 As you see Blocktrades has checked if your adress is existing, and it says it is valid. You don't have to check the frequently used adress box if this is your first transaction.
You are now ready to get your deposit adress for where you send your HIVE to.
Press on the Get deposit adress box.
Notice that we haven't filled in any amount of funds we want to send. This is just about the exchange rate

Step 3
Once you are in the get deposit adress screen you have two options.
The first one is that you will use HIVEsigner and you will be in the screen looking like this



Here you fill in your HIVE username and you will be redirected to HIVEsigner in screens which seem very familiar to you. Here you will fill in the amount of HIVE you want to send and you sign the transaction with HIVEsigner. The amount of HIVE will be taken off your account, and sent through blocktrades to your coinbase wallet. Nice and easy.
Or...
You do a manual transaction and you click the Manual Transaction button. You will come in a screen looking like this:






From this page you will use the info under acount name and the infor under memo. You must copy these ones good as well. Remember. Typos means funds are GONE. Keep this page opened and open a second tab or page. Go to your HIVE wallet in HIVE.




Step 4
Only do this step if you did choose the manual transaction in Blocktrades. If you went for the HIVEsigner option you do not need to be here. In HIVE (or peakd which I use) go to your wallet.
When you are in your wallet and you see your funds go to HIVE and press send in the dropdown menu. You will enter the sending funds screen where you will in the info which you got from the blocktrades page. It will look something like this after that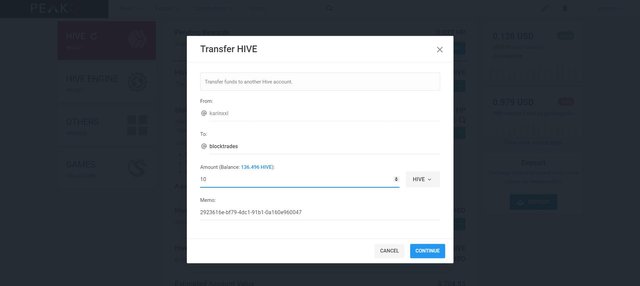 You see I filled in the same info which I copied from the Blocktrades page. Do this correctly as well!!!
If you are ready for it press continue and HIVEsigner or Keychain will ask you for confirmation most likely. But the best thing to do is check your info on all the pages again, just to be sure.
Was the receiving adress in Coinbase in LTC and fully correct?
Was the ration in Blocktrades set to HIVE and to LTC and did I copy the LTC adress correct?
In HIVE did I copy the Blocktrades name and the MEMO correct?
If all yes..the you are ready to continue and send your funds.

Step 5
Boom....you made your transaction and can't wait until it is in your wallet ready to go from LTC to EURO and to your bank account. But why isn't it there already?
Because transactions take some time. Really they do.. And even though HIVE is fast and Litecoin is fast as well, it does take some time. Don't start to panic as yet.
Only after an hour if nothing is there then maybe the network is still slow, or it might be that you filled in something wrong (which you just...shouldn't). Blockchain transactions are always able to find back the source and the timestamp so you can see where your funds are at all time.
Happy cashing time guys!!
Feel free to add something in the comments to improve this tutorial, because it is really a guide for people how to use this