Here's me as Rick Deckard.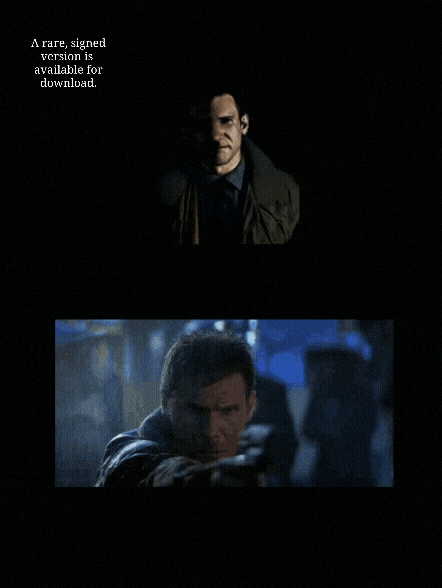 "Deckard" 3D.gif
*A rare, signed, higher resolution and non-watermarked version of this image is available for download at: https://creary.net/digitalart/@jaichai/deckard-blade-runner-movie-fan-art
"Blade Runner" is a 1982 science fiction film directed by Ridley Scott, and adapted by Hampton Fancher and David Peoples.
It is an adaptation of Philip K. Dick's 1968 novel Do Androids Dream of Electric Sheep?
The film is set in a dystopian future Los Angeles of 2019, in which synthetic humans known as replicants are bio-engineered by the powerful Tyrell Corporation to work on space colonies.
When a fugitive group of advanced replicants led by Roy Batty escapes back to Earth, burnt-out cop Rick Deckard reluctantly agrees to hunt them down.
(Source: https://en.m.wikipedia.org/wiki/Blade_Runner)
May you and yours be well and loving life today.
In Lak'ech, JaiChai
(JaiChai 4 Jun 2022. Simultaneous multi-site submissions posted. All rights reserved.)