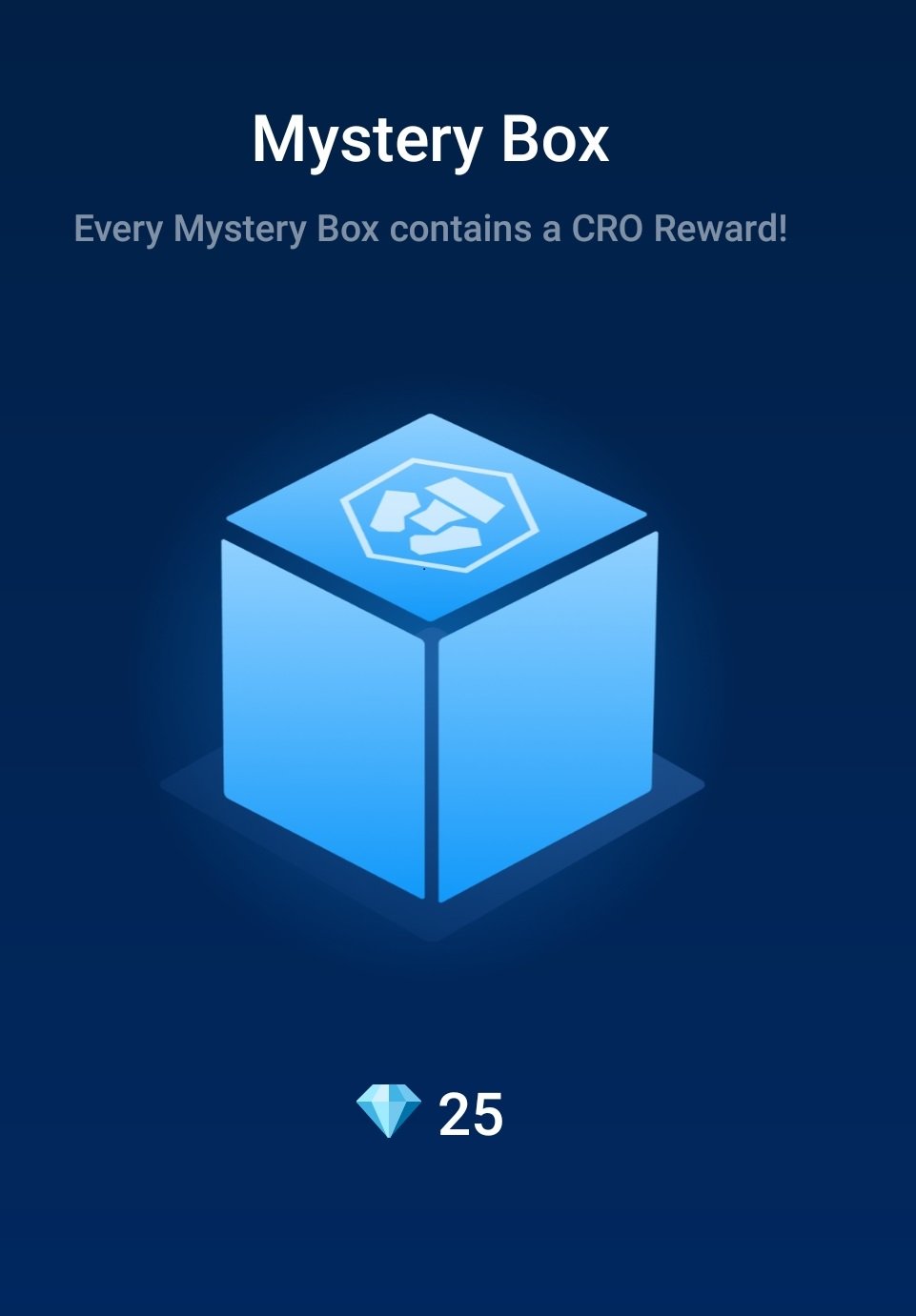 Crypto.com (CRO) Mystery Boxes
One of the greatest contrasts between the Eastern-style exchanges (such as Binance, Kucoin, Huobi, MXC and Gate.io) and the Western-style exchanges (such as FTX, CoinList and Coinbase) has been gamification of trading. The Eastern style exchanges tend to have quite a busy interface, with lots of trading and gamification of trading/products that are often a mixed bag. I take part in those that don't require you to hold risky tokens and allow me to essentially buy a cheap lottery ticket or drop with very little invested. Usually this means that I'm going for the total buy and sell versions, where I just do a quick market buy/sell to avoid exposing myself to risk... and just eating the trading fee and the small spread in price as the price for playing the game. In normal markets, this is normally considered to be wash trading...
It also means that I steer clear of the net buying volume (buys - sells), holding, or deposit contests. There is no point in exposing myself to the fickle nature of many of these highly risky tokens (and these contests are invariably for new and risky tokens to try and drum up some volume metrics....).
Crypto.com (one of the Western style exchanges), has recently introduced a Missions and Mystery Box game into its mobile app... of course, like any curious cat, I figured I may as well give it a spin to see if was worth playing the game or not. I suspected that it wouldn't be really worth it... but there is no harm in trying it out one time!
Crypto.com (CRO) Mystery Boxes
At the moment, the range of missions that you can complete are incredibly limited and they refresh each day. You can just check into the app for a single diamond, do a 20 USD buy/sell (5 diamonds) or do a 500 Usd buy/sell (60 diamonds). Well, the check in is easy enough... just opening up the app is hardly a chore... but it is a little bit sluggish compared to other mobile apps.
The trading ones are little bit more problematic... Crypto.com has seperate apps and websites for trading, private wallet and custodial holdings. I can understand why the private wallets (non-custodial) are done like that.. but it is incredibly annoying to have the exchange seperated from the rest of the ecosystem. Perhaps there is a regulatory thing that requires that... but it is frustrating compared to the Eastern-style exchanges which manage to have it all in a single super app.... actually, now that I think about it... all the Western regulated exchanges have this design. Perhaps it really is a regulatory thing.
Anyway, what that boils down to... is that swap fees in the Crypto.com app are quite high. The exchange fees are low... but you need to do the swap in-app! Poop... Even worse, it excludes fiat pairings, it must be crypto to crypto. Fiat swaps I do relatively often as I use Crypto.com as one of my primary fiat on-ramps to feed the Crypto.com and Binance VISA debit cards.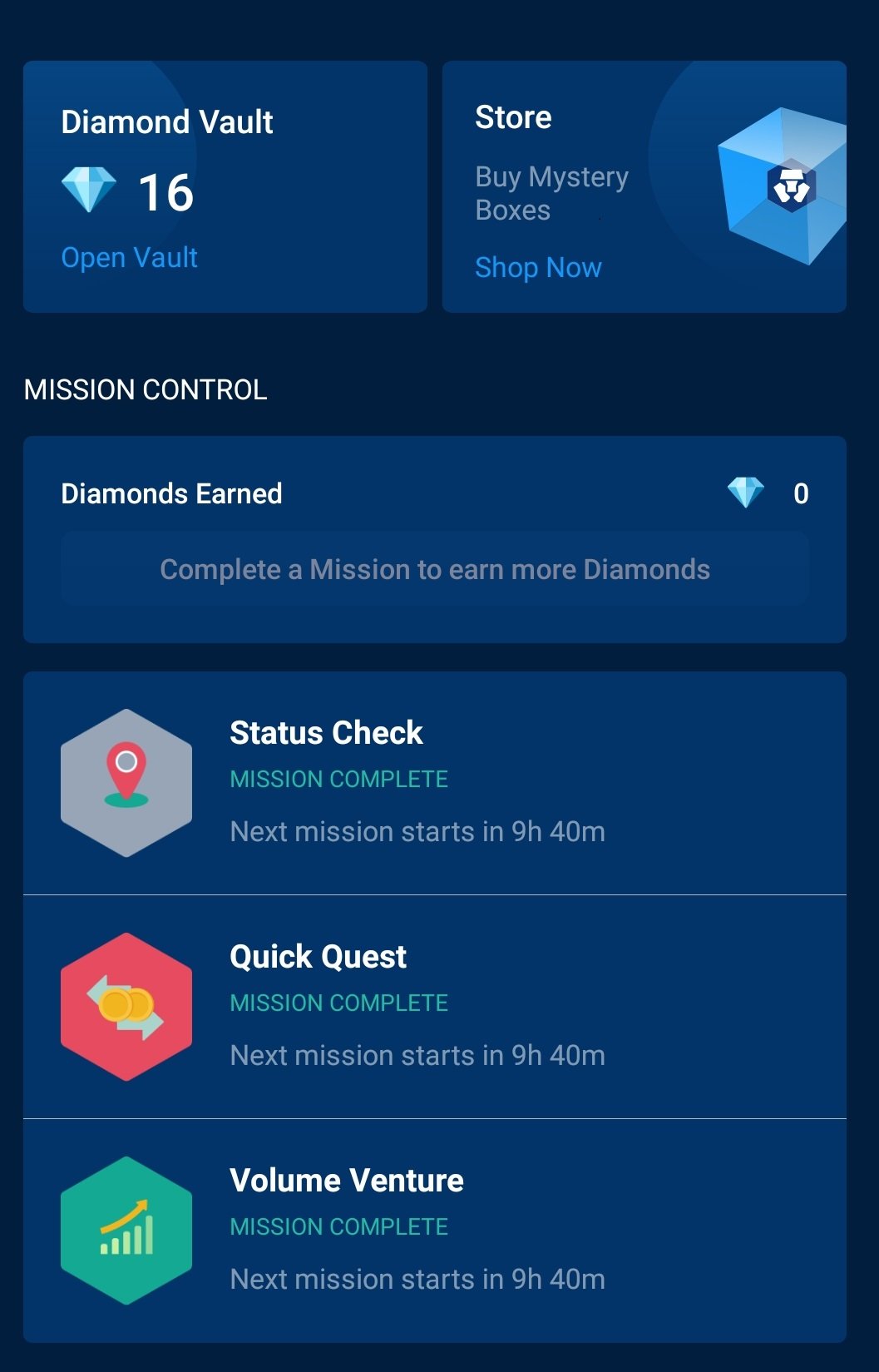 Crypto.com (CRO) Mystery Boxes
Okay... so, seeing as I'm in an experimenting mood, I just swapped 275 usd of CRO to ETH and back in a quick wash trade to trigger all the criteria for the daily missions. Ouch, swap fees were higher than I would like, which meant that there was a chomp of CRO taken out... sigh, easily replaceable and nothing that I would miss, but not something that I would do more than once.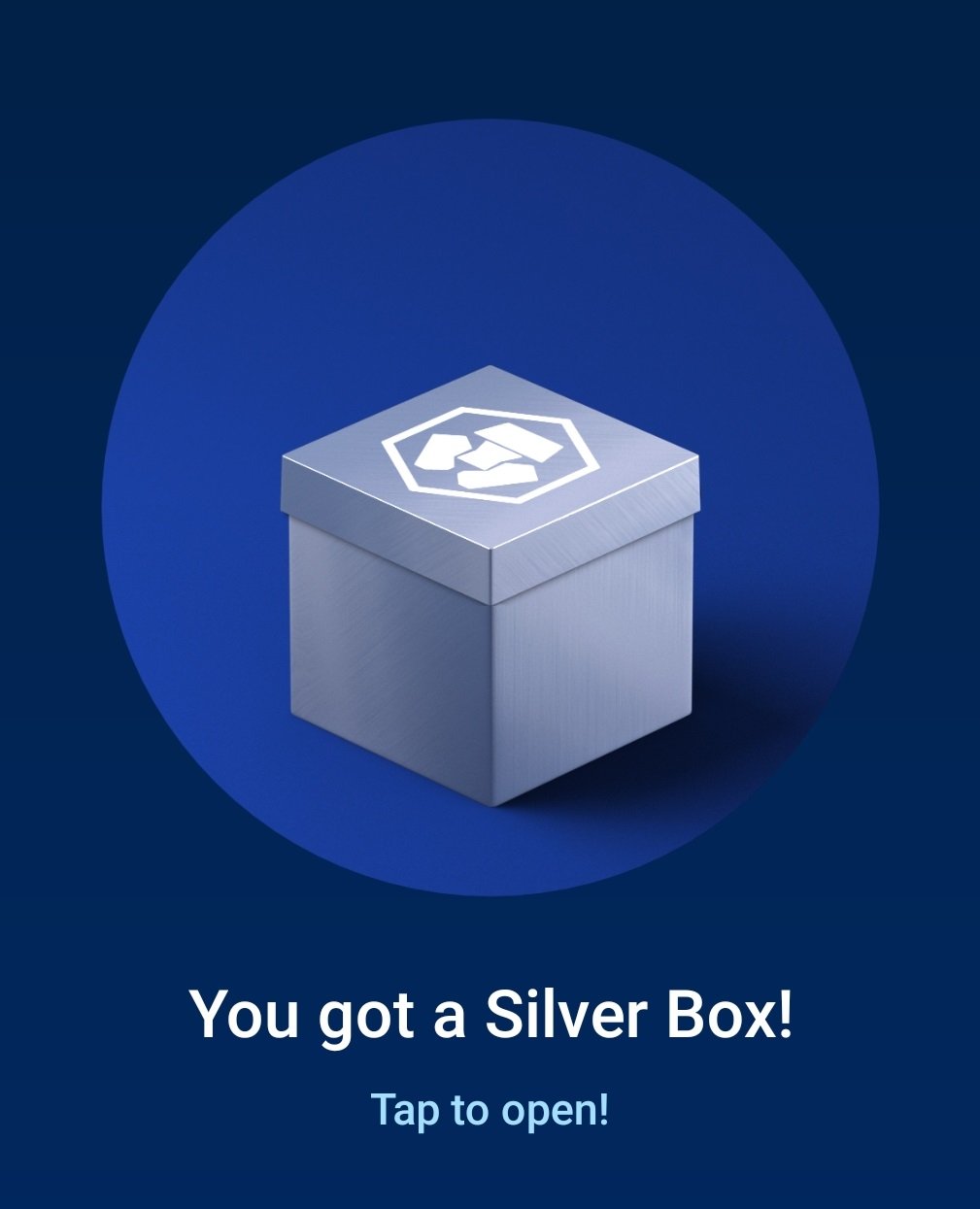 Crypto.com (CRO) Mystery Boxes
From that, I got three mystery boxes that I could open up (at 25 diamonds a piece)... and open opening, I received one Bronze and two Silver boxes. A Silver box netted me 0.5 CRO (from memory... it wasn't that memorable...), and the Bronze got me less. So, considering that the swap fees chomped out something on the order of 30 or so CRO... this really wasn't worth it!
I can't imagine that I would do this ever again... it isn't worth doing the swaps in-app rather than on exchange. Even then, I would not really ever do a market sale on the Crypto.com exchange either, as the fees are still quite high in comparison to other exchanges, and the withdrawal fees are also higher than they should be. I often just use it to on-board fiat and then use the cheapest stablecoin route to get the money where it needs to go...
The check-in is almost worth doing... after 25 days, you end up with a mystery box ticket. No harm in that... but it also isn't really worth that much either. 0.5 CRO is about 25 cents or something like that... so, there are better ways to spend your time as well!
The larger swaps are definitely NOT worth doing unless you are already doing them anyway... but I can't for the life of me understand why anyone would want to do a crypto-crypto swap in the app... you would get better rates on the Crypto.com exchange (but that would require opening another app or webpage... and the transfer between accounts)... or getting better rates on some other exchange! Not to mention the questionable wisdom in holding the crypto on a custodial wallet rather than a self-custodied wallet (that said... I know that there are many people who would prefer not take on board the extra danger and responsibility).
I can also be found cross-posting at:
Hive
Steem
Publish0x
Handy Crypto Tools
Ledger Nano S/X: Keep your crypto safe and offline with the leading hardware wallet provider. Not your keys, not your crypto!
Binance: My first choice of centralised exchange, featuring a wide variety of crypto and savings products.
Kucoin: My second choice in exchanges, many tokens listed here that you can't get on Binance!
FTX: Regulated US-based exchange with some pretty interesting and useful discounts on trading and withdrawal fees for FTT holders. Decent fiat on-ramp as well!
MXC: Listings of lots of interesting tokens that are usually only available on DEXs. Avoid high gas prices!
Huobi: One of the largest exchanges in the world, some very interesting listings and early access sales through Primelist.
Gate.io: If you are after some of the weirdest and strangest tokens, this is one of the easiest off-chain places to get them!
Coinbase: If you need a regulated and safe environment to trade, this is the first exchange for most newcomers!
Crypto.com: Mixed feelings, but they have the BEST looking VISA debit card in existence! Seriously, it is beautiful!
CoinList: Access to early investor and crowdsale of vetted and reserached projects.
Cointracking: Automated or manual tracking of crypto for accounting and taxation reports.
Stoic: A USD maximisation bot trading on Binance using long-term long strategies, powered by the AI/human system of Cindicator.
StakeDAO: Decentralised pooled staking of PoS assets.
Poloniex: One of the older regulated exchanges that has come into new ownership. I used to use it quite a lot, but have since stopped.