Introduction
Blockchain is a decentralized general ledger. It is a computer network that has an identical copy of the database and changes its status (records) to a common agreement based on pure mathematics. All this means that there is no need for any central server or any entity we trust (e.g. central bank, notaries, banks, Paypal, etc.). The blockchain is the technological basis for all cryptocurrencies, whether Bitcoin, Ethereum, Hyperledger, etc.
An important part of the blockchain is the smart contracts, a piece of code that is stored in the blockchain network (in each participant's database). It basically defines the conditions to which all parties using the contract agreement. Therefore, if the required conditions are met, certain actions are executed. Because the smart contract is stored on all computers on the network, everyone must run it and get the same result. This way users can be sure that the result is correct.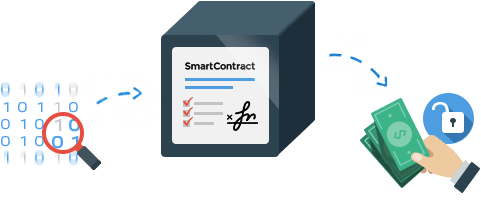 Blockchain and Smart Contracts open many doors to new decentralized businesses and eliminates the need for expensive third parties. Many new companies are now working on this technology, and large companies are testing it in closed networks to collaborate directly with each other without the need for intermediaries.
For that reason, there is a lot of projects that are starting to use this new technology. However, not all of them are worth it. We have to read well what each project is dedicated to, what is its whitepaper, its qualified advisors, etc. As I said, blockchain technology has gained popularity due to the hype about cryptocurrencies which has shaken many startups to launch their own cryptocurrencies even without convincing fundamentals. This trend has emerged because new entrants have been more agile in adopting emerging technologies compared to incumbents who are hampered by legacy systems. However, this competitiveness and this advantage enjoyed by the new players may be short-lived, as no economies of scale are taken into account.
Moving to the topic, the project I'm going to present you is Stobox (https://www.stobox.io/), a digital assets ecosystem that opens doors for financial institutions, enterprises and private persons to transparent regulated capital flow.
Video presentation
Definition
In more detail, Stobox collaborates with Digital Authorities to drive financial innovations Stobox, advising and playing an active role in the creation and training of new industry standards. A good aspect to take into account is that it cooperates with governments to create a clear regulatory framework for virtual assets, security tokens, payment tokens, and other cryptographic virtual assets.
How it works
Comprehensive ecosystem of Stobox products and services are the following:
1. The Digital Securities are divided into two parts:
a) The Stobox Digital Securities Dashboard is a comprehensive solution to streamline all operations with tokenized securities. Reach investors around the world, enable your shares to be traded, and tap into powerful new sources of capital. It allows you to digitize securities and perform all operations with them in a comfortable digital environment. Sell ​​your shares, pay dividends, conduct voting and corporate actions in a new digital way.
b) Stobox digital redemption: TBA
2. The consultation program is divided into three parts:
a) Tokenization Consulting: offers a set of technological tools, as well as industrial and legal experience in the fields of fintech and digital values.
b) Virtual Asset Consulting: Finding the best way to improve your client relationships with virtual assets and help with issuance preparation.
c) Legal management: help you with all the legal preparations for the issuance and offer of virtual assets: company constitution, document preparation, etc.
3. Exchange: Stobox Crypto Exchange allows you to get started with the fast, secure and compatible platform for buying and trading cryptocurrencies. Stobox Exchange makes it easy to access the crypto market and build a personal portfolio for the future of money.
4. There will be three main activities:
a) Conference on digital investment: TBA
b) Stobotx NFT: Turning your company's customers into loyal fans and stakeholders. Rewarding your stakeholders with programmable digital collectibles. Allowing to explore new business opportunities with Stobox NFT.
c) Blog: where you can find everything about the company and fresh news.
Bounty program
The project gives the opportunity to earn STBX tokens performing some social media tasks and doing simple steps from the bounty program explained into the following Bitcointalk Thread here (BTT_Thread_Stobox), where you can access the link in order to see what are the conditions to become an early Cowrium contributor and start acquiring tokens.
For more information about the project, you can visit and read their Twitter posts available here (StoboxCompany). You can also stay tuned in their official Telegram Channel (Stobox_community). I hope you liked the post and soon I'll send you new ones.
Token details
Stobox Tokens provide users with additional benefits when using multiple Stobox products and services.
Roadmap
Social Media Links
Telegram: https://t.me/stobox_community
Facebook: https://www.facebook.com/StoboxCompany
Twitter: https://twitter.com/StoboxCompany
Medium: https://stobox-platform.medium.com
--------------------------------------------------------------------------------------------------------------------------------------------------
Author Details
Email: [email protected]
Bitcointalk username: adriaparcerisas
Bitcointalk profile link: https://bitcointalk.org/index.php?action=profile;u=1870482
Ethereum wallet: 0x3e10d9Cb6a5af372C00563aA19FEE3122A5C0Cd4
Proof of Authentication BTT: https://bitcointalk.org/index.php?topic=5314030.msg56269397#msg56269397