Blockchain is a decentralized general ledger. It is a computer network that has an identical copy of the database and changes its status (records) to a common agreement based on pure mathematics. All this means that there is no need for any central server or any entity we trust (e.g. central bank, notaries, banks, Paypal, etc.). The blockchain is the technological basis for all cryptocurrencies, whether Bitcoin, Ethereum, Hyperledger, etc.
An important part of the blockchain is the smart contracts, a piece of code that is stored in the blockchain network (in each participant's database). It basically defines the conditions to which all parties using the contract agreement. Therefore, if the required conditions are met, certain actions are executed. Because the smart contract is stored on all computers on the network, everyone must run it and get the same result. This way users can be sure that the result is correct.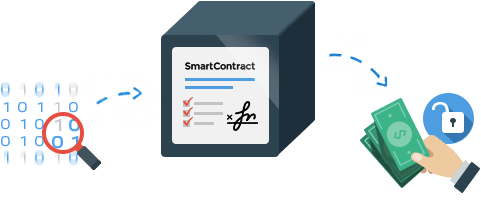 Blockchain and Smart Contracts open many doors to new decentralized businesses and eliminates the need for expensive third parties. Many new companies are now working on this technology, and large companies are testing it in closed networks to collaborate directly with each other without the need for intermediaries.
For that reason, there is a lot of projects that are starting to use this new technology. However, not all of them are worth it. We have to read well what each project is dedicated to, what is its whitepaper, its qualified advisors, etc. As I said, blockchain technology has gained popularity due to the hype about cryptocurrencies which has shaken many startups to launch their own cryptocurrencies even without convincing fundamentals. This trend has emerged because new entrants have been more agile in adopting emerging technologies compared to incumbents who are hampered by legacy systems. However, this competitiveness and this advantage enjoyed by the new players may be short-lived, as no economies of scale are taken into account.
Moving to the topic, the project I'm going to present you is Finxflo (https://finxflo.com/), a global cryptocurrency exchange aggregator designed to help the trader access the best cryptocurrency prices, easily and efficiently, no matter where they are.
Video presentation
In more detail, to make platform possible, Finxflo (https://finxflo.com/) provides its users with access to multiple markets by connecting 1 registration process, 1 KYC, 1 wallet and 1 user interface so that the user does not have to. Through the intelligent routing system and the use of the advanced aggregation protocol, FInxflo guarantees its users the best available price. In addition, by requiring only one wallet, the user's liquidity can be easily applied through the exchanges without the need for manual transfer.
On the other hand, there are also benefits for retail traders. Today they have limited resources to trade with and very high transaction fees. However, with Finxflo, they get access to the kind of preferential transaction fees that only private individuals or high net worth institutional traders can charge. In this way, retailers effectively become institutional traders overnight.
The best features of the platform:
1. Its elasticity: the data is distributed evenly among the nodes, allowing for horizontal scaling of processing and dynamically readjusted to adapt to changing loads.
2. Fault tolerant: Backups are distributed among the nodes to protect against the failure of any individual node.
3. It has a very low latency: Rather than accumulating the records into micro-batches and then processing, Finxflo processes the incoming records as soon as possible to accelerate performance.
4. Its speed: Finxflo uses industry-leading technology that allows it to handle thousands of operations per second.
5. Security: Finxflo has partnered with Fireblocks to keep the platform secure and regulated.
6. Fraud detection: Behavioral analysis and detection of suspicious patterns through automatic learning.
To do that, it has developed an innovative platform to solve the myriad of issues in the service-to-hire industry for both consumers and real estate management companies. The most important features of the platform are the following:
a.
1 account 1 wallet 1 KYC
Finxflo provides its users with access to multiple markets through 1 registration process, 1 KYC, 1 wallet and 1 user interface, connecting the dots for the user so the user doesn't have to.
b.
Lower trading fees,
no withdrawal fees,
better execution
It makes possible the integration of all society sectors to the platform.
c.
Unique user experience
When users trade together through Finxflo they gain access to the type of preferential transaction fees that only high net-worth individuals or institutional traders can command.
d.
Users pay monthly fees in FXF tokens
Fewer and easier process.
e.
Global Best Bid Best Offer
Thanks to the Finxflo strategy's, the platform can provide the best bid and offer at the same time. Global best bid and offer accompanied by Finxflo Smart Order Routing means all orders, large or small, get the global best price
The project gives the opportunity to earn FXF tokens performing some social media tasks and doing simple steps from the bounty program explained into the following Bounty0x here (https://beta.bounty0x.io/bounties/1977957), where you can access the link in order to see what are the conditions to become an early FXF contributor and start acquiring tokens.
For more information about the project, you can visit and read their WhitePaper available here (finxflo_whitepaper). You can also stay tuned in their official Telegram Channel (https://t.me/Finxflo). I hope you liked the post and soon I'll send you new ones.
Token details
Token: FXF
Platform: Ethereum
Type: ERC20
Price in ICO: 1 FXF = 0.12 USD
Tokens for sale: 600,000,000
Roadmap
Q4 2019
Marketing Website Launch
Q2 2020
Proof of Concept
Q2 2020
Private Token Sale
Q3 2020
Public Token Sale and Beta Release
Q4 2020
Live Trading Launch / 10 exchanges aggregated / Token Listing
2021
More exchanges aggregated / Token Listing in other platforms
Advisors and Staff
Social Media Links
Website: https://finxflo.com/
Whitepaper: finxflo_whitepaper
Twitter: https://twitter.com/Finxflo
Telegram: https://t.me/Finxflo
Author Details
Email: adria.parcerisas.albes@gmail.com
Bounty0x username: adriaparcerisas
"A sponsored article written for a bounty reward"