Bitcoin has just scored its all time high at around $19,700... something, and it is crystal clear that it is a matter of minutes, or lets say hours, until it will blast through the huge psychological resistance at $20,000. I am confident that it will flawlessly do that, as I said in a tweet yesterday when I was inviting anyone who follows me on twitter to block me if that forecast doesn't come true.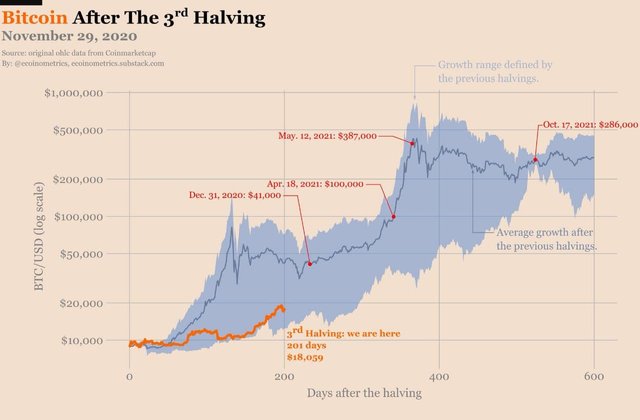 I am 100% sure I will nail the forecast and I am also confident that even if I will slip inches under that tag @empoderat will still follow me on twitter, he promised :)). I am following @ecoinometrics on twitter from where I have the above chart entitled Bitcoin after the 3rd halving which aligns the current price performance of BTC with their own forecast for this bull market cycle.
They have a $387,000 BTC in mind for May, 12, 2021 which I doubt will happen, but it's not the first time I read of a close to $400,000 BTC in 2021. Honestly I don't even care if it will claim that in May, October or December, next year, as long as it does, because I'm sure my alt bags will be on fire too and that's too exciting to even imagine.
Having a closer look at their price upwards slope for BTC we can see that they put BTC at $41,000 by Dec. 31, 2020... which is double the price it was in late 2017 when it blew away most of the expectations investors had for this crazy asset. Is that even possible, or should I say, do you guys see this target achievable? 
To answer my own question, as probably not too many will :), I'd say BTC has high chances to reach that target. Once it breaks $20,000 FOMO will kick in from every imaginable type of investors, from large whales to third world countries, everyone trying to grab their piece of it before it moons. Nobody knows exactly when it will moon, some expecting it to do that this year as they too often compare the current bull run with the one from late 2017, while others see 2021 as the year of the golden bull.
What it is clear for me though is that the BTC game has changed a lot and it's getting more and more mainstream attracting a hell lot of more investors than it did in 2017, from all sort of social backgrounds and with more or less powder to shoot at it, but the means to buy BTC now are way more accessible than they were in 2017 and the long awaited financial institutions are here.
Hence, once it blats through the $20,000 resistance, $40,000 which is actually a quite heavy 2x, will come way easier imo. For the above mentioned reasons. Please share your view on this chart and the price prediction of $41,000 for one BTC by eoy made by ecoinometrics.
Thanks for attention,
Adrian