Calcium deficiency can cause rickets in children and osteoporosis in adults. Most people obtain enough calcium from their diets, but some adults may need to take supplements to meet their calcium needs. Hot peppers contain modest amounts of calcium but do not cause or alleviate calcium deficiency. The plants themselves may not grow properly because of calcium deficiency, but this does not cause problems for people who consume them.
RICKETS
Rickets, caused by a lack of vitamin D or calcium, leads to soft, weak bones in children. Symptoms include delayed growth and muscle weakness as well as leg, spine and pelvic pain. Rickets can lead to bone abnormalities, including bowed legs and thickened wrists and ankles. If a child doesn't get enough vitamin D -- sunlight is a prime source of vitamin D -- or cannot properly absorb calcium because of a disorders such as Crohn's disease or cystic fibrosis, he may develop rickets. Treatment usually includes vitamin D and calcium supplements and, possibly, surgery to correct deformities.
OSTEOPOROSIS
Adults whose diets lack sufficient calcium may develop osteoporosis, fragile and thinning bones. Persons at greatest risk of osteoporosis include postmenopausal women, vegans and people who are lactose intolerant. Older women do not absorb calcium as well as younger women, so they need more in their daily diets. Vegans do not include dairy in their diets, and people who are lactose intolerant may not drink enough milk because for them it causes diarrhea, bloating and gas.
CALCIUM
Hot peppers provide small amounts of calcium. A green chili pepper, for example, contains 8 milligrams of calcium. A red chili pepper contains 6 milligrams of calcium, and 1/4 cup of canned jalapeno peppers provides 6 milligrams. That amount would do little to help you meet your daily calcium needs, which range from 1,000 milligrams to 1,300 milligrams daily for adults. Children need the following amounts of calcium in their daily diets -- infants up to 6 months, 200 milligrams; from 6 months to 1 year, 260 milligrams; from 1 year to 3 years, 700 milligrams; from 4 years to 8 years, 1,000 milligrams; and from 9 to 18 years, 1,300 milligrams.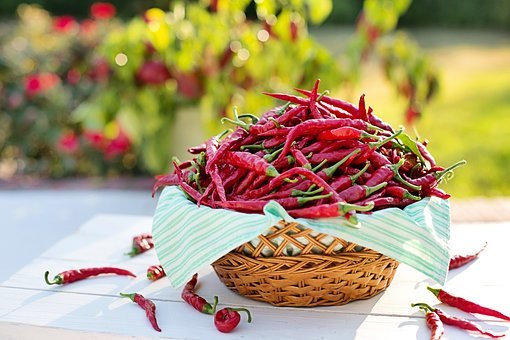 source
CONSIDERATIONS
Mild to moderately hot peppers include Anaheim, ancho, cascabel, cherry, Hungarian and poblano. Hot and very hot peppers include jalapeno, habenero, serrano and cayenne. Good sources of calcium include milk, yogurt, cheese, kale, broccoli and fish with edible bones such as canned salmon. Some breads, cereals, juices and milk substitutes – soy, rice and almond drinks, for example – provide calcium, as well. In addition to strengthening your bones and teeth, calcium also helps your muscles moves and assists your nerves in relaying messages from your brain to the organs and cells in your body.