This article is the first of the series. The goal of this specific series is to observe mines that have true potential but still didn't arrive to their buy zone.
From now on, I'll share an update of my Watch list every first week of the month. Those articles will always contain the list updated (as some may join and others may leave the list) and the analysis updated. At the end of those articles will be listed the history of the article for those catching up in the middle and wishing to get the origins of one or an other of the listed mines.
---
Plan
Tanzanian Gold Corp. - TNX
Kirkland Lake Gold - KL
Yamana Gold Inc. - YRI
Eldorado Gold Corp. - ELD
Agnico Eagle Mines Limited - AEM
Final word
---
Tanzanian Gold Corp. - TNX
Monthly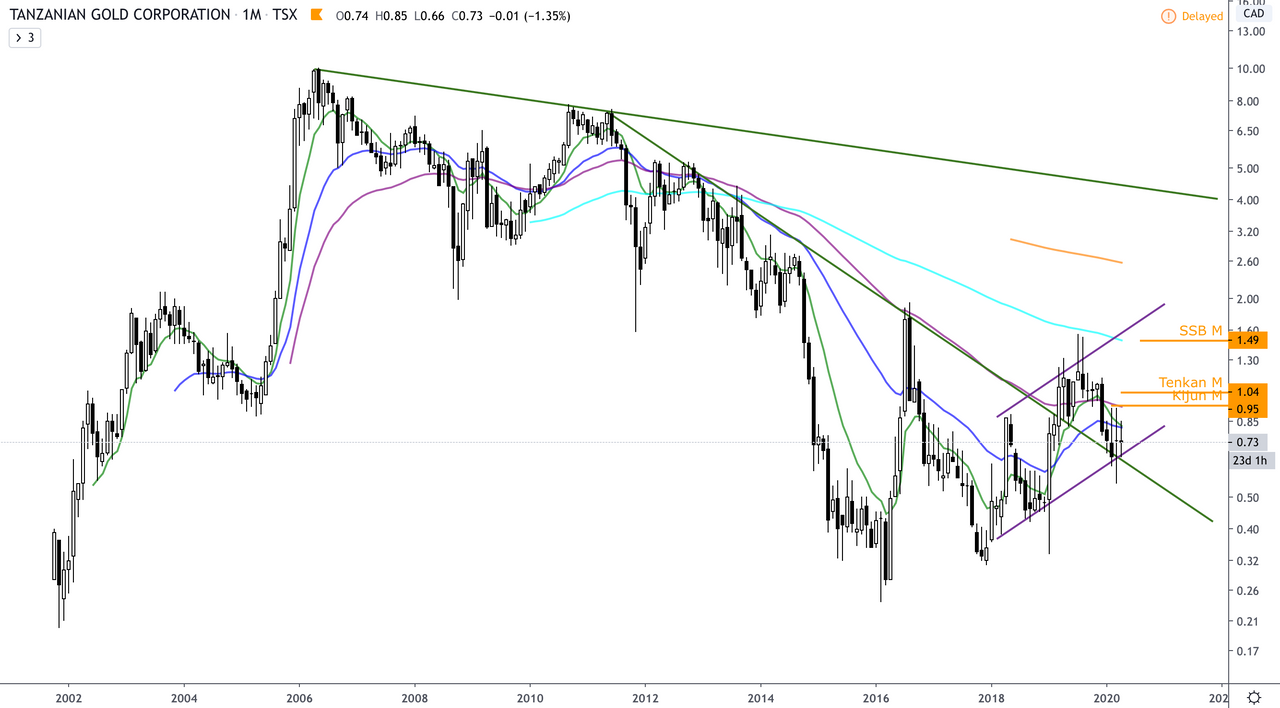 As you may easily understand with the name, Tanzanian Gold Corp. is a society exploring the gold mining possibilities in Tanzania. They have multiple ongoing projects. All of them are accessible threw their website.
On the technical side, their big early gain has been long term corrected until the actual crisis. But already during second part of 2019 they came back overpassing a long term downward trend and recently retested it. It seems it is now evolving into an upward parallel channel but it is still very young.
Weekly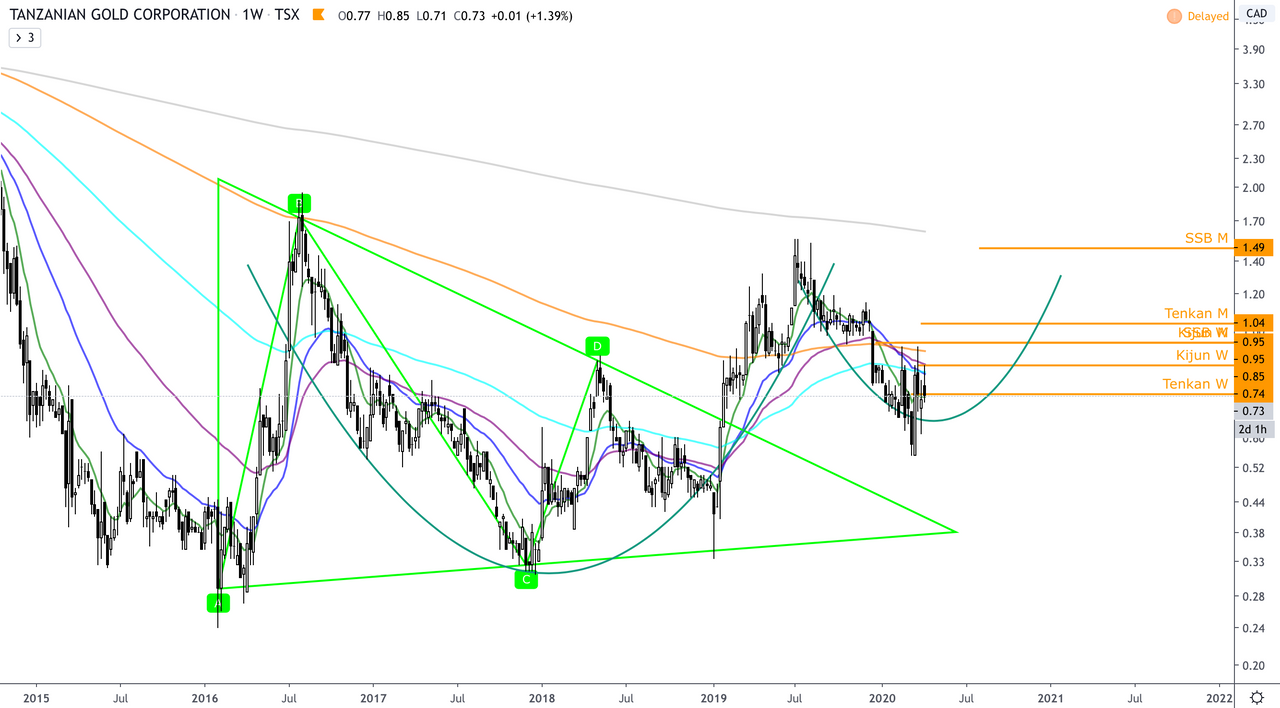 The weekly time unit confirms the up-growing pattern that was initiated in the monthly TU. Two major movements work synergistically. A descending triangle that has already permitted the price to inverse the trend, and a cup & handle formation still not completely closed. And the potential effects look magnificent :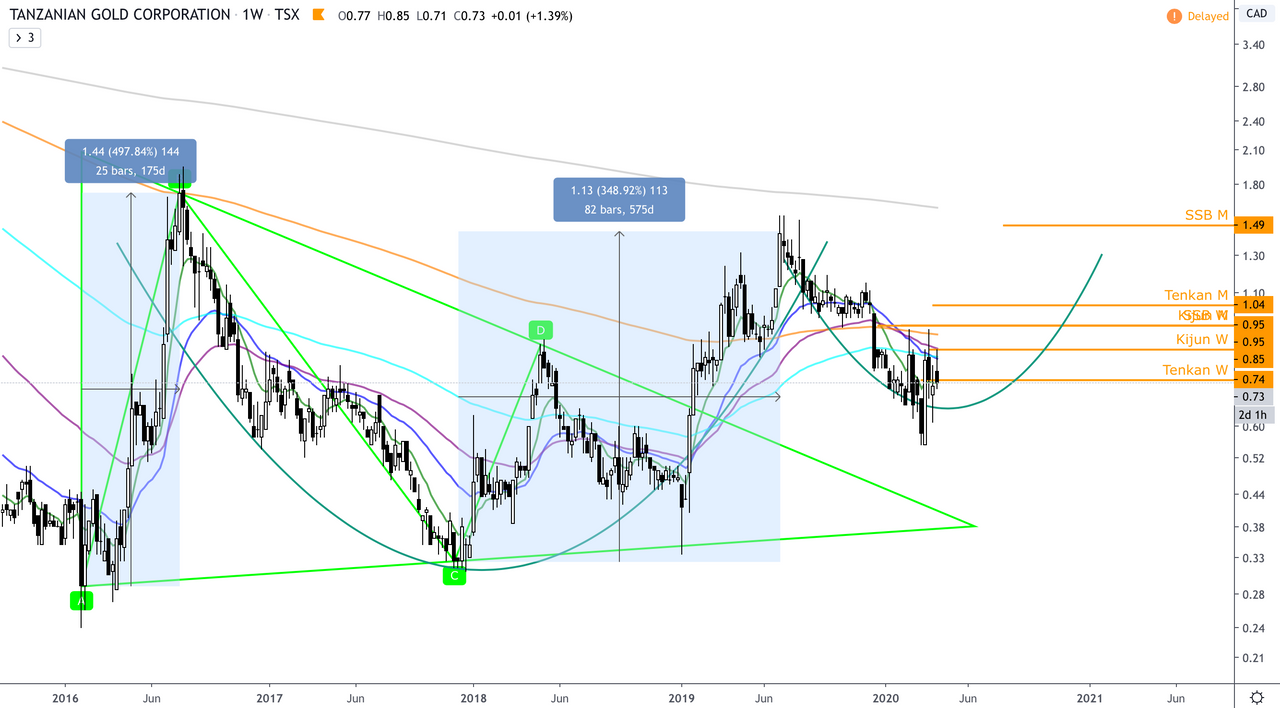 +500% on the triangle and +350% on the C&H. However the position upside down of EMAs 26 & 50 shows that the handle is still not upwardly pushing the price.
Daily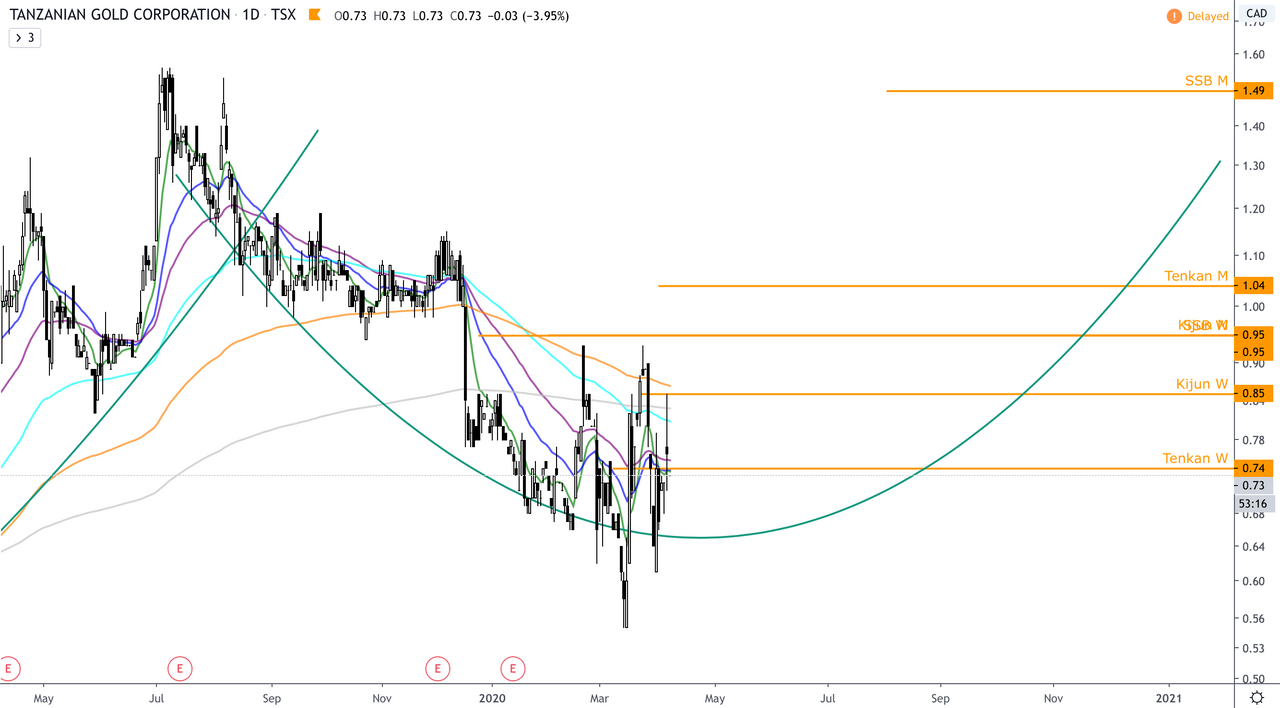 Daily term confirms the last statement and is also evolving under each long term Ichimoku's resistances.
Conclusion : buy zone will arrive as soon as the daily price climbs above those resistances and closes up the C&H formation.
Kirkland Lake Gold - KL
Monthly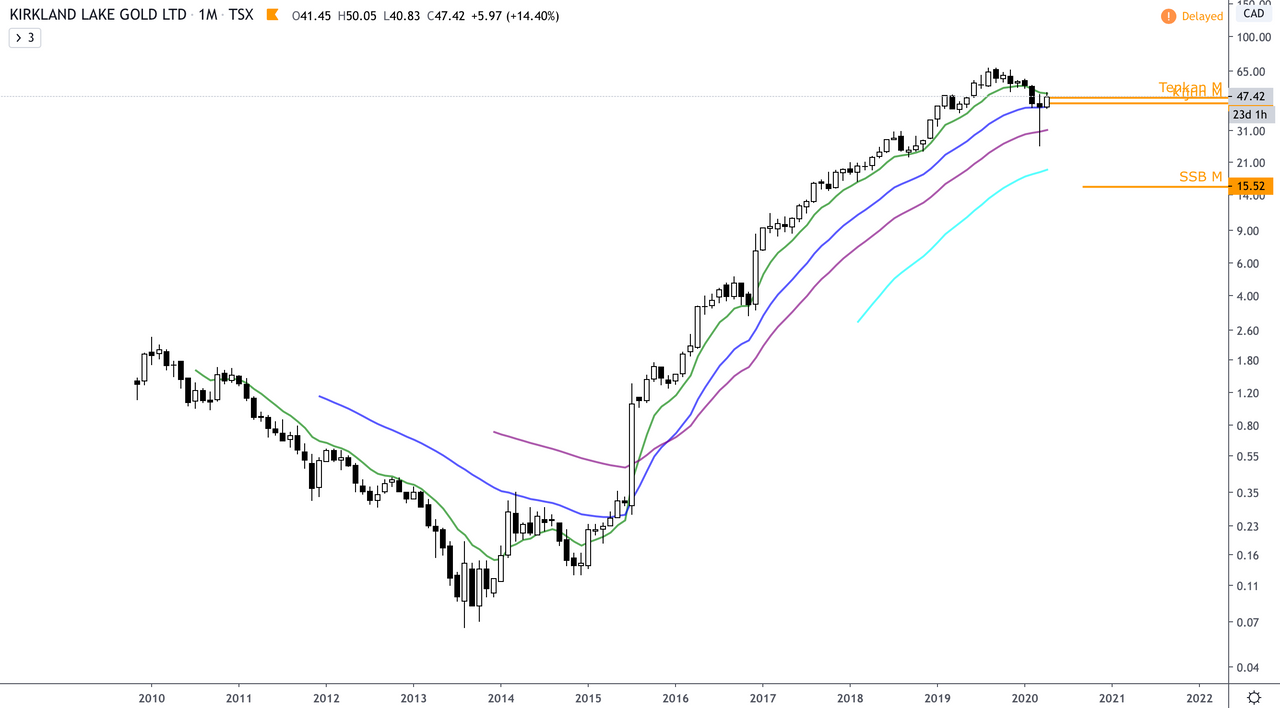 The growth of this mine is pretty amazing. It would be really temping to say that it cannot continue this way and it should find a stop somewhere. But Kirkland Lake Gold is in the hand of some of the best experts into this domain. Since the beginning of the growth it never inverted any EMAs on the monthly time unit. But...
Weekly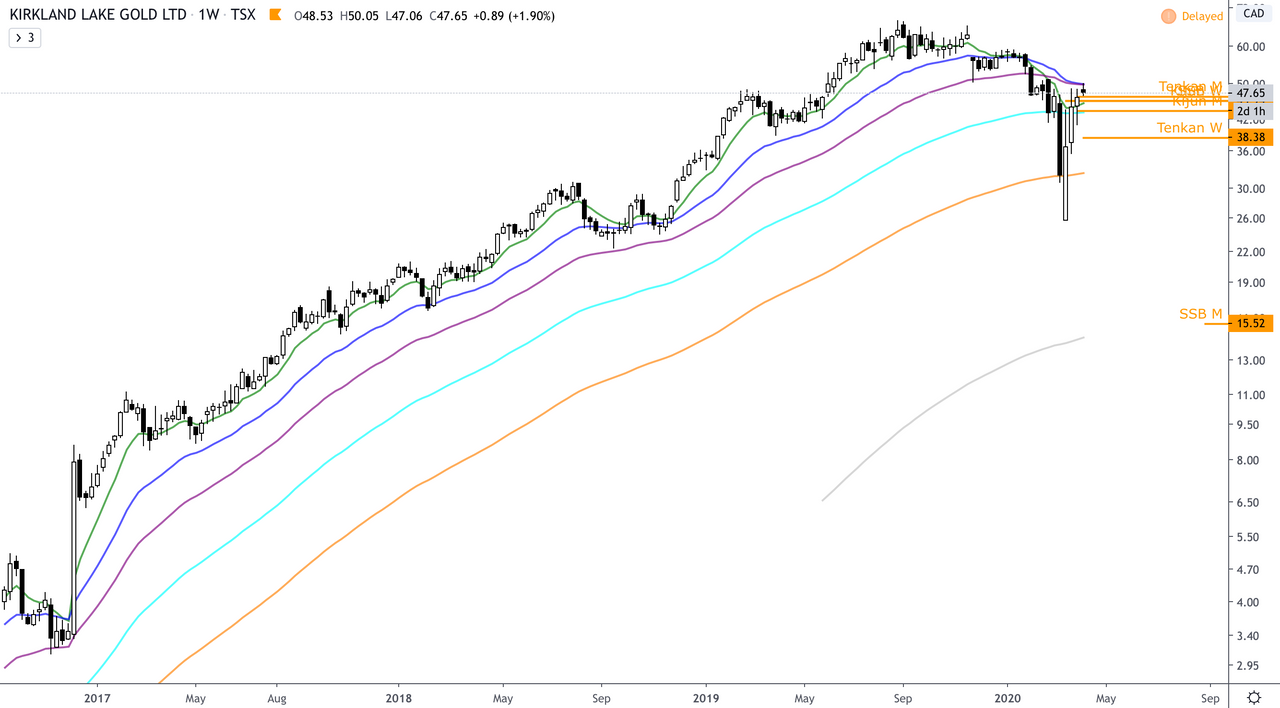 On November the 25th Kirkland Lake announced the purchase of a new mine. This announcement has the effect on the market it usually does : the seller climbs and the buyer drops. Following this intervened the beginning of the crisis. However, their reputation in managing a mine is very well known and received the support of a very large community of investors. The effect is that the price may have suffer a little on the short term, looking at weekly movement it did not inverted EMAs signal (or at least not completely) and it quickly regained its position over Ichimoku's resistances.
Daily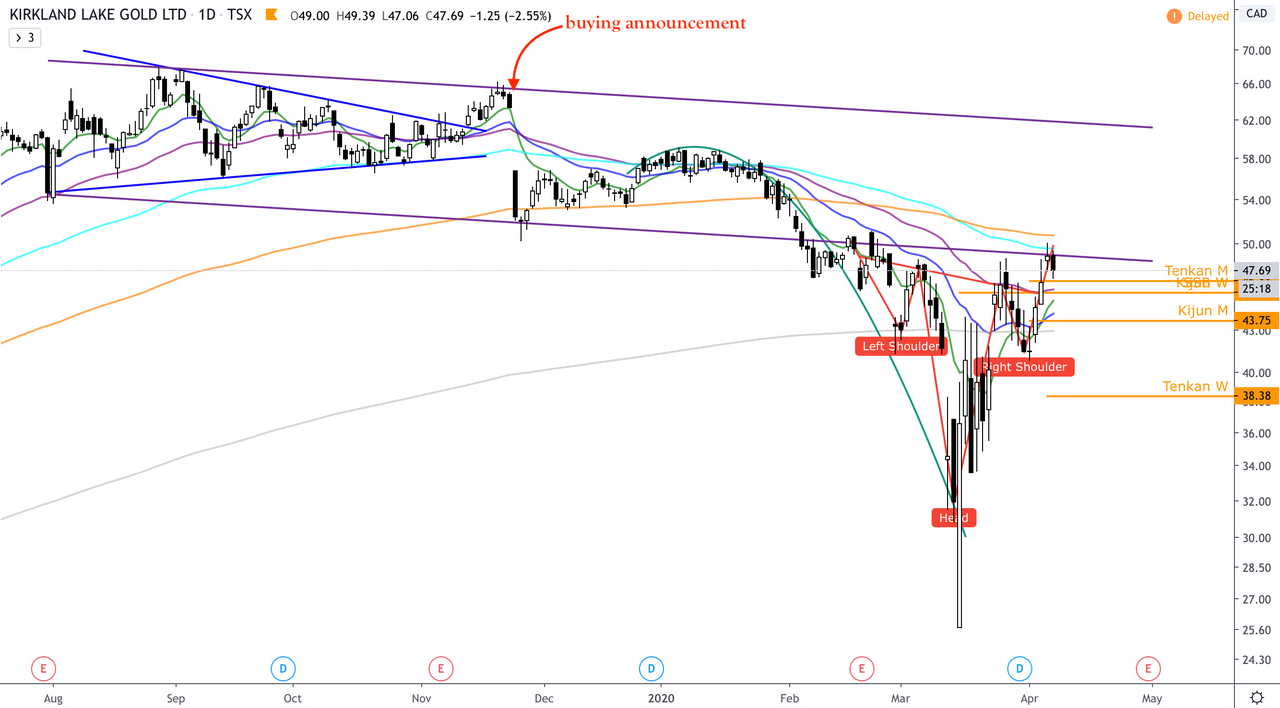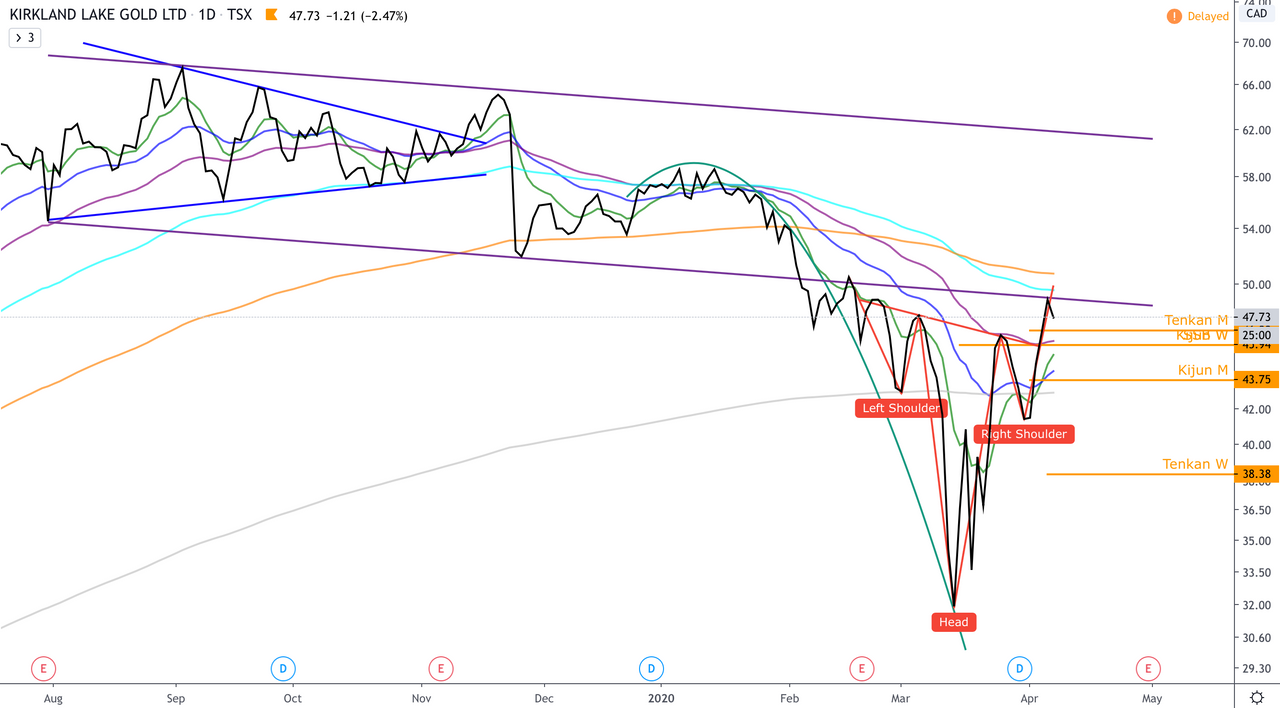 On the daily time unit, dispite the breakage, it manages to retake an upward position as most of the gold miners follow gold movement. We actually have an inverted H&S formation of +50% that could even bring the price back above the ancient consolidation parallel channel.
Conclusion : buy zone is situated above daily parallel channel if long term signals stay positive.
Yamana Gold Inc. - YRI
Monthly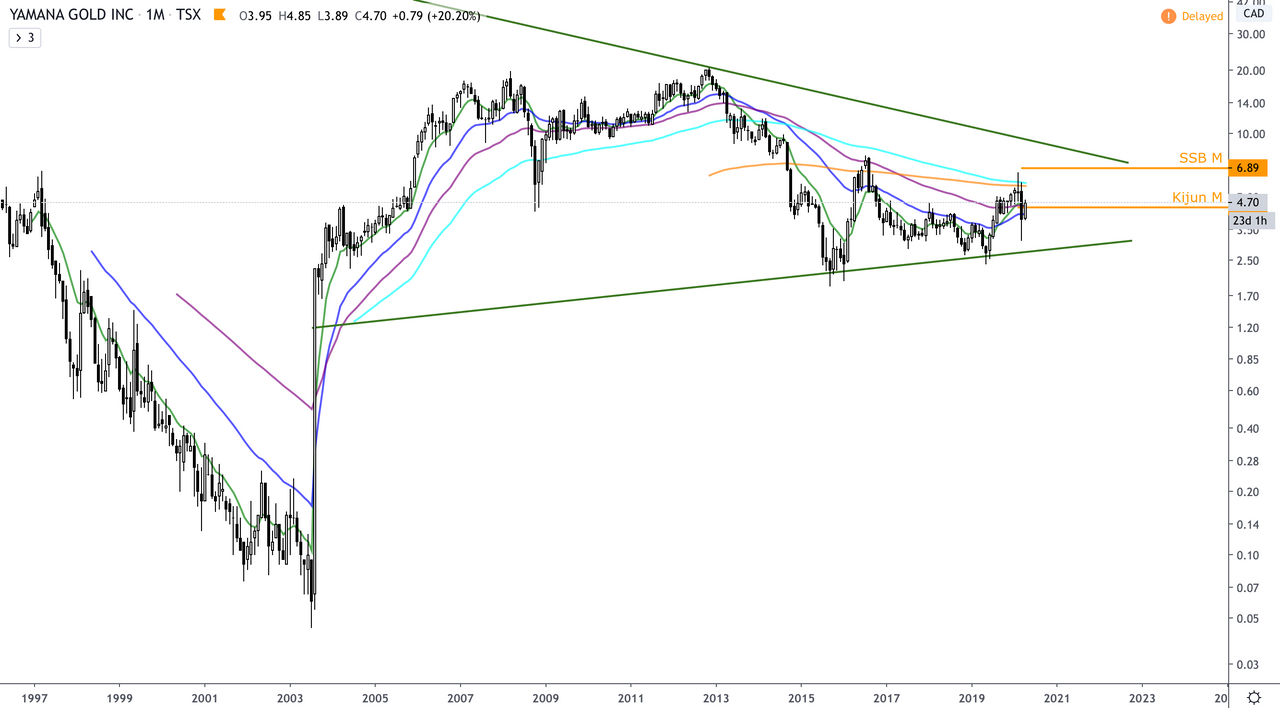 This miner has several positions around the globe, some already on active operation, others into preparation and some exploration projects ongoing also.
Technically, if they succeed their projects, with gold climbing this miners could become exponential. The monthly TU already shows a symmetrical angle with a possible projection of +900% (to be kept in mind).
Weekly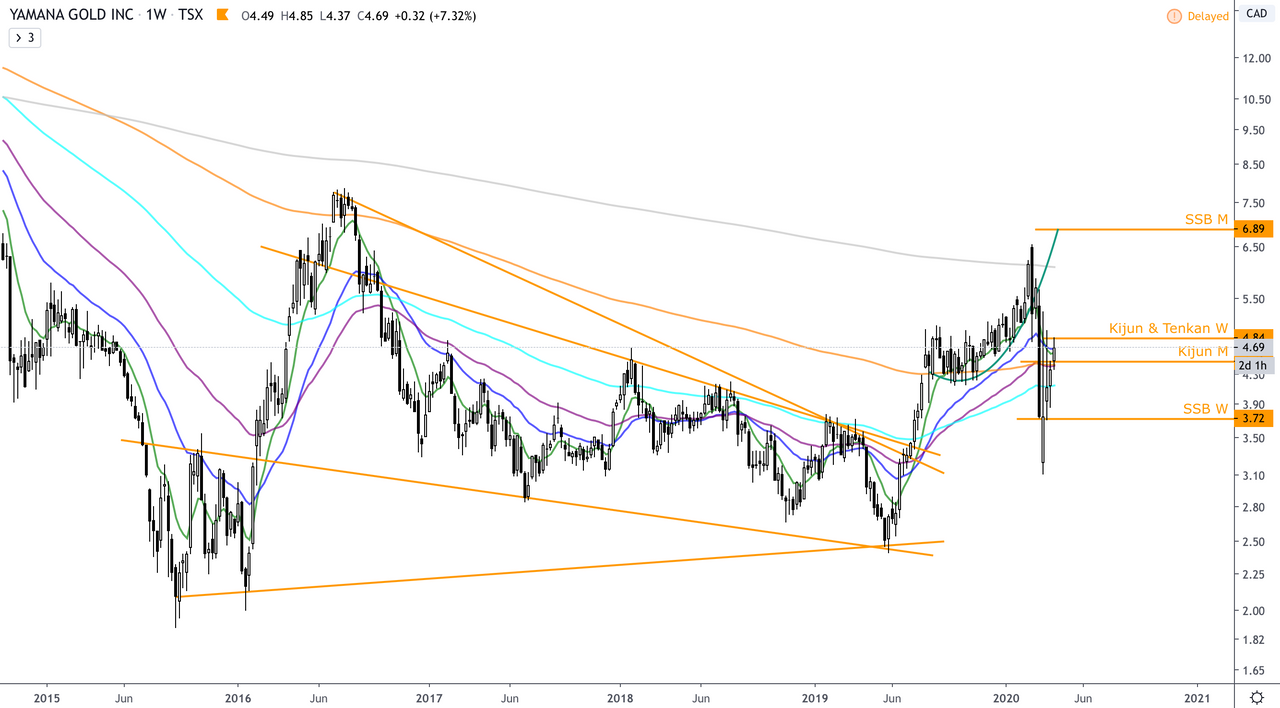 On the short term we can see a trend reversal that began by 2015 and that the crisis tried to alter a little without a lot of success. All signs stayed positive.
Daily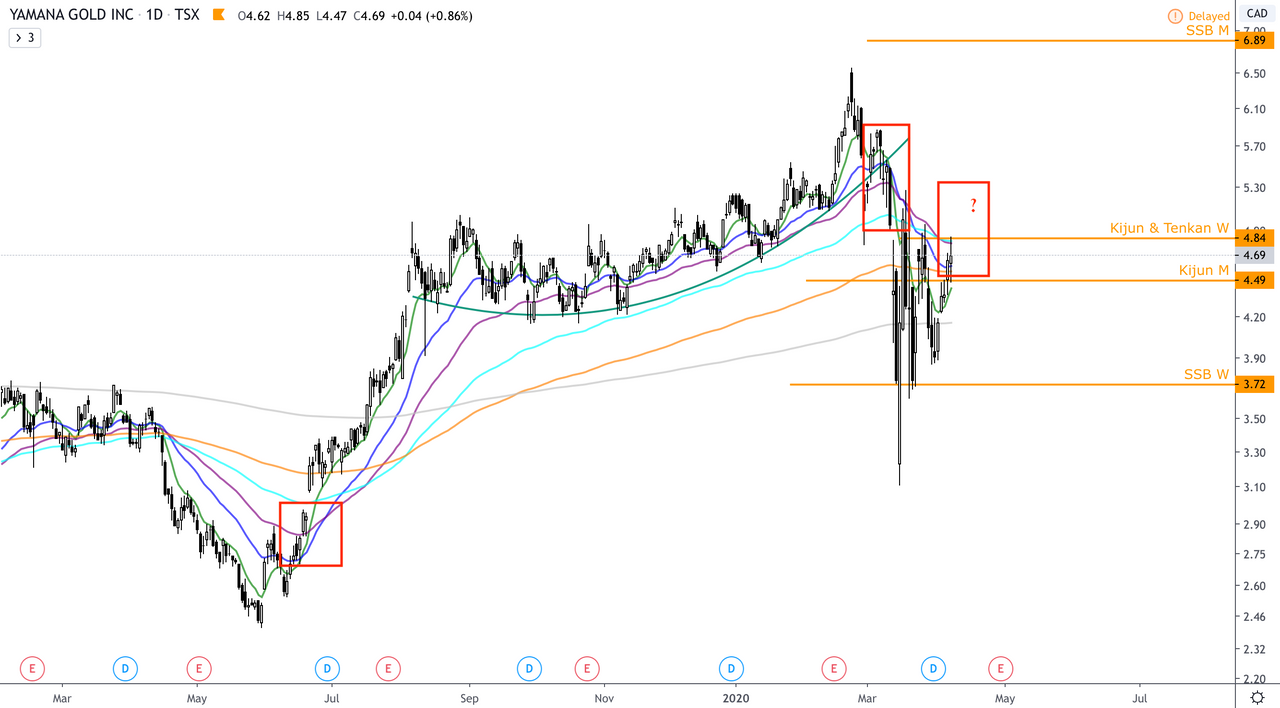 On the short term price is trying to recover and to cross EMAs 26 & 50. If it succeeds and EMAs cross each other it would become a positive sign of growth.
Conclusion : regarding at the time lines and the movement amplitudes, this mines could've find its place into the Gold miners favorites list. I decided to let it into the watch list as the monthly angle is still not overpassed. But here are two strategies :
Buying as soon as EMAs lead the way and keep a close eye on the long term movement and its resistances.
Wait for the symmetrical angle to be closed and to produce its effects.
Eldorado Gold Corp. - ELD
Monthly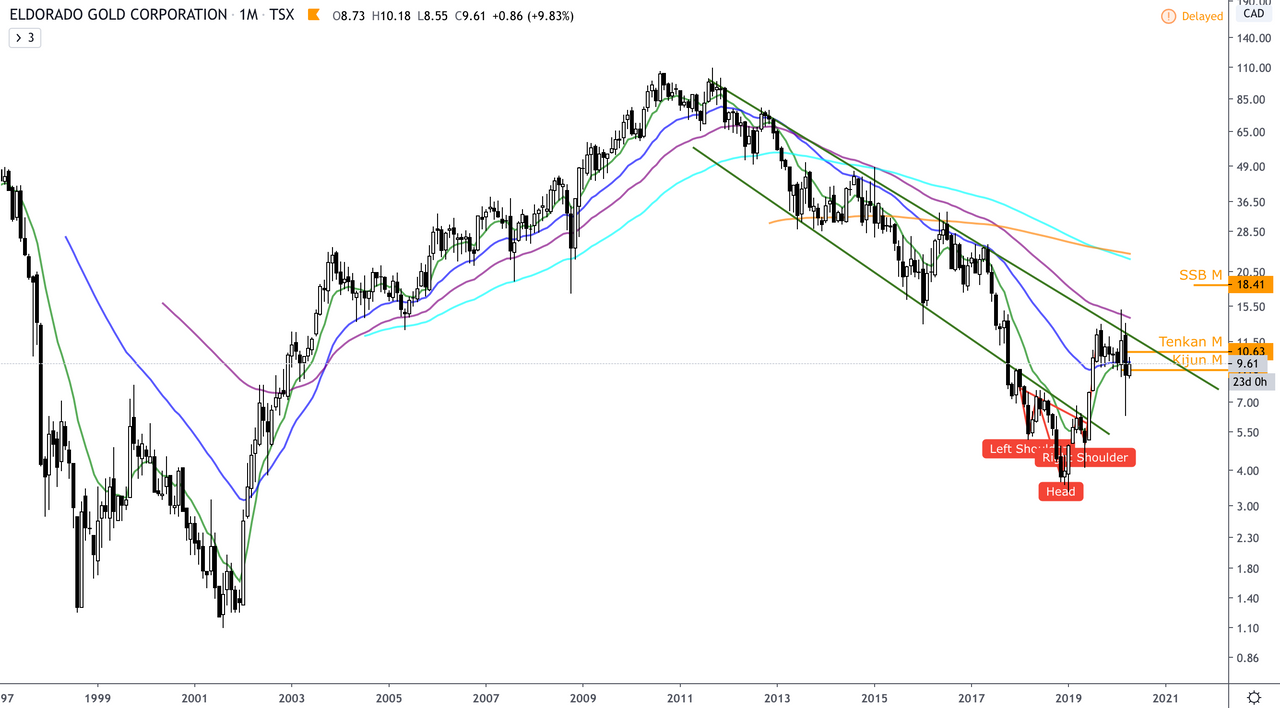 Eldorado Gold Corp. is a society not only operating into gold mining. In fact, their corporation exploits mines that give them gold, silver, lead and zinc around Mediterranean sea, North and South America.
Technically they've been evolving on the long term in a descending pathway since 2011. Some late moves during the 2017 - 2019 time period pushed them hardly back into the channel but without overpassing it.
Weekly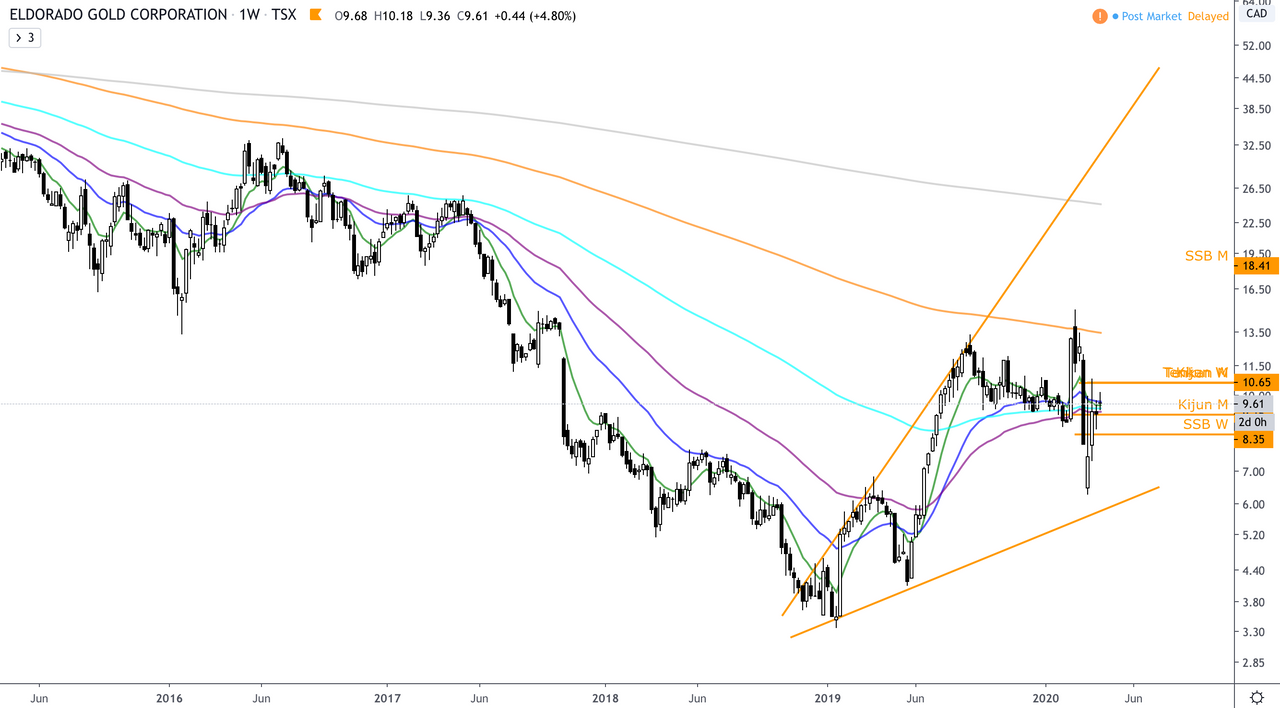 On the weekly time unit price inverted the trend and confirmed its up-growing position during summer 2019. And the crisis couldn't inverse this new position.
Daily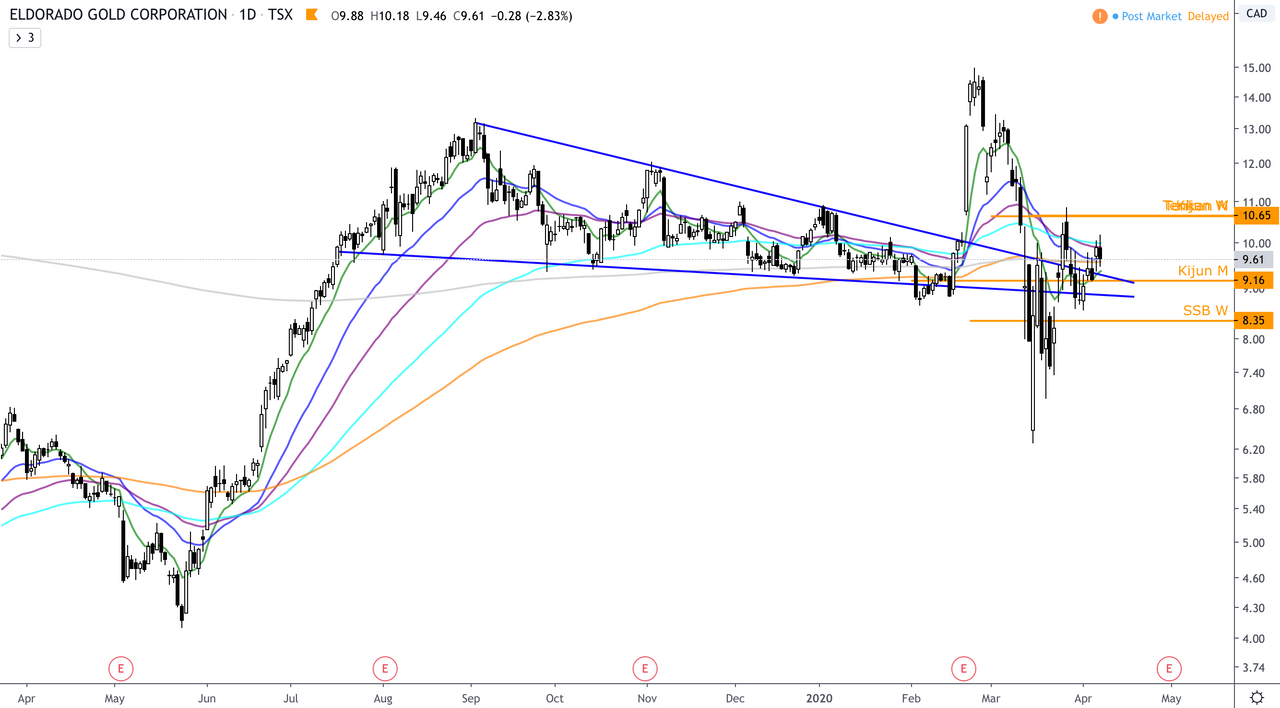 On the daily term it formed a bullish fanion that has been disturbed in March 2020, but the price came back above and could very well take its previous direction.
Conclusion : buy zone stands at the closing price above monthly parallel channel and will have to be reevaluated as soon as we get there.
Agnico Eagle Mines Limited - AEM
Monthly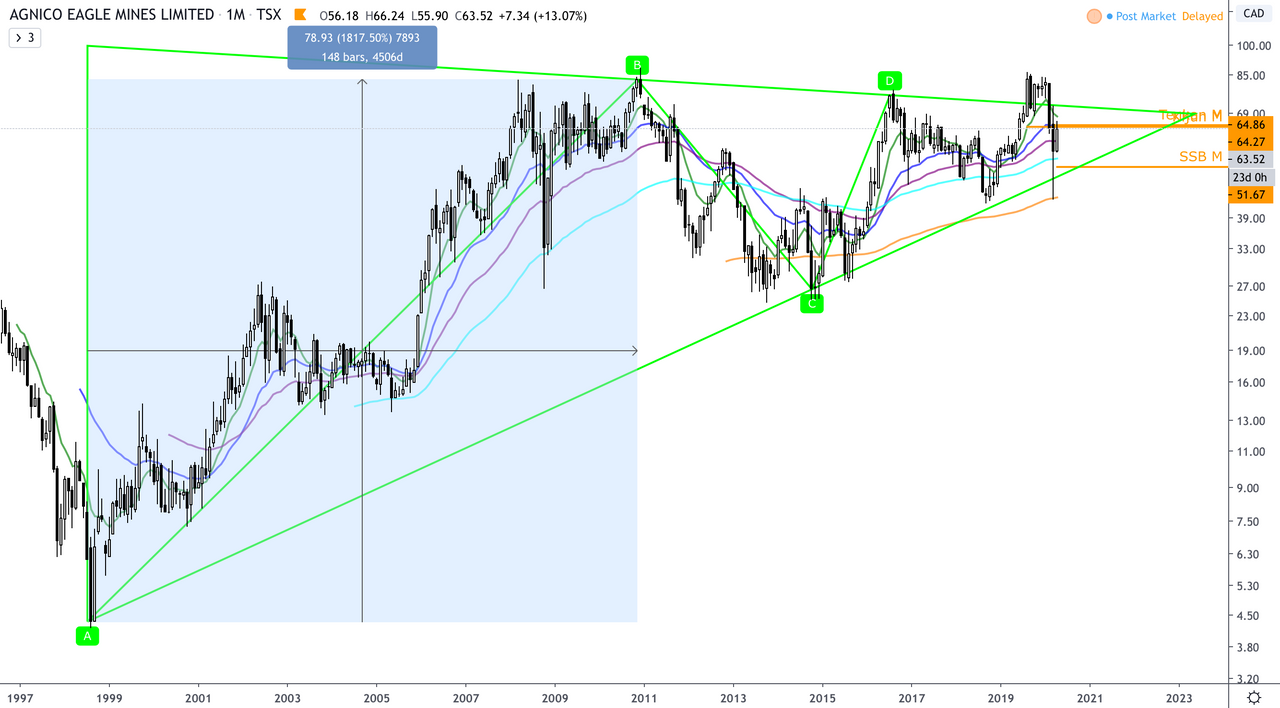 As we often say, a picture is worth a thousand words... Nothing much to say but +1'800% massive triangle...
Weekly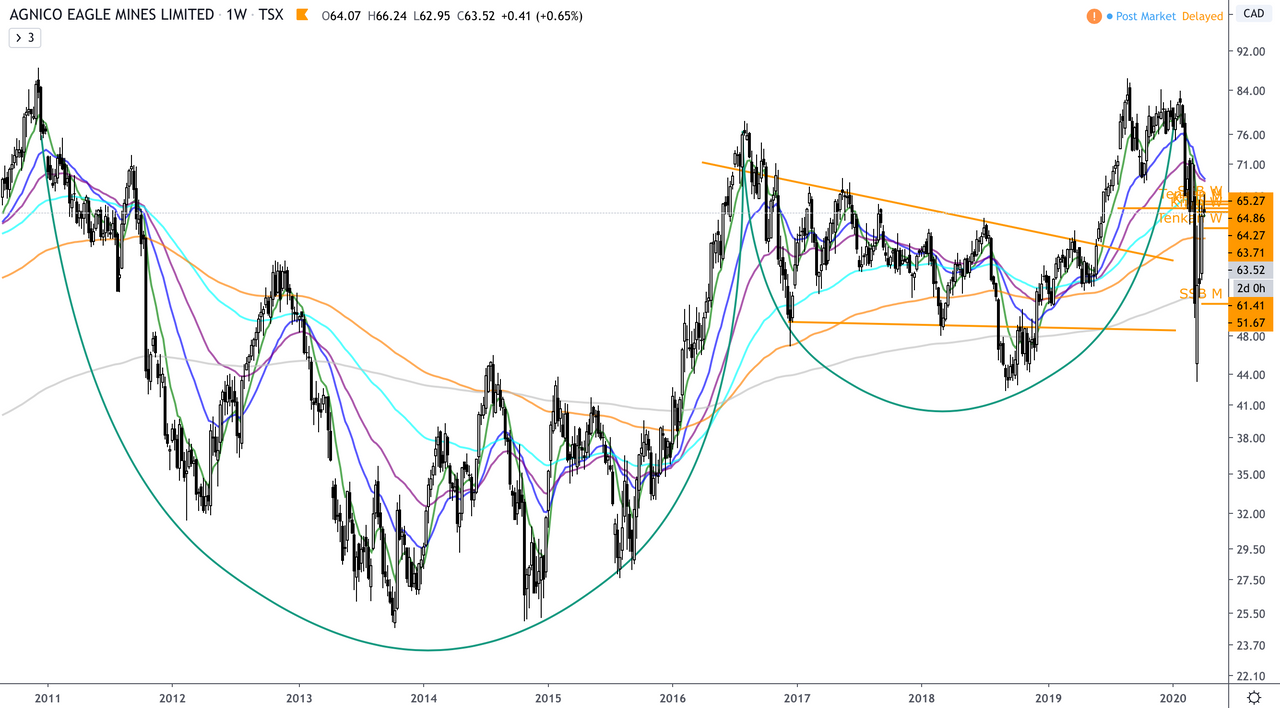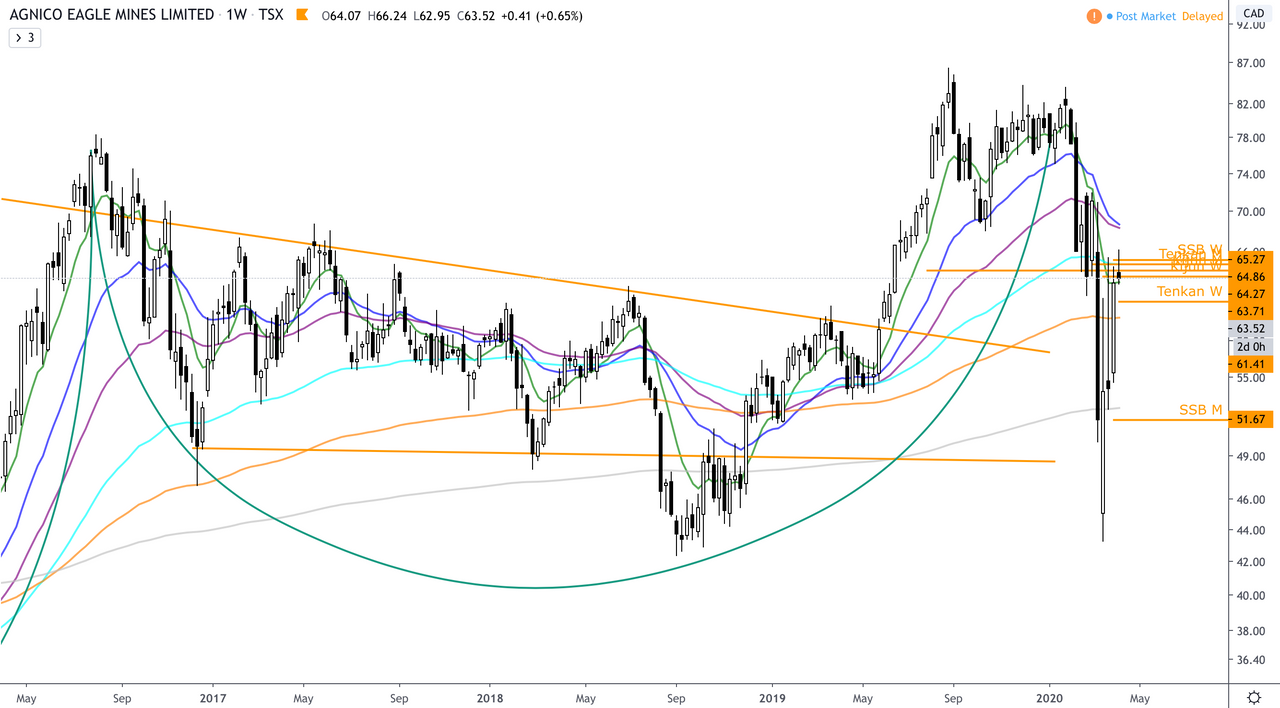 However the middle term has been quite shaken lately. As it was becoming ready to climb to heaven, market decided it was time to wait a little. We'll have to wait and see what will be the effects of that drop on the C&H formation.
Daily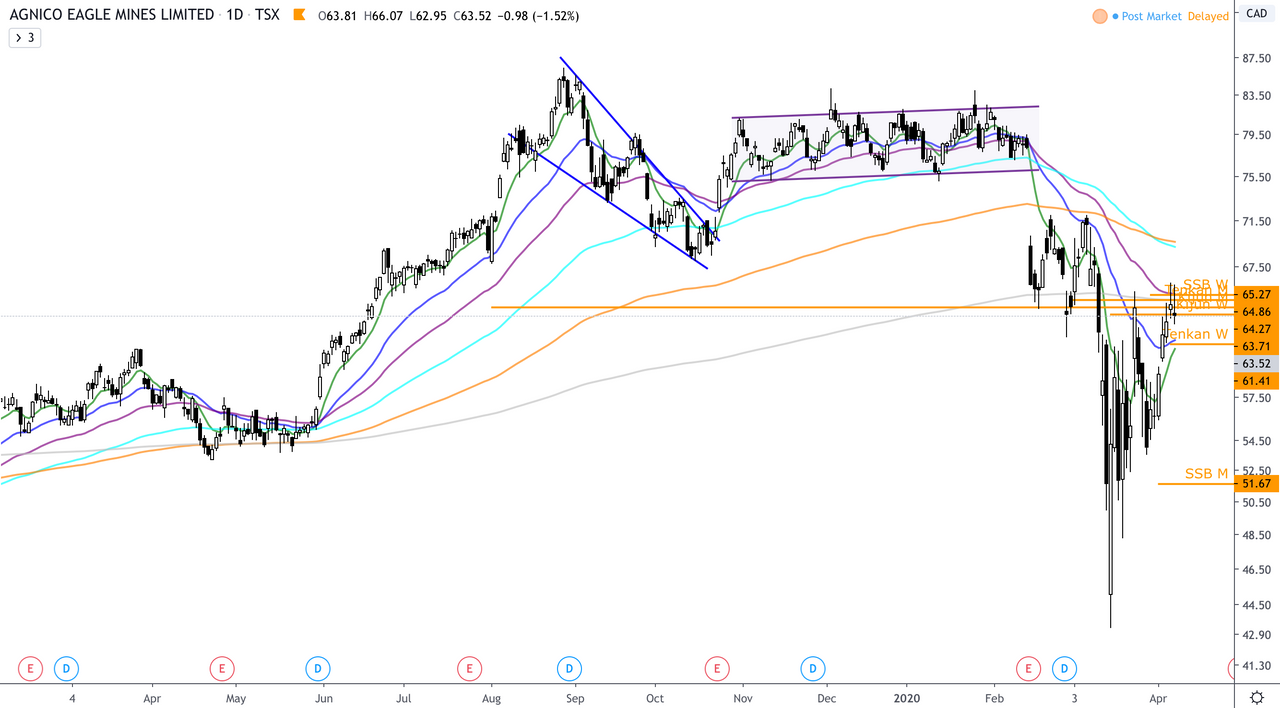 Daily term shows the exact same picture with the price struggling to find its way threw Ichimoku's resistances. Nothing much to say for now...
Conclusion : buy zone stands at triangle's top and should be re-evaluated regarding gold market and other miners to confirm the potential growth.
---
Final word
As promised, some series of article began and will be followed from now on. For me this is a new massive project that will take lot of time and energy but this project to share investment strategies to protect portfolios really worth it.
The article is the first of the second series concerning gold and gold miners (all articles included into the series are listed at the end of this article) and is specifically directed towards potential future investments that aren't quite ready yet. This series completes the Gold miners - Favorites list [Month Update]. An other series will follow on the silver market and miners. Also the articles about crypto investment will continue to be written and published.
Next articles in line for publication :
Silver - How is it behaving during crisis

This will represent the beginning of the series about silver investment. Goal will be to understand how to track silver during historical crisis and during Covid-19/Over-indebtedness crisis. It will be followed by a similar series about silver miners.

ETH & BTC - Crypto update

An update around Easter on the crypto market.
Stay updated threw the different channels :
---
Don't hesitate to tip to support my work and help my researches. For donations, here's my ETH address :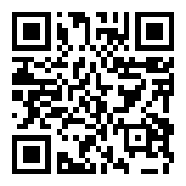 0x3afdd2FEdd6F2DA6Bb7EB8fc5F901eC12dE8B239
---
Previous editions of the Gold miners - The ones you want to keep an eye on :
- This is the first edition-