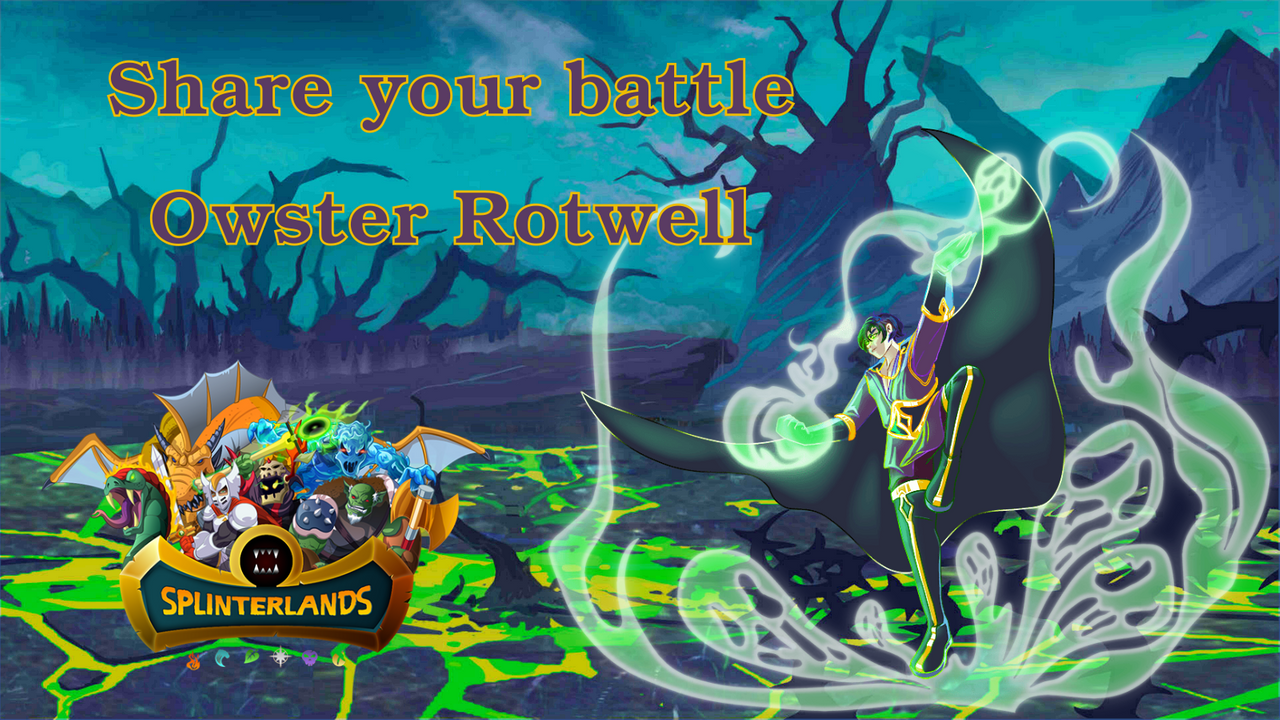 Most of you out there playing splinterlands in the Bronze leagues may have noticed the shift of magic decks from water with Alric Stormbringer to earth with the new chaos legion summoner of magic: Obsidian.
I encounter Obsidian a lot, almost 1 in 5 battles, and you could counter them with a combination of Thaddius Brood and Bone golem or with an Obsidian deck yourself. But i was looking for another way to counter them.
And i think i have found something: Summoner Owster Rotwell. But is he a need to have summoner to teach that pesky Obsidian a lesson, or should you skip this summoner and search for another tactic? Let's find out.

Owster Rotwell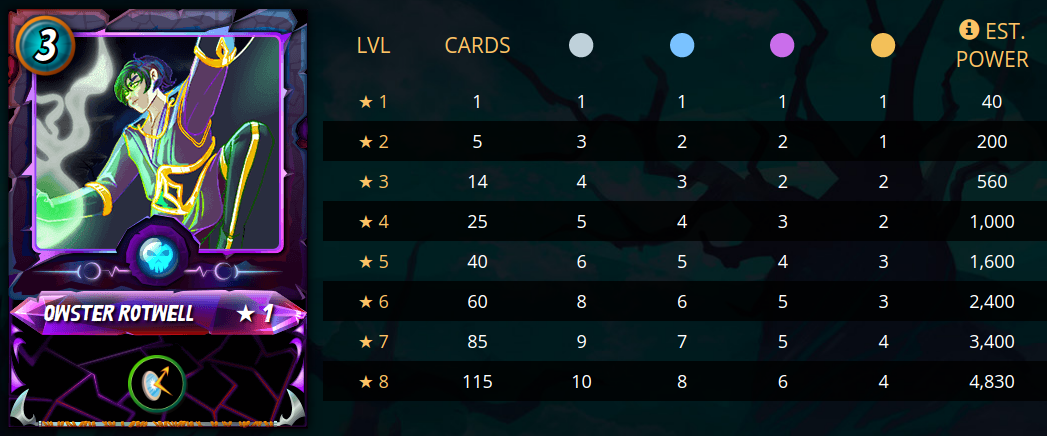 Stats
Owster is one of the only living souls allowed to tournament summon for the Dark Eternals. He was discovered years ago in a Mount Mox cave by the Lord of Darkness, and is entirely unwilling to leave the shelter of the mountain. The Dark Lord, convinced that Owster would make a powerful death summoner, spent vast resources providing a remote Dark Eternal education to the boy. Now that he is a man, Owster Rotwell represents the Dark Lord's eyes and ears at Mount Mox, from whose grounds he never moves.

Costs & Use
Edition: Dice
Rarity: Rare
Splinter: Death
CP: 40 (normal) / 2000 (gold)
Cost: $8.888 (normal) / $79.65 (gold)
Rental: 0.125 DEC / 7.5 DEC  
Above prices are taken from peakmonsters.com.
Pro's
3 mana cost
Magic Reflect buff to all monsters
Yes, you saw that correctly, this summoner gives all monsters the magic reflect ability, and with $9 it is one of the cheaper summoner. So let's see if it's worth it to pick one of the market.

In my last 5 battles against obsidian, i have won 3 of them, and 2 losses. 1 of the losses was because my opponent only used melee and ranged, and that's also this summoners weakness. If there are no magic monsters to battle against, Owster Rotwell buff won't give you any advantage over your opponent.
The Battle - Bone Golem against Regal Peryton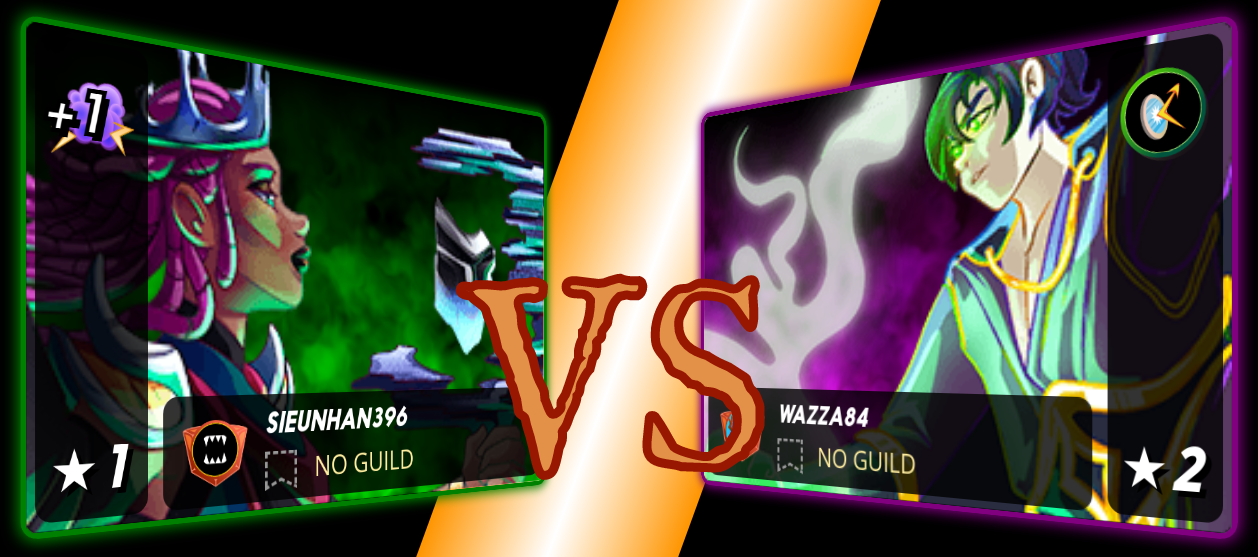 Link to battle
Teams And Ruleset
The ruleset of this battle:
Mana cap: 18
Splinters: All
Ruleset: Normal
My Team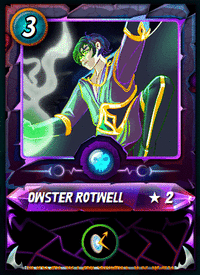 Summoner: Owster Rotwell
Tank: Bone Golem
2nd Line: Death Elemental
3rd Line: Silent Sha-Vi
Opponent's Team
Summoner: Obsidian
Tank: Regal Peryton
2nd Line: Khmer Princess
3rd Line: Goblin Psychic
4th Line: Chaos Agent

Tactics and Game
After seeing my opponent use Obsidian for 5 battles in a row, i found it a good time to use Owster Rotwell. One of the tricky parts of using a mostly default card set, is that the death splinter only has low magic attack monsters, which would be blocked by the Unicorn Mustang. But lucky for me, the mustang stayed in the meadow. So up against a full magic team i thought i had a good change to win this battle. Using the Bone Golem with his void and defense is a good choice to counter magic opponents.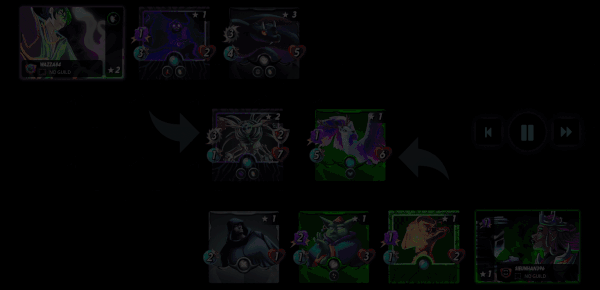 As you can see, the regal peryton, with it's high speed and flying ability keeps my monsters missing their attacks. During this 4 round battle, 4 attacks miss the tank. I think that the combination of the Bone Golem en Owster Rotwell is what made me win this battle. If it weren't for the reflect, it would've been a close call or even a loss.

I hope you enjoyed my entry for this weeks battle, and hope to see you in the next!
If you want to give splinterlands a try, you are welcome to use my referral link