Ghost and Lion from Splinterlands (click)
Tight on mana? Maybe 15 or even less? You are better off not using just one or two monsters. But there was not enough variety before. Tortoise Fighter and Animated Corpse are too situational, so what can you use for water and death splinters? Dice has the answer, specially if you have a low-value account. You can buy a few of these in the marketplace instead of purchasing a Dice.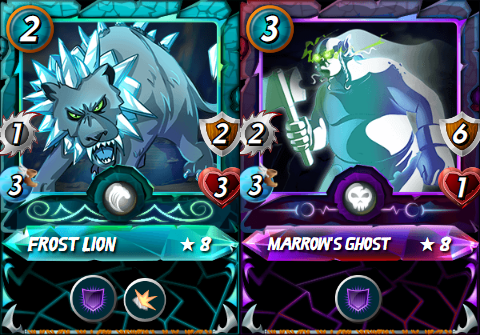 Frost lion does not have shield before its gold ranks, but it's going to take more than one hit to kill him, no matter what. Unless the opponent uses piercing, which is very unlikely. This is because after it takes a strong hit, its armor is going to break first. Even a 6-damage magic attack won't kill him thanks to Void Armor.
Marrow's Ghost uses the same advantage, except it can tank for even longer. Although it does have a higher mana cost, the trade off is a higher attack power, which can damage shields, and a much higher armor value. Shatter counters it with ease, but that's another ability barely any opponents use.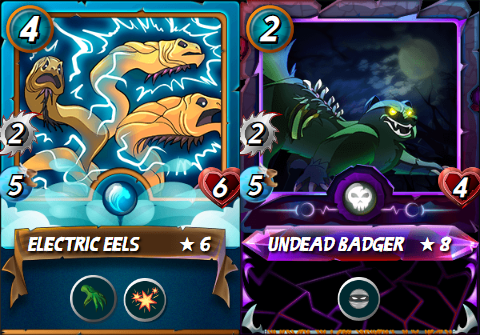 You're supposed to back Lion up with a Reach monster. For water splinter, Eletric Eels finally gets a chance to shine. It has been a dormant card that just didn't have much function previously, but it pairs up with him really well.
Undead Badger and other sneak/opportunity monsters in Death Splinter can be used to great success, because Marrow's Ghost is certainly going to tank for long enough. The enemy back line is getting stomped!
How do you feel about these new cards? Are they enticing? Will you use them soon? They are an easy pick up thanks to their current market prices.