Attention, Street Fighter and WAX are now friends, and they will debut together next February 18, 2021 at 12 pm EST. This sale is time-limited, will last for 24 hours, and ends on February 19th at 12 pm EST.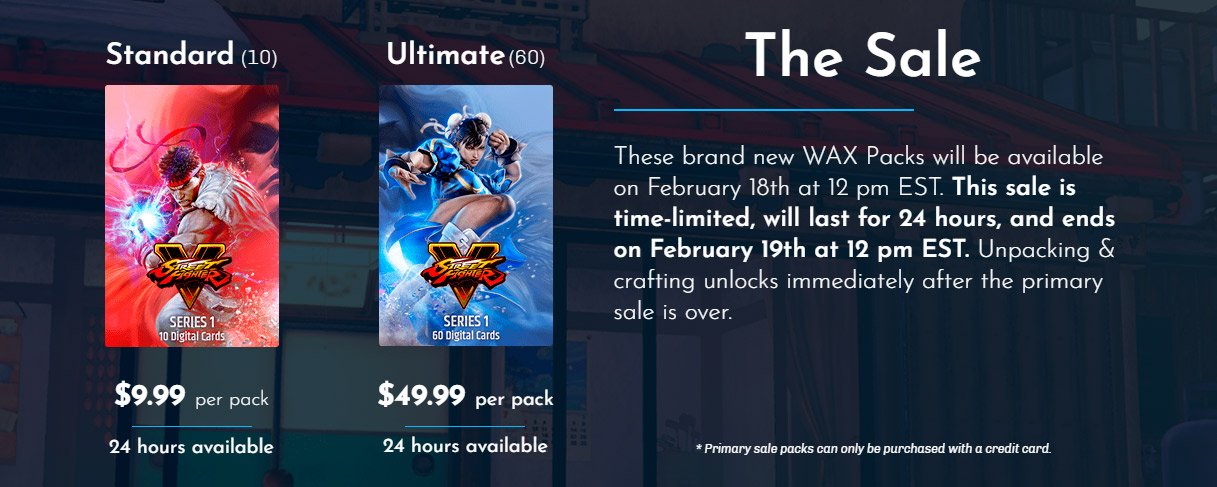 The sale will have a duration of 24 hours, where there will be unlimited packs (but I have misunderstood) once the 24 hours have passed, only more packs can be purchased from secondary markets, such as "AtomicHub". On the official website we see two packs and two prices. 10 cards will be $ 9.99 and 60 cards will be $ 49.99. Only fiat money (credit card) payments will be accepted. This is good to know in advance because on the 18th they will buy all at the same time and it is likely that there are network problems, on the platform ... etc. So on the 18th you have to be card in hand in front of the web ready to buy some packs. I will buy one of each. Seeing the hype that is being generated, the numbers of the first sale can be astronomical.

We have a counter so that there are no problems with the different time slots.
New crafting system. New crafting system. Combine duplicate cards to obtain a higher quality NFT, since the 4 necessary cards will be burned. It is something that does not surprise us at all because it is something that is already common in NFTs, but what is cool is that they already have it implemented and we do not have to wait for future updates, to be able to merge cards. So, there are already several strengths that this collection has to know that the first sale is going to be spectacular. And is that this collection of NFTs, actually, already has the marketing campaign carried out for years. Who does not know the game Street Fighter? It's going to be a very crazy sale. I am looking forward to hearing the sales figures you have obtained in your 24 hours.
The design of the cards is careful, and as the quality of the card improves, it becomes more spectacular. I've been with NFTs for a short time, but I'm looking forward to starting to collect the well-known characters.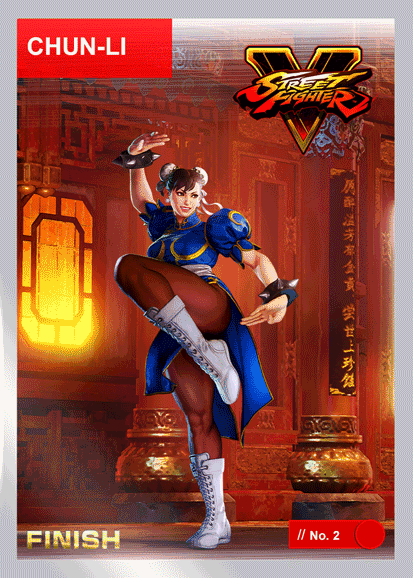 Some legendary card, and collector's editions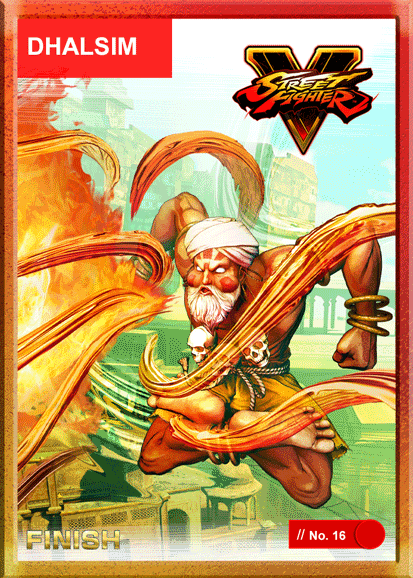 They are spectacular!
And despite having a good marketing campaign that has been working on its own for years, they have added a daily drop in the largest wax market that exists at the moment. AtomicHub. Every day he is making a drop with one of the characters in the collection.
In this link you can access all the drops that are planned and their start and end date:
https://wax.atomichub.io/drops/2328+2329+2330+2331+2332+2333+2334+2335+2336+2337+2338+2339+2340
+++++++++++++++++++++++++++++++++++++++++++++++++++++++++++++++++++++++++++++++++++++++++
Nice to meet you!
I am fdeflash born in Barcelona and living in Ibiza. Few months of life in #hive. Informatic. Gamer. And some other little thing. I like to discover, collect and level up. I like to write. And I am fascinated with all the news that I am discovering, collecting and leveling up!
You can find me on Twitter: https://twitter.com/gameplaysybugs
I have just arrived at Leo Finance: https://leofinance.io/@fdeflash
I would appreciate it if you would follow me on #hive: https://peakd.com/@fdeflash
Feel free to follow me on Publish0x: https://www.publish0x.com/@fdeflash?a=LDdwpO4Re1&tid=fdeflash
In read.cash: https://read.cash/r/fdeflash
Hope you are on Rising Star: https://www.risingstargame.com?referrer=fdeflash
LBRY: https://lbry.tv/$/invite/@gameplaysybugs:a
DeFi Fan: https://pool.cakedefi.com/#?ref=160687
I like play with Chrome Apps:
Airdrop: https://cb.run/NJTf
My Youtube Channel App: https://cb.run/piro
Kuailian App: https://cb.run/AD2Q
DeadPool Tab Style: https://cb.run/jsn0
T-series App: https://cb.run/T4w1