This week's Splinterlands Challenge of the Week was to showcase the Fire Spitter from the Dragon Splinter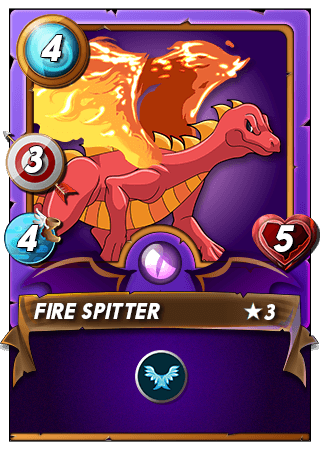 The Fire Spitter was (many moons ago) a reward card, and it's a great little card for the mana at a low level - if you can just get him up to level three, which is where mine's at, he's a decent all round card - with flying to boot.
He's usually best served at the back of the deck as there's a reasonable chance of a sneak card missing him!
The battle below features a satisfying win in which I take down a higher powered opponent!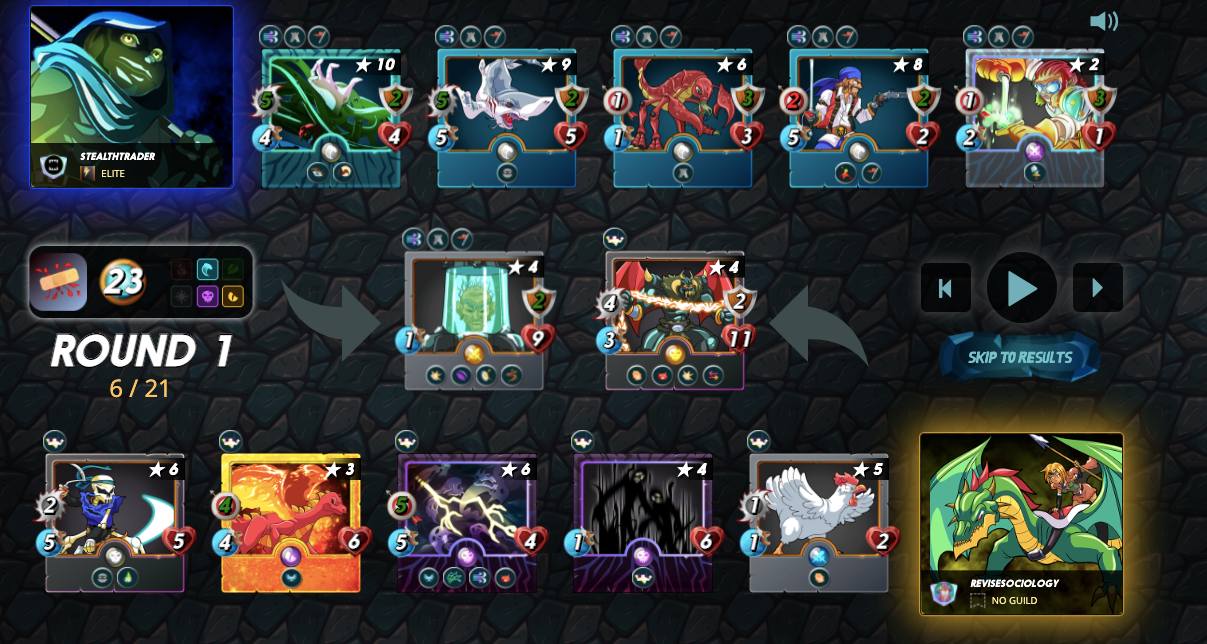 The Rule Set and Line Up
Summoner - Selena
Lord of Darkness - useful with shields and shield for healed out, took a risk as he's weak against magic
The chicken - out of mana!
Shadowy Presence - strengthen for healed out and useful buffer against snipe
Soulstorm - my main damage card, and headwinds as I anticipated ranged attacks
Fire Spitter - my second main damage card
Skeletal warrior - sneak wasn't my main attack, but a useful defence against sneak!
Did my strategy work?
Beautifully, to see it in action click here!
Round 1 - it doesn't start well for me - my opponent takes out my Skeletal Warrior and my Chicken and halves my Lord of D!
Round 2 - better! A crucial miss on the Fire Spitter and I take out his Lord A.
Round 3 - back in the balance, I lose my Fire Spitter AND my Shadowy Presence.
round 4 - FINALLY I take out his Seaweed, after an annoying miss in the previous round! A handy snipe miss on SoulStorm keeps him alive!
Round 5 - I take out his Shark and now it's all over. He's took little damage left to grind down Lord D with those low attack ranged cards!
How important was The Fire Spitter?
Crucial - that one miss in round 2 swung the battle after a shaky start and his high damage in combination with Soulstorm sliced through my opponent's monsters!
For my opponent's part, he made the mistake of relying too heavily on that Sneak/ Opportunity combo, and played them too close to the front - once I'd taken out his Lord A, that split his attack and they were useless against Lord D's shields!
While most of his ranged cards didn't touch Lord D either!
Final Thoughts: Fire Spitter - worth levelling up?
Absolutely, he's a solid all round card, especially useful in low mana battles, and when played with Selena he gets a handy 4 damage for 4 mana!
And he's especially good lower down the levels - he's VERY handy at L3 already!
There's not a lot not to like!
If you don't yet play Splinterlands, why not give it a go?
Anyone using my referral link will receive a free rare card!