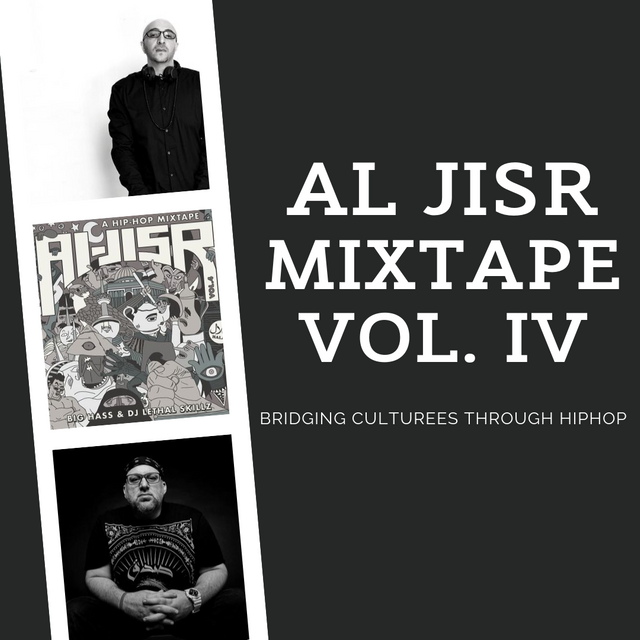 MIXTAPE CULTURE
Big Hass and Lebanese DJ Lethal Skillz started 'Al Jisr' (which translates to 'The Bridge') initiative in the Middle East back in 2010 with the aim of bridging cultures through hip hop. For Hass, he wanted to show the world "what we can do, in terms of Arabic rap." and for DJ Lethal Skillz he wanted to educate the young DJ's the real art of DJ'ing and bringing the MIXTAPE Culture to the region.
We have released three volumes from 2010 to 2013, then came a six year break, as
DJ Lethal Skillz relocated from Lebanon to South East Asia and Hass relocated from Saudi Arabia to the UAE, Through Al Jisr's comeback, we wanted to resurrect a somewhat neglected musical tradition: The Mixtape.
At a time when people are more likely to stream three-minute singles and skip past any track that isn't to their liking, listeners might be appalled at the idea of a non-stop, hour-long track featuring more than 20 artists. So, maybe Al Jisr is a bold move backwards — but it also holds the potential to captivate from start to finish and expose fans to artists that aren't on the mainstream's radar.
AL JISR VOL. IV MIXTAPE
'Al Jisr Mixtape Vol 4'. The 82-minute track features back-to-back hip hop bangers from 23 artists such as Offendum, Narcy, Shadia Mansour, Freek and Moh Flow. It also includes shout-outs from major names in the hiphop world likes of Brother Ali, Karlie Hustle, J.Period, Bobbito Garcia and Rob Swift
No doubt that Hip-hop has been described as one of the most far-reaching cultural movements of the past three decades. For me, Hip-Hop has always been a tool to empower communities and ridging cultures. 'Al-Jisr' meaning the bridge is a mixtape series initiative started by myself and the brother Big Hass back in 2010, aimed to expose good music and support the great talents from the AME region and the world that you don't hear on the radio or see on TV, also bridging various Hip-hop cultures and communities from around the world through this medium.
---
'AL-JISR' Mixtape vol. IV
Hosted by Big Hass & Mixed by yours truly Dj Lethal Skillz

Happy Listening! Let us know your feedback and if you like what you hearing we would appreciate sharing it in your circles. Salute!
---
Track-List
Intro : Big Hass
The Synaptik Ft El Far3i - Dari
Shoutout from Karlie Hustle
Haseeb - Droppin
249TooDope Ft MaMan - Alright
AKA Keyz - Wait For Me
Freek - Wala Kilma
Moh Flow - Do You Wrong
7.Omar Offendum - Years
Interlude: Brother Ali (Simply WOW)
Brother Ali - Sensitive
Shoutout from J.Period
BLVXB - Kimawi
Lowkey Ft Frankie Boyle, Maverick Sabre - Long Live Palestine
Shiboba - Sefer
12.Bu Kolthoum - Alpha
Mazzi Ft.SAFE -KINGDOM
Shoutout Bobbito Garcia (Still cant believe it)
Algyadat Al Olya - Hekam
Deeb - Khabar Kan
Edd Abbas - T3ebet
Shadia Mansour Ft Dj Lethal Skillz - Language Of Peace
Narcy - White Man's World
Nomadic Massive - Times
Shoutout Rob Swift (MAN!)
Beat by Dj Sotusura
Muhandas X Asifeh - Neuron
Zenden Lavon - The Movement
Menon - Hustla
The End
---

Follow Big Hass
www.instagram.com/BIG_HASS/
Follow Dj Lethal Skillz
www.instagram.com/djlethalskillz/
The Great Artwork by Rami Afifi
www.instagram.com/rami.art/
---