Some time ago i wrote here about COSS exchange stopping withdrawals without notice and saying they change some stuff and will close for 3-4 weeks.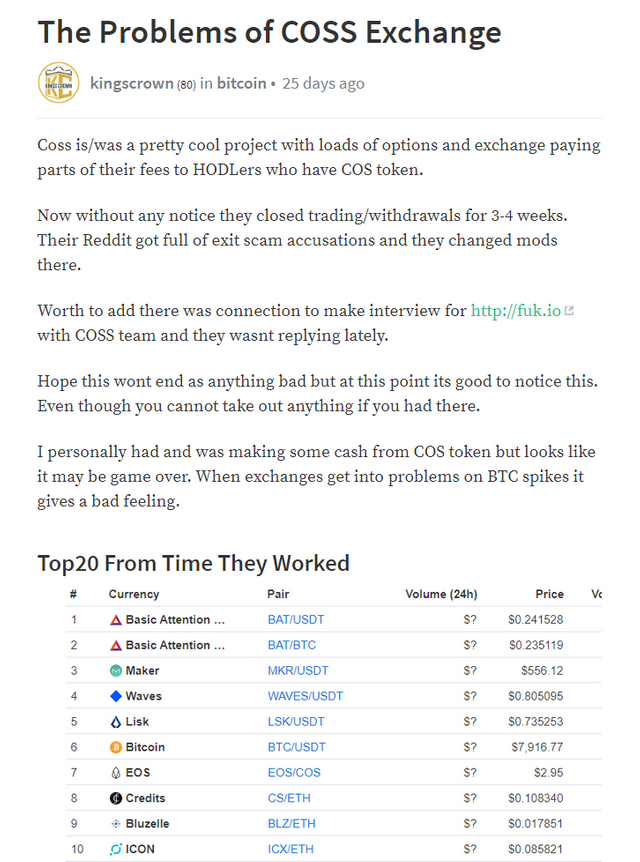 Official statement still visible on site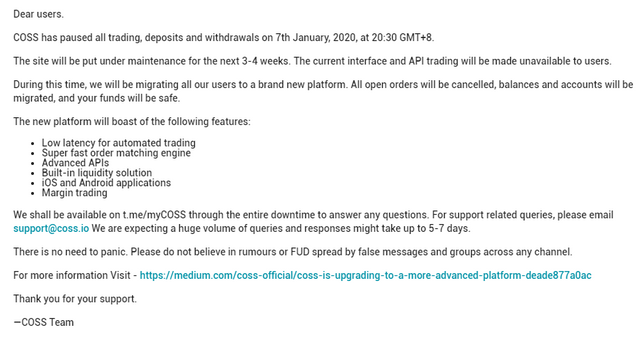 Yet today they posted on social media after 4 weeks being down that they have been acquired by some company and it holds all funds now... You know how those cases end usually.
COSS has been working with a partner for the last few months to focus on improving the trading experience.
We were able to unify our vision and are pleased to announce that the exchange will be acquired by the partner. What started as a round of fundraising for COSS ended in a full acquisition.
The new team now owns complete stake in the company.
With decades of cumulative professional experience in financial technology, trading, exchange platforms and global markets, the takeover will be the perfect catalyst for COSS.
The vision is to rapidly improve the trading experience on COSS by adding product features and onboarding an exclusive user base of traders across several markets.
All this while maintaining and improving the utility of the COS token — a token that is conceptualized on sharing its benefits with every single holder in so many ways.
We are excited about what lays ahead and are equally glad to have you with us.
Users can expect liquidity, stability and convenience on COSS like never before.
The new and old teams are already working together to make sure the transition is as smooth as possible.
A detailed timeline and more details will follow in the next couple of days…
Quoted if this text changes, we will have copy here.
Yeah so closed out of blue for 4 weeks changing stuff then say new people have access to all funds and code... Like i have seen it for the first time. But hey, maybe this time its true ? :D
Worth to note they were an exchange that doesnt need documents to trade. If you look for other places that work and are daily verified by me and others from community here is few:
For x50-x100 leverage trading you have BitMex or BaseFX or ByBit
Anf here are huge cryptocurrency pair exchanges:

REAL WAYS TO MAKE PASSIVE INCOME FROM CRYPTOCURRENCY - DOWNLOAD FREE EBOOK NOW