I had another tremendous blockchain week with a lot of stuff going on in the games I'm actively following and some very promising new opportunities on the horizon as well.
I managed to power up another 500 Hive this week. That's by far the biggest power up I had within a month yet and it's making me rather confident that I'll be able to hit my goal of 10,000 Hive by the end of the year.
It was saddening to see the value of Hive going down alongside all the other crypto currencies but then again, I'm not really worried about that for now. Any Hive I gain will be powered up anyway, so I'm more interested in Hive's value in 2025 then I'm in its cuurent value.
So let's have a look at the different games I'm following!
Splinterlands went into phase 2 of its collection power changes and to me, they have been godsend indeed. My collection power of about 230,000 limited me to Gold I. Initially, I wasn't sure how I'd fare there but it turned out to be a blast for me. I won like my first 20 games straight and even afterwards kept winning about 90% of my games.
This put me in the odd situation where my rating just kept going up until I was 1,000 rating and more above the enemies I got matched with. Ultimately, this allowed me to hit the rating required for Champion I and placed me at rank 3 overall in the leaderboard.

I was obviously pretty happy with that and I have to say I agree with the decisions made on collection power more and more. By facing players with a collection power level closer to mine, I actually paid a lot more attention to what I was doing. I checked what splinters they usually used and put more effort into improving my positioning to counter their expected plays. My DEC Capture Rate was down to 20% when I finally stopped binge-playing, but things got only better from there.
I was idling in the Splinterlands Discord when somebody pointed out that I was in Champion I. I went to the game to show how I'm in Gold I but indeed, I suddenly was in Champion League. Turns out I was delegated some goldfoils by @gerber and @jacekw. I really did not trust my eyes at first and I'm still super happy about that.
Not only did this increase the number of reward chests I will receive at the end of the season by a whopping 90 chests, it also allowed me to test the waters in the higher leagues to see how I'd fare in Champion and Diamond leagues.
I expected to loose streak down to Diamond but as it turned out, I was able to compete even in Champion III as long as I got to play Earth or Fire and to a lesser extent even Dragon. I managed to finish my 3 dailies so far in Champion III, again netting me a lot more chests than what I would have gotten in Gold I.
I'm going to wait and see how the reward structure is going to look with phase 3, but I'm now really confident that I could move up to Diamond and be competitive there if I wanted. So once more, thank you very much to @gerber and @jacekw for giving me that unique opportunity!
That whole concept of delegating cards also got me interested in trying renting through PeakMonsters myself. I'm still testing the waters there, but I'll have more on that topic next week.
No matter what, I'm more confident in investing in Splinterlands than I ever was, so congratulations on a job well done!
Cryptobrewmaster saw a lot of action as well. They first added a new leaderboard for referral activity, which I'm still leading, second only to @rollie1212, the developer of the game.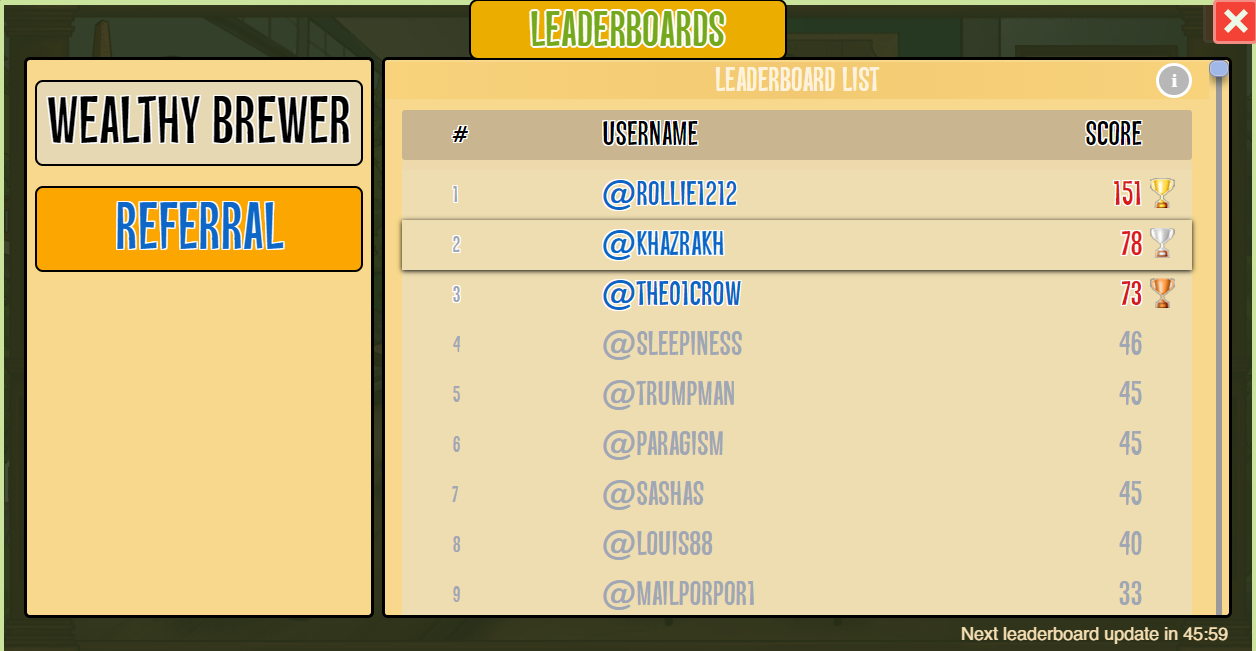 During the last 7 days, I managed to bring another 23 new players to the game. I now have a total of 117 referrals for the game and I fully intend to keep bringing even more players to it whenever I can!
That's not all on Cryptobrewmaster, though. They also came up with an amazing investment opportunity that I could not resist investing in. I already did a separate article on that topic in case you have missed it.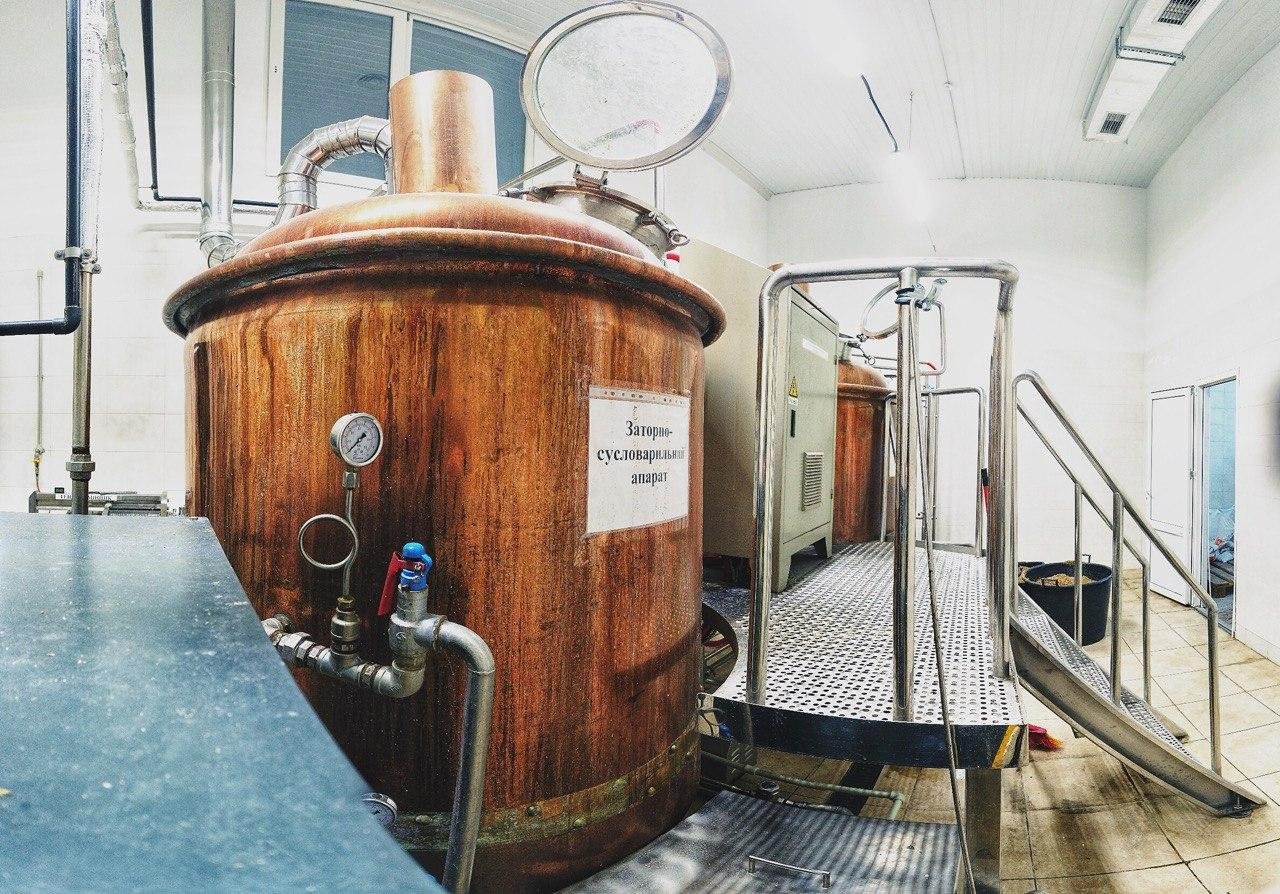 While the game itself is still in its earliest stages, the economy surrounding it i already really fleshed out. While I'd love to see new content for the game released as much as everybody else, I'm really confident in the game's longtime viability. I predict a great future for Cryptobrewmaster!
Rising Star was and still is my number 1 game in terms of income. Starbits managed to keep their value at and around 5 Hive / 10,000 Starbits all week and I even managed to sell some above that rate. In total, I made close to 200 Hive selling Starbits this week.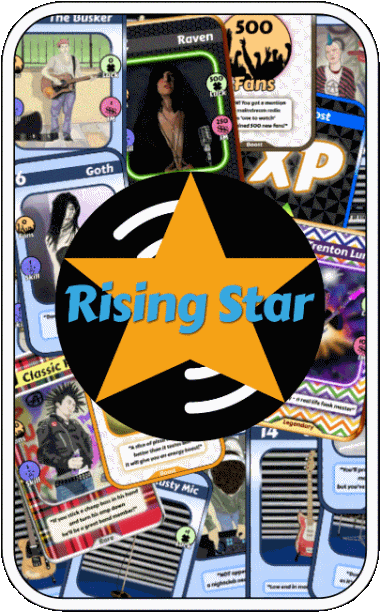 Admittedly, I'm really impressed how resilient the price has been so far. Without any new cards released in weeks, I had expected it to go down eventually but it seems demand is still high. Once Beta is released along with all the new cards, the price might increase even further once everybody is rushing to buy more boosters to get all the new cards.
Talking of new cards, I'm now up to 40 Touring Coaches and 15 Range Rovers to match my skill of 38,700. If there ever is a Public Transportation Game based on Rising Star NFTs I'm more than prepared...
Finding new referrals has been harder this week with only 1 new player found. Growing beyond the Hive eco-sphere will probably be one of the core challenges for the coming months.
@elindos has been extremely busy this last week with a lot of amazing new features added to the developement-log. There also was another challenge focused on Evacuation. All in all, it sure feels like things are heating up and I can't wait to finally play with my own cards!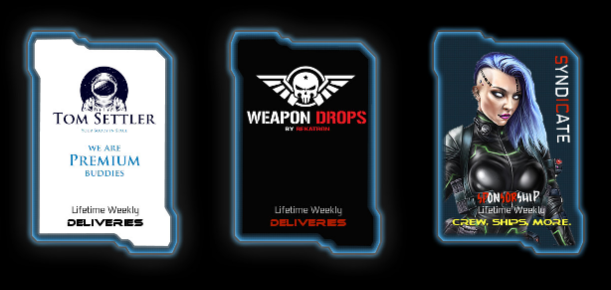 In terms of trading, I did sell two contract drops and some cards on the starbase market, amounting to a total of 43 Hive. Not too much, but I'm not looking for much short term trading anyway, things are going to change a lot once the game fully takes off.
That said, I'm discontinuing the sale of contract drops for now. It worked as a proof of concept for me but for the moment I found it too be too much of an effort. I'll reintroduce it once we have more new players in the game.
Rabona is a new addition to the list although it's not playable for the public yet. I found out about the game last week and I'm now pretty hyped about it.
In short, it's a football management simulation coming to the Hive blockchain. While I'm not that involved with football anymore, I've been following "my" club all around Germany (and sometimes even Europe) for more than a decade when I was younger. I also really loved Football Management Sims like the all time classic Anstoss! so this game feels like a dream come true.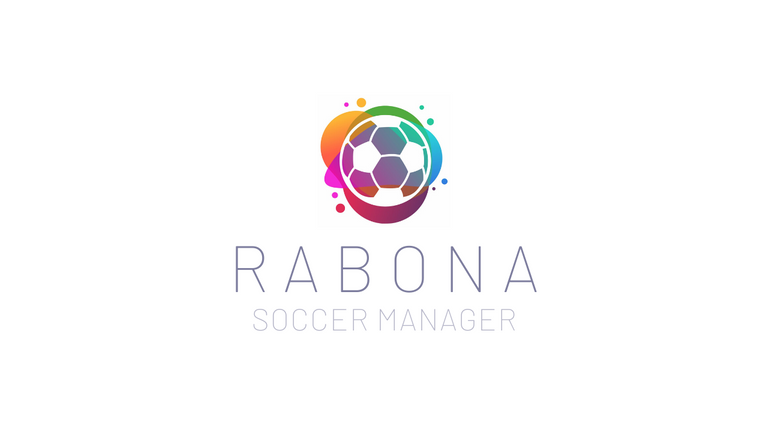 There's currently a closed beta going on but from what I can tell, the Open Beta shouldn't be too far away and I really can't wait to try the game myself.
If you want to read up on the game and stay informed on it I'd advise you to read up on @rondras' articles and give him a follow.
Conclusion
That's all from me for today. If you have any interesting blockchain games that you think I should have a look at, please leave a comment about it, I'll gladly be your referral!
Thank you all for reading and see you next time!