It's been one of these weeks where you can tell about my mood just by looking at the titles of the articles I've written. Calls for strict regulation of Bitcoin are getting louder and I'm loosing my patience with crypto gaming. Worst of all, though, a close friend of mine had a severe stroke of fate this week and I've spent a lot of my time just being there for her. This meant a lot less sleep than what I'm used to and a lot less time for everything else. Nevertheless, I've kept accumulating and still managed to do an article every other day during the week.
So let's look at my tracked tokens first:
Well, that's looking good, isn't it? Obviously, this wasn't all organic growth this week. I've decided to buy in a little more and got myself 1000$ worth of LEO and CTP in the process. I truly believe in both projects and especially LeoFinance might very well make me rich one day - fingers crossed. Hive increase is pretty low this week but that's to be expected with the increase in Hive's price we've seen last week. All things considered, I'm super pleased with these numbers and my holdings are growing nicely.
Next, let's take a look at the games I'm playing. With less time available during the week, this is going to be more of a news flash with smaller bits on each game:
As I've pointed out last week, it's a super short season for Splinterlands, already ending this Sunday. I've struggled a bit initially this season but got back into the rhythm eventually. I'm now sitting in the middle between Champion II and Champion I. In a normal season I'd still have a bit more time and wouldn't be worried at all about reaching Champion I. I've been really bad in crunch time for a while now so doing the push at the very last day is going to be hard. I'll try nevertheless and hopefully I'll manage to get to Champion I by tomorrow.
I've also went shopping again and got myself another 2 max level cards for the collection: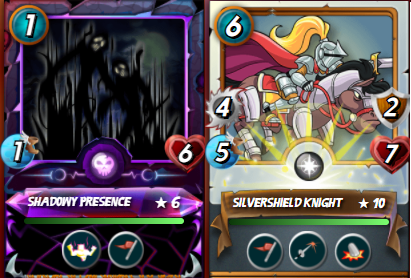 Shadowy Presence was a card I found myself playing quite a lot although I've only had a lvl 3 copy. At level 6 it's a real best at 1 mana and an auto include for a lot of my Death builds. It's also one of the cards I foresee really appreciating in value once it gets rarer and rarer because of it going out of print.
The Silvershield Knight is a rather situational card but he's a beast in the right rule set and I'm sure I'll have a lot of fun with him in the right setup. Overall, my buying behavior has changed a bit as I'm targeting more niche cards at the moment. I'm still eyeing some of the old Beta Summoners and I'll probably make at least one buy during the week.
There's also going to be a small land pre-sale on Wax happening this weekend. So this might be a good opportunity to put some of the Wax earned from Alien Worlds and R-Planet to good use. I'm pretty sure this thing is going to sell out, the Wax community is crazy right now and it's even coming with a nice 20% discount.
Oh boy, I'm really annoyed with R-Planet. I've made an article on the matter during the week already, but they are turning this whole thing into one big cash grab machine. I really liked their initial concept, it seemed pretty fresh and different enough to be interesting. But it seems all they can come up with is more NFTs to stake. They keep introducing new NFTs providing absurd amounts of Aether each hour to the game, effectively invalidating everything players have earned/staked before.
Unsurprisingly, the value of Aether is going down quickly and this trend will only get stronger over the next days. There's literally nothing to use Aether on for a lot of the smaller players, so all they'll do is dump. In the meantime, R-Planet is trying to bring more Aether to their Whales, making the whole thing less attractive for everybody else. I'll probably be able to milk it for some more days before everything goes south, but I'll just move out all Alien Worlds NFTs eventually and be done with it.
No big news yet, but there'll be soon enough. March is going to be the month that we'll play Colonization for the first time. Exactly one year after I first found the game, this is going to be a huge event. Things are rather quiet in the Discord and elsewhere for eXode still, but I know many Captains are just waiting in silence. Once Colonization is stable and we have permanence in the game I expect eXode to really go off. I still see eXode eye to eye with Splinterlands, both because it's way more complex than your average blockchain game but also because it chose to not go the PvP route most other blockchain games choose and instead dared to be different!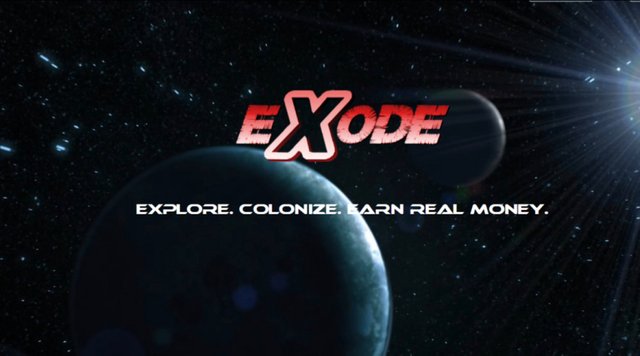 I have to admit, I feel a bit guilty about Rising Star. It's a great game with a cool community, I really like the people making it and still, I've just been dumping my Starbits for 3 weeks straight now. The experience of buying 12 booster packs for 100,000 Starbits and not getting anything I'd even remotely care for really ruined the experience a bit for me.
So for now, I'm just running my missions on the side every day, making about 20,000 - 25,000 Starbits per day and selling them on Hive-Engine. I want to get back to building my collection eventually, but right now, I don't feel like giving the booster roulette another shot. Maybe with some more cards added to the game I'll reconsider. For now, it's an extremely well paying and enjoyable faucet.
I was a little surprised to find that the Doctor Who Booster packs are only going to be sold until this Sunday. This seems a bit odd to me as the playable game is still almost a year away and I was under the impression that this set was going to be their Alpha/First Edition. Discontinuing it right now doesn't seem to be making terrible much sense. Usually, I'd be very cautious with this kind of behavior. With the BBC officially backing this, though, the chances of this being a Scam are rather low so for now, I just hope they know what they are doing and start selling the cards again eventually.

I did manage to accumulate 7 booster packs granting me 35 cards so far, that's pretty good considering a booster is 5$ and I didn't spend a cent on all this. The login and referral rewards are certainly coming together pretty nicely.
I did a first impression article about Neon District early this week and I'm still pretty intrigued by the game. They are building something pretty big there and I'm happy I found the game as early as I did. Without PvP being playable right now, I'm only running the pizza delivery missions and gather items along the way. So far, I was able to get three item crates and already found a super rare piece of armor.

Truth be told, I probably won't do much more than that until the actual PVP becomes available, though. The gameplay just feels a bit too slow right now and with only practice matches available, I don't feel like getting into the finer details just yet. I won't level any of my items or characters either, this will have to wait until I get a better understanding of how things are working. Once we are getting closer to ranked PvP play, this is going to change a lot of course and I'll probably do some more in depth articles on how everything is working.
Conclusion
And that's already all I have for the week. I've tried to keep my weekend as free as possible, so I'll hopefully have a lot of time for new and old blockchain games alike. If I find anything interesting, I'll let you know right away. Until then, thank you all for reading and see you next time!