If you read yesterday's Play2Earn Report, you are probably already aware of the newest addition to the list of games that I follow: Doctor Who Worlds Apart. Ignoring the atrocity the whole series has recently changed into, Doctor Who is still my second most beloved SciFi franchise of all times. That alone got me interested in the game but even if it wasn't Doctor Who, what I found so far has left me pretty impressed with the game. In this article, I'm going to give you a short introduction to what the game is going to look like, go into detail on some information I've gathered so far, and give an outlook about why I think this game has a good chance to make it to the mainstream market if it plays its cards right.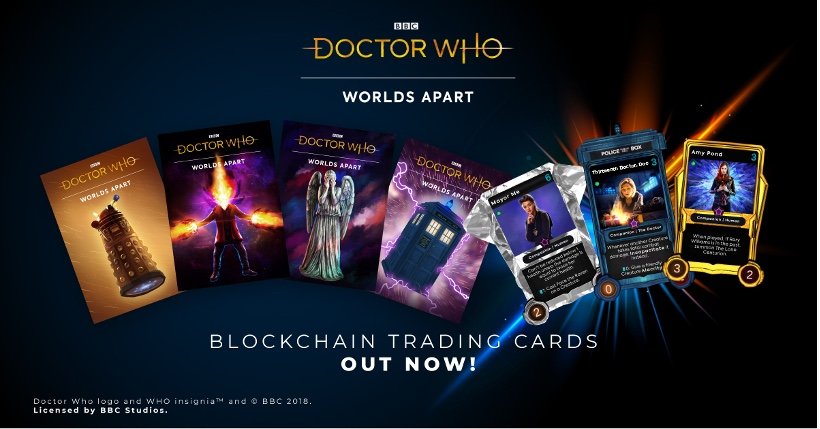 So talking about playing cards, Doctor Who Worlds Apart is going to be a trading card game (TCG) taking place in the ever growing Doctor Who universe. It's still heavily in development and right now is scheduled to release into playable beta in Q4 of 2021. So while we are still quite a bit away from actually playing the game, there's already a lot of information available about what to expect from the gameplay.
In Doctor Who Worlds Apart, each player represents an aspiring Time Lord traveling through space and time, battling each other for whatever reason. To do so, players will craft decks of 40 cards and face each other in matches that should last between 10 and 30 minutes. From what I've seen so far, the game will be closer to the classical rules of Magic the Gathering and less like the TCGs already existing in the blockchain world like Splinterlands or Gods Unchained. This is pretty tempting to me as I'm coming from a MTG background and while I enjoy playing Splinterlands a lot, I've always wished it would be a little more complex.
If you ever played Magic the Gathering, a lot of the rules will become clear right away, although everything is Doctor Who themed. Your deck is called Future, the game board is called Present, and your graveyard is the Past. Instead of depleting the opponent's life pool, both players aim to bring the shields of each other's TARDIS down. Players will summon companions and minions, play Objects and Moments, and even change the planet the battle takes place on thus adding new rules to the game.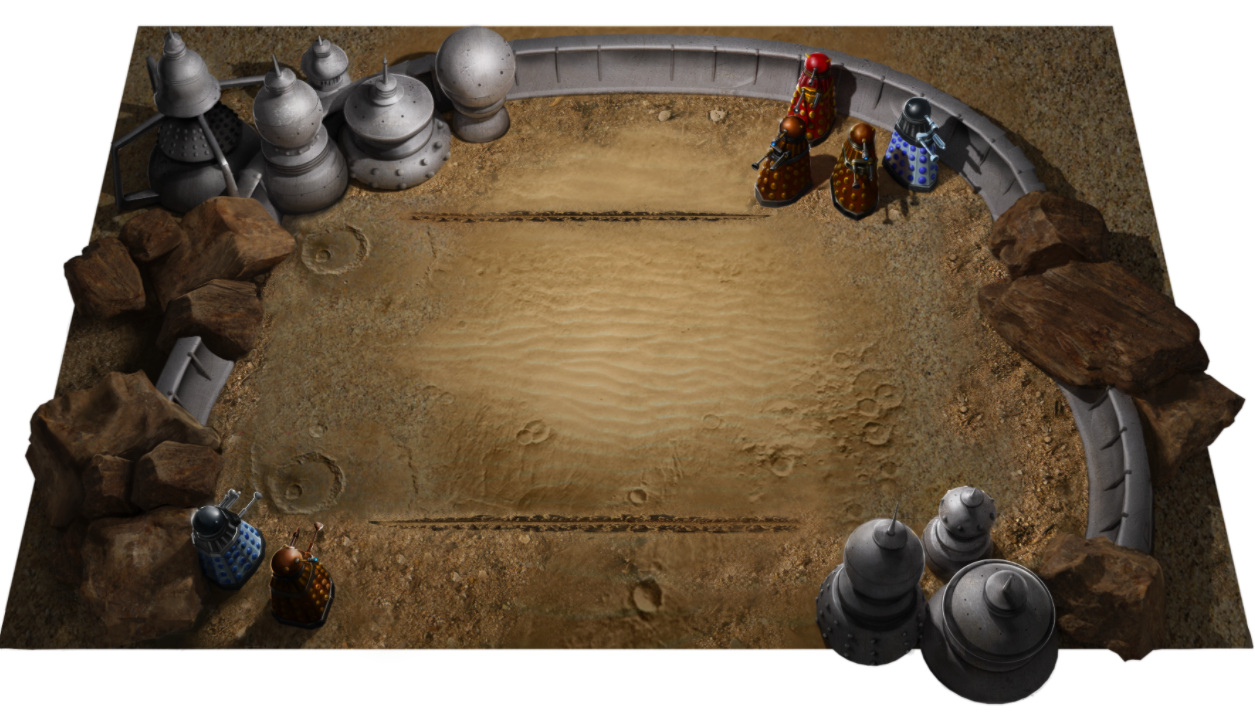 Without a means of actually playing the game yet, it's obviously hard to tell whether it will be a fun game or not, although everything I've read so far appears to be sound. All cards from the first edition are already available and looking through them, there seems to be a host of viable strategies and fun tactics to follow. Just reading some of the cards brought back some fond memories from a time when watching the newest episode of Doctor Who was one of the week's highlights.
Pay2Win is always an issue in trading card games and it's something that makes or breaks a TCG in many cases. While it's obviously too early to know anything for sure, Doctor Who Worlds Apart does claim to be aware of the issue. According to themselves, they are following a strict anti-Pay2Win strategy. We'll see about that, but it's a good thing to hear nevertheless. One way they hope to ensure an even playing field is by moving the scarcity component away from the cards rarity alone and towards cosmetics.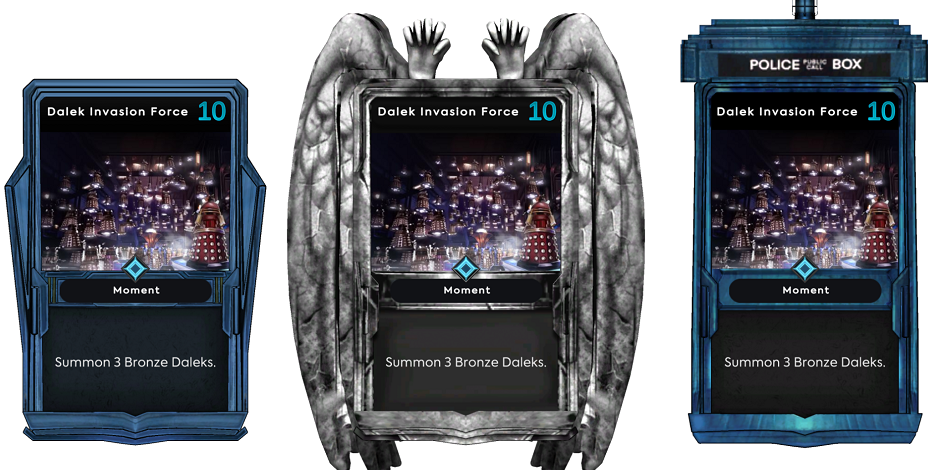 Cards in Doctor Who Worlds Apart still have different rarities so you are more likely to find a common card in a booster pack than to find a rare one. On top of that, though, there are different card frames ranging from generic standard frames to monster frames like the Weeping Angel one above or even the TARDIS frame which is going to be one of the rarest ones.
All special card frames will have limited print numbers while the generic ones will be available at an unlimited supply. The idea is to allow everybody to acquire the standard cards relatively cheap while still allowing collectors to go after the rare (and thus expensive) special cards. It's similar to (gold) foil cards we know from other games, but with 12 different frames available, it's certainly taking things to the next level. Special cards like the first mint of the first Doctor with a TARDIS frame are bound to be worth quite a lot eventually.
Doctor Who Worlds Apart is going to have a Play2Earn concept, with wins paying out Pandaks, the game's ingame currency. They work pretty much like credits in Splinterlands, allowing you to buy packs from the game or individual cards from other players. The cool thing is that you can start earning Pandaks right away. Every day you log into your account, you receive 10 Pandaks which equals 0.1$ worth of ingame credits. With the game still at least 9 month away, this should allow you to gather enough Pandaks to buy a couple of packs long before the game actually launches.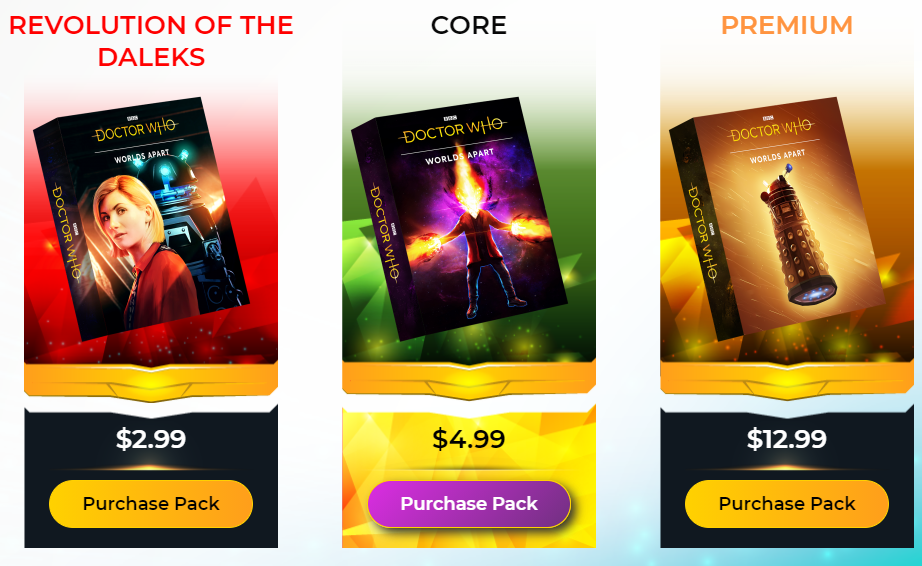 I feel like the game has a lot of potential and could be among the first blockchain games to make it to the mainstream market. Everything I've read so far seemed sound and Doctor Who is a very strong franchise without doubt. Even with the shit-show the series turned into recently, it still has a huge fan base all around the globe. If they manage to build a good game on top of it, this could really help to bring a lot of non-crypto players into the game.
While Doctor Who Worlds Apart is going to be a blockchain title, it's crafted with the mainstream market in mind. All purchases can be made with both fiat and crypto. They accept PayPal and credit cards, so anybody not involved with crypto technology can still interact with the game without ever having to worry about the blockchain side of things.
All things considered, I'm pretty excited about Doctor Who Worlds Apart and I'll make sure to keep you posted about anything happening in the development of the game. For now, I'll just log in once a day to claim my daily Pandaks. With the release still so far away, this should net me at least 2 Core packs in the process.
And that's all from me for today! Thank you all for reading and see you next time.