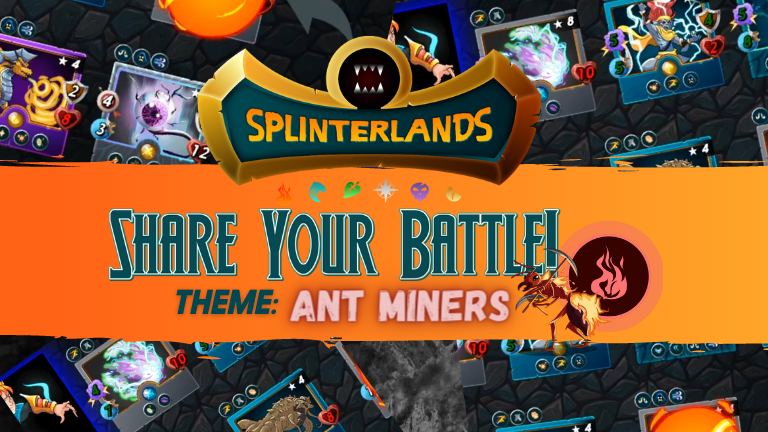 What is Splinterlands? 
Splinterlands is a card game, similar with Hearthstone, where you can play battle against other players to get a better rank or in tournaments. It is a NFT game based on Hive Blockchain, but the crypto rewards (DEC is the name of their native token) can be used on ETH, TRX, WAX and on the lately added Binance Smart Chain (you can provide liquidity to mine CUB on Cub Finance). You can also provide liquidity on ETH network, but this is a bit more expensive, even if you get some Uniswap bonus in DEC paid straight to your game account (I got 3-4000 DEC monthly with around 60K DEC providing liquidity). DEC is similar with a stablecoin, most of the time, 1000 DEC being $1 most of the time, but right now it is much more than that.
And now it is easier than before (one of my main complain was about beginners not having enough cards at the start) because they offer quite a lot of cards not to the one starting to play, making it a more pleasant experience - I remember losing game after game when I just started 7 month ago, so I am glad that the developers sorted this out. There is an airdrop daily, for a whole year, currently at day 43/365, i think, and you can still get some nice governance tokens just by playing the game for the next year. Everything counts, cards, DEC on HIVE, WAX, ETH and BSC, lands, titles, skins. You can maximize the airdrop by staking all you SPS for a 127% APR right now. You can rent your expensive or useful cards now, so extra DEC is coming weekly. All lands were sold out and will be introduced next, i believe, with a price of 4-500$ each at the monet. Just check this awesome page about what are the Lands supposed to do. Also, the guild brawl will be improved, with new monsters, maybe even summoners that you can use only on brawls, and some more resources. Gladiators are called, and i cannot wait to test them.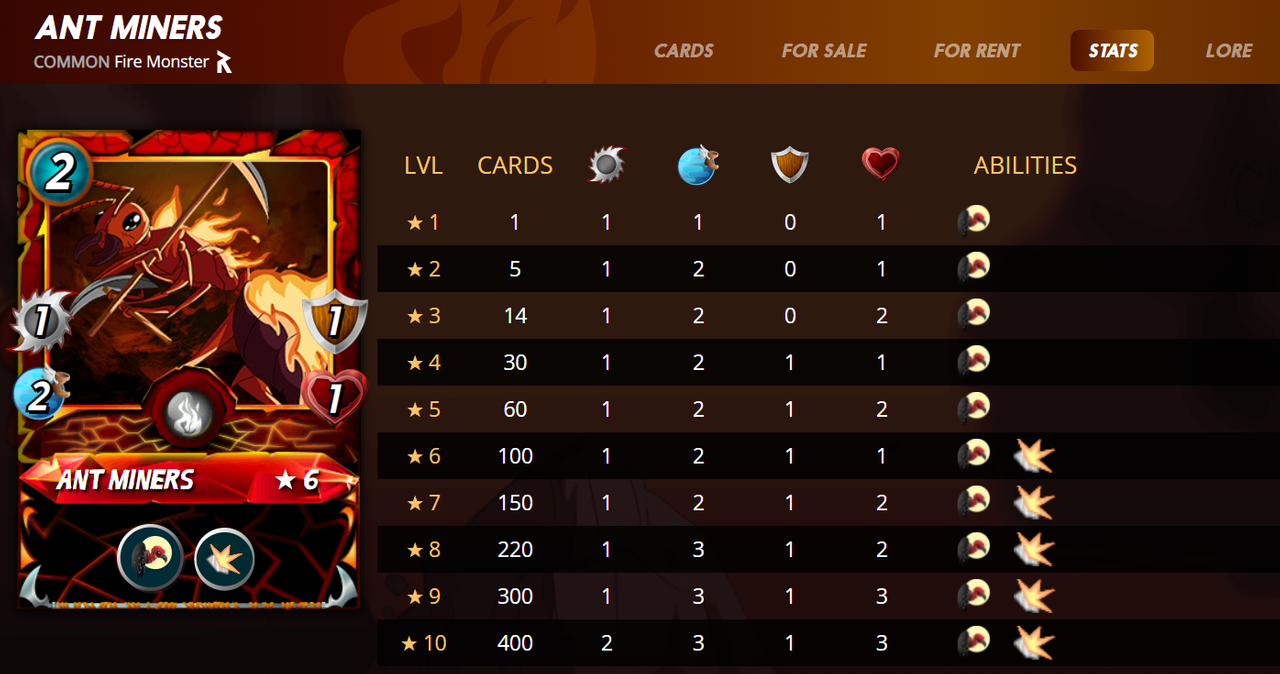 The Ant Miner is a Common Fire Monster, with only 2 Mana Cost, an amazing Scavenger ability at level one (Gain +1 Health for each monster dying on the field) and Shield at level 6 (Reducing the melee and ranged damage). At max level it has 2 Melee Attack, 3 Speed, 1 Armor and 3 Health. There are quite few strategies to use the Ant. One is the combo with Flame Monkey, to spam that 1 Armor again and again. Low Mana cap battles, it is a given, Equalizer battles, it is a must. Once you got the Shield ability, and some insane health, as you place it one before last, the Ant Miner can turn the tides of a battle quite easily. Even Poison can boost it, if you play lots of low life cards before it.
So, for the challenge, this were the starting conditions:
Mana Limit: 28
Rulesets: Noxious Fumes (All cards are poisoned) and Heavy Hitters (All monsters have Knock Out)
Teams:
Mine - Summoner: Pyre (+1 Speed Boost) with the Molten Ogre as a tank with Trample (Killing first target, will attack next monster) and Demoralize (Decrease Melee Attack by 1), backed up by a Gelatinous Cube, as Scavenger and Heal works out nicely against Poison, then a Chicken as fodder, to increase the Ant Miner Health in order to survive the first round, then Ant Miner (with Shield and Scavenger), then a Flame Monkey, as a combo for the Ant 1 Armor refresh, and last, a War Chaang, doing 1 Ranged Damage, but also using Retaliate to chip away some of its attackers health.
Opponent - Summoner: Lorna Shine (Divine Shield for all the teammates), Chicken first to absorb two hits, but then, my tank got Trample, still providing me the extra damage, then Silvershield Knight with Inspire (+1 Melee Attack) cancelling my Demoralize curse, then he got 2 monsters with Sneak, Feral Spirit and Silvershield Assasin, perfectly countered by my War Chaang. Hero From Beyond, for extra ranged damage, even using Close Range to attack from the first position. Last, the Herbalist, which should have Cleanse, to counteract the Poison, if his Summoner would have been high enough leveled.
This was a game of endurance, and I choose Scavenger, Heal and Armor Repair skills over damage, to survive the Poison. I was able to counteract his Inspire with my Demoralize, so the Assasin will not do loads of damage, and his Chicken died first boosting my Cube and Ant Miner. Then the poison killed the Feral Spirit, the Herbalist and my Chicken, so I got another 3 Health boost on my Scavengers. My Molten Ogre killed the Knight, and my War Chaang killed the Assasin. Two more rounds of Poison, and I had only the Cube and the Ant Miner standing, with all the others cards dead and buried. Victory!
Star of the game? Between the Gelatinous Cube and the Ant Miner, I will choose the Miner this time, as this is the main actor of this week battle challenge.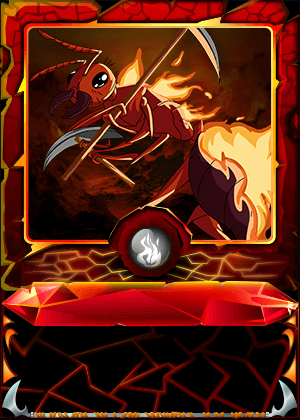 On the side note, my continuous support for Splintertalk.io is going well, with my SPT tokens number raising to 1 million. All of it is delegated to @monster-curator, as this account is doing a great work curating the best posts on the forum. But after the new website launch I did not receive any rewards, I think they must still work on the new algorythm, so I will wait for another week to see what happens. Next, I am slowly building some SPT power to manually curate on Splinterlalk.io also. 

All the best,
George
Why not...
...have fun and win rewards on my favourite blockchain games (Splinterlands - Hearthstone-like card game)  (Mobox - GamiFI NFT platform) and  (CryptoBrewmaster - Beer factory sim).
...get the higher rewards for your investments using Blockfi, Hodlnaut  and  Celsius.network.  Get ETH while writing on Publish0x blog, using Presearch search engine to maximize your income with PRE tokens. Check my Lbry.tv channel in here and use Torum instead of Twitter . I am also writing on Read.cash.