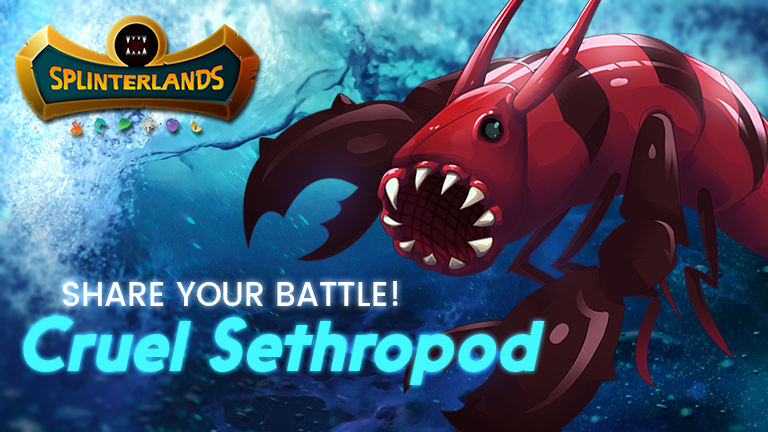 What is Splinterlands?
Splinterlands is a card game, similar with Hearthstone, where you can play battle against other players to get a better rank or in tournaments. It is a NFT game based on Hive Blockchain, with multiple ways to capitalise and make money, real money, by playing it or trading in it. You can start earning as soon as you buy a Spellbook ($10) getting DEC tokens and NFT monster cards via daily quests and season quests (every 2 weeks). There is an airdrop daily, for a whole year, currently at day 304/365, I think, and you can still get some nice governance tokens just by playing the game for the next few months. Everything counts, cards, DEC on HIVE, WAX, ETH and BSC, lands, titles, skins. You can maximize the airdrop by staking all you SPS for a 48% APR right now. Holy Molly! This is quite a drop from the 57% last week, and I think a lot of people stacked back after the validators bid. I got one, and all the licences from the pre-sale were sold in 12 minutes. You can buy one in the Tranche 1, paying $3000 in SPS. Another way to make profit is to rent cards, getting paid in DEC tokens for it. But, my, oh my, the renting price right now is so, so low.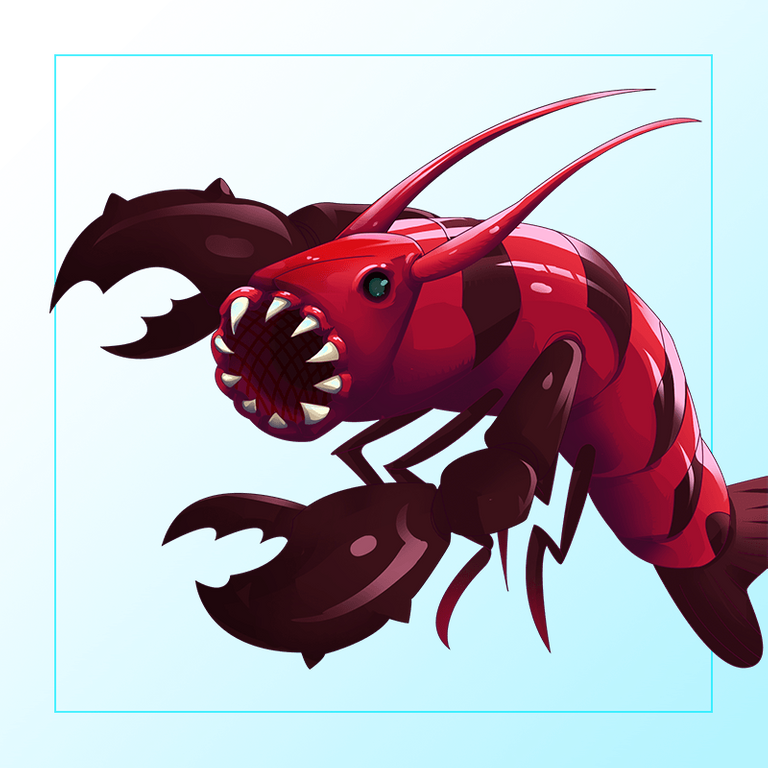 At last, we can finally buy packs with 4$, using just Credits. Even then, if you want to get the extra packs, you still need vouchers, but just for the bonus packs. An awesome hint from a really good player (not me), if you open your packs after the Legendary summoners are introduced, you have a small chance to get them from the packs. It was announced that Lands NFT and Riftwatchers pack are coming in the third quarter now, with the new Roadmap proposed by Splinterlands. Just check this awesome page about what are the Lands supposed to do.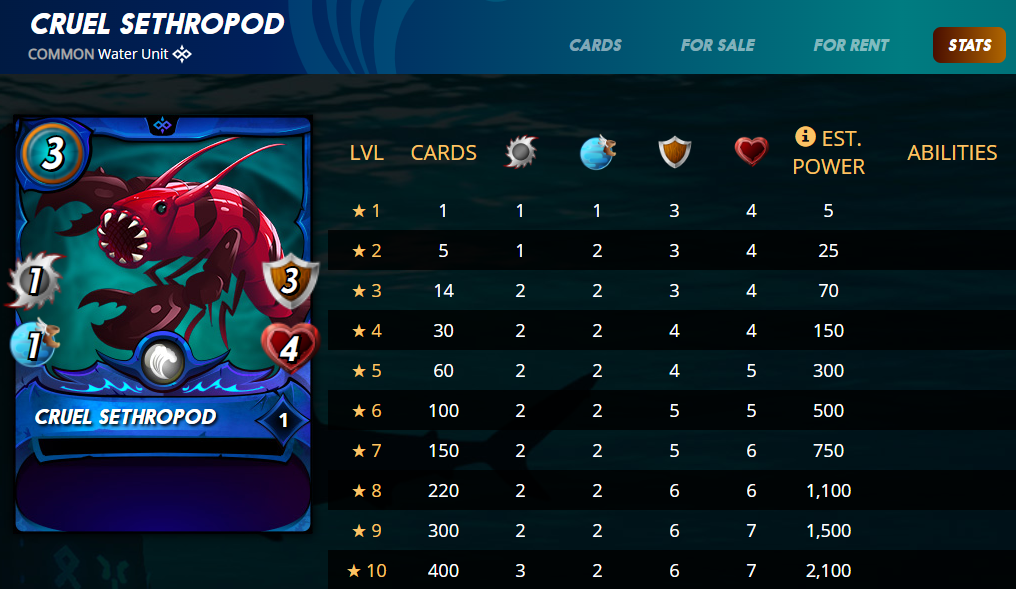 The Cruel Sethropod is a Chaos Legion common Water splinter card, with a 3 Melee Attack, 2 Speed, 6 Armor and 7 Health stats at max level, all for a mere 3 Mana cost. While it has no abilities, it is a decent card to use as a main tank, especially in some rulesets like Little League, or in low mana battles. With a Void Armor, I would have used this card probably in every game under 20 Mana. More than that, it is quite cheap for it stats, with a max level 10 costing only 29$. But it is weak against magic, so this will be my only issue.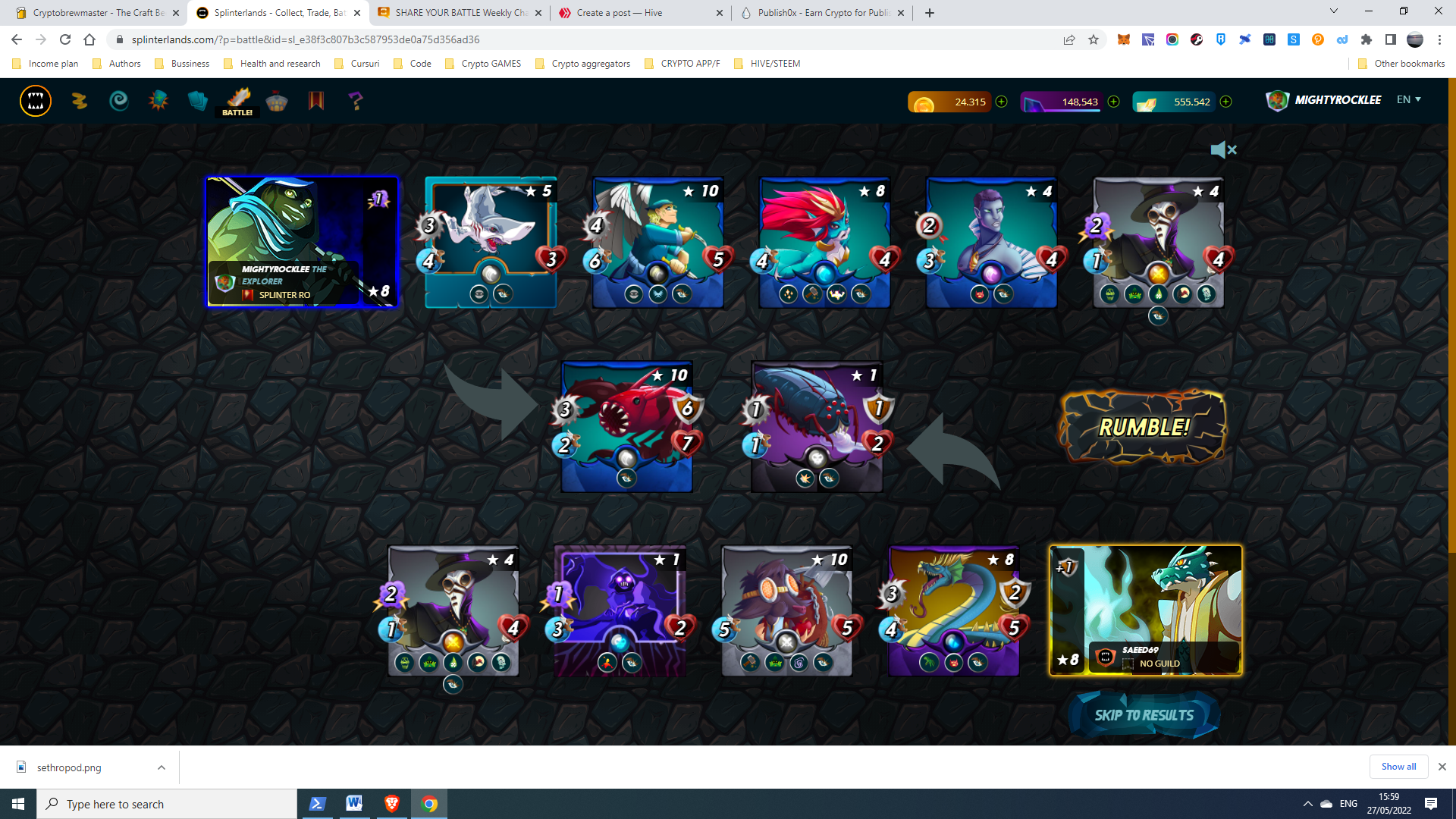 (To see the video, you can check the battle link.)
So, for the challenge, this were the starting conditions:
Mana Limit: 21
Rulesets: Little League (up to 4 Mana cost per card) and Equal Opportunity ( all monsters have opportunity)
Teams:
Mine - Summoner: Bortus (decreasing the opponent magic attack by 1), with Cruel Sethropod as main tank, Sabre Shark and Pelacor Bandit for a decent 7 Melee damage together, a Merdaali Guardian with Heal and Repair to keep the tank alivem increasing Health by 1 too, Igor Darkspear to stun their tank, and a hidden Dr Blight, with Scavenger to add Health points, Poison and Affliction to decrease the health of my enemies.
Opponent - Summoner: Drake of Arnak, boosting Armor by 1, with a Crypt Beetle as fodder, a Twilight Basilisk with Reach and Stun, a Scavo Hireling with Repaid and Slow, hidden in Camouflage, Death Elemental with Snipe and Dr. Blight, poisoning from the back.
This was a interesting battle, and my Sabre Shark died before even making a move, followed by his Crypt Beetle. My Bandit killed his Death Elemental, and the Basilisk died poisoned, same as my Healer. In the third round, I got rid of his Hireling, managing to kill his Dr Blight in the following round too. The Cruel Sethropod survived to tell the story.
Star of the game - The Pelacor Bandit, one undervalued card with 4 Melee damage and 6 Speed for only 3 Mana, who managed to one-shot few low health cards.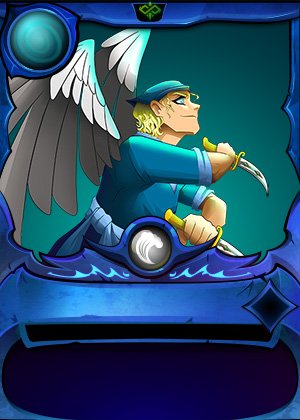 On the side note, my continuous support for Splintertalk.io is going well, with my SPT tokens number raising over 1 million. All of it is delegated to @monster-curator, as this account is doing a great work curating the best posts on the forum. I have finally reached the needed SPT power (110K at the moment) to manually curate on Splinterlalk.io. Also, working on acquiring 50K Oneup (14000 UP now) next, inspired by the Cartel efforts. Bought 200K Level too, for PsiberX airdrop, as I also managed to round up 100 Hive to buy a piece of Land in their game. Got 3 PsyberX packs already on airdrop in the last 2 months. Happy to have them!

Also, if you are posting on Publish0x and Read.cash blogs, and you liked the Chifibots game mentioned in the latest OneUp Cartel posts, there are still 4 prizes to be won if you want to get some of their NFT packs on this contest, open until the day they launch.
​All the best,
George
​
Why not...
...have fun and win rewards on my favorite blockchain games (Splinterlands- Hearthstone-like card game) (Mobox - GamiFI NFT platform) and (Rising Star - Music creators game).
...get the higher rewards for your investments using Blockfi, Hodlnaut  and Celsius.network. Get crypto while writing on Publish0x blog, using Presearch search engine to maximize your income with PRE tokens. Use Torum instead of Twitter . I am also writing for crypto on Read.cash  and Hive.