I continue to closely follow both the Wink.org & Sportbet.one platforms and am bringing weekly updates on the news and the Returns they are providing...
Amost every week something happens that is worth writing about when it comes down to the WIN or SBET token. Yesterday there was some news on Wink and how they will also start taking on the oracle problem.
WINK News
So Wink out of nowhere launched wink.win now also jumping into the oracle market. I guess the major pump that started some weeks back was a bit of a precursor to this announcement combined with the fact that the dogecoin army also seems to have embraced WIN as one of the 'cheap' coins that will go to 1$. What they aim to do with this for as far as I understand is to make Wink.org the most verifiably fair gaming platform in the World and enable further expansion into the world of sports with the launch of their own prediction market. When looking at betting on the blockchain, most of it still is very centralized when it comes down to markets that are offered and results that are being inputted despite the fact that they allow for anonymous sports betting with no individual restrictions directly from your own wallet. I guess they want to expand becoming the 'Chainlink of Tron' using this themselves while also offering an oracle solution for Trof DeFi.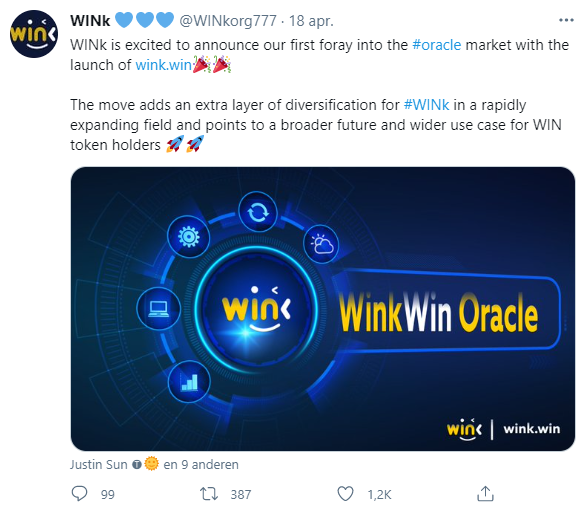 Wink and the WIN token certainly has got a lot more going for them compared to being a token that just gets value from Dividends that can be earned from activity on wink.org. It is turning out to be a key part of the Tron Network and can benefit from all the promotion and marketing that comes along with that. They recently also showed the 2021 Q2 roadmap which has a lot on it.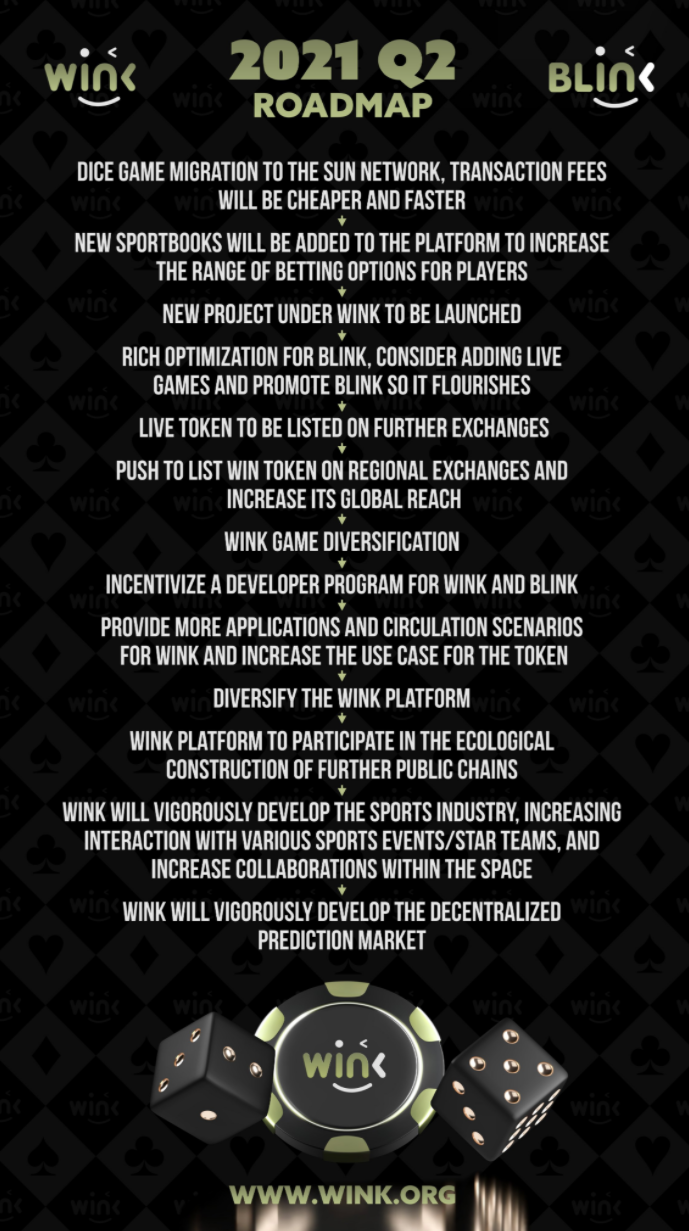 Adding to this the fact that the masses who are pumping Doge showing a liking to WIN made change my view on the entire platform. When I started buying way back I was a lot more skeptical getting a much more scammy vibe from it all still seeing good value in the passive earning that still had massive upside potential. Right now I will likely just keep holding on to the 14M WIN that I'm basically freerolling also having cashed out quite some on top already. Just looking at their Reddit Page, you just feel the same Doge Vibe all around and the price getting pumped way higher at this point would not come as a surprise to me even though I'm not sure I would be a buyer right now.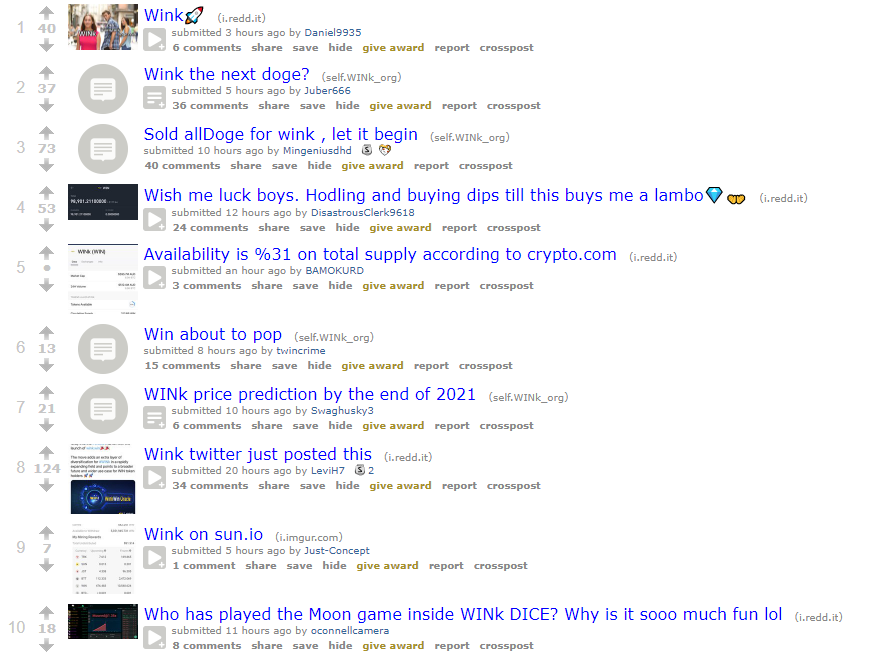 ---
Wink Weekly Dividends

It is nice to see how WIN set new records in dollar value on the Dividends even though a lot of that comes down 7 consecutive weeks of WIN getting unfrozen not getting their share of it. This week was the first time since long there was a slight increase again of frozen WIN which indicates most of the profit-taking could be over while at the same time there might be bigger pressure on the dividends as more WIN gets frozen again.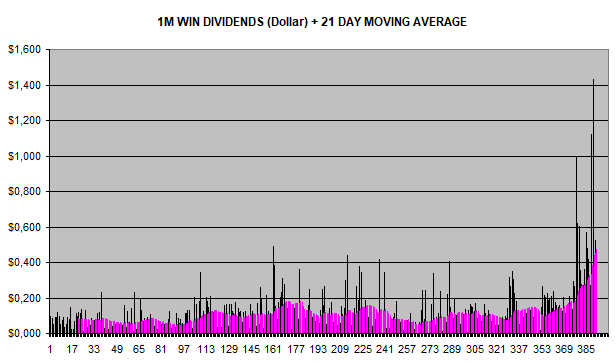 Dollar Dividend payouts for 1M WIN really peaked these past months in a perfect combination of Less WIN being frozen, Price of TRX going up & overall increased activity because of the current hype.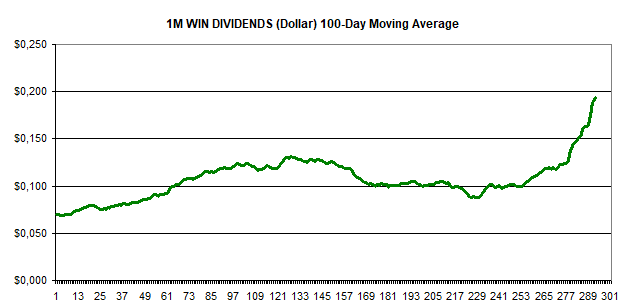 The 100-day moving average for 1M WIN staked is now 0.194$ Daily seeing some excellent growth and it is bound to go up more as the 21-day moving average is at 0.471$. The price of 1M WIN (1395$) is also a lot higher compared to where it used to be (63$ > See Post)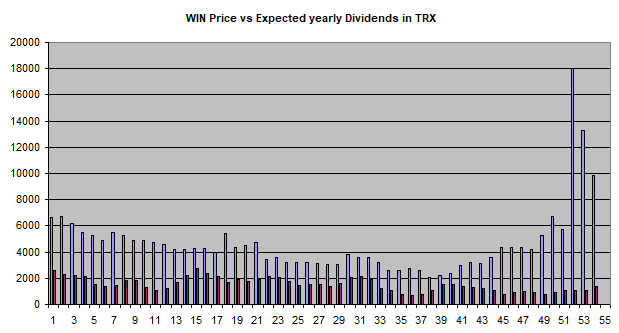 Comparing the Price vs the APY in TRX on the 21-day moving average, it is currently at +13.6% APY for freezing WIN. It is hard to say where this will go as there are so many variables. Potentially much more WIN could be stakes putting pressure on the dividends, the site might at some point see a massive user increase, ...
Overall, things are going pretty well for Wink.
---
SBET Dividends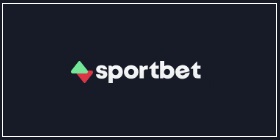 I continued to add to my SBET bag also this week even though a week ago I told myself I had enough. I just can't get past the risk/reward ratio on this one which I believe is just too good to pass on. I'm quite aware of the risk and I'm keeping myself to the point where seeing it all go down to zero would only result in a couple of days feeling some pain. The availability of SBET is really low since nearly everything is staked collection dividends while the devs are comfortable holding on to a big stack themselves. With so little liquidity, a relatively small buy or dump makes the price jump like crazy. The price of SBET also moves along with EOS which is looking quite bullish and already went up quite a bit. Someone seems to have cashed out (See Account) around 526k EOS reducing the price to 8.71 EOS for 10k SBET which made me add 270k more today after already swapping 1M WIN for 225k SBET early this week in a final WIN profit-taking move to balance between both these dividend-paying gambling dapps.
There hasn't been that much news lately but there will be an update likely somewhere in May.

The dividends were pretty average last week sitting at +21% APY but knowing nearly all coins are staked and there is a lot of potential growth left with SBET only sitting at a 2.5 Million total market cap already having a good product in their sportbet.one bookie & casino.

I will see i I can make a chart on the Dividend values in Dollar next week to get a better view on those as EOS has been having a nice price increase.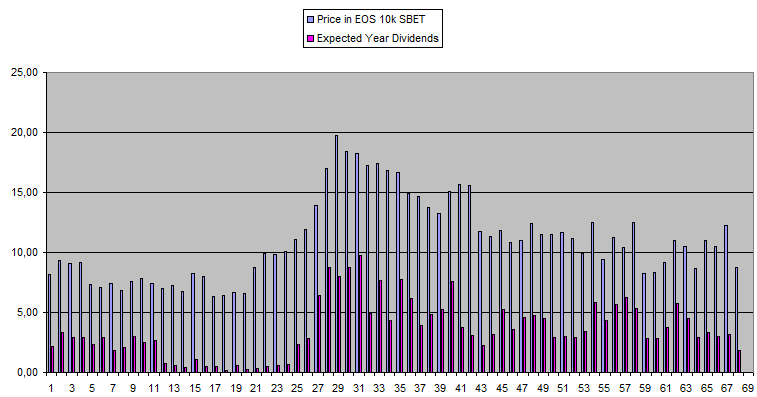 For a Full Guide on Sportbet.one and the SBET token check Guide To Decentralized Sports Betting #1 | Sportbet.one
---
Personal Gambling Dapp Portfolio
I now play to stay at 14M WIN frozen for a while (unless there is another crazy pump) and continued to add more SBET during the week which got me up to 1825000 to collect dividends from. My current gambling dapp dividend portfolio exists of 14M WIN / 2.1M SBET / 10k TRX / 20 LIVE | 2271 RAKE. I continue to be interested in adding another gambling dapps that pay the losses from the gambler to those holding a token that can't be mined. So far I haven't found another good one yet. This was the 3rd week getting over 100$ in dividends.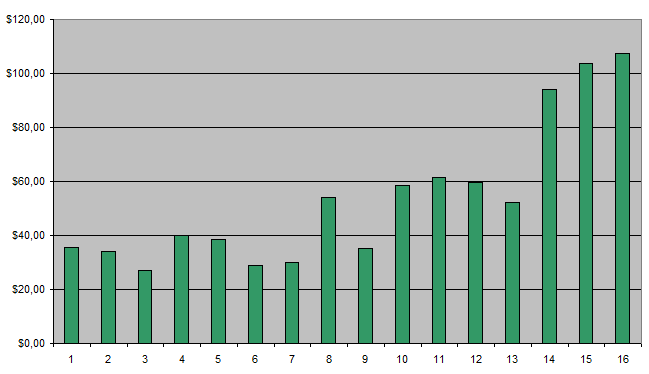 ---
I already look forward to how things will go down next week when I will be back for another update!
---
Hive: https://hive.blog/@costanza
Leofinance: https://leofinance.io/@costanza
Twitter: https://twitter.com/costanzabets