I will continue bringing regular updates around both Wink.org and Sportbet.one tracking how dividends are going along with the latests news and updates.
NEWS
There was an issue these past days where the dividend-paying contract didn't trigger. They did add up and eventually got paid out at once. The circulating Supply was also adjusted on Coinmarketcap this doesn't affect the Dividends as less WIN seems to be staked at the moment. No real news came from the wink foundation otherwise for as far as I'm aware of. At current prices, this still represents 0.5% weekly returns.
---
WIN TOKEN WEEK DIVIDENDS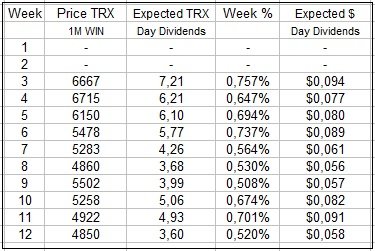 The overall activity on Wink.org seems to have taken somewhat of a plunge giving much lower dividends last weeks which caused the expected TRX for 1M WIN to drop to an all-time low of 3.60TRX based on the 21-day moving average. This currently still represents 0.5% weekly returns but the 21-day average is expected to go down a lot more based on the last 2 weeks.

Currently, 4850TRX gets you 1 Million WIN which adds up to 11.47 TRX Weekly Dividends good for +0.24% if they stay similar next week.
---
---
Since there is a 3-day unfreeze period, it is quite tricky to get in and out of WIN based on how Dividends are performing. The overall trend when looking at the moving averages seems to be down though and the most concerning part is that poker action seems to really have dried up. One of the explanations could be that more people are going out again after the lockdowns ended everywhere.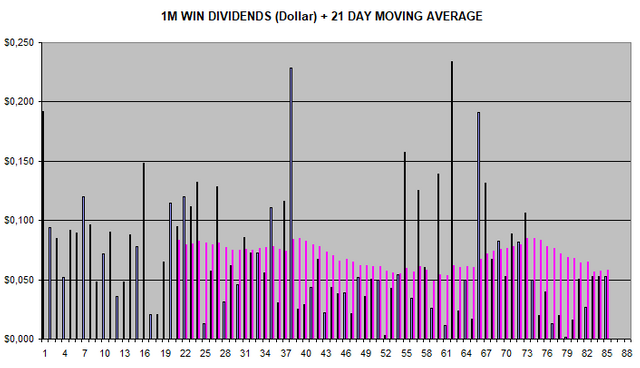 From what I've seen so far, the best strategy would have been to get in when the dividends are suffering after the price was pushed down to sell WIN after the dividends had a good streak which pushed the price up. Of course, there is no way to tell where things will go in the future, and if enough people will continue to gamble their money away on Wink.org when the mining schemes get less attractive.
For an in-depth review in Wink.org and the WIN token, check Here
---
Hive: https://hive.blog/@costanza
Steemit: https://steemit.com/@costanza
Uptrennd: https://www.uptrennd.com/user/MTE0Mzc2
Twitter: https://twitter.com/costanzabets