For the past 10 weeks, I had a deeper look into the Wink.org Gambling Platform trying to understand how everything works. I invested some in the WIN token tracking the daily dividends and also played quite some poker on their website. This is my overall impression...
What is Wink?
Wink.org is a crypto casino that runs on the Tron Blockchain which offers a wide range of games including Sports Betting & Poker. Platform earnings are paid out as daily dividends to both investors in the WIN token and players who mine sub-platform tokens (DICE/LIVE/RAKE) by playing the games. For a full breakdown on how tokens work see here
---
WIN Token
WIN is the main token on the platform and gives dividends from all the games on the platform when they are staked (frozen). To unfreeze it takes 48 hours. WIN originated from token swap of that previously was called ANTE. From what I understand, having ANTE paid out dividends and it was mined by playing the games in a classic Ponzi structure. With the token swap, they both reset the mining Ponzi and inflated the supply x4. WIN started trading on Binance on August 1st 2019 opening at a price of 0.0004137$ with a total supply of 100 Billion coins.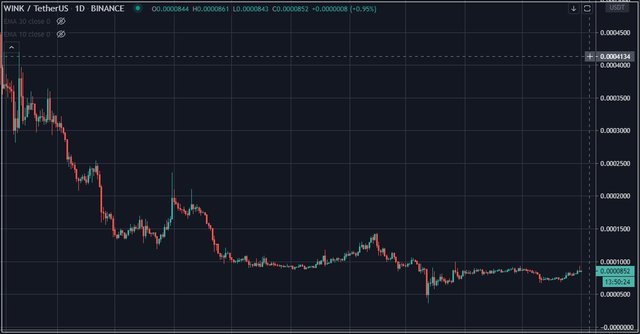 The price in USD has steadily gone down ever since. I don't know however if this is because it was highly overpriced at the start or because the incentive to play gradually goes down giving token holders decreasing dividends.
---
WIN TOKEN WEEK DIVIDENDS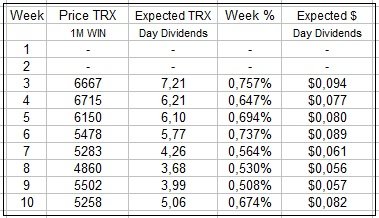 I closely tracked the dividends along with the price of the token for the last 10x weeks. Everything has been pretty steady and I never had any issues with the payouts. The dividends themselves are actually really solid at an average of around 0.60%-0.70% on a weekly basis. The price for 1 Million WIN over the 10 week period was at an average around 80$.

I started out buying 1 Million WIN and continued to slowly cost average in until I had 6 Million of them which cost me a total of 477.49$. The Price of WIN tends to move along with the dividend payouts. If they decrease the price will fall and when it looks like there will be an increase, the price will go up. Whenever It looked like dividends were picking up, I used that opportunity to cost average in some more. A slight overall price increase combined with being able to rake in the dividends each week gave a +15.92% ROI so far.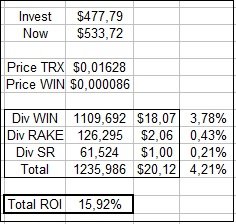 ---
The 21-Day moving average (Purple Bars) visualize quite steady dividends in USD the last 70 days. It is way too short of a period to make any conclusions though. I will continue to keep track of it hoping to see an uptrend over time.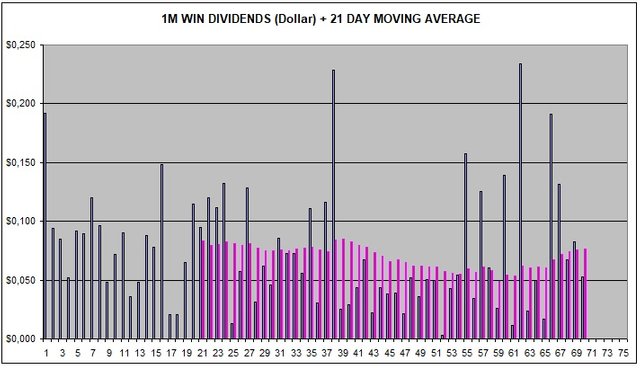 ---
WINK.ORG POKER EXPERIENCE
I never touched a single DICE or LIVE game since they simply can't mathematically be beaten. The odds on their Sportsbook also are nothing compared to what I have available at my regular Betting Broker Sportmaket Pro. Their Online Poker tables, however, are very much beatable despite the rather high 5% rake and I had a lot of fun playing on them during the lockdown. The competition is rather soft and most of the time you will see many callers and not many who are able to lay down their hand. At times this brought quite some frustration with suckouts on the river. Overall after around 50 hours of playtime, it feels like a fair beatable game with normal ups and downs. So far I managed to earn around 13k TRX (~200$) on their tables and I can't complain.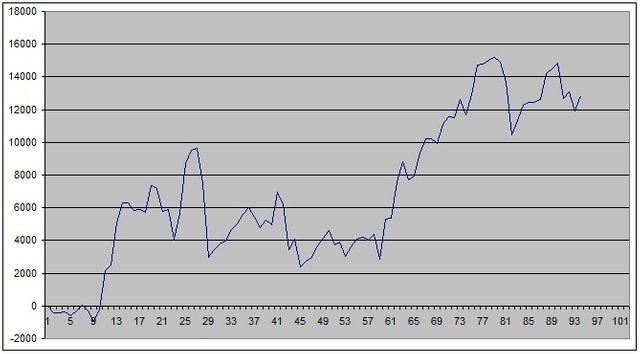 RAKE Dividends
Playing on the Wink.org Poker Tables earns you RAKE tokens. Around 50% of what the site earns from their poker fees get redistributed to RAKE token holders. Over the 10 week period, I managed to mine 1866 RAKE which in the last week paid out just shy of 20 TRX (~0.325$). It is certainly a nice extra but I don't expect it to ever cover what was taken from my winning pots.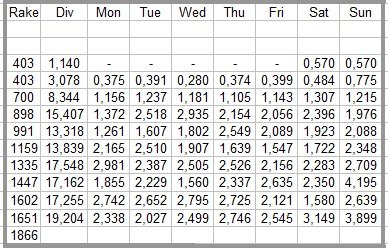 ---
WINK.ORG POSITIVES
Working Product with Revenue
It is rare in the crypto world to have projects with actual working products let alone revenue. That is basically what Wink is, it's a company that is using blockchain technology that is making money. Lots of money when doing the calculations based on the dividends. Around 37% of the site revenue is paid out to WIN token holders. With around 178 Billion WIN being staked and 1M WIN expecting to earn around 0.55$ weekly it comes at an approximated 50 Million+ Dollar gamblers are losing on a yearly basis.

Binance Listing
For as far as I know, WIN is the only gambling-related coin listed on a major exchange. The fact that they are listed on Binance is quite big because it gives a great exposure to the project and an easy way for new people to come in.

Many Users & Poker Action
Most online gambling sites that offer poker have a really hard time to get any poker action going. Wink succeeds in this regard with most times at least 1 active being active and at times having 4+ tables to choose from. If anything they certainly have a player base.

Regular Project Updates
They are posting a monthly report on their Medium Blog (Link) which makes it easy to stay up to date with what is happening with the project. They also have an active Telegram channel and twitter.
---
WINK.ORG NEGATIVES
Ponzi Mining Model
The thing I dislike the most about Wink is the fact that their games operate on a Ponzi mining model. You basically mine coins while playing which pay dividends from future losing players and mining always gets more difficult. The good thing about it is that this makes it easy to kickstart a site as there is a lot of incentive to mine early on. The bad thing is that it's not sustainable and incentives to play will go down over time as it gets more difficult. A simple solution to go away from the Ponzi model would be to introduce a daily burn of staked DICE/LIVE/RAKE which gets redistributed to active players.

DICE Importance
Right now, the dividends are extremely dependant on the DICE games which do most of the turnover. I find it hard to estimate if most players gamble just to mine coins or if the mining is just a bonus as they like to gamble anyway.

Shady Past
The previous token swap seems like it was just a way to reset the Ponzi mining scheme while inflating the supply. I don't fully trust the team behind Wink as it feels like they are just out to make money and they will do whatever works best for them. I guess if needed, investors will get screwed over.

Massive Supply
Wink has a supply of 100 billion. Right now 313 Billion is in circulation and more win is being released mainly to the team each month (See Whitepaper). The way I see it, if they manage to attract more players to their website increasing the earnings, more tokens will be dumped on the market and frozen preventing the price of the token to go up.


They do have a token Buyback and Burn program but it looks to me like that is just a facade since they have so many to sell themselves in the first place.

Bad Odds
The revolutionary part of blockchain and gambling is that it should allow for way lower margins and way better odds. Wink is just another casino like most others that leave players no chance because the numbers are just highly against them. The reality shows that players don't really seem to care all that much so in that regard it's possible to invest and earn from it.
---
CONCLUSION
There are both things I like and dislike about wink.org and I can't help feeling it still being at least somewhat shady. I really like the poker action along with the steady daily dividends which add up over time and will keep the relatively small investment I have in the WIN token right now. I will continue to keep an eye out on that supply and won't hesitate to get out or take some profit when needed. All this is just my personal view on this project, please let me know if something I wrote is factually incorrect so I can change it.
Hive: https://hive.blog/@costanza
Steemit: https://steemit.com/@costanza
Scorum: https://scorum.com/en-us/profile/@costanza
Twitter: https://twitter.com/costanzabets
---