I continue to closely keep track of what both Sportbet.one and Wink.org are up to regarding their platform while bringing regular updates on how the weekly Dividends are holding up.
Sportbet.one Year Record Dividends
I wrote in my report last week (Link) how the early signs of the Dividends looked very promising which I took as a sign to buy some more. odds

The trend continued and the week ended with a record-high dividend payout so far this year while the price jumped up from 0.00118 EOS to 0.001414 EOS Right now. This equals a +20% rise in price! I also took a couple of small beer bets this week including a live bet being able to actually get solid odds. It's certainly not a platform where you want to just bet whatever, but if your shop for the best lines you should be good.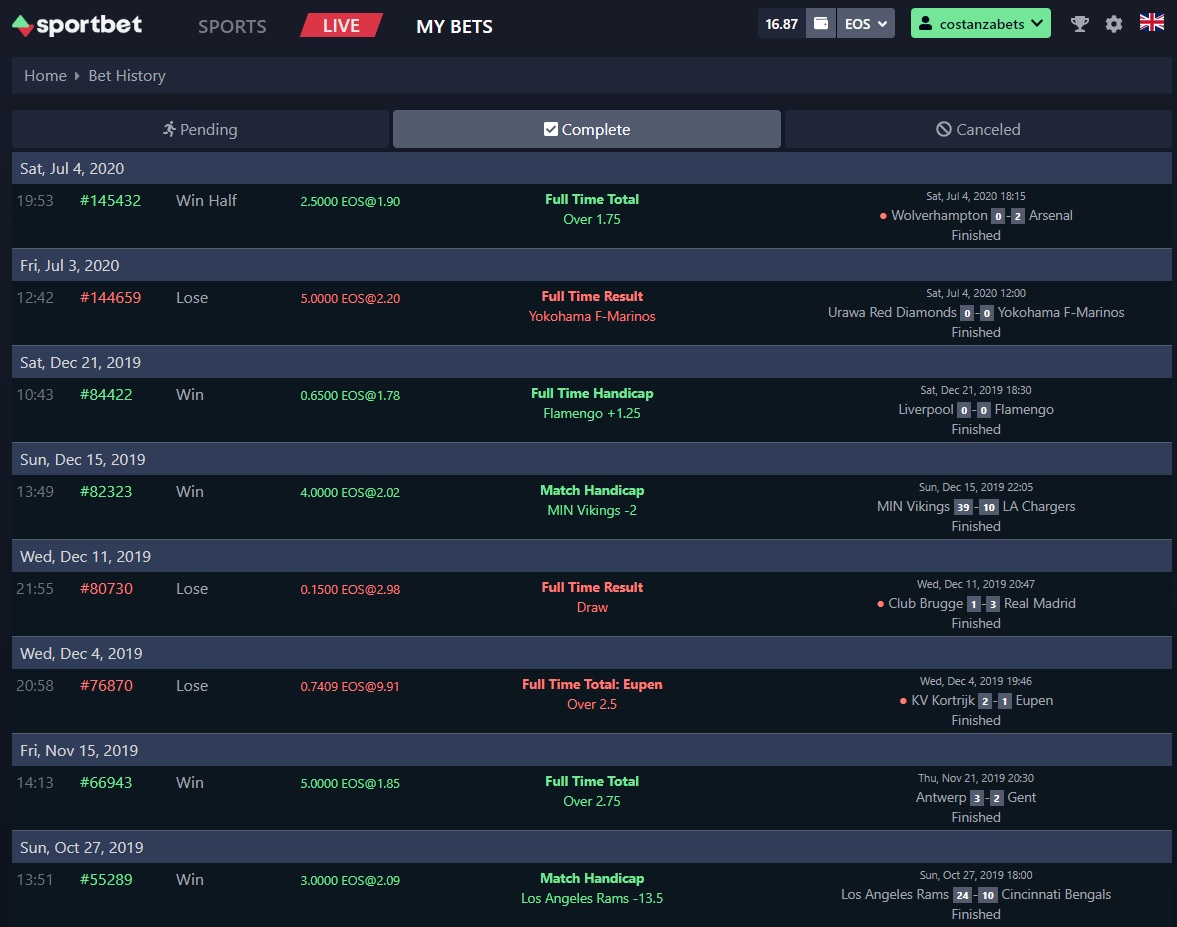 I like the platform and never had any issues so far testing things out but there are still a couple of aspects that make me cautious.
They are not regulated yet
A couple of whales provide the most volume
3% of the volume is paid out as dividends instead of actual profit
Their ability to keep players from winning in a fair way
I guess they will make work of getting a license as they grow to a larger userbase. Since all bets and payouts are recorded on the blockchain it should not be that difficult to calculate how much profit they are actually making. If this doesn't add up, I'm sure someone will bring this up in the telegram. Overall it remains a high risk - high reward investment.
---
Dividends
There was an increase of over 50% compared to last week and I'm honestly expecting this to cool down again in the coming weeks since the number of actual users has not seen a real increase yet ranging around 100 individual accounts.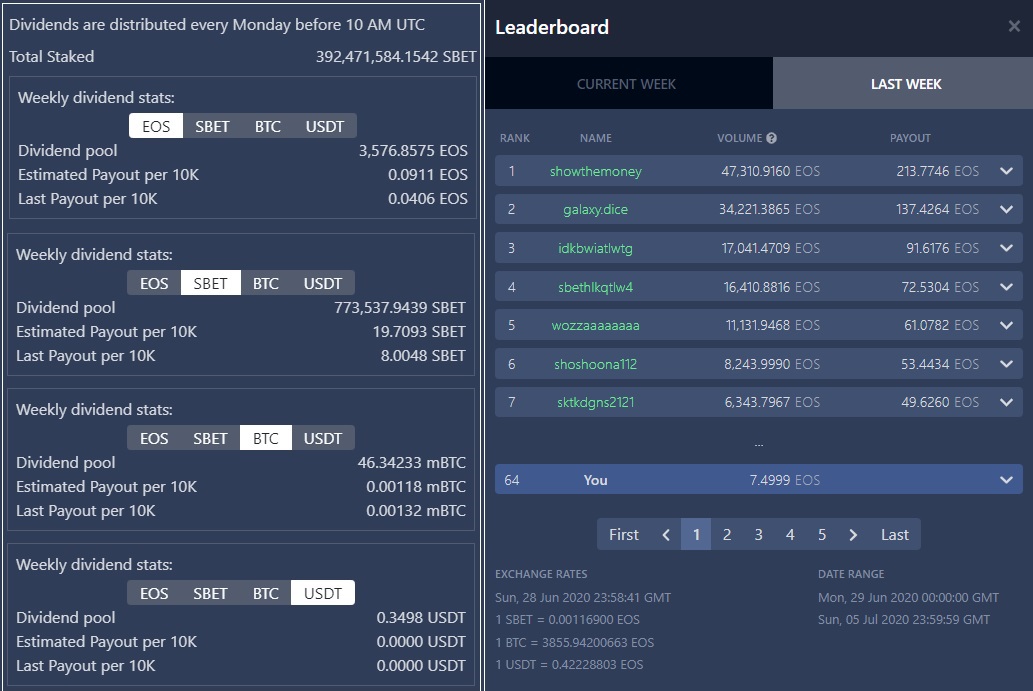 Based on the 0.00344$ SBET price this morning, if the dividends hold up it would equal a +0.88% ROI on the week. As always, the price goes up and down based on the dividends and I'm looking forward to seeing if sportbet.one can attract more users. Add the fact that many sports like NBA/NFL/TENNIS still have to start and it's all quite exciting.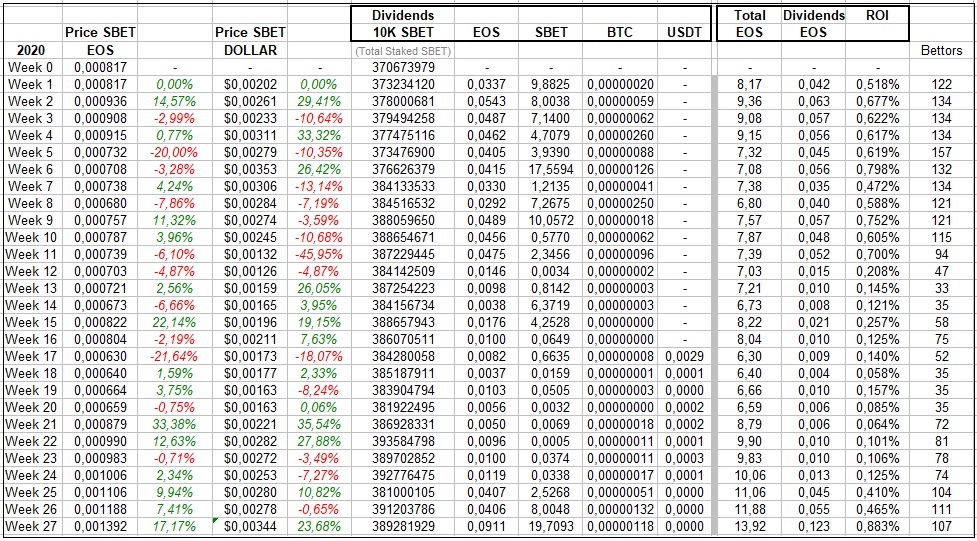 SBET Weekly Dividends chart
I did unstake 20% of my holdings this week and will likely sell if there is a sign that the Dividends will get a big hit, so far this is not the case.
---
Wink.org News & Dividends
Wink.org also had solid Dividends last week but mostly due to a promotion they are running which likely further inflates the price of the WIN token and the sub tokens. The price trend just remains brutal against both the TRX price & USDT.


Being able to collect weekly dividends in a way does heal some of the wounds, but still. Most investors are complaining about how things are going with this project and I fully get where they are coming from.

These were the Dividends last 14 weeks in TRX for staking 1 Million WIN...
21-Day Dividend Moving Average in Dollar For 1 Million WIN...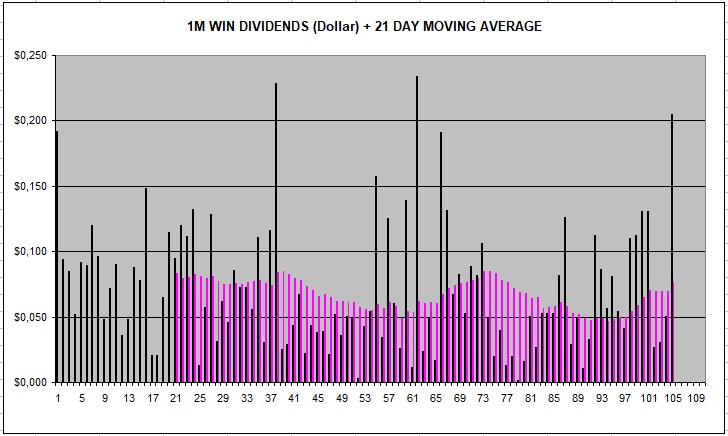 ---
I will continue to monitor everything and bring regular reports for those who are interested.
SBET can be traded on Newdex
WIN can be traded on Binance
---
Hive: https://hive.blog/@costanza
Steemit: https://steemit.com/@costanza
Uptrennd: https://www.uptrennd.com/user/costanza
Twitter: https://twitter.com/costanzabets